5
minutes read
A lot of PPC managers might shy away from selling display advertising campaigns. With an 0.07% worldwide average CTR, it's not hard to understand why.
But good PPC marketers won't take industry benchmarks as an excuse. They know they can achieve performance with display ads.
And there are the best PPC managers. They know that while optimization is important, how you setup your display advertising campaign on the Google Display Network is equally, if not more, important.
Here are the steps good PPC managers will follow (read best practices or precaution measures) to make sure that their display advertising campaign is off to a good start.
1. Structure your display advertising campaigns according to theme
This is one of the most important aspects when you're running any kind of ads with Google Adwords, either search or display. And there are good reasons for it, too.
Structuring your campaign according to theme will keep things organized, easy to manage and easy to optimize. It also allows you to customize display ads and messages to increase relevance around your theme. In turn, the more relevant your ads are, the higher the chances of conversion.
2. Stick to the Google Display Network only
When you setup your campaign, make sure you select Display Network only from the drop down. This ensures that your ads will run only on the Google Display Network.
Search Network with Display select is an extension of traditional search campaigns. With traditional search campaigns, it's easy to incur costs fast, without achieving results.
What's more, with Search Network with Display Select, you don't get any control over how your campaign budget it spent. Your entire budget could be spent on search ads.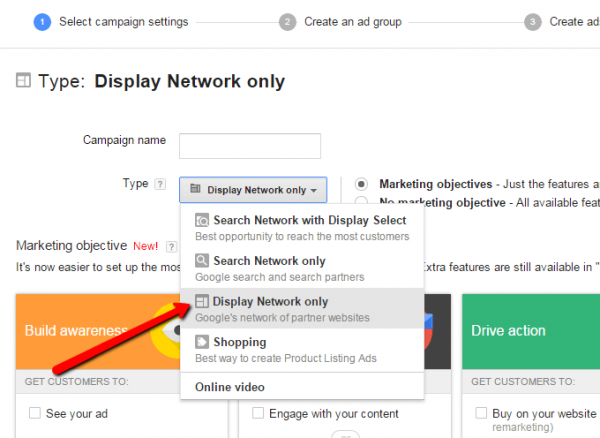 3. Set your location correctly
It's very important to make sure that your display ads are running in the area that you're doing business in. That's because you don't want to waste your campaign budget by having your ads show in an area where you can't reach your customers.
Google Display Networks has some pretty powerful targeting methods. You can target ads by country, state, cities or even DMAs and zip codes, if available.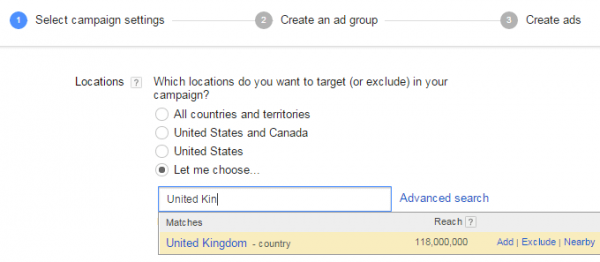 4. Set frequency capping
Frequency capping represents the number of times an user sees your ad. Even if you're running display ads to increase brand awareness, you don't want to annoy users by showing them your ad on end.
Adding frequency capping when you're setting up your display advertising campaign can both improve results and ensure that you're spending your money wisely. You can select how many impressions an ad group, an ad or your campaign will get per day, per week or per month.
To add frequency capping, look for the Advanced Settings field. Here, under Ad delivery: Ad rotation, frequency capping you'll find Frequency capping.

5. Set device bid adjustments
By default and unless otherwise specified, all campaigns created in Google Adwords will run both on desktops and on mobile devices, including smartphones. Which is great – if you want to target smartphones specifically.
If, on the other hand, the ads in your display advertising campaign are standard desktop sizes (728×90, 300×250, 160×600, 120×600, etc), you might want to pay a bit of attention to this. With all devices selected, your ads will also show on full website browsers on mobile devices. Because your display ads won't show correctly, your campaign performance might be affected.
Here's how to fix that. Select the display advertising campaign and go to the Settings tab. Here, click on the Devices subtab. Double click on the right hand side of mobile devices and decrease the bid by 100% to keep your display ads from showing on mobile devices with full browsers.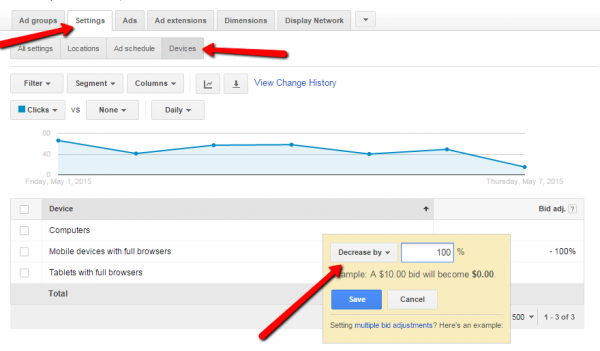 6. Opt out of bad placements
One of the top concerns for display advertising campaign is where the ads will run. A lot of people are afraid of having their ad show up on low-performing, fraud websites.
Good news is that you can do something about it right from the start. You can opt your display advertising campaign out of potentially malicious and low-performing categories. This will make sure that your ads show in the right places.
Select the display advertising campaign you want to edit. Go to the Display Network tab and look for the Add campaign exclusions button.

From the dropdown, select site category options. Here, deselect sensitive content, type of placement and any other category that you might find questionable. Hit Close and then Save to update your campaign.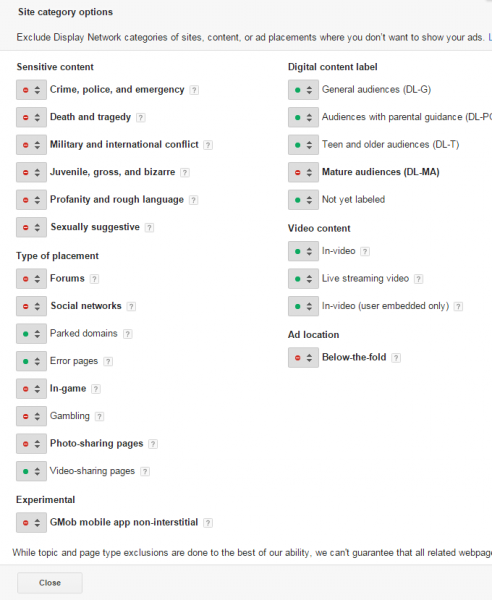 7. Use a variety of ad formats
One of the best things about the Google Display Network is that it provides a lot of flexibility for ads and messaging. You can run both standard text and image ads. With image ads, you can use color and images to be more persuasive. Also, image ads can be static, animated or interactive.
Don't start off with a preconceived idea of what will work best. Run different ad formats in your display advertising campaign to see which one works best for you.
Tip: To make sure that you get a good number of impressions, make sure you add at least one banner of the following sizes to your display advertising campaign: 728×90, 160×600, 300×250. Those are the most popular sizes and most websites feature ad spots for them. Also you can find the full info on Google display ads here.
Well, this is it. This are the steps you need to follow to make sure your display advertising campaign is off to a great start. Oh, and don't forget to install conversion tracking to know how your display ads are performing.
If you know other tips, let us know in the comments below.
P.S. – Sharing is caring. If you liked the article or found it useful, share it on :)