7
minutes read
Let me start by saying that I am proud!
As a Chief Operating Officer (former Head of Marketing) at a Romanian company that outdid itself, despite all the impediments and challenges that came along the way (including the pandemic), I am proud of my incredible team and of all the work that we've done to get to this milestone in our careers.
It shows a total commitment to something that unified a company so beautifully that Creatopy came into existence.
So are you ready to get a sneak peek of our rebranding process?
In this article, I want to explain a little bit about the rebranding from a marketing and brand perspective. I'll walk you through the process, why we didn't postpone the launch until after the pandemic, and a little bit about our new and oh so glowing product—Creatopy.

1. How Did We Get Here? The Road So Far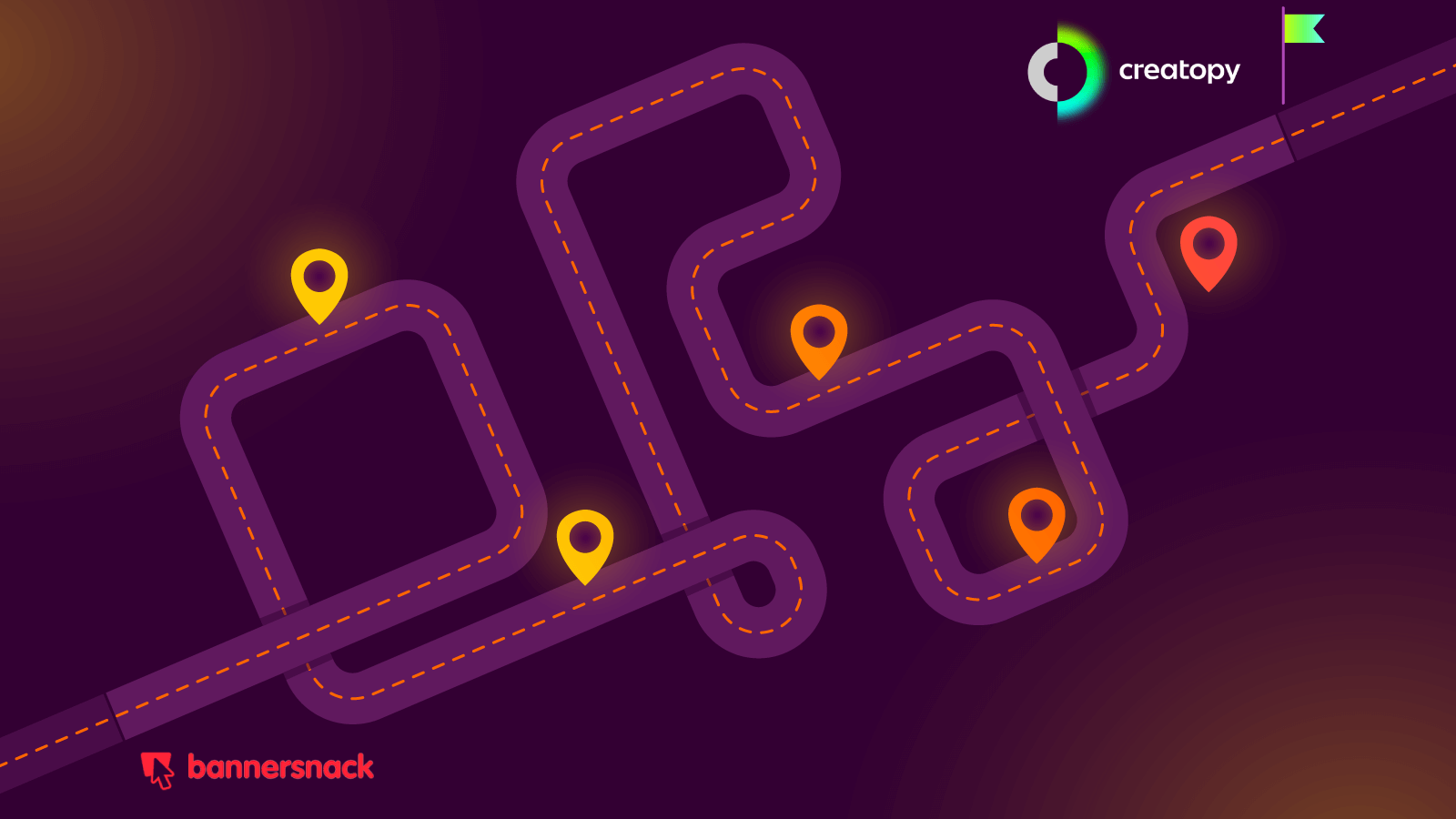 Bannersnack, the original banner maker, started as a bootstrapped, self-sustained company. And one of the most impressive things about it is that it remained self-sustained, with yearly growth rates, some as high as 80%.
On top of the fact that we built everything from scratch, we made ourselves noticed as real competition in the graphic design tools market without the help of an external partner.
You're probably wondering why we decided to change a product and its entire identity if it's doing so well.
Well, let me explain.
1.1. Total rebranding: main reasons
Since day one, we have invested many resources and time into providing better solutions for our clients.
Our vision was very clear: our platform has to be an advertiser's best friend, making design accessible and time-efficient.
And we still want that.
But as our product grew, we felt like the name and brand started to set lower expectations to potential users.
It was even in the name. Let's analyze Bannersnack for a moment.
Banner = an indicator that you can create banners on the platform; Snack = something that's quick yet does not go a long way.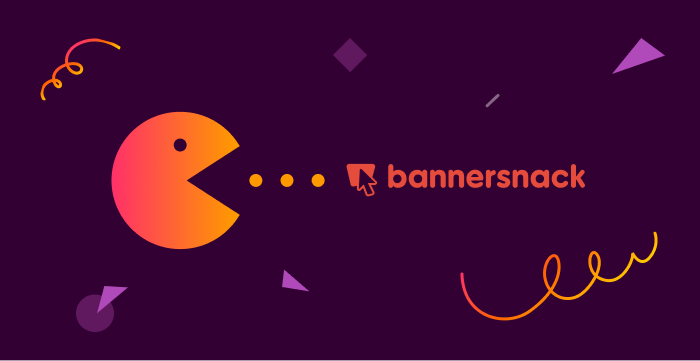 But we started to offer more than just a tool for banner creation. Moreover, our market positioning and target audience were not properly aligned.
The name and the market positioning led to the big change.
In 2018 we decided we need a total rebranding. Our Product Owners and Head of Design worked together with Brandient, a consultancy firm on brand strategy and design. Together with them, we defined the name, positioning, identity, and vision of the company.
In January 2019, we revealed the brand identity internally. Since then, we have been working towards the same goal: launching Creatopy (✔) and turning it into one of the best graphic design tools.
1.2. A pandemic rebranding
The idea of rebranding came to life before the pandemic. With it came the need for a new working methodology, a more streamlined and transparent one.
So, we started the process of implementing the new working methodology: SAFe Agile. When the time came, this allowed us to work from home yet still feeling like we're in it together.
The new processes and the confidence we had about our rebranding decision made us carry out the process, even during the dreadful period of the pandemic.
And, last week, on February 8, we introduced Creatopy to the world.
2. The Rebranding: Step by Step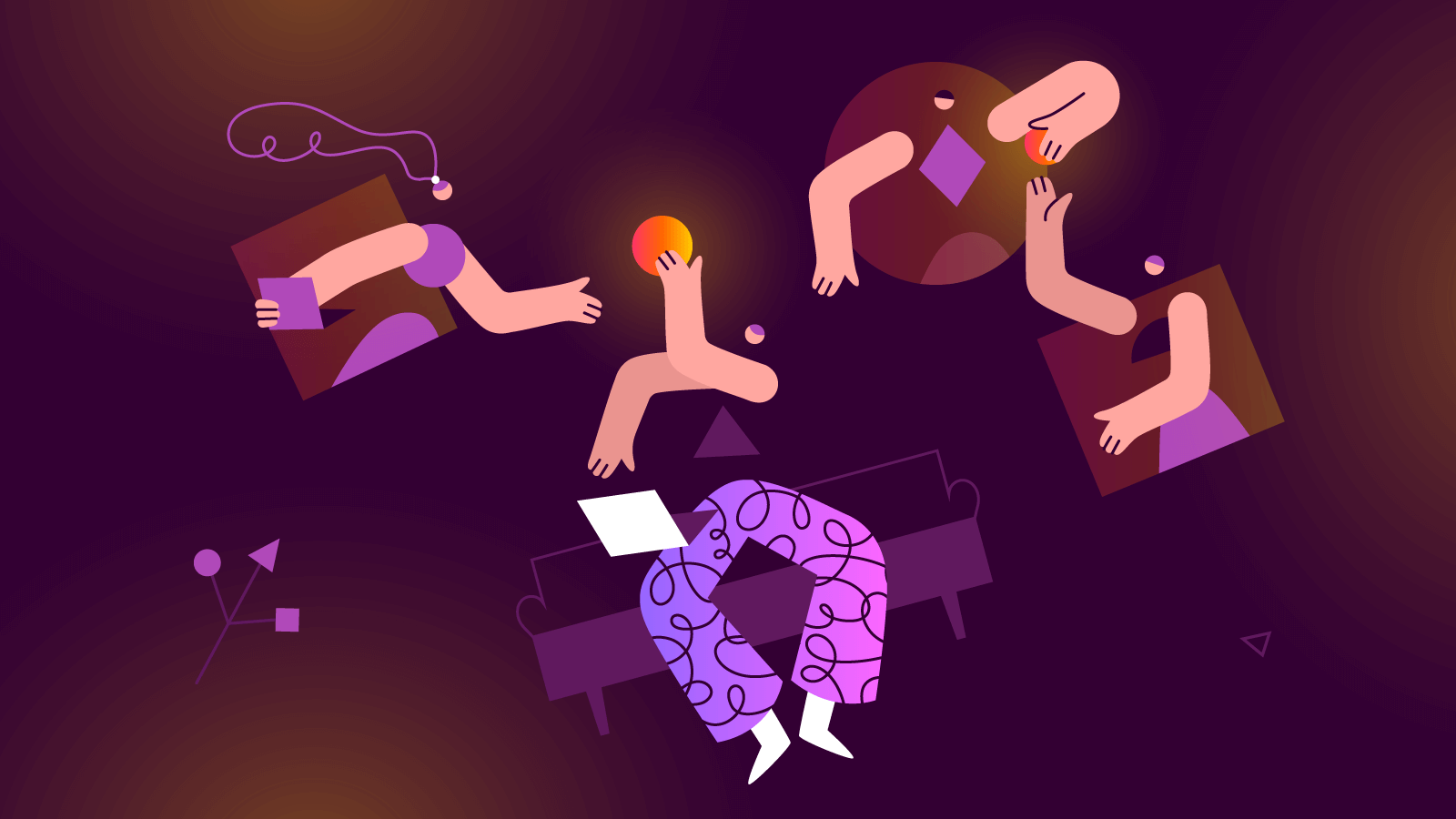 After more careful consideration and extensive market analysis, we concluded that not only the name has to be changed, but also the product because our goal was simple yet very challenging: become an industry-leading graphic design tool.
After this examination, we implemented the SAFe Agile methodology (which took four months) and started working remotely on this total rebranding project.
And it worked, despite the pandemic and the emotional toll that we've all experienced. The situation even allowed us to examine the human need, and we learned new processes.
Precisely because we had a great working process, but most importantly, we have an innate drive towards technology and creativity alike, it helped us throughout the entire project.
2.1. SAFe Agile: The backbone of our rebranding process
This methodology helped the entire company stay aligned during rebranding. We had a clear view of the business roadmap, planning ahead what's next. Some may say too much planning, but I guarantee it will pay off in the long run.
The idea was to help cross-functional teams collaborate more effectively.
I can't say it was smooth sailing every day. We longed for our monthly meetings, team bonding, coffee breaks, and the unique energy our office had. This is why every time we had an online meeting, we started with a bit of chit-chat, and we always made sure to talk about the latest meals we cooked.
On the process side, we're learning with each PI, and we're confident that after the fifth one, we'll know exactly what we're doing. <fingers crossed>
The SAFe Agile methodology gave us a clear vision of the entire roadmap and enough flexibility.
2.2. A digital tool with a human touch
The industry we're in was continuously flourishing even before the pandemic. But during last year we saw just how important it could be to keep the human touch in all that we do.
Our vision for Creatopy is to be a tool that offers every creator and communicator the possibility to connect through their work, putting their emotions into visual communication.
The pandemic forced many of us to collaborate online even more, which shaped even better the importance of a design collaborative platform. And there's where we want Creatopy to shine.
3. Creatopy: The Name's Meaning, Goals, and Values
So, why Creatopy?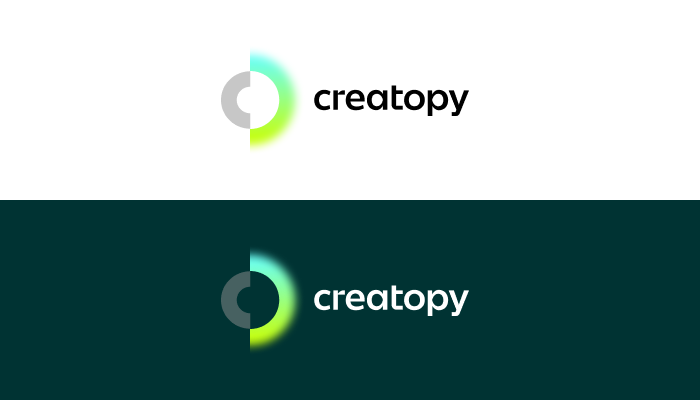 3.1. Creatopy: the meaning behind the name
We chose this name because it has, at its root, two essential words that perfectly encapsulate the whole purpose of our graphic design tool:
Create. The platform is for all kinds of content creators: marketers, designers, advertisers, or any other professional that needs a platform to create professional designs without necessarily having advanced design skills.
Utopia.

We wish for this platform to have the best features that allow people to be productive and creative at their fullest potential and get rid of repetitive and disruptive tasks. This is the place where your creativity can glow, always aspiring for the perfect design.
3.2. Creatopy positioning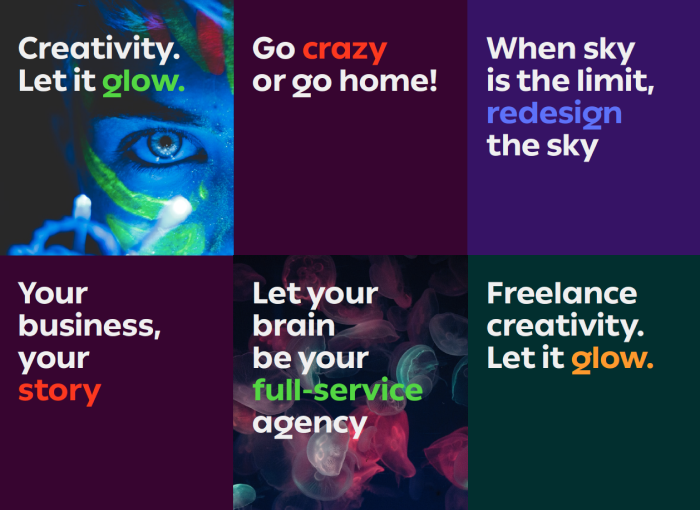 We finally have a clear and defined brand positioning: An efficient and intuitive visual production platform delivering a well-crafted creative experience for communicators and teams.
Previously, we had a bit of a struggle being a trend-setter because we lacked a strong foundation to add new features.
A few years ago, we managed to bring something new to the industry when we launched the Design Generator, a huge productivity improvement, but our plan for Creatopy is to do so much more.

3.3. Creatopy's values
As a COO to a company where we work towards building one of the best graphic design tools out there, I identify completely with the brand's values.
In case you haven't seen our video teasing campaign, here's a recap:
I belong

to an A-team of

beautiful minds and open hearts, allowing me to think sharp, to glow bright, and to stay agile.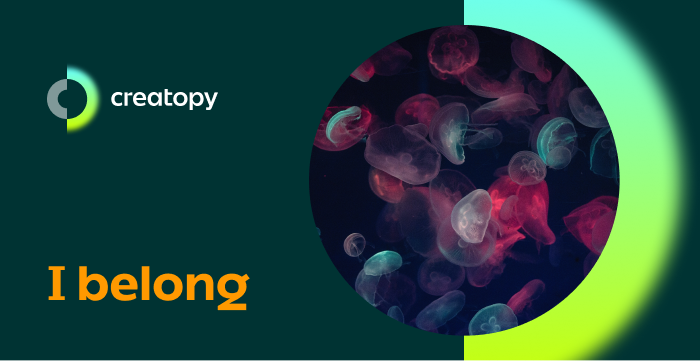 You can't do great things by yourself, that's for sure. And when you want to do them, you'll naturally surround yourself with people that have the same principles.
I mean technology.

I am passionate about… no. I actually live and breathe technology. That's it!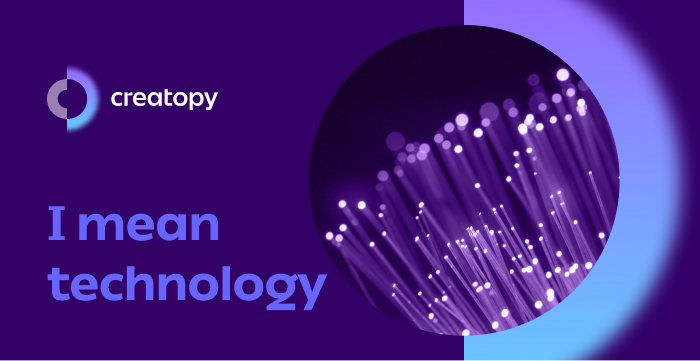 Technology is a part of who I am. Nuff said.
I care

about delivering the best CX, because I'm seriously going to knock our clients' socks off with a state-of-the-art journey on our platform, pleasant and productive.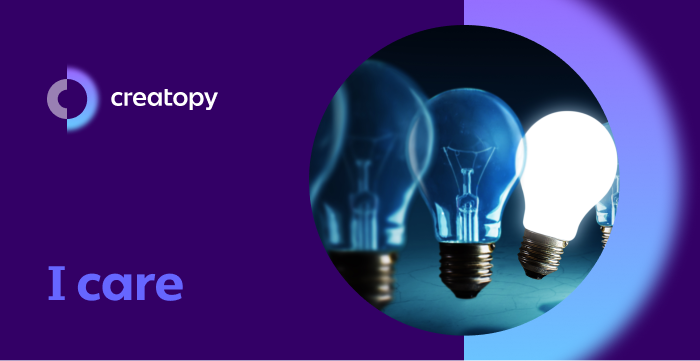 Our clients are the core of our business. They teach us how to deliver the best tool so they can have a flawless experience from A-Z. Product marketing is trending right now, but we've done this for years.
I create

beautiful design content because the best quality collection of designs always wins.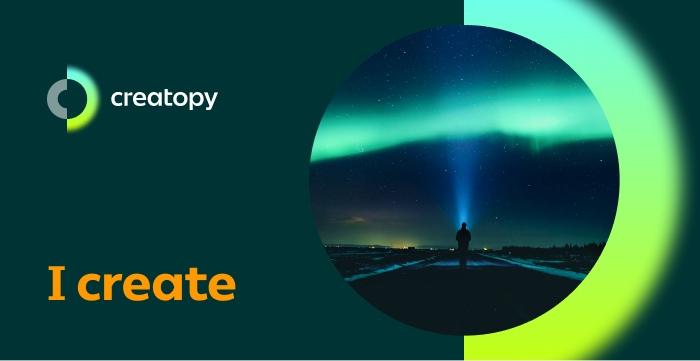 As a former Head of Marketing, my background speaks for me. I always liked creating content. When it comes to my artistic side, I can't say I'm good at it, but luckily I can make good use of our graphic design tool.
This is also a pain point we wanted to address with Creatopy: getting your dose of inspiration from everything we have on the platform. Just pick a template and personalize it exactly how you wish.
I love

Oradea, the city which provides the necessary magic dust for me. And because Transylvania sounds awesome.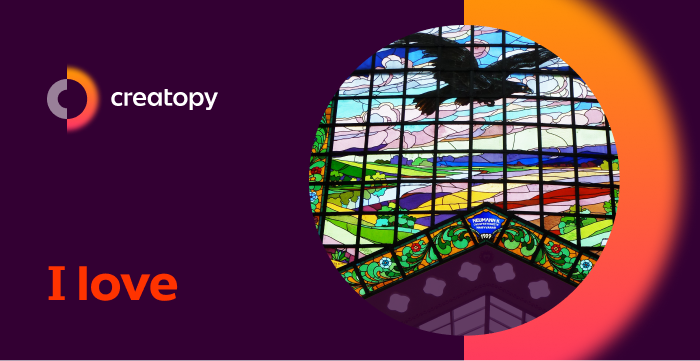 I was born in this magical city, and I recommend just visiting it. You'll see what I'm talking about.
Wrapping It Up
We want to be a strong voice in the graphic design tools industry, a trend-setter because we definitely have many great things to offer.
The first step is done. We've launched Creatopy, and we're cooking some grand things that will be revealed over the next few months.
I want to end this article by saying that the best is yet to come, from partnerships to features and other things that will make a difference in the graphic design tools industry.
Since you're still here, you must be as excited as I am, so let me disclose an exclusive piece of info about what's coming. Your trust in us is going to pay off. How?
Your experience with Creatopy will be uniquely yours, personalized to the fullest through machine learning, creating a one of a kind creative experience.
Worth reading until the end, am I right?