7
minutes read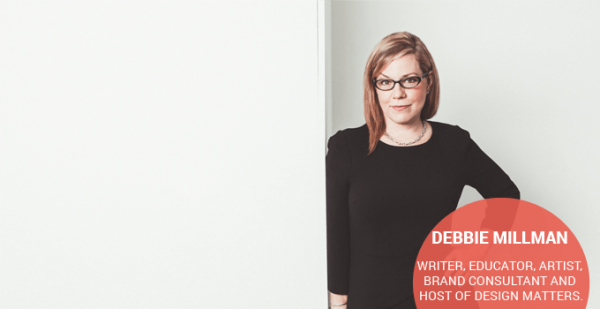 Debbie Millman is undoubtedly one of the most influential artists of this century. Among other projects, she is well known for "Design Matters", the longest running design podcast. Her work is simply astonishing. If you haven't listen the podcast already, drop everything and subscribe to it.
It is a huge resource for your inspiration and also it contains lots of advice from iconic designers like Massimo Vignelli, Seth Godin, Milton Glaser and many more.
We had the amazing opportunity to ask her a few questions about design.
Official website: www.debbiemillman.com
Twitter: @debbiemillman
Give us an overview of your career and what first sparked your interest for design?
I graduated college in 1983; this is my thirty-second year as a professional practitioner of design. My first ten years after college were experiments in rejection and despair. I knew that I wanted to do something special but, frankly, I didn't have the guts to do anything special. When I graduated, I didn't feel confident enough, optimistic enough, or hopeful enough to believe that I could get what I really wanted. I wasn't living what I would consider to be my highest self—in fact, I was probably living my most fearful self.
My first job was creating rudimentary paste-up and layouts for a cable magazine—fairly old school stuff. After that, I worked as a designer for a real estate company, which was the worst job I've had in my career. I quit in despair after a year and started my own little business with a partner. This might have seemed like a fearless thing to do, but I wouldn't say that the work we were doing warranted that description. It was the mid to late 1980s and back then, there was a big, powerful design scene happening in New York. I felt like I wasn't contributing anything meaningful and was in awe of designers who I thought were indeed making a difference: Tibor Kalman, Emily Oberman, Steven Doyle, Bill Drenttel, and the folks at firms such as Doublespace and Manhattan Design. My work at the time felt very feeble in comparison.
Then I got divorced, quit my job, and moved out of my apartment—all within a few months of each other. I was homeless, unemployed, and turning 30, which was difficult, but I slowly started to put the pieces of my life back together.
Shortly thereafter, I decided that I wanted to work for Frankfurt Balkind, the best design firm in the country at that time. Through a friend, I got an interview and when I showed Aubrey Balkind my portfolio, he said he'd hire me, but not as a designer—he didn't think my work was good enough. And this was all the work I had created in my entire career thus far! But I really wanted to work there, so I took the job he offered me—a job in marketing.
My whole life has been one thing leading to another, leading to another, and then another. It has been completely circuitous and mostly unplanned. About a year later, I got a call from a headhunter and he spoke to me about a job at a branding consultancy called The Schechter Group. I'd never done "formal" brand identity in my life, but it was incredibly compelling to me. Despite not having been the world's greatest marketing director and not having had the smoothest of relationships with Aubrey, when I gave him my notice, he looked me in the eye and told me that I was going to be very good in package design. He was right. For the first time in my life, I found my niché.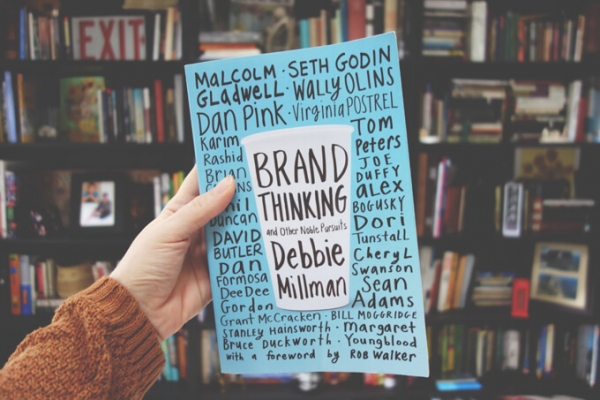 Currently, my day job is at Sterling Brands, where I am Chief Marketing Officer. I have been there for 20 years. We do three things really well—brand strategy, innovation, and brand design. In every case, we work diligently with our clients to deliver fresh, inspiring, and what we hope is high quality work. We provide a passionate point of view, what we consider to be intelligent guidance, and measurable results.
What are you currently working on?
I recently became the Editorial and Creative Director at Print Magazine, which is a dream come true. I am working with editor-in-chief Zachary Petit to rethink the magazine. It is an amazing opportunity that really puts all of my skills to use. I am also just about to begin my sixth year as Chair of the first ever Masters Degree in Branding at the School of Visual Arts and am starting my seventh book. I also just moved to a new place after 21 years in my previous so I am still working to unpack boxes!
Graphic Design USA named you "the most influential designer working today and you are the president of the design division at Sterling Brands and the Co founder of the world's first Masters in Branding Program at the School of Visual Arts in New York City.
Yes, I feel like the luckiest person alive.
Who were some of your most significant mentors?
My first mentor was a woman named Karin Lippert. She had her own PR agency and hired me to do all the graphic design for her clients. She was the first strong woman who I was able to watch run a business and she was, and still is, very involved in the women's movement. In fact, she is the person I wrote about in the visual essay "Cheese" in my book, Look Both Ways. She was and still is a strong mentor of mine.
Gloria Steinem was a mentor and in a way, still is. I worked with her about 25 years ago via Karin. Just being in her presence and watching her work and think was extraordinary.
My fairy-godfather, as I call him, and the magician of my life is Steve Heller. Steve asked me if I would cofound the Masters in Branding Program at School of Visual Arts and also gave me my first book opportunity. He's someone I would go to for advice about anything.
There are a number of other designers who I consider to be mentors. I think that their integrity, authenticity, and way of operating in the business is something to continually learn from. They are Emily Oberman, Carin Goldberg, Paula Scher, Joyce Kaye, Marian Bantjes—people who I think have blazed the trails for all of us in so many ways.
Tell us a little about the world's first–and longest running–podcast on design. "Design Matters"? How did you get started?
In 2005, I started my Design Matters podcast. I often say that Design Matters began with an idea and a telephone line. After an offer from the Voice America Business Network to create an online radio show in exchange for a fee—yes, I had to pay them—I decided that interviewing designers who I revered would be an inventive way to ask my heroes everything I wanted to know about them.
I started broadcasting Design Matters live from a telephone modem in my office at Sterling Brands. After the first dozen episodes, I began to distribute the episodes free on iTunes, making it the first ever design podcast to be distributed in this manner. I realized the opportunity to share the brilliance of my guests with an audience I never expected was the gift of a lifetime, but as the show grew in popularity, I recognized that I needed to upgrade both the sound quality and the distribution.
After 100 episodes on Voice America, I was invited to publish Design Matters on Design Observer by co-founder Bill Drenttel. Design Matters is now the anchor show on Design Observer's media channel, and the show is produced at the specially built podcast studio located at my Masters in Branding program at the School of Visual Arts in New York City. I've done nearly 250 episodes to date.
What is your daily routine and how do you manage to stay creative?
I actually don't have a daily routine. I do lots of different things and I prefer NOT to have a routine. The only thing I try to do every single day is get at least 7 hours of sleep! Sleep is SO important; it is when you regenerate your brain cells and your body. If I don't get enough sleep, I definitely can not be creative.
On which project did you enjoy working the most?
One of the most important projects I've worked on in the last decade is the strategy, identity and launch of the NO MORE Campaign (www.nomore.org). I worked with Mariska Hargitay, star of the television show Law & Order SVU and the founder of the Joyful Heart Foundation to help eradicate domestic violence and sexual abuse. In an effort to do this, I helped create the organization's signature blue symbol to increase visibility and foster greater dialogue.
NO MORE is now aligned with hundreds of organizations working at the local, state and national levels on prevention, advocacy, and services for survivors.
What are the most important tools for you?
Pencils. I love pencils. Every kind, every color, every day.
What do you think which are the most important aspects when it comes to defining a good design?
Design matters because the condition of design reflects the condition of our culture. Design is embedded in everything and EVERYTHING is designed: our clothes, our homes, our jobs, our experiences and our lives. We have myriad choices for everything we do—even the kinds of things we see, and we design our lives as we live them.
Is there any advice that you would like to share with young artists looking to make an impression?
I was interviewing the great writer Dani Shapiro and we were talking about the role of confidence in success. She stated that she felt that confidence wasn't as important as courage, and that the action to DO something was much more critical to success than the idea that you feel confident about doing it.
The notion that courage is more important than confidence has stayed with me ever since.
Could you make some predictions about design in advertising for 2016?
Designers need to be polymaths now; in addition to being able to design, they need to be able to write, draw, code, and market, position, brand and sell themselves. It is so much more competitive than ever, and employers and clients want to work with designers that can do way more than design. In many ways I think being a good designer is now table stakes for a career as a designer.
Tea or coffee?
Coffee, most definitely! As if!