6
minutes read
Note: At the moment, Facebook doesn't allow you to post videos as covers anymore.
Did you know that you can now make a video that can be used for your Facebook cover in just a few minutes? And, that you can enhance your page and attract more fans and shares simply by doing that? Well, it is true.
And, with this article, I will walk you through the basic steps of creating your Facebook page cover video and at the same time, explain the reasons behind such a process through the latest numbers and of course, some real-life examples.

The importance of video
According to a recent survey, 60 percent of consumers watch branded videos on Facebook every day while 64% say that videos from Facebook have influenced their purchase decisions in the past month. This means that video content is quite popular on the biggest social media platform that exists today.
However, one of the first things to do, before actually starting to create and publish videos, is to make your page more video friendly. This process, of course, allows you to make a statement to your audience.
Where do you start?
You start with your profile images and the page header. And yes, you can actually create an animated profile picture or cover.
Facebook cover video size and other specs for 2022
Size
The Facebook cover video size is not specified but you should keep it less than 1.75GB. When uploading the video keep in mind that a smaller file size would help users with slower internet connections get a faster video load time.
Dimensions
The Facebook cover video dimension should be at least 820 x 312 pixels, but for optimum results the video must be 820 x 462 pixels. This will be the resolution at which your banner will be displayed on your Facebook page.
Length
Facebook cover video length: The animated cover should be between 20 and 90 seconds long. Shorter or longer videos or animations will not be accepted.
Format
Video cover resolution should be at 1080p, which means you need to create a full HD video/animation in mp4 or .mov format. The resolution  is not mandatory but it would be better for the overall look of your page.
What's great about these videos is that they do start automatically. The autoplay is however muted which means that it will not be intrusive to the visitors of your page. Make sure, however, that it makes sense without the sound stream.
How to make Facebook cover video online
Now, that you know all the technicalities, it is time to start creating your own Facebook animated profile picture or banner. And, guess what, one of the best Facebook profile video maker is right here, on Creatopy. Yes, you can create a Facebook cover video in just a few minutes with this impressive and easy to learn app. What do you need?
Well, let's analyze the process step by step:
1. Create your account and log in
If you don't have a Creatopy account, create one and log in.
After that, you can choose between two options: create a single banner or a full set of banners.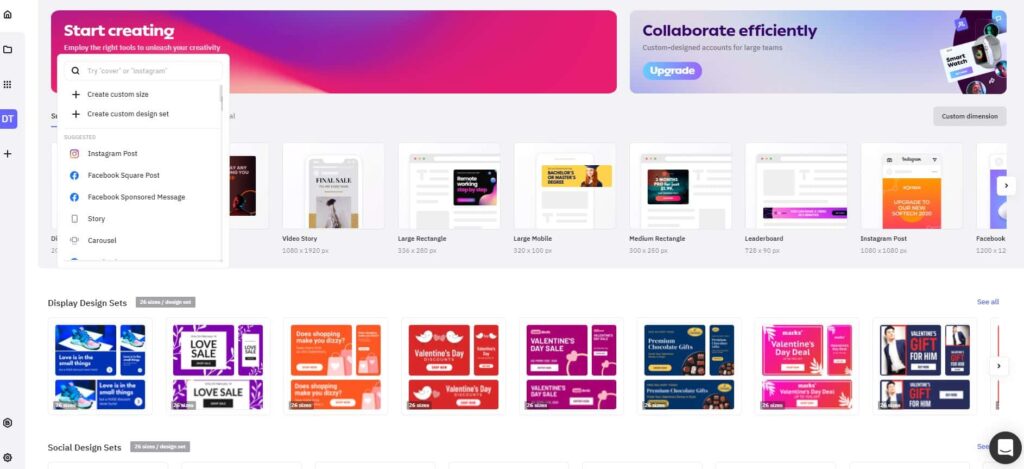 For the sake of this tutorial, I will choose the single banner option since we are dealing with Facebook only. However, it's good to remember that with Creatopy, you can create a full set of banners for all major social media platforms automatically. Therefore, if you want to advertise or market your business on more than one platform, you should select that option and save precious time by having the app adjust your designs for all formats, shapes, and sizes.
2. Get into the app
Tap into the search bar on the left and browse for the Facebook Video Cover size.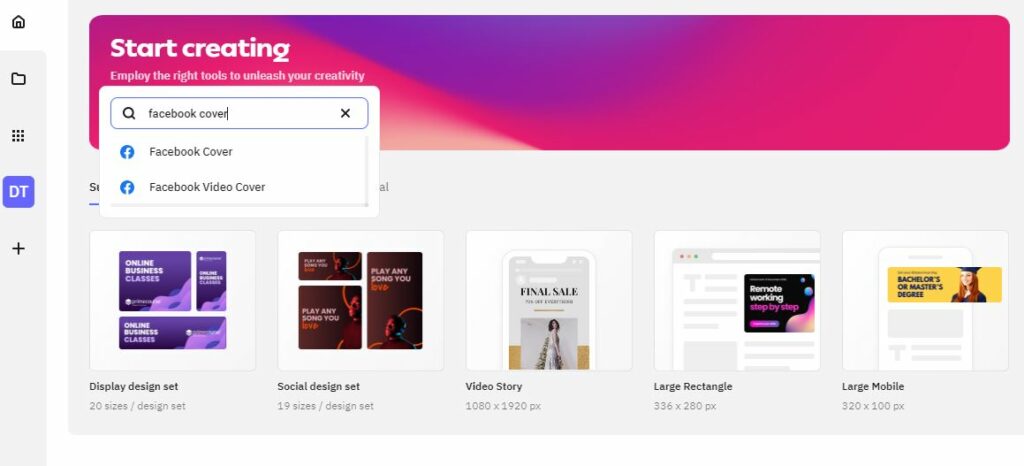 Now, you can really start your work and design your banner.
There are plenty of stock videos, buttons, and shapes available in Creatopy. However, if you have specific elements you want for your design, you can upload them into your account.
3. Create your Facebook video cover
Choose a video directly from our stock videos you can find in the Elements section, or add your own video for extra personalization and create an amazing Facebook cover. You can always trim the video to fit the required Facebook specs using Creatopy's Timeline.
Once you open the Timeline section, you'll see you can add and animate other elements you previously added to your Facebook cover video.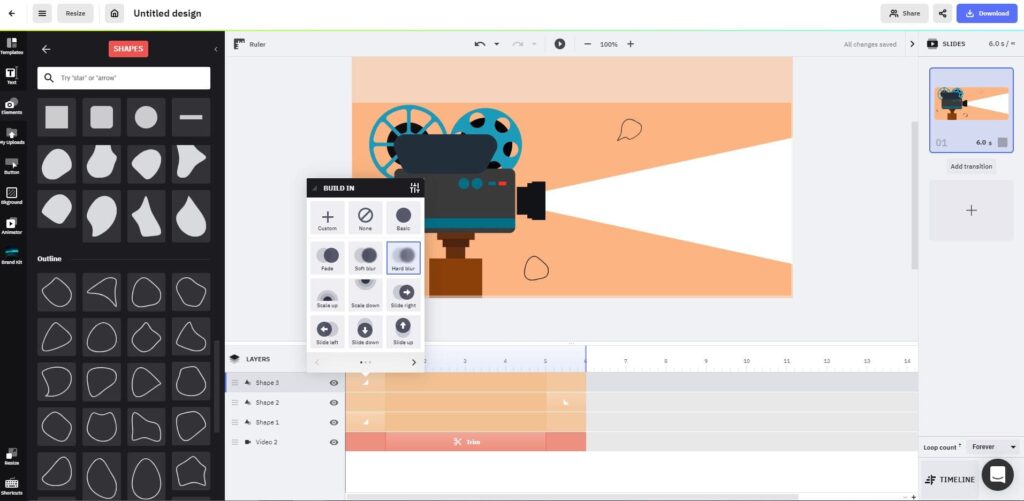 As seen in the above image, there are numerous types of transitions and animations you can choose from.
There are also a lot of different fonts, shapes, and buttons available, which you can animate as well, and make it all even more dynamic.

4. Preview and download
Once you are done, you can preview your Facebook video cover, then download it as MP4 or GIF, but for keeping the quality of your design, we recommend the MP4 format.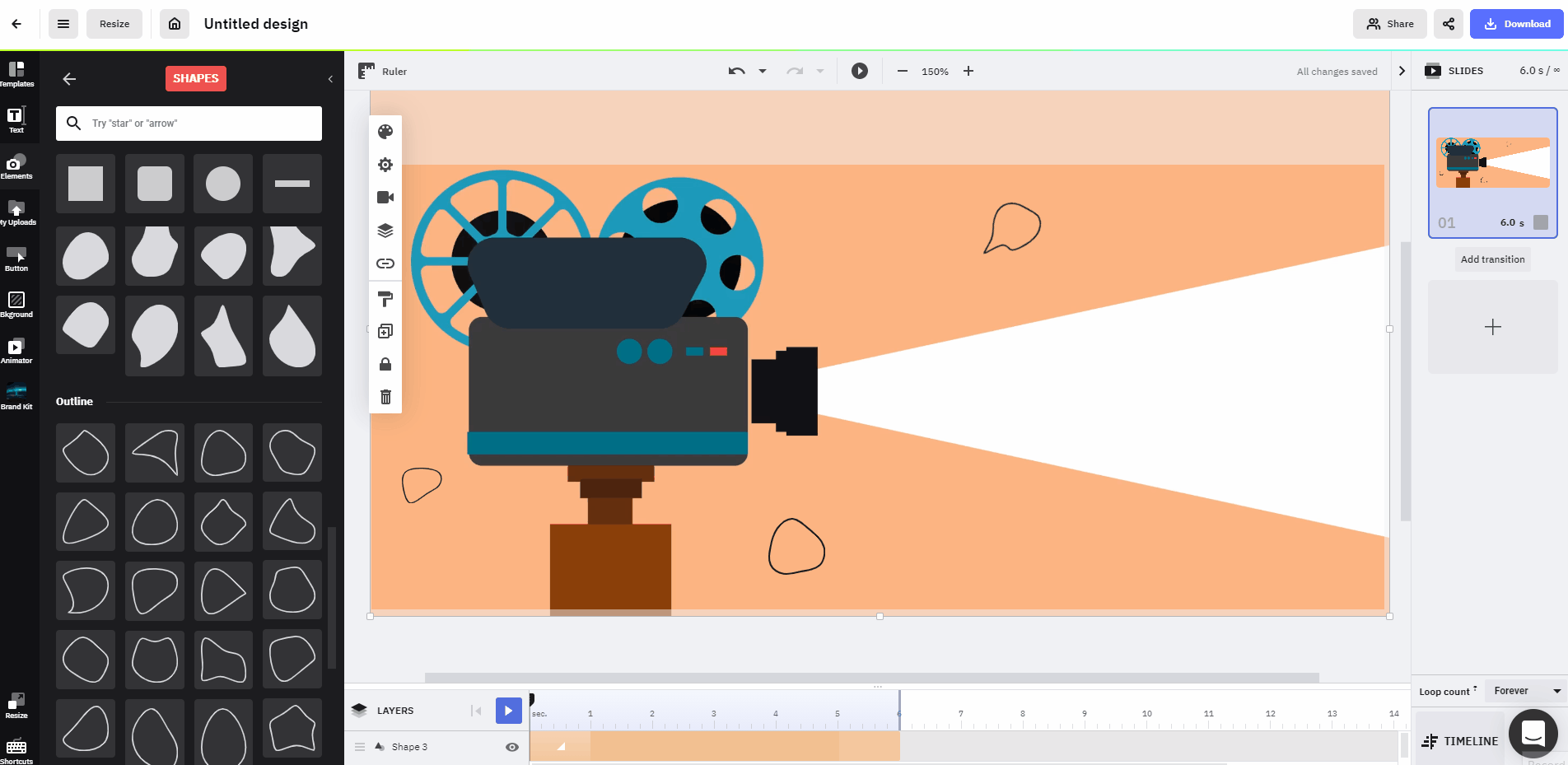 Great Facebook cover video examples 
Regardless of your industry, it is important to know how to address the audiences in as many ways as possible. National Geographic makes our favs list with a simple yet effective wildlife video as their Facebook cover:
When you think about social media, you cannot ignore Hootsuite, one of the major players in social media marketing. They know what they are doing and you can always learn from the best. Take a look at their Facebook page and their simple yet professional looking animated cover:
However, you can also mix images and videos and create an animated slideshow for your Facebook vide cover. Take a look for instance, at this beautifully animated collage created by a Photographer who showcases some of her work on her Facebook cover:
Another great example of a company that showcases some of their best products comes from Marvel Studios. In this case, the video cover features a short trailer of their latest Ant-Man movie:
Of course, you can create animated banners that explain in a few seconds what you are about and why people should choose your services. Another great example in this case comes from Wave, a popular app for social media marketers and advertisers that allows the easy creation of videos ads.
You can also give the audience a sneak peek into your office or, if you are advertising a public venue, some of the things you think might attract them. This example comes from the Metropolitan museum of New York and it is at the same time inspiring and effective in showcasing what the venue is about:
Are you advertising an outdoor resort or a beautiful place that needs to be seen? Show the audience why they need to book your venue. Get inspiration from this beautiful Facebook video cover created and distributed by One&Only Resorts:
Here's another example where you can see how an SVGator, online product is presenting their new features.
Or showcase your personal brand if you want to leverage your online brand using Facebook video covers. Here's a great example from Mari Smith:

The latest example here comes from an educational page, one that belongs to the University of Michigan.
This video takes the audience into a virtual tour of the campus with all its facilities: stadium, parcs, buildings, labs etc. A simple, effective and professionally cut video that inspires the viewer and offers him quite a great first look upon the institution with all its attractions.
Conclusion
I am sure that right from the start, you are thinking about designing the best Facebook video cover possible. Videos and animations are the latest hit when it comes to social media trends, one that you cannot ignore any longer if you have access to a community that comprises of technology savvy people.
We've seen throughout this article how easy is to create an animated banner, we've walked through the process and shared some technical details that will most certainly prove to be helpful.
What do you think about this type of content? Did you consider designing a Facebook page video cover or an animated banner?
Illustration by Anita Molnar