9
minutes read
If you're an influencer, then you've most likely heard of Patreon. 
But considering the slim chance that you haven't heard of Patreon, I'll give you a little summary of what it is.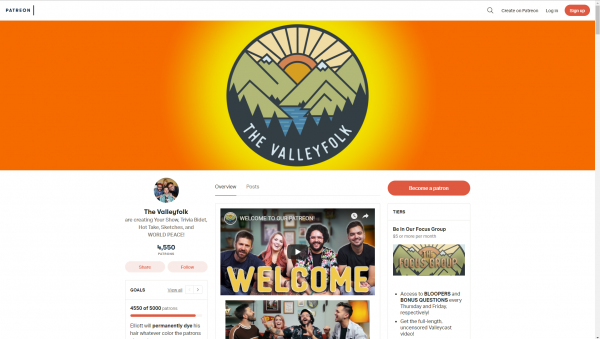 The short summary would be:
Patreon is a membership platform that makes it easy for creators to get paid. 

 
As a creator myself, I can relate to how difficult it can be to have a reliable and recurring income for my work. This is where Patreon comes in.
For creators, Patreon is a place where they can post content for a paying fan-base to see before they release it to the general public, or where they can post exclusive content that they can't find anywhere else.
It is a place for a creator to connect on a deeper, more personal level with their biggest fans, without having to deal with ads and algorithms of other platforms. It is also a platform where you can expect to see recurring income. Lots of different types of creators use this platform, such as podcasters, vloggers, photographers, writers, artists, and the list goes on and on. 
[source]
For patrons(Patreon users), Patreon is a place where they can connect with their role models and the people who inspire them most and pay them for making the things that they love to see. 
If you're considering signing up for the membership platform, then you need to have a Patreon cover photo that will describe who you are and what you do in just a few seconds. With our online banner creator, you can create a Patreon cover photo that your fans will recognize and appreciate in a jiffy.
Today we're going to go over how to create a Patreon cover photo for your page, the perfect Patreon cover photo size, and different styles and strategies to approach when creating it.
How to create and upload a Patreon cover photo in 4 easy steps
Go ahead and log in to your Creatopy account or sign up for free, grab your coffee, and let's start creating.
Step 1. Use the correct Patreon cover photo size
Once you've successfully signed in to your account or signed up (welcome to the cool people's club if you're new here!), it's time for you to create your Patreon banner.
What is Patreon's cover photo size?
According to the platform itself, the minimum Patreon cover photo size specification is 1200 x 675 pixels but will be displayed at 1600 x 400 pixels. 
So choose images and designs that will look great when displayed very widely. Your Patreon banner can also be a GIF or animated, which is a great way for you to be creative and impress your visitors with your animations.
From the dashboard, click on Custom dimension to add the size, then click Create custom size.
Then it's time to get into the fun part: the creation stage.
I'll be creating a cover photo right alongside you, so just follow my lead, but tweak the design to your own taste.
Step 2. Upload your own images, text, and logo to personalize your Patreon cover photo
First impressions matter a lot. That's something I strongly believe that we can all agree on.
According to a study performed at Princeton University, it only takes about 1/10th of a second for a person to form an opinion about a person or brand after interacting with them for the first time. And what's the first thing a person sees when they click on your Patreon profile? Your cover photo. So make sure you're portraying an accurate representation of what your content is all about.
Whether you want a minimalist cover photo with simple black and white text on it or an intricate design with screaming colors, make sure you know what you want your design to say about you.
With our online Patreon cover photo maker, you can add your own texts, images, background, and more. You can customize everything about your Patreon cover photo to your preferences.
Since I'm a YouTuber, I'll start by using a landscape image of my own.  I'll go to My Uploads from the left side menu and upload my own. Although, there are 2M+ stock images right at your disposal for you to use for your own Patreon cover photo.
Make sure when choosing or uploading a photo you choose something that's high-quality and can be stretched out across the screen without being too pixelated.
Now I'm going to add an element for the background of my text to add dimension to my cover photo from the Elements < Shapes section. I'll grab a simple box element and stretch it to my liking, choose the color, and edit the opacity to my preferences. Then I'll add another element on top of the transparent pink box to make it look more 3D. You can also add your own branding elements and logo into the editor so your fans recognize you immediately.
Now to add some text with my channel name and my slogan. In Creatopy, you can upload your own fonts or use one of the many fonts and text presets that we have ready for you. When choosing the color of your fonts, make sure you choose something that will greatly stand out from your background so that your brand is easily visible.
For my Patreon banner, I used the fonts Oswald and Playlist Script. Then I added a little heart element next to my slogan.
Step 3. Download your custom Patreon cover photo
Now that you've created the Patreon cover photo of your dreams, it's time to download it. Click the Download button from the top right corner to choose the format you want—JPG or PNG.
Step 4. Upload your custom Patreon cover photo to your profile
Now it's time to show off all your hard work to the world. Here's a tutorial on how to upload a Patreon cover photo.
Go to your Patreon profile and you'll see two options to edit your profile. I've highlighted both of them for you. There's one at the top-middle of your page and the other option is the second icon in the left corner right under your username. Click on either of these options to access your profile settings.
Now that you're in your settings, scroll down until you see where you can edit your profile picture and cover photo. Hover over the displayed cover image option and upload your new cover photo from your computer.
Don't worry if your Patreon cover photo looks like it's cut off. When I first saw this, I freaked out, thinking I didn't have the correct dimensions. But if your cover photo was created with 1600×400 pixels, it'll be perfect. Even though it looks cut off, save the cover photo and look at your new and improved cover photo on your profile. It should be perfect.
To change your Patreon cover photo, you repeat the exact same steps as you would when uploading one.
And voila! There you have it. Your custom, unique, beautiful Patreon cover photo that's absolutely perfect! It's not cut off, all of the elements you added are there, and most importantly, you made this banner all on your own and it was easy-peasy-lemon-squeezy.
That's literally it. So what are you waiting for? Go make your Patreon cover photo with Creatopy now.
The best 20 Patreon cover photos for you to get inspired by
Although you may know how to create a lovely Patreon banner, in theory, you may be lacking some inspiration for your own Patreon cover photo. That's why I chose my top 20 favorite Patreon banners for you to get inspired by. Check them out!
[source]
The combination of image and text here is flawless. Very similar to the technique we learned to achieve today in this article.
[source]
Sometimes you have to just let the animations speak for themselves. This writer decided to let the animations speak volumes and let you be curious about what she has to say in her novels!
[source]
This vibrant cover photo gives me all the summer, happy vibes. The cartoon animations are light-hearted and fun, just like the podcast!
N. K. Jemisin shows off her hard work in a collage of her novels. This definitely will leave a viewer speechless.
The Valleyfolk went for a simple yet captivating cover photo with their logo smack-dab in the middle. Eye-catching? Most definitely.
Who doesn't love fantasy football? These guys froze a live image from one of their podcasts and it worked perfectly as a cover photo!
Uncomfortable is flaunting some awesome gaming designs in his cover photo and we are loving it.
Simple, attention-grabbing, and a great combo of font colors. A sure-fire win of a cover photo.
Incorporating the animation of the glasses into the slogan was very clever on her part! The pink gives it a touch of feminity and everything works perfectly together.
Another amazing collage of Julio's favorite superheroes. Collages are a great idea if you have a lot to say and little space to display it.
Here we have another simple yet captivating cover photo. The color contrast is just begging for your attention and the logo stands out just perfectly.
What I like about this cover photo is that the profile picture was also incorporated in the cover photo. You can see that the thought bubble is floating right about the profile icon. Very creative!
This cover photo exudes peaceful vibes and makes me want to go for a stroll outside, but not before I see all of her content!
This 3d animated cover photo is just stunning. You have to click on the link to give it justice.
Ross draws is nothing short of talented; quite frankly, he's amazing! This cover art is also animated and definitely worth checking out. Click on the link!
Short, sweet, elegant, and to the point. Sometimes all you need is bold text to grab someone's attention!
There's a lot going on here, but in the best way. I love the color combinations and the vibrancy in this captivating cover photo!
A picture says a thousand words, and that proves to be true in this cover photo. This nonprofit really knows how to pull at your heart.
The vibrant colors and font combos work perfectly together here. His trailer matches the colors scheme in his logo and I'm very fond of that.
And last but not least, another animated cover photo. You definitely need to catch out this fun cover photo before you sign off. It's nothing short of interesting.
Conclusion
By now, you should be inspired by all get out. It's time for you to use Creatopy and create the best Patreon cover photo on the entire platform. Show off your creative skills to all your fans and leave them in awe of your cover art. Now it's time for us to part ways, but don't be sad. We'll have another article for you soon enough!