3
minutes read
Dazzle your fans with a unique banner that matches your musical style!
With more than 272 million registered users on SoundCloud, it's hard to stand out from the crowd.
A well-presented profile page could help you gain credibility and followers and, who knows, maybe even a record deal.
Having the right visuals is not enough, you also need to have the right SoundCloud banner size.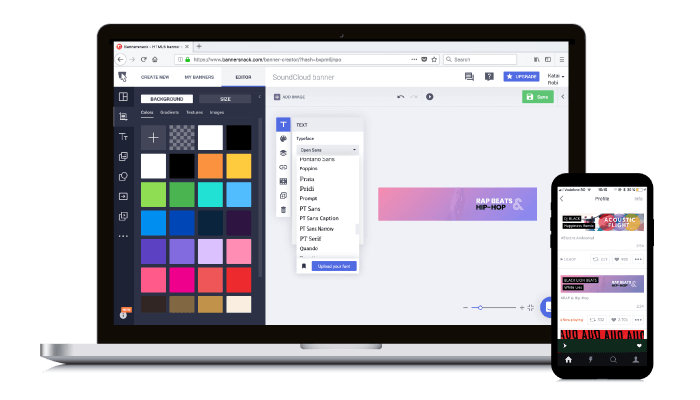 Focus on your music. It's all that matters to you.
You've invested so much of your time and energy in your music—the composition, the lyrics, the tune. You've put all your heart into it. That's why spending months to decipher complex graphic design tools to create a SoundCloud header banner is not something you want.
Instead, you can use our templates, customize them to suit your style, and save your time for the studio.
Use our online SoundCloud banner maker to create an impressive cover in minutes. 
We've got everything covered for you, from elaborately artistic templates to fancy fonts and icons. You can even add your logo to the banner.
Our software already knows the SoundCloud banner size, so don't worry about setting that up manually.
Create a Creatopy account and get access to our online design tool.
Choose your favorite template, stock photos, shapes, and fonts from our huge database.
Upload your photos, logo or fonts to give your banner a unique touch.
Design your banner.
Save, download, and upload it to your SoundCloud profile page.
Create your own cover image
Make use of our features to create a unique header banner for SoundCloud. Create one from scratch: choose your photos from our stock library, pick your cliparts and fonts, or even better, upload your own. Don't worry about the SoundCloud cover art size, our tool got that covered so you can focus on unleashing your creativity.
Free stock photos
You have unlimited access to our huge library of stock photos. No need to buy your pics elsewhere. Get all the benefits with only one subscription right here.
Soundcloud Banner Templates
Here are just a few templates for you to start designing your own visual and create an awesome profile page that people will love to follow and listen to.
SoundCloud Banner Size
| | |
| --- | --- |
| Visual | Recommended Size |
| Profile photo | 1000 x 1000 px (1:1) |
| Header | 2480 x 520 px |
The best size you can use to create your own SoundCloud banner are 2480 x 520 pixels and you must upload it as JPEG or PNG files. Also make sure that your file is under 2MB.
If you want to design a profile picture don't forget about the next important points:
The profile photo size is 1000 x 1000 pixels (ratio 1:1) but you can also upload it as 400 x 400 pixels
Make sure the visual represents your brand (use your logo, band name or your own photo)
Use high-quality images
Keep the design simple
If you want to know more information about the profile photo or SoundCloud banner dimension and other requirements for this platform, you can read more on their help page.