3
minutes read
Another week, another episode for our awesome community. Today, we'll talk a little bit about Tobias van Schneider. He is a german designer, art director, speaker and entrepreneur. He worked with companies such as Red Bull, BMW, Wacom, Google and more.
Tobias is curently the Lead Product Designer @ Art Director at Spotify. He also has a podcast and he writes on Medium too.
So, without further ado, i bring to you, the episode 4 of the Snack Podcast.
Enjoy!
TRANSCRIPT 
When i say the "Majestic Beard" the first person you probably think of is Tobias van Schneider.
Some say that his beard is so majestic that it has a beard of his own. But of course, that's not the reason why he ended up in our podcast.
His ingenuity and his mad design skills are by far the best things about him. There are a few modern designers in the world that mastered minimalism and Schneider is among them. Let's start with the basics, though.
His childhood wasn't the happiest. He grew in Austria in a family with very little money and going to a high end school wasn't an option for him. He ended up in a special school for trouble maker kids but he dropped out after 4 weeks because, as he said in a medium article that he wrote "it was horrible and I felt like a criminal for just being there".
Not having a proper formal education didn't look good on his resume. But The social pressure, the fear and the thought of not having a diploma or an accreditation of some kind didn't stop him from doing what he was truly passionate about.
He loved computer science and he wanted to be an engineer so he saw an opportunity to work as an apprentice and he seized it. After a year he was promoted as a real engineer but he didn't do very well. However, the company leadership noticed something else.
While building websites, knowing how to design was a must so he taught himself how to do it. This was the moment when he and the company had a moment of sudden realization and they decided to make him to lead their design team.
This wasn't enough for schneider  though. He wanted something more so he took a huge risk and quit his job for a more entrepreneurial approach so he started a studio in New York.
He felt like New York was the place to be if you are a designer. Fact confirmed by the amount of designers that we talked about in our podcast and lived in New York. As he said in an interview for "Awwwards.com", in New York there is almost always a new design related event that you can participate in.
However, everyone thought he was nuts because he was A designer with no good plan but he knew he can do it and he wanted to prove everyone they were wrong.
Fast forward a few months and after a lot of rejections, he finally managed to make the studio be successful. And boy it was indeed successful.
Over the years he had the amazing privilege of working with companies like Google, Wacom, Sony, Red Bull, Bmw and many others.
He also got a job at Spotify where he's currently working  among all the side projects and personal work he does for fun. He is the living proof that if you love what you do and trust yourself you can achieve big things. As he said " I love it when designers actually break out of their usual habits of just being a designer and take on new responsibilities"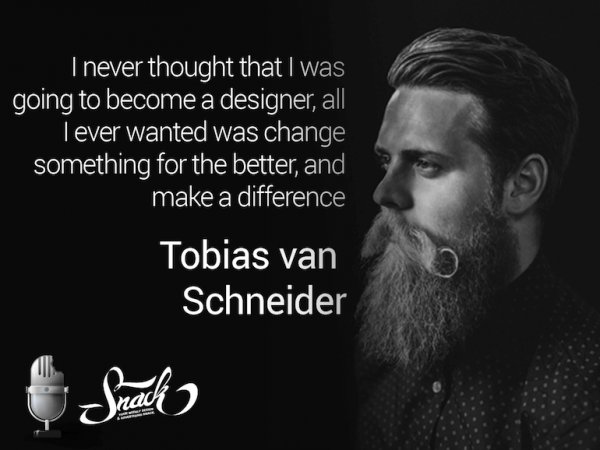 Probably, one of the coolest and the most viral project he worked on and i absolutely love is the authentic weather app. This is a funnier and unconventional way to know the weather and all the non-sense related with messages like "The weather ain't fine" or "Meh… Just stay in bed." 
This is just one awesome projects that he worked on. He is also the host of a podcast, he is a writer for Medium, he is an advisor and creative director at Memomi which is a company that wants to revolutionize the shopping experience and many many other cool and interesting projects. 
He also received a lot of awards like the net magazine Designer of the year and the Awwward Art Director of the Year award. 
I highly recommend you to check out his website, behance page, podcast, apps, and everything that he worked on basically.
I'd like to sum up the moral of the story with a quote from Schneider:
"I never thought that I was going to become a designer, all I ever wanted was change something for the better, and make a difference" 
With that being said, get up and do what he did.
Be different.