11
minutes read
Being the most engaging form of online content, videos are fun to make, ideally even more fun to watch. Most importantly, from a marketer's point of view, videos created with a powerful video ad maker are highly effective for conversions.
After you've invested a fair amount of time and resources into creating a video, I presume you also want people to see it.
What's next, then?
You'll want to upload it somewhere so it can reach your audience and be shared so it can attract more visitors and raise your brand awareness.
But there's a problem.
Why Do You Need Video Hosting Sites?
Before getting to know some of the best video hosting services, let's address the elephant in the room.
Why do you need video hosting in the first place? You already have a website where you can upload your video content, right?
True, you do have a server to store the video files and a website to play the content. However, hosting your videos locally isn't the brightest of ideas.
Unlike images, and let alone plain text, videos demand an exponentially more considerable amount of resources such as storage space and bandwidth–a surefire path to all sorts of playback errors and quality problems, especially on mobile devices.
And you don't want your website to bear all that load, mainly because page speed also dramatically affects your site's rankings.
Uploading your video on a dedicated video host website cuts through all of these issues elegantly and straightforwardly.
Afterward, adding your video to any web page is as simple as copying and pasting your unique embed code, and sharing it on social media is also painless with usually just the touch of a button.
What You Need to Know about the Most Popular Video Hosting Platforms
There are plenty of video upload sites out there, and with so many to choose from, it helps to get familiar with the main features and the pros and cons of the most popular ones.
Which one you'll end up choosing–that will most likely depend on what you want to achieve with your content, but your budget will also have a say in the ultimate decision.
Finding your best option among the numerous free, as well as subscription-based video hosting sites available, can become a head-scratcher, but we're here to help you make sense of the maze of different features. Some of the online video hosts excel when it comes to increasing your exposure and reach, others are best if you want detailed analytics.
We've split our list of video hosting sites into free and paid video hosts, but keep in mind that in the world of video hosts, free doesn't necessarily spell compromise, and the subscription doesn't automatically mean added value.
It all depends on your particular use case, so be critical and choose wisely.
4 Free Video Hosting Sites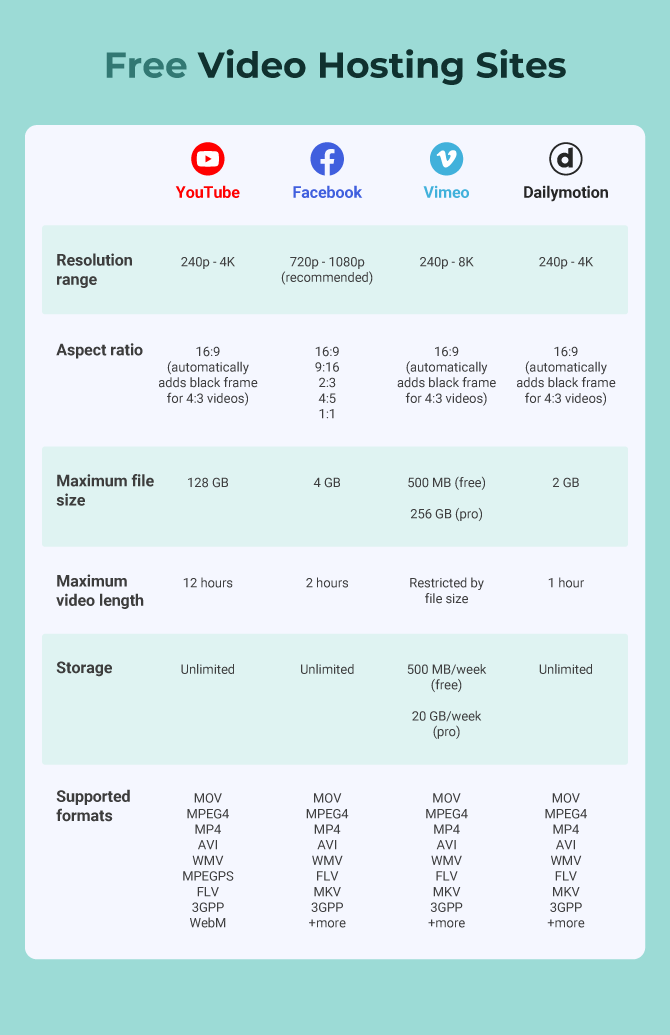 Let's put lavishness aside for a minute and admit that a bargain deal is always tempting, not to mention the charm of the occasional freebie. Business is business, where costs are an essential factor, so there's nothing wrong with exploring the free solutions that might help you resolve your video hosting challenge.
However, don't forget that the same as yourself, video uploader sites are running a business too, even the free ones. What does this mean for you? In essence, they'll scratch your back, but you'll need to be scratching theirs too.
Free video hosting sites will place ads around your videos and will use your content to keep users glued to the platform. Helping you achieve your own objectives is how they keep their business in motion, but their ultimate goal is to maximize the exposure of their ads–their primary revenue source.
Let's dive deeper into the world of free video hosting websites and see the most popular platforms one by one:
1. YouTube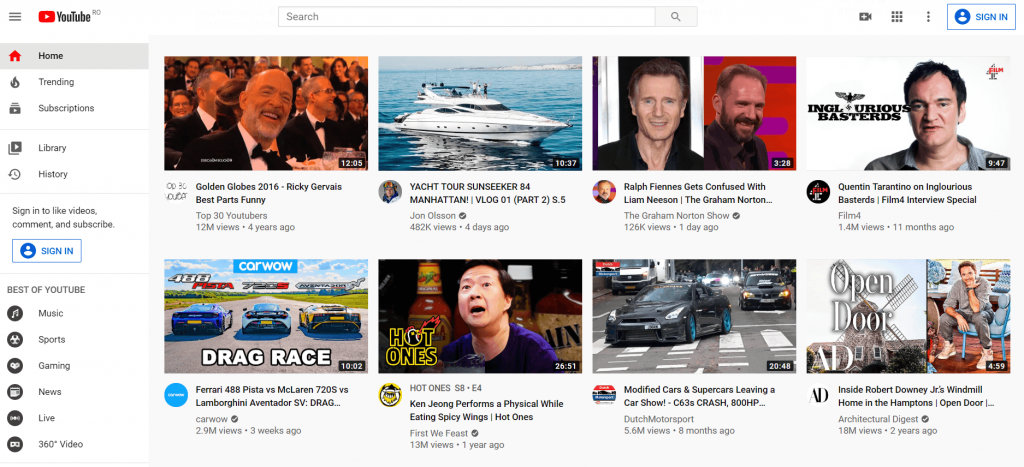 There's no getting around YouTube when discussing free video hosting sites, so we may as well start with the giant everyone is familiar with–at least with its consumer end.
With a vast audience of 1.9 billion monthly active users (according to the most recent video marketing statistics), YouTube is not only the largest online video host ever, but it's also a social media platform–and yes, the world's second most popular search engine.
YouTube video hosting offers unparalleled potential for marketers, but that doesn't mean it's the best option when it comes to hosting your videos online.
Pros
Free, unlimited storage

Large user-base

Advanced search algorithm, recommendations, channel subscriptions

Videos are easily shared and embedded
Cons
Branded embedding with basic features

Ads – even on commercial, externally embedded content

Recommended videos feature may work against your objectives

No native download options
Summary
YouTube is the most well-known video host, and it's a proven space to build up to nine-figure online audiences. The ability to upload large video files into an unlimited storage space for free is also hard to ignore.
The clearest downside is the ads, but the recommendations might also be a deal-breaker as there's a significant risk that they will lead your audience straight to the competition.
2. Facebook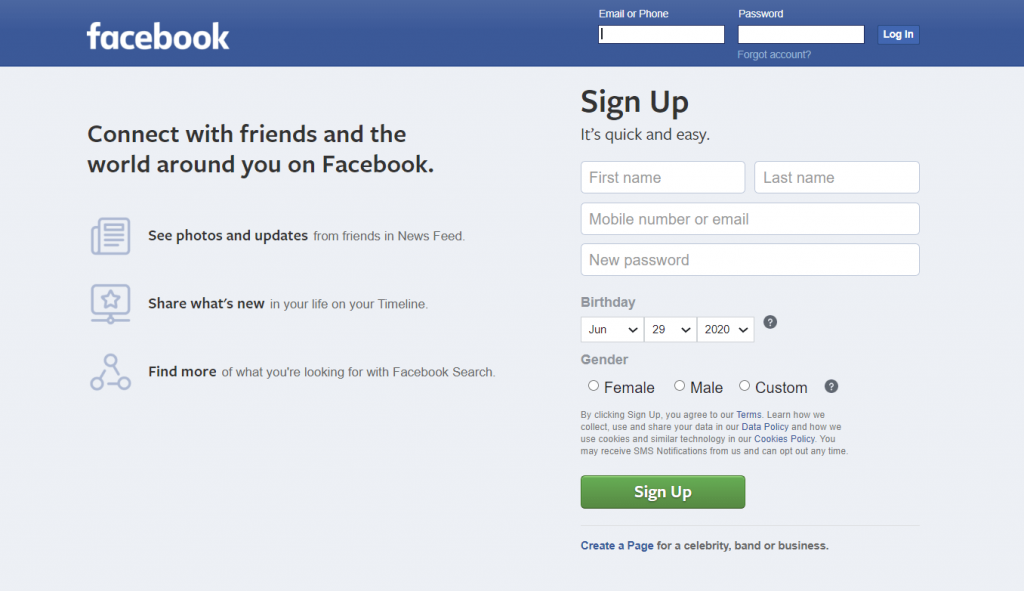 Facebook has a big advantage over most other video upload sites, namely that it lets you add very long videos of up to 240 minutes. Sharing is also easy–the giant user base opens up a real possibility for your content to go viral.
On the downside, Facebook's primary objective is the same as that of YouTube—to keep the users happy and scrolling down for as long as possible.
So for a more fluid user experience, the videos start automatically, but with the sound on mute by default, which requires some creative thinking. In fact, it's best to create your video content with this mindset from the get-go if you want to host it on Facebook.
Pros
Free, unlimited storage

Large, easy to reach audiences

User-friendly sharing options
Cons
Ads on all videos

Minimal embedded player options

Low video quality with muted sound by default
Summary
Although Facebook has an even larger audience at around 2.45 billion monthly active users, it's hard to compare it to YouTube because it's not a true video hosting site.
The publicity you can gain is enormous regardless, so it's excellent for building audiences and boosting your brand awareness, especially since hosting your videos on Facebook is also free.
3. Vimeo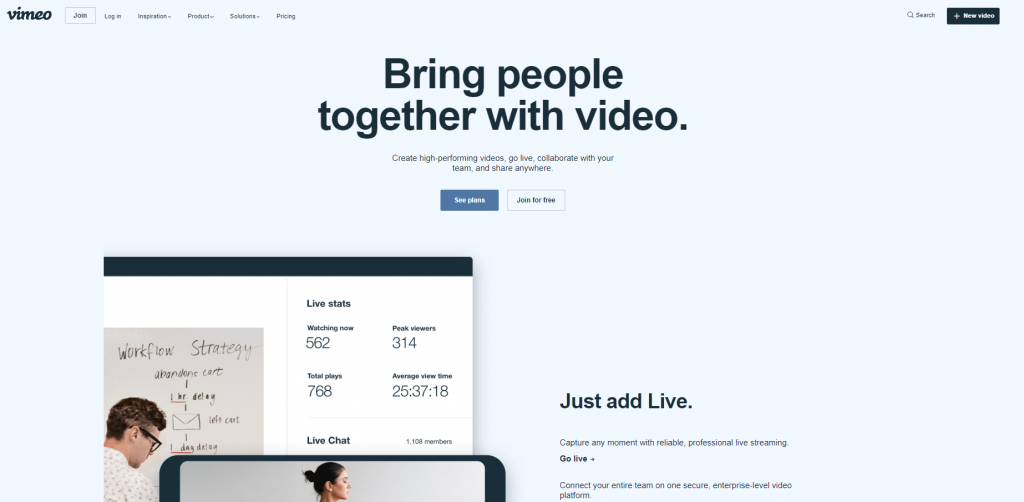 Vimeo has a reputation for being a more professional video hosting platform, and for a good reason, but that does come with some constraints.
So what's the catch if it offers many of the features you'd find on premium video host, but for free?
It's quite simple, actually. Vimeo video hosting is meant for professional use, so it attracts a smaller audience than YouTube or Facebook, which try to appeal to pretty much everyone.
Short films, animations, music videos, and other creative, artistic content feel right at home on Vimeo, though, so if you produce this sort of videos, you probably won't mind the narrower reach in exchange for better engagement.
Pros
Ad-free video hosting

Highly versatile video embedding option

Downloads can be enabled
Cons
Limited storage on the free plan

Small audience
Summary
With Vimeo, it's the classic quantity vs. quality dilemma. Your videos are not likely to attract nearly as many views as on other more popular sites, but if your niche is aligned with the more professional content that Vimeo's audience is used to, it's a compromise well worth considering, and a decision your conversion rate will thank you for.
4. Dailymotion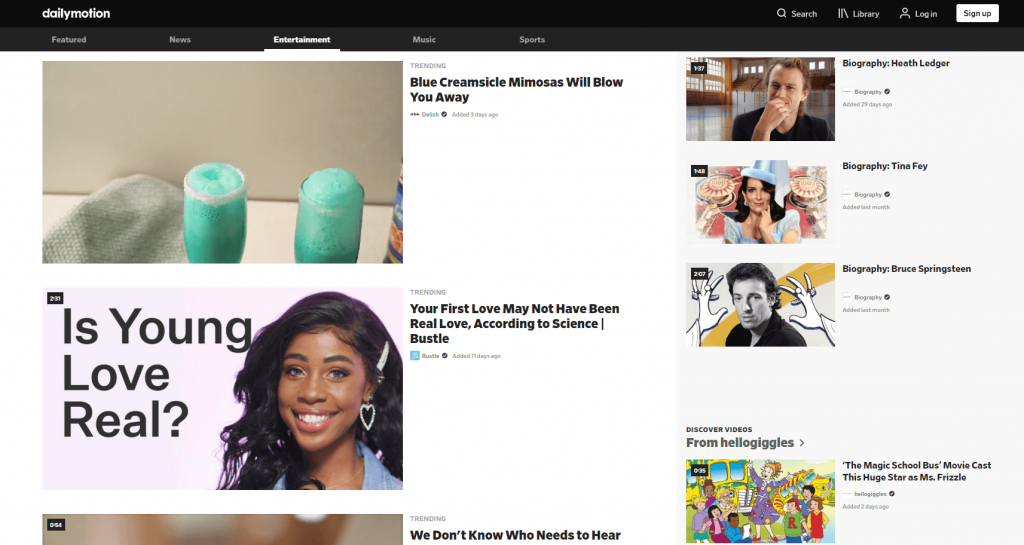 Although no match for YouTube with its more modest but still respectable 300 million user base, Dailymotion video hosting does have its advantages–a testament to which is the estimated 3.5 billion videos watched on the platform every month.
One potential upside to hosting your videos on Dailymotion is exactly its underdog status. Being the less popular choice, most of your competitors may be fighting for the same audience on YouTube, leaving you with millions of potential users hungry for your content on an otherwise very similar platform.
What is this if not an opportunity?
Pros
Free, unlimited storage

Possibility to privately host or password-protect videos

A diverse audience with less competition
Cons
The relatively small user base

Limited file size

No native download options

Basic embed
Summary
Although Dailymotion is not the go-to video hub for most, it's definitely worth exploring. Like most free video hosts, it's not without ads, but they are played after the video by default, which makes for less frustration for both the user and the creator. If looking to boost your brand awareness, you have nothing to lose with Dailymotion.
5 Premium Video Hosting Sites
While free video hosting websites get the job done and some of them are great for giving your brand awareness a push, many lack the full control you may want, primarily if you produce video content for enterprise use.
Hosting your videos with a premium host usually gives you control over the appearance of the player itself, more versatile analytics, and in some cases, even lets you use your video content to capture leads.
For videos embedded directly on your website or a landing page, a clean look may be paramount, but the management's reporting requirements may also leave you with no other option than going pro.
Paid hosting platforms are therefore inevitable if you want superior service, but for the cost, you get the value that the free options lack.
At the end of the day, only the premium tools allow you to use your content that you've worked so much on to its full potential–this may be worth the cost of a subscription plan if you choose the right platform for your goals.
Check out our shortlist of some of the best premium video hosting platforms in 2020:
1. Creatopy
Talk about value–Creatopy is more than a video hosting site. In fact, Creatopy is a versatile all-in-one visual production platform that started out as a banner maker.
The video editor is easy to use regardless of your level of experience and even offers stock footage and handy templates to speed up the work or get you inspired whenever those creative juices dry up.
Pros
Ad-free video hosting

Intuitive interface

Cloud-based video editor included with the download and embed functionality

Multiple marketing tools included in the subscription
Cons
Summary
Creatopy is perfect for small businesses and startups because it's a jack of all trades. With the same subscription, you unlock not only video hosting but also a multitude of tools to make your marketers' lives easier, all with an online proofing component to make teamwork as streamlined as possible.
2. Wistia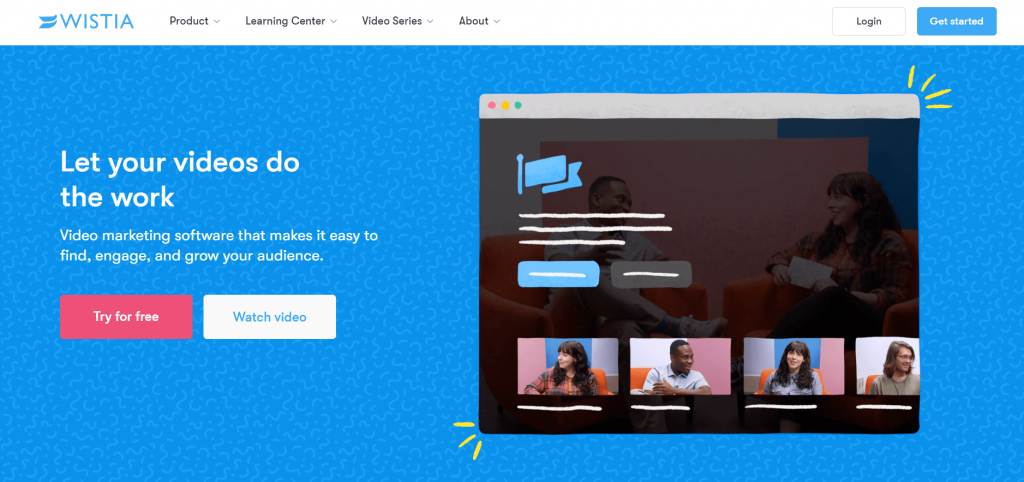 Wistia is not so much a video hosting website in the traditional sense as it's more focused on business use, specifically as a video marketing solution.
It allows you, among others, to generate custom audiences for remarketing campaigns. At the same time, the advanced analytics dashboard shows engagement stats, play rates, and even a heatmap view to see exactly how your visitors interact with your videos.
And through their unique Turnstile email collector, on Wistia lead capture finally meets video hosting. You can place forms directly into your video, which also integrates the data with a CRM.
Pros
Customizable embedder

Possibility to highlight your own videos as recommended

Custom social audiences

In-video lead capturing

Custom video player branding

CRM integration
Cons
One of the more expensive video hosts out there

There's no inherent audience to tap into
Summary
Wistia is unique in that its features are tailor-made for digital marketers and data-driven enterprises who want to provide a personalized experience to their customers. Although one of the more expensive video hosting options, Wistia's lead capture solution is a big plus that makes it attractive despite the steep price.
3. SproutVideo

As the name and all the green shoots in their visuals suggest (even their payment plans are called Seed, Sprout, Tree, and Forest), SproutVideo really is all about growth.
Some of the notable features include ultra HD video support up to 8K, video themes, social sharing buttons, and similar to Wistia, it also offers lead capture forms and advanced video analytics such as viewer engagement history down to individual viewer interaction.
You can even see which countries your audience is viewing your content from, as well as which domains.
Pros
Unlimited unique video player designs to fit any landing page

In-video lead capturing

Advanced video analytics

Collab space with audit logs and role-based permissions
Cons
Quite complex–requires advanced user skills

There's no free plan or trial

No inherent audience

Quite expensive compared to other similar video hosts
Summary
SproutVideo is a genuinely versatile video hosting website, but one that requires skill and experience to master. The steep prices of the advanced plans further emphasize the fact that it targets established enterprises. However, the reasonably priced Seed plan offers the majority of the essential marketing features for small businesses. If you're looking for a video host with 8K playback, SproutVideo might be worth considering.
4. Jetpack Video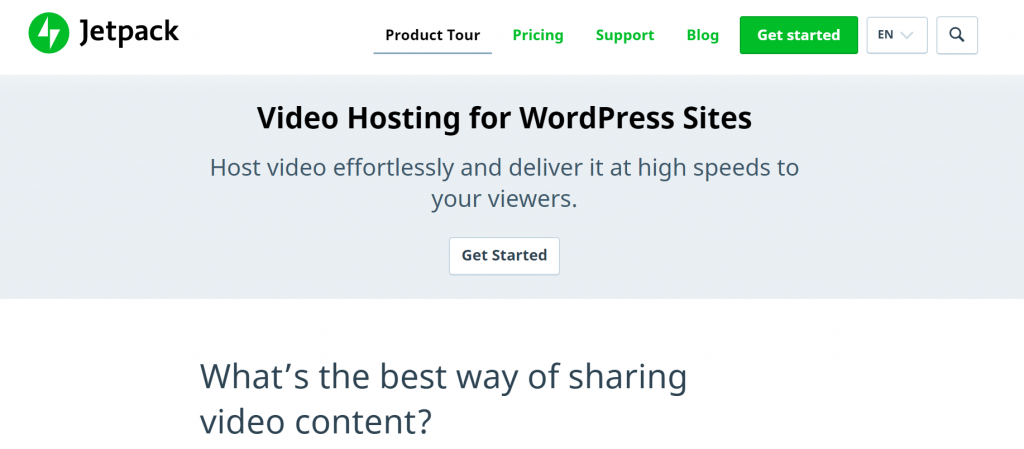 Again, not a classic video hosting brand, Jetpack is a WordPress plugin suite that also offers video hosting services (that some long-time users aren't even aware of).
It offers ad-free video hosting services within a WordPress environment, and similar to most video hosting platforms, you can get these videos onto any webpage with a simple embed code.
Jetpack Video integrates directly with your WP media library and post editor, allows you to autoplay videos, and use CSS for custom styling too.
Pros
Advanced privacy settings

Multiple WordPress functionalities included

Affordable price
Cons
No inherent audience

Basic analytics
Summary
If you're already a user of the Jetpack suite, it makes sense to use the included video host. Otherwise, it's best to take a look at the rest of the toolkit to see what else you might need from the Premium or Professional packages before you subscribe. Either way, the price is very attractive, so it's worth exploring.
5. Cincopa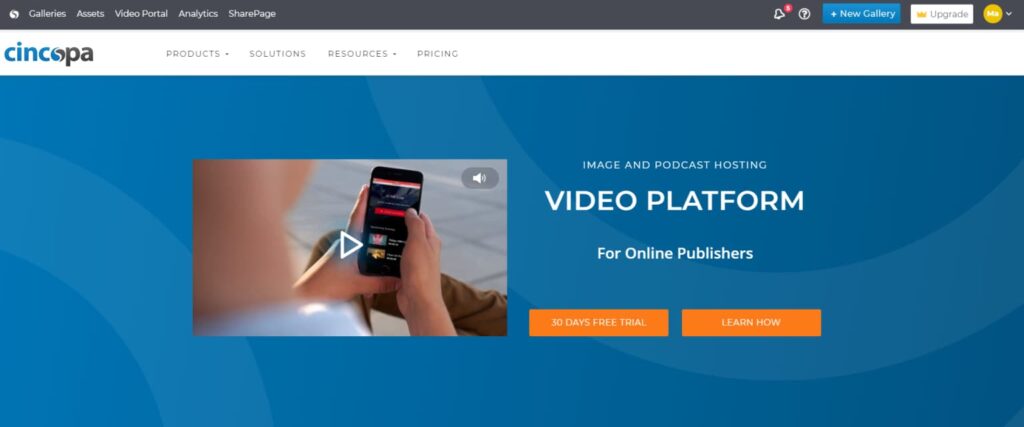 Like Wistia, Cincopa is a comprehensive video marketing solution that makes available broad digital asset management features. Aside from video hosting, you can also turn to Cincopa to host images, music, podcasts, and PDF files for your app or website.
One of Cincopa's signature features allows users to create a video channel that functions as a YouTube channel within their website.
Moreover, Cincopa enables you to strategically approach video marketing by using on-video forms to capture your viewers' contact information. You can also incorporate video engagement rates within your marketing automation initiatives with third-party integrations.
Pros
In-video lead capturing

Custom video player branding
CRM integration
Advanced analytics
It can be used to host images, podcasts, and music too
Cons
More advanced analytical features, such as video heatmaps, are only available when subscribing to the Corporate and Enterprise plans
Conclusion
Video is a tricky medium to master, but if done right, it's by far the most engaging form of online content, and as such, the rewards are well worth the additional effort.
With so many online video hosting solutions available, choosing the best one for your website is a tricky task. Still, the right approach from the beginning can quickly narrow it down to just a few options that are really worth considering for your particular case. The devil is always in the details, and in this case, you can expect it to hide in the technicalities (of which there are plenty).
Remember that free video hosting sites can help a lot to increase your brand awareness, but their business model may end up working against your goals in the long run. Meanwhile, business video hosting sites will make your content the primary focus for viewers, which is great for conversions but not the most effective for exposure.
We hope this little guide has answered your questions about online video hosting and will help you move on to learning about the more complicated aspects of video.
Ready? Lights, camera, action!