9
minutes read
I've heard too many times lately that it's pretty hard to keep creating content in an era where everyone makes the same thing.  I've also heard all too often that Visual Marketing means just some photos "thrown" somewhere on a display, just for the sake of maintaining a nice and so-called professional appearance. 
It's no wonder that projects coming from the hand of many (whether we are talking about content marketers, content strategists, copywriters, bloggers, etc.) do not reach any target whatsoever and their strategy will eventually be discarded.
[Tweet "Visual Marketing is not a sprint, it's a marathon."]
I do get the notion that we live in an era where we need results NOW in order to present our work (either to a customer or a boss) and receive the budget for the next project.
According to Xerox, colored visuals increase people's willingness to read a piece of content by 80%
But that doesn't mean you should do it as soon as possible We often forget to take into account what visual marketing really means throughout this whole strategy. 
Why should we be interested in visual content on our websites or blogs? How should we implement visual marketing? What type of visual content should we prepare for the next project?
And the list of questions could go on and on. 
According to a study by Social Bakers we can see that in 2014 photos were the most shared content on Facebook. And when SME made the report in 2014, they also found that marketers want to learn more about visual content. 
This year, use of video content increased by 8% to 58%, while infographic usage increased by 9% to 52%. Interactive formats such as Brainshark and SlideShare increased in popularity as well, up from roughly 21% in 2013 to 28% in 2014. DGR 
I still think that a content marketing strategy without the overall importance of visuals may have a high risk of failing.  
That's why today I want to introduce you to 5 types of visual content you can prepare for your website or blog.
1. Infographics – The Rock Star of Visual Marketing
If we were to make a top of the 3 most popular types of visual content, then infographics would surely find themselves in this top. We often need to understand the theoretical part of an infographic before getting to work on the practical side.  
Let's admit it; drawing an infographic is definitely not easy. Although many "gurus" show us how simple and easy it is to create such visual content today, I nevertheless remain at the idea that this work should be carried out by people who have developed an aesthetic sense and who understand terms such as a 5 mm bleed, brand colors, readable fonts, the difference between CMYK and RGB format, JPEG and PNG, etc.
Content that have visuals gets 94% more views than a content without relevant images.
But in order to better understand how an infographic is built and which are the most important elements it should have, below I compiled an infographic on my personal blog that I hope helps you easily understand its construction:
Some say that the next trend in the category of infographics is gifographics, but allow me to be wary of this trend for the moment. Because I don't think the infographics have reached their highest value yet so that we're forced to invent a new trend/tip.
Case Study
When we at Creatopy started making infographics that first sought to cover topics that have not yet been covered. That's why the first infographic was about ad sizes in several social media networks.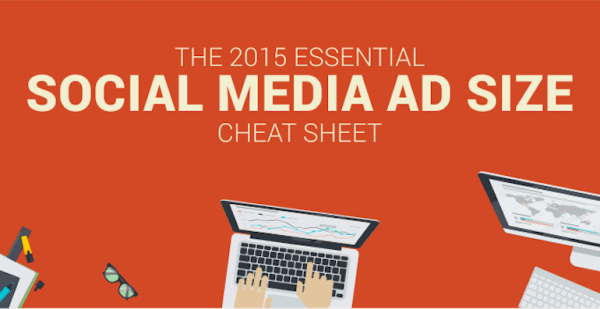 We looked at the most popular social channels that our audience is using it so we thought about how would be if we will create for them useful visual content that will help them in their next social media marketing strategy.  
After the research and information gathering, we designed the infographic. 
After we published our infographic to our community on social media, we were careful to send a few simple and friendly messages (nothing official like a press release, etc.) to publications that retrieve infographics and have a community interested in social media.
That's how we ended up on Social Times or Creative Bloq. And this gave us a lot of social media sharing and more of it, we helped out marketers and designers to have a piece of content that helped them out when they were to design an ad for their next social media paid marketing. 
Infographics were the B2B content marketing tactic with the biggest increase from 2014 to 2015, up from 51% to 62%. 
Visual marketing is not only about how to design a great infographic or to download a free photo from the internet to use it for your next blog post.
[Tweet "Visual marketing it's about to help your community do a better job by using your content."]
In our case, we designed an infographic that is helping them to know what are the sizes and what should they care about when they will put out a social media ad.
Snackable Tip:
Work with professionals on infographics.

Cover topics that haven't been covered yet

Watch out for the 5 important elements

Share it first with your community

Send friendly messages letting publications and bloggers know about your infographic
2. Slideshare – When B2B is getting Sexier
In the top I mentioned above, under "Infographics" Slideshare presentations will certainly find a place as well.
55% of content creators plan to prioritize creating visual content.
How many types of presentations can be made for Slideshare? I have found 8 but surely there are many more.
Just like infographics contain an important main element, so do Slideshare presentations and we should keep an eye on 5 important points. 
There are many handy tools and websites that can assist you in creating the perfect slides, including fppt.com, as they offer thousands of presentation templates for PowerPoint, Google Slides, Keynote, and Office.
I often find myself asking before I start a visual project: Slideshare or Infographics? And almost every time I find the correct answer by asking the right questions.
Who is my main target for making this visual?

What is the goal I want to reach?

How can I best measure this format?
Snackable Tip:
Prepare each format for the right context

Choose the correct category in which you upload your presentation

If you manage to get on Slideshare's homepage then it's a good idea to celebrate your victory and let your community know about this.
3. The Drawings – Cartoons are a great bridge
Drawings are the human touch that any brand needs in its visual marketing strategy. 
Perhaps the best example I have at the moment, when it comes to comics, is Tom Fishburne and everything that he managed to do until now with Marketoonist. 
There is a cadence of capturing and sustaining the attention of your audience. Daily, weekly, or whatever your frequency is – each installment allows you to get several points across and chip away at the overall story.
What is the ROI of this type of content?
Well, just think of it like this: you have made a series of 30 drawings over a period of 3 months. You publish them every time on your blog along with a story. Now imagine that at some point you will get from the community, or from influencers from your niche, a request to send them these drawings for printing on their t-shirts or to decorate their office. Why? Because it's a different type of content that they won't find anywhere else on the internet (for example in stock type photos). 
And that engagement with your community is bigger and more important than every other ROI you want to calculate out there.  
Even more important, these drawings are usually given a sense of humor that only those in the industry understand! And who said that we can't have a little fun in our visual content? 
Here's yet another reason why this type of content deserves attention.
Case Study
Kronos, a company that dominates the time management industry and talent management solutions, sought to develop their content marketing strategy and come up with a breath of fresh air in the industry. In September 2009 they launched a weekly drawing presenting the company's services.
Kronos sent them every Monday via an e-mail to their 3000 employees, industry analysts, customers and the media. Then each of these drawings were posted on a special page www.timewellspent.kronos.com. 
"We needed to have some frequency to build a following. It's been amazing to see the response. When we decided to do this, we thought we could leverage it in different ways. Even we didn't realize just how many different ways. " Laura Souza, senior manager PR Kronos. source
Snackable Tip:
Work with professionals

Prepare a special place for a special content

Make it fun!
4. Testimonial Banners- Where is the love?
Do you know what is the driving force behind almost 50% of all purchasing decisions? It's more than the color, then the brand or other marketing elements. It's the power of word of mouth & testimonials. Exactly. Think about this, how it would be if you would seek and collect all of the customer reviews, even if they are bad and good. For the bad ones, you will try to find a solution and for the good ones, you will use it as a great testimonial about your product, service, or personal brand.  
How do you make people give a great testimonial about you? For example, if you will give them a free e-book you can ask them to give you feedback as part of your purchase cycle. Easy, right?  
So if you want to know more on how to receive great testimonials – you should check Quick Sprout infographic about this.
Case Study 
And now that I talked about Neil Patel's project let's look a little bit at his blog. If you are a reader of his blog, even if it's the personal neilpatel.com or the quicksprout.com/blog you will see that he is using quite a lot of this kind of visual.
More of that, he is using his clients' testimonials to show to his audience that he's a professional in what is he doing. 
So, if you check out an article, and you start reading it, you will see the first testimonial about a client he is having and what the client is saying about Neil. 
This is a simple banner inserted in the article. You will see that the design is simple but a strong CTA button "Learn More" will take you to the landing page where Neil is presenting you a webinar on how did he build 4 multi-million dollar businesses.
And if you will read more you will get noticed with another testimonial about Neil in the right of the content.
Designed differently but with the same brand idea.  
And let me tell you this: if Neil is doing it, who is the guy that Wall Street Journal calls him a top influencer on the web and Forbes says that he is one of the top 10 marketers. Well my friend, you can check him out and learn some stuff from him!
Snackable Tip:
Use your clients' testimonials

Design the testimonials in the most simple but efficient way

Test the visuals and use them in a different area on your website
5. Social Media Active Banners- Invite them in your community
There is no news that brands are on social media. And there are brands that are doing a great job by creating, talking, and taking care of their community out there. 
Think about this: more than 71% of online marketers use visual assets in their social media marketing strategy. This is quite a big number, right? 
There is a brand that invites them from their websites or blogs to these platforms.  
Who said that you can't design a banner on your website where you want to invite the reader to get to know your audience. 
Let's recognize, there are just a few ways on promoting your social media accounts on your website: there are the so common known icons and there are the plugins you get from the social network.  
But what about if you can have a banner on your website, designed by yourself with a strong CTA button where you tell them about your great community on Twitter or on LinkedIn?
This is why we developed a feature where you can insert any embed code from your social media and personalized as you want.
Case Study:
If you are an entrepreneur then you definitely are a fan of the Entrepreneur.com publication. They are using banner ads to convert their readers into their Facebook fans by showing them a simple and well-designed banner ad.
It would have been more interesting if they would give you a real-time example of what the conversations are about on Facebook.
Snackable Tip:
Use social media to create your own community

Use interactive banner ads on your website by showing them your community activity

Try a different way to approach your readers to get on social media
Conclusion
I hope that I was able to peak your interest in these 5 types of content that you can prepare for your blog (whether it's for your personal blog or the company's blog). 
Now back to you, what are your biggest struggles when you create your visual content projects?