Free banner maker
Design & create banners online
Creatopy takes the hassle out of banner design. Our intuitive drag-and-drop editor helps you create banners and other designs online for free. Create designs from scratch or customize a template in our banner creator by adding a background, custom text, shapes, illustrations, and more.
Free banner creator & visual production platform
Bring your creative ideas to life with stunning banner designs. Use our drag-and-drop interface, effortlessly add text, images, illustrations, buttons, and more to create eye-catching banners. We provide all the tools you need to create professional-looking web banners that match your brand's identity.
A banner maker for all your online design needs
We understand just how important it is for your brand to make the right impression across all platforms. That's why we thoughtfully designed templates for each online platform, that you can customize in just a few clicks. Whether it's for Instagram, Facebook, YouTube, Twitter, LinkedIn or Pinterest, creating your web banner design in Creatopy is bound to make your brand stand out.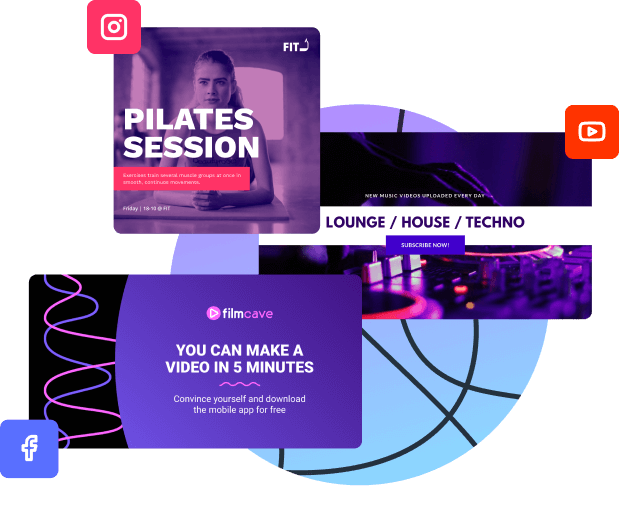 Banner design for digital and print
Creatopy covers your online and offline design needs. This means that you can make a banner and export it in a high-quality format so your design will look equally amazing on print as it does online. Want to streamline your workflow even more? Then use our banner maker to create one base design, and then resize it for other platforms.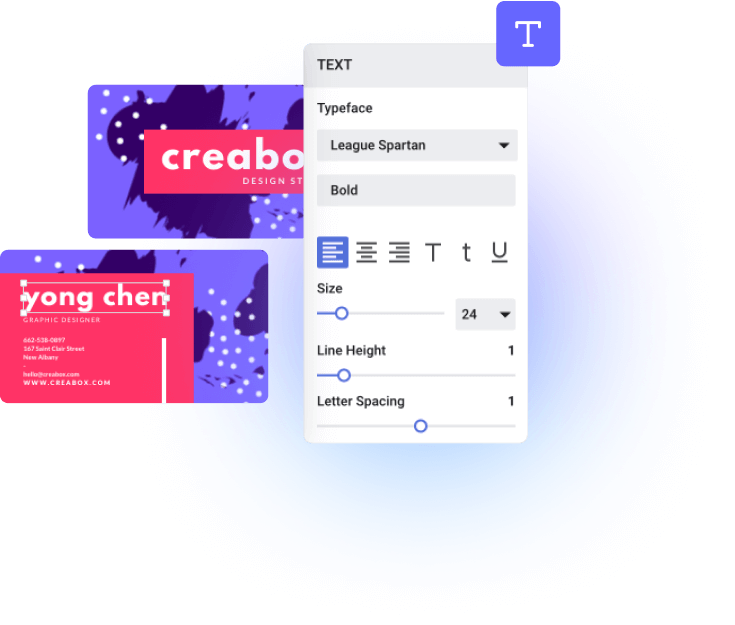 How to make a banner in 5 simple steps
Choose the size of your design

Decide what type of design you want to create, and then choose the right size for it. If you change your mind, you can always switch to a different size, from the library on your dashboard

Use a template or start from scratch

Using a template is the most time-efficient option when creating a design. It's also ideal when you lack inspiration, and you have a tight deadline. We have thousands of free banner designs created by our in-house team of graphic designers. In case you already know exactly what type of design you want to make, then you can start with a blank canvas.

Make it yours

Next, it's time to personalize your design to make it match your brand. Feel free to add a new image, replace the font, change the font colors, or use a clipping mask. Adding shapes and buttons will help you draw attention to the call to action. Play with different elements until you create a design that stands out. And don't forget you can always save your logo, favorite color palettes and fonts in a brand kit, so you can use them on other projects.

Add animations

This is an optional step but definitely one that will make your design pop. Add some movement by using one of our animations presets using our banner editor. These will make your design stand out while showing everyone your creative side.

Download your banner

The last step is to download the design in the format you need and to use it on the ad platforms of your choice. You have a variety of download formats to choose from, such as JPG, GIF, MP4, HTML5, and AMP HTML.
Everything you need in one place
We gathered the most sought-after graphic design assets and put them on display in our library. Now is the time to let your imagination run wild with Creatopy's banner maker for free.
Photos
Browse our library of royalty-free photos and find the perfect background image for your design. Or, simply upload your own.
Shapes
Access over a dozen shapes categories, such as frames, speech bubbles, badges, labels, blobs, design elements, and more.
Icons
There are over 1000 fully customizable icons distributed in over 20 categories, such as promotions & sales, health & medical, food & services, and more.
Illustrations
600 handcrafted original illustrations divided into nine categories are waiting to be discovered. Use them as they are or customize them in no time.
logos
From social media & entertainment to payment, services, and software, we covered all the popular logos categories, in both black-and-white and color.
Generator
Select the desired sizes you want to generate and, in just a few clicks, you'll have multiple banners created based on the same design.
FAQ
What are the most common banner ad sizes?
In display advertising, there are quite a few different sizes you can use for mobile devices and desktop. For mobile devices, you can use 300 x 200, 300 x 50, 300 x 100, 250 x 250, and 200 x 200. For desktop users, Google recommends the following sizes: 300 x 250, 336 x 280, 728 x 90, 970 x 90, 468 x 60, 300 x 600, 160 x 600, 250 x 250, and 200 x 200. For the best results, try to stick with these dimensions. You may also want to consider Google responsive ads, where you need to upload at least one landscape and one square image, but no more than 15 assets. The display ad format you use depends on what you want to achieve with your ad campaign.
Are there size and length limits for animated display ads?
Static or animated, all display ads that run on the Google Display Network must be up to 150KB or smaller. Animated or interactive ads need to be 30 seconds or shorter. You are allowed to use loops in your display ads, but the animation length cannot exceed the 30-second length mentioned before.
What are responsive display ads?
Responsive display ads are the default ad type for the Display Network. They automatically adjust their size, appearance, and format to fit just about any available ad space. To create these ads, upload the different ad assets, including headlines, logos, images, and descriptions (you may upload multiple assets of any specific type) into a single creative. Google will then render your ads and serve them across the Display Network, optimizing them to build a high-performing ad at the time of the impression.
Banner design made easy with professional templates
Beauty exists in diversity. That's why our gallery holds over 10,000 unique banner templates created by professional designers. Choose a template and customize it to be on-brand, or simply find inspiration to create your design from scratch.