12
minutes read
Artificial intelligence has been released from the labs to the mainstream for a while now, and its arrival marks the onset of a new world. 
From voice assistants to autonomous vehicles, AI has seen rapid adoption and has taken the world by storm.
In the online world, companies from all industries are starting to make use of AI technology to increase productivity, streamline workflows, and provide better, personalized customer service. 
AI is also revolutionizing the way we do marketing. From content generation to data analysis and product optimization, AI software is used at every step of the marketing process.
A recent report found that 61.4% of marketers have used AI in their marketing activities. 
---
Table of contents: 
---
A. How Are AI Tools Used in Marketing?
AI marketing tools help marketers make better-informed decisions, generate content, forecast customer actions, and solve tedious tasks like customer inquiries, to name but a few. 
This leaves marketing professionals more time and energy to focus on the marketing strategy and creative process. 
Let's see what are the use cases of AI in marketing: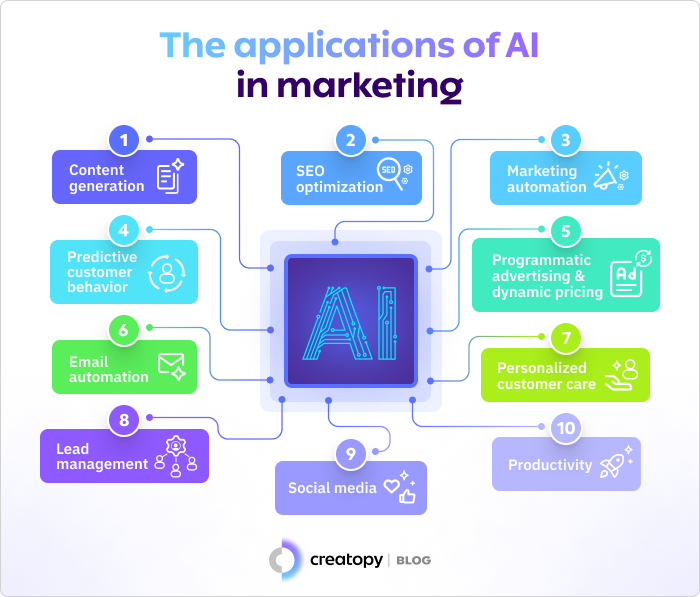 Content generation

.

With the help of AI, marketing teams can now streamline their workflows and decrease production time. AI content generation tools can create blog and social media posts, images, and videos and even write code. 

SEO

.

AI SEO tools provide a most helpful hand to content marketing teams when it comes to researching topics, writing articles, and optimizing texts for both search engines and readers. Using AI marketing software tools, marketing teams can increase a company's website visibility, improve ranking, and drive more traffic. 

Marketing automation

. Marketers use AI-powered tools to automate and customize every aspect of their marketing campaigns, from personalized messages to audience targeting and bidding.

 

Predictive customer behavior

.

AI can help businesses predict customer journeys and actions and optimize marketing efforts. Using machine learning technology, AI can provide marketers with valuable data based on customers' behavior and make predictive analyses regarding sales. 

Programmatic advertising & dynamic pricing

. Machine learning and AI algorithms help optimize the personalization of ads and content matching, adjust bidding in real time, and provide predictive insights. AI is also used for dynamic pricing, a strategy that allows retailers to change prices several times during the day, depending on various factors like availability and competition. 

Email automation

. One of the most used AI applications in marketing is email automation campaigns. AI automated email software enables easy management and engagement of potential leads according to their stage in the sales funnel by sending personalized emails based on their actions and interactions. 

Personalized customer care

. Chatbots and virtual assistants offer instant personalized customer care. AI bots can take in inquiries and answer simple, repetitive questions about prices and offers. More complex AI chatbots can even identify potential customers who are most likely to convert, and engage them with personalized messages and offers. 

Lead management

. Sales teams use lead scoring and nurturing AI tools to process leads automatically. AI can automate lead scoring and nurturing by analyzing data to identify which prospects are most likely to convert into customers. 

Social media

.

Generative AI writing tools help busy social media managers to come up with social posts and hashtags. Other AI social tools are specialized in social listening, which means they can monitor a brand's mentions across all social networks and also answer comments.

Productivity

.

There are AI marketing productivity tools that can automatically record and transcribe meetings and summarize ideas and actions to take.
B. The Benefits of Using AI in Marketing
AI tools can help marketers: 
Save time by streamlining processes

Make data-driven decisions

Improve efficiency and productivity

Increase customization

Optimize content

Provide a better customer experience
Best AI Marketing Tools For Businesses 
Be ahead of the game with these 18 AI tools for digital marketing. 
C. AI Content Marketing Tools 
1. Writesonic
Writesonic is an excellent tool for content generation, created for marketing teams, content marketers, entrepreneurs, and e-commerce websites. The AI tool helps content teams create high-converting content for landing pages, blog posts, PPC ads for all major platforms, social media ads, emails, and product descriptions. 
Writesonic uses Chat GPT-4 to create content that is both SEO-optimized and plagiarism-free. 
The AI platform also includes tools for editing so you can polish your content to perfection. 
Key features:
AI generative writer for blog posts, landing pages, PPC ads, social media ads and posts, email marketing, and product descriptions;

Article summarizer;

Editing tools: paraphraser, expander, shortener;

PPC and social media ads copywriter.
Pricing: The platform does offer a Free plan for up to 10,000 words a month. Paid plans start at $16/month. 
2. Jasper 
Jasper is a powerful AI tool for content writing, designed to generate high-quality ad copy, emails, landing pages, articles, and social media posts. Jasper uses Open.Ai's Chat GPT-3 to generate on brand-content by analyzing your website. 
Marketing teams can use Jasper to generate blog topics and draft articles. 
Jasper even has a browser extension, providing recommendations everywhere you write, whether it's a blog article or an email. 
Honestly, it's one of the best artificial intelligence marketing tools. 
Key features:
Content generation;

Customizable tone of voice;

Collaboration tools;

Machine learning;

Plagiarism checker;

Customizable templates for blog posts, social media, PPC, and more;

Language translation (+30 languages); 

Browser extension.
Pricing: Plans start at $39/month. 
D. AI Design Tools 
1. Adobe Firefly
Adobe Firefly is probably one of the best AI graphic design tools out there. The AI design tool was launched just recently, and it has only a handful of AI available features for those who are already subscribers of the Adobe Creative Cloud, while others are still in beta. However, considering Adobe's working pace, Firefly should be full-on soon. 
Key features:
Works with Photoshop and Illustrator;

Generative AI using text prompts to generate designs;

Text prompts available in +100 languages;

Text effects;

Generative recolor.
Pricing: Starts at $20.99/month. 
2. Adobe Sensei
Adobe Sensei is so much more than an AI graphic design tool. Sensei GenAI is part of the Adobe Experience Cloud creative suite, and is an AI-powered platform offering a complete set of marketing tools. Sensei is perfectly designed to meet a marketing team's needs, from AI-generated content to customer segmentation and campaign optimization. 
Basically, it's meant to streamline workflows from ideation to production by automating tasks and processes. 
Key features:
Generative AI: copy, text to image;

AI image editing; 

AI copywriting tools;

AI-powered analytics;

Audience discovery and segmentation tool;

Cross-channel customer journey analytics;

AI customer experience optimization;

Collaboration tools;

Real-time conversational chatbot.
Pricing: Available upon request. 
E. AI Video Tools
1. Synthesia
Synthesia is an AI tool that allows you to generate high-quality videos by simply inputting text descriptions and choosing an avatar. 
Everything is customizable, from choosing your avatar's ethnic look and language to animating elements and generating captions.
Though the videos created with Synthesia are not fit for commercial purposes, they're a great replacement for dull company communication PPT presentations or PDFs. 
Key features:
Avatar customization and creation (+150 ethnically diverse stock);

Available in +120 languages, accents, and voice tones;

AI generative text-to-speech;

AI script assistant;

Screen recorder;

Media & music library;

Templates by industry. 
Pricing: Plans start at $22.50/month. 
2. Descript
Descript is an easy-to-use video tool that almost anyone can use without any prior video production experience. However, it is a great tool for companies as it has collaborative features, allowing the whole team to work and edit videos. 
It includes all the basic video editing tools plus a base of templates and stock media. 
Key features: 
Video editing;

Screen recording;

Podcasting;

Transcription; 

Social media video templates;

Overdub, an AI text-to-speech tool;

Studio Sound, a regenerative algorithm that improves voice quality and clears noise;

Eye Contact uses AI to adjust your gaze in the video so it appears you're looking directly into the camera—even when you're reading something.
Pricing: Free plan available. Paid plans start at $12/month. 
---
Interested in learning more about AI?
Read these resources on our blog and ride the AI wave:
---
F. AI SEO Tools
1. Surfer
Using Surfer, marketing teams can research topics, write and optimize website articles. 
It integrates with all major content writing tools like Google Docs, WordPress, or Jasper. 
The AI SEO platform provides learning resources through their Surfer Academy and community support. 
Key features:
Keyword research;

Content editor providing guidelines and suggestions;

Surfer AI generates optimized articles;

SEO site audit;

Free keyword surfer extension.
Pricing: No free plan. Paid plans start at $89/month. 
2. GrowthBar
GrowthBar is an AI SEO writing tool that focuses on search engine optimization. Using AI algorithms, GrowthBar automates content generation and provides valuable recommendations to optimize content. 
It's a great tool to increase organic website traffic. 
Key features:
Search engine optimization;

Keyword research tool;

On-page SEO audit tool;

Collaboration tools;

Paragraph generator;

Meta tags generator.
Pricing: 14-day free trial. Paid plans start at $29/month.
G. AI Marketing Automation Tools
1. Zapier
Zapier helps millions of businesses streamline their processes, save time, and increase ROI by providing an automation platform that integrates and connects thousands of platforms and applications. Working with Zapier, the marketing puzzle finally comes together. 
With Zapier, marketers can connect all of the tools they work with and create personalized workflows (Zaps) to get better results and save time. Zaps will keep data flowing while your team can focus on other aspects of the marketing process. With a streamlined flow of information, you gain clarity into your business and are able to make better decisions. 
AI-powered Zapier is now even more efficient. You can also use their AI tools like chatbots for customer care, AI assistant for troubleshooting Zaps, and Chat GPT to execute actions.
Key features:
Automated workflows;

Data centralization and management;

Lead management automation;

Customer communication;

An ecosystem of +5,000 apps;

Allows +30,000 actions.
Pricing: A free plan is available. Paid plans start at $19/month.
2. HubSpot
Just as its name suggests, HubSpot is a platform that allows businesses to centralize all of their data, teams, and contacts in one CRM. It has all the software, app integrations, and resources to connect marketing, sales, content management, and customer service. 
HubSpot's new AI features, Content Assistant and ChatSpot, are designed to make marketing work easier. 
With Content Assistant, you can write blog posts, landing pages, social media posts, emails, and even generate blog topics. 
ChatSpot is a CRM assistant that was created to allow marketers to perform actions by simply asking ChatSpot to do it. For example, you can ask ChatSpot to add new contacts, send follow-up emails, research potential customers, and much more. It's truly one of the best AI tools for marketers. 
Key features:
Automated CRM database;

Automated workflows;

Contact lists segmentation;

SEO-optimized content;

AI content generation; 

Analytics;

A/B testing;

Social media management.
Pricing: Plans start at $45/month.
H. AI Social Media Tools
1. Hootsuite
Hootsuite has been the world's best social media tool for many years, but now with the arrival of OwlyWriter AI, the platform enhanced its social arsenal. 
The AI writing tool promises to help users save time and overcome inspiration blocks. You can use OwlyWriter to generate captions for your social posts, generate content based on a link, and generate post ideas based on keywords. The tool is free for all users for a limited time. 
Key features:
Social media management;

Post creation, planning, and scheduling;

Automated unified inbox;

Social media advertising for Facebook, Instagram, and LinkedIn; 

Social listening tool that monitors your brand's mentions across social networks; 

Analytics and reporting tools that do the math for you; 

OwlyWriter AI generates post captions based on a description, or a link. It also comes up with content ideas;

Thousands of social media visual templates;

Best time to post recommendations;

+150 apps integrated. 
Pricing: The platform offers a 30-day free trial. At the end of the 30 days, Hootsuite will charge $99/month. 
2. ContentStudio
ContentStudio is a social media tool for agencies, companies or entrepreneurs. It has all the basic features of a social media tool (creating posts, planning, and scheduling), plus an AI writer that helps to create social posts. 
Key features:
Create, plan, and publish posts on social media;

AI writer and image generator; 

AI caption templates for all major social media platforms;

Multi-channel social analytics;

A unified social inbox that allows easy management of messages and comments across all social media networks; 

Trending content and influencer discovery tool.
Pricing: There's a 14-day free trial (no credit card required). Paid plans start at $25/month. 
I. AI Sales Tools 
1. Seamless 
Seamless AI is a sales software that helps companies find contact details for potential customers. 
Using their search engine, businesses can shorten the sales cycle and close more deals in a shorter amount of time.
Key features:
Database of 1.9 billion contact and company records;

Chrome extension;

Writing tool for sales proposals;

Integrates with the most popular sales and marketing tools like Salesforce, Hubspot, Zapier, Zoho, and more. 
Pricing: The platform offers a free plan with limited features. For the paid plans, the pricing is revealed upon request. 
2. Drift 
Drift is an AI-powered sales platform that can create personalized customer journeys through chat, email, and video. 
Key features: 
AI-powered chatbots for human-like conversations;

Drag & drop bot builder;

Conversational marketing identifies website visitors' intent and serves them personalized content;

AI engagement score shows which leads are most engaged based on their interactions;

Conversational landing pages;

Integrates with most sales & marketing tools like Zapier, Salesforce, Hubspot, 6sense, and more. 
Pricing: No free plan. Paid plans start at $2,500/month, billed annually. 
J. AI Customer Service Tools 
1. ChatBot
ChatBot is an AI-automated customer service software that supports companies in providing human-like customer support 24/7. The platform has some easy-to-use tools so anyone can build a custom chatbot for their website. 
Key features:
Call scheduling template;

Customer support template allows companies to answer queries 24/7;

Drag & drop visual chatbot builder;

Chatbot templates;

Automatically collects user data and segments users into groups based on their behavior;

ChatBot Academy, a course for chatbot building;

Collaboration tools;

Analytics. 
Pricing: Paid plans start at $52/month. 
2. Braze
Braze is a customer engagement platform that allows companies to create customer experiences across multiple channels. Braze prides itself on helping companies reduce churn rates and increase acquisition. Their platform includes generative AI solutions like copywriting and QA assistant, and DALL-E integration to make communication with customers easy-peasy. 
Key features:
Drag & drop interface;

Canvas Flow creates customer journeys and allows easy personalization of messages;

Allows the harnessing of real-time customer data;

Real-time analytics and reporting;

Sage AI includes copywriting assistant, AI content QA, and integrated DALL-E for image generation;

Content Cards allow brands to share rich content at key moments.
Pricing: No free plan is available. Pricing is revealed upon request. 
K. AI Data Analytics Tools 
1. Optimove 
Optimove is an AI-powered marketing platform that collects customer data from multiple sources and provides a unified view. 
The platform uses customer data to predict future customer behavior and value and deliver personalized messages to engage or re-engage customers. 
Key features:
Centralizes all customer data and processes it by extracting key insights; 

AI-based customer-led journeys allow marketers to manage and optimize infinite customer journeys;

Multichannel campaign automation;

Hyper-targeted, activity-triggered marketing campaigns are sent to customers based on customizable triggers. The triggers use real-time customer activity data; 

Optimove allows companies to create individualized predictive customer models based on first-party raw data, on-site/in-app user activity, third-party data, and campaign response history. 
Pricing: Plans are customizable based on a customer's choice of features. Prices depend on the chosen plans. 
2. 6sense
6sense is a B2B marketing platform that employs industry-leading AI, machine learning technology, and big data to identify potential buyers. 
6sense helps companies and marketing teams uncover and understand which leads are ready to buy and which could use more attention in order to take the step to acquisition. 
Key features:
Revenue AI for marketing: helps companies uncover anonymous buying signals and engage companies that are ready to buy. This also includes audience creation, predictive marketing, and pipeline intelligence;

Revenue AI for sales: uncovers hidden sales opportunities and prioritizes accounts that are ready to buy. 
Pricing: Available on demand. 
Conclusion
This list of the best AI tools for digital marketing is meant to help you navigate the AI world more easily and maybe identify an AI tool that can help you achieve your business goals faster. 
One thing is clear: AI marketing tools can solve time-consuming tasks like answering customer inquiries or analyzing customer data while you can focus on improving your marketing strategy. 
So, the power of AI can truly help you accelerate your company's growth. Whether you need help in customer care or social media, use some of the best AI tools for marketing to drive real change.