9
minutes read
Are you interested in a blog makeover? Are you looking for some cool blog images to revamp your blog and reposition your brand online?
Luckily, Creatopy can help you nail your visual style. Creatopy is an online design tool that not only enables you to create custom high-quality images but it also provides you with a huge database of free images for blogs.
We can help you restyle and refresh your blog with stunning and unique images, you won't find anywhere else on the web. You'll be able to create amazing custom images that reflect your style and personality 100%.
Here's how Creatopy can help:
Provide you with a massive collection of over 2 million stock images. This way, you don't have to go over to other websites and search for pictures, optimize them somewhere else on the web, and then download them to your computer.
Give you access to a smart drag & drop editor to design your images.
Enable you to create top-notch blog visuals using one-click animation effects, typography presets, patterns and textures, clipart objects.
Generate hundreds of visuals in all sizes and formats starting from your image.
Why use original blog images?
According to a study we performed, 78.48% of bloggers use original photos in their blog posts. So if you're still using ordinary stock images and expect them to stand out, think again. This isn't 2010 anymore. The world has changed, and so did blogging.
---
Summary
How to create cool blog images in Creatopy
The key features of amazing blog images
---
How to create cool blog images in Creatopy
Creatopy offers a wide range of creative possibilities for professional designers but also for non-designers, bloggers such as yourself. Using our editor and design tools you can easily add filters to your photos, create animated visuals, add typography constructions to pictures, create collages, add patterns and textures to your designs or play with clipart objects. Have a look at the quick tutorials below:
1. Add filters to your photos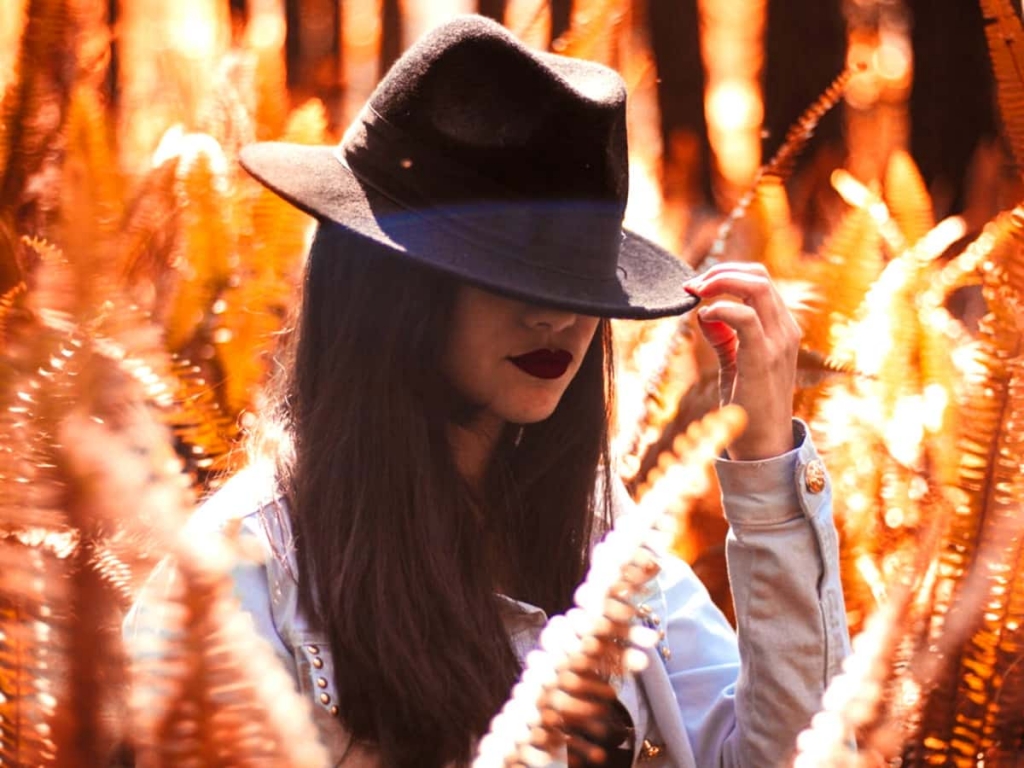 How to add filters to a photo:
A. Sign in to your Creatopy account or sign up for free. Go to Start creating, then select a size and format for your image.
B. Click on Blank design. Go to Elements > Stock photos and browse our collection of stock photos in the free image library to find a picture. Creatopy stocks millions of website images. You can type specific keywords in the search box or upload your own picture from your computer.
C. After you've chosen a picture, click on it to enable the design menu. Click on the Color icon to see a selection of filter presets. I chose the Vivid filter for my photo. But you can try each filter to see how it applies to your photo. For more effects, play with the opacity and blur levels.
---
2. Play with textures & patterns
When you set out to create an original blog image, you'll probably look for a blog background image first. That's perfectly fine. But, did you know you can also use patterns and textures as backgrounds for your blog images?
Here's an example I created to illustrate how patterns and textures can help you create beautiful images.
A. Sign in to your Creatopy account or sign up for free. Go to Start creating, then select a size and format for your image.
B. Click on Blank design. Go to the Background tab and click on the Textures option. Pick a texture that you like and use it as a background for your design.
C. Then, go to Elements > Shapes and select a shape. I chose a box, made it a bit bigger and white.
D. Then, add your text. Go to the Text tab and click on Add Heading. Or, select one of the typography presets and customize it with your message.
---
3. Create animated images
How to create an animated image for your blog in Creatopy, in less than five minutes.
A. Sign in to your Creatopy account or sign up for free. Go to Start creating, then select a size and format for your animated image.
B. Choose a template as a starting point. Browse through our gallery to find something you like then click on it to go to the editor. Then, customize it with your text, color, and images. You can also pick an image from our collection of over 2 million stock photos. You also have the option to upload your own picture.
C. Then, animate your image. Click on the Animator icon from the left-side menu and choose between the 11 animation presets to animate your image in one click. If you want your animation to run several times or on a loop, click the Timeline view from the bottom-right side of the screen, and select Forever next to Loop Count. Or you can choose any other option. 
---
4. Use the immense power of typography
Here's another image I created which can successfully be used as a blog header image:
How to create typography-based images for your blog.
A. From your Creatopy dashboard, go to Start creating, then select a size and format for your image.
B. Then, choose a template or start from blank by uploading a picture from your computer. 
C. Go to the Text tab to add your text. For a better result, you can pick one of our typography presets available in the panel or style the text yourself. 
D. Customize your preset. Change the text and/or font, use a different color, and position on the layout.
---
5. Add shapes & clipart objects
How to create a blog image using shapes and clipart objects.
A. From your Creatopy dashboard, go to Start creating, then select a size and format for your image.
B. Click on Blank design to start from scratch. Go to Elements > Stock photos and browse through our collection by typing keywords in the search box. Select a photo when you find one that you really like.
C. Then, go to the Elements > Shapes. Select a shape, then add color to that shape, change its position, and add text on top of it.
---
The key features of amazing blog images:
If we pay close attention to all the successful blogs out there, we notice they have some badass, unique images. Some of them have great high-quality photos, and some of them have branded personalized photos. But there are some characteristics that all of them seem to share.
1. Personal style
Source: The Skinny Confidential
Most bloggers are trying to create a unique visual style for themselves. The idea is to provide a unique experience to the user the moment they visit their website and to shape a visual universe that stems from their personality.
There are lots of bloggers who don't settle for a common look (ordinary stock images), but instead, they create their own blog images that clearly states their personal style.
If you visit The Skinny Confidential's blog, you'll notice that she uses some very particular feature images for her blog posts. They're all created using the collage technique, feature neon colors (pink, green, violet) and loud fonts. She's created a visual style for herself and it is totally an extension of her personality.
2. Great aesthetics
Source: Song Of Style
Fashion bloggers are by far the champions of great looking pictures. Because they have a trained eye for colors and styles, their blogs look flawless and classy (well most of them, anyway).
I chose Aimee Song's Song Of Style blog to show you what I mean by great aesthetics. Apart from always having great pictures, she creates some incredible custom feature images for her blog posts, using techniques like collage, and poster graphics.
3. DIY. Everyone loves DIY images
Source: At Home With Natalie
DIY blog images will never get out of fashion. They're fun, they're catchy and personal. If you're still in doubt about whether DIY images could improve your blog score, just give them a try. Stop using the same free stock images everyone else is using, and start producing your own DIY images.
DIY images are especially suited for parenthood, motherhood, and crafts blogs.
At Home With Natalie is a truly suggestive blog from this point of view. Natalie is a stay-at-home-mom-of-five who writes about her experience as a mom and the everyday activities she does with her children. Her view on motherhood is extremely creative, so she shares about decorating, creative activities and innovative recipes for the little ones. Her blog images are reflective of her enthusiasm as a mom and portray a joyful picture of their family.
4. Creativity
Source: We The Parents
Creativity is definitely a key factor that differentiates dull blog images from appealing images. Instead of using stock photos, you can try creating some unique pictures that fully embody your personality and blog topic.
Here are some creative techniques you can try out for your blog:
Collage – put together pieces of different photos to create a new, surprising visual.
Patterns & textures – use patterns and textures to enhance your message and come up with a creative image. It is important to note that both patterns and textures add a touch of DIY to a design.
Typography constructions – Use typography to play with words and meanings. Choose a font (a family of fonts or a pair of fonts) that goes well with your blog topic and with your personality. Use animated typography, for a more appealing effect.
Surprising color combinations – A beautiful color palette can save an ordinary design or photo. Playing with colors means that you can add filters to your photos, create colored frames or add text boxes.
There are many types of color palettes, from monochrome palettes to complementary combinations, gradients or pastels. It's up to you to find your style!
For inspiration, visit We The Parents blog to see some examples of creative images. Their techniques for creating original blog images range from collage, use of patterns and textures, pastel colors, and playful shapes to using the classic poster layout.
5. They're easily recognizable
Source: Hippie In Heels
Here is one of the best-kept secrets of successful bloggers (though you may have noticed yourself :P): all of their blog images have a coherent visual style. That's why they're easily recognizable.
I strongly advise you to take a tour of the Hippie In Heels blog to understand what a coherent visual identity really is. Her personal brand is easily recognizable and memorable. She's got a unique color palette using light blue as the main color. There's also a pair of fonts (a hand lettering and a sans serifs font) that appear on all of her blog images. And there are several shapes and glitter textures that she uses as over layers to create a glamour effect. Whoever does her blog's visual materials must be a skilled designer. If she creates them herself, she must be really multi-talented!
Use these design elements to create a unique visual identity for yourself:
Photography style – test several photography styles and find a unique style that matches your storytelling technique and personality. Play with photoshoot angles, details, and perspectives.
Color palettes – Use filters to add an even more personal touch to your images. Adding filters to photos is extremely easy nowadays, as most mobile phones have their own set of camera filters. Also, you can add filters using Creatopy.
Fonts – Choose a font (family or pair of fonts) and stick with it. This font will be your voice and people will learn to recognize your brand, by simply seeing your message.
Visual style – Clearly define your visual style and use it to create all of your blog images. Your visual style is an extension of your personality. So, choose between girly and romantic, hippie and adventurous, urban chic, classy aristocratic and so on.
6. These images are eye-catching
Source: Positively Present
Yes, they are! The reason why bloggers put so much effort into creating eye-catching images for their blogs is that their blog posts get shared across social media and other websites and they're seen by many people. Having some attention-grabbing images increases your chances to get clicks, visitors and have your blog read.
And plus, it's a positive experience you offer to your readers every time they come back to read your updates.
Dani DiPirro, the owner of Positively Present , has been working for many years to shape the visual style of her blog images. When she started the blog, back in 2009, things were pretty simple and unattractive. She had a clearly unique message and self-development tips, but her visuals were average. On the contrary, the blog pictures she uses today are some of the most recognizable blog images on the web!
Revamp your blog and stand out
I hope this guide on how to create stunning blog images has equipped you with all the knowledge you need to start creating a new visual style for your blog. Enough with the stock images look! Create your own original blog images using the techniques I've listed above and always keep an eye on the world's most reputed bloggers for inspiration.
Start creating high-resolution images that truly reflect your style right now. Create a free account with Creatopy and start designing.
Illustration by Anita Molnar