5
minutes read
Instagram Stories Ads are the sexiest new ad format and they are available to all businesses, globally.
But before we move forward and talk about Instagram story ads, let's get some understanding about the definition of Instagram Stories and the data behind the biggest mobile advertising network.
What are Instagram Stories?
Stories are Instagram's latest feature to share temporary videos or photos that are stuck together to form a slideshow gallery. They are disappearing after 24 hours from posting them.
These stories appear in a bar at the top of your feed.
Instagram Stories launched in August 2016 and today they have more than 150 million active users.
You can upload videos and photos, create boomerangs (.gif videos), write text and upload cliparts on them.
So Instagram isn't the fancy place where you only upload good looking cappuccinos or beautiful sunsets from your holiday anymore. Instagram is becoming the visual place where people share their day-to-day adventures and experiences.
Marketers should be interested in Instagram Stories
But why are Instagram Stories ads the hottest thing in the online advertising world? Why should businesses and marketers be interested in this new format?
If you are a marketer, like I am, that means that you need some data and statistics to understand a situation (or a problem).
A place where over 1 Billion users spend their time, creating content and connecting with their friends and family, is a good place to do marketing and some business.
Instagram Stories made their own way in Instagram's ecosystem by giving its users the possibility to create content for their community on a daily basis. Brands are also using Instagram Stories to be on top of their followers feed and also create strong relationships with them.
Brands like Red Bull engage with their audiences on Instagram by asking what kind of content they should publish next on their Instagram feed. Or Shopify, who promotes the people behind the brand through Instagram.

Instagram Stories are a good strategy to create a strong engagement with the users, but there's one tiny problem with this kind of content: only the followers of the brands can see it. So what about the other users who are interested in that brand, or its content, but can't see it?
Here comes the next player –  paid advertising on Instagram Stories, or Instagram Story Ads!
Before they launched globally, Instagram tested this vertical type of content with more than 30 brands to see how it works and what they can improve. One of the brands who experimented this was Airbnb, and they said that they saw a double-digit point increase in ad recall with this type of ad.
Our ability to apply existing targeting and measurement in an experience to reach the right audience, in the right mindset, with the right story at scale has allowed us to achieve the results we were hoping for in a partnership with Instagram.
said Eric Toda, Global Head of Social Marketing and Content, Airbnb
I strongly believe that vertical ads are soon-to-be the stars of the mobile network and marketers should be ready to start using them, giving the right type of content, to the right audience, in the right time with the right message.
How to design ads for Instagram Stories?
You can create photos and videos for Instagram Stories. Here's a step by step guide on how to design Photo ads for Instagram Stories using our Instagram story maker.
You don't have to be a professional designer or marketer to design them because here at Creatopy we created a tool that is easy to use and with which you can make magic for your brand.
1. Sign up for a Creatopy account
(if you're not a user already)
Unlock every bit of awesomeness Creatopy has to offer by creating an account. In this way, you'll discover how easy it can be to create Instagram Story ads.
2. Pick the right size
Once you're on the platform's dashboard, type in Story in the search bar from the left side of the screen, and select the pre-made size that fits Instagram Story size requirements.
3. Choose a template or start from scratch
Now, you can start from a Blank Design or choose a template available on the platform. Either way, your design is fully customizable.
4. Edit your design
If you chose a template, you could fully personalize it in this step by adding or removing elements, such as images, text, icons, or logos.
The other option was to start from scratch. If that's the case, you can upload all the assets from your computer and create a 100% personalized design, or pick the elements from our libraries, which you can mix and match as you wish.
You can enhance the overall design look by applying a filter, or you can emphasize a specific design object by decreasing opacity in the others.
To maintain style consistency with all your other designs, you don't have to start every time from zero. You can save the elements you used in your Brand Kit folder.
Next time you're designing, you can easily use the same style for your Instagram Story ad.
5. Animate your design
You can even go one step further with your editing and animate your Instagram story ad to make it more dynamic.
After all the elements are in their place, go to the Animator tab on the left sidebar, and pick one of the pre-made animations.
If you want something different than those available presets, click on Timeline on the right side of the screen and animate each layer as you wish.
6. Download your work
Once you finished editing your design, download it in one of the available formats.
Now that we are done with the design part let's look at the advertising part.
It doesn't matter your business's size or where you're from because you can start running ads in stories through the Marketing API, Power Editor, and Ads Manager optimized for reach.
How to set up ads that run on Instagram Stories?
For the moment the only marketing objective you can create for ads on stories is the "Reach".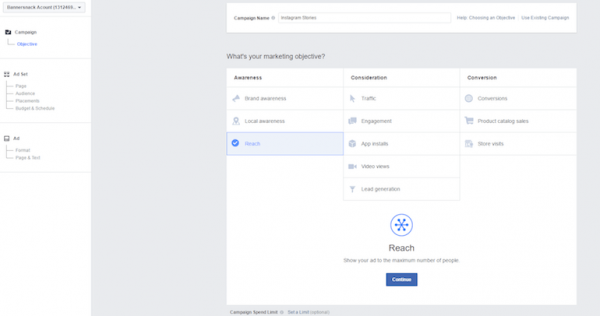 Go to Ads Manager and click the "Create Ad" button. Then select the "Reach" objective of your ad campaign.
Then, select Placement and click the Edit Placement so you can choose the Instagram option
Click the Stories and then go to the Ad section where you select Media. After this, you click the Single Image option and upload the ads for Instagram Stories you designed with Creatopy.
Don't forget to carefully target your audience and when you are ready, click Reviews Changes to publish your changes.
A few things to keep in mind:
This type of ads can only run on Instagram

Ads in Instagram Stories use the same targeting and measurement tools as ads that run in Feed on Facebook and Instagram
Let us know if this article was useful for you and how you managed your Instagram Stories Ads!