14
minutes read
As of 2021, there are more than 4.48 billion social media users worldwide. 
Social media ecommerce is here to build a bridge between brands and potential customers.
And it works.
More and more consumers are discovering brands through social media.
Here are a few recent stats that confirm social media and ecommerce are a match:
Today we're going to see everything there is to know about social media ecommerce, including tips on social media marketing strategy for ecommerce and platforms you should tap into.
---
A. What is social media ecommerce marketing?
B. Why use social media ecommerce?
C. How to use social media for ecommerce
---
A. What Is Social Media Ecommerce Marketing?
Social media ecommerce marketing refers to the use of social media to build brand awareness, drive website traffic, and increase sales for your ecommerce business. 
Now that we established what social media ecommerce marketing is, we should also clarify the difference between social commerce and social media ecommerce. 
Social commerce

is part of social media ecommerce, focusing on social selling using the features offered by social media platforms, such as Facebook Shops, Instagram Shops, Product Pins, or other built-in shopping solutions. Customers' shopping experience can happen directly on social media, or they can click on links provided on these platforms that lead to a product page with a purchase option. They're all part of social selling.

Social media ecommerce

refers to the entire strategy built around using social media to promote an online store. It can involve brand awareness, advertising, customer service, social listening, social selling, and competitive analysis. This is where our focus will be today.
B. Why Use Social Media Ecommerce?
Due to the rise of ecommerce and online competition, you need all the help you can get to build solid strategies and sell your products online.
Keep in mind, though, that social media ecommerce is not just about selling your products online. It's so much more than that. It includes the interactions and relationships you want to build with potential customers before a sale to ensure it will not be just a one-time thing. 
There are quite a few social media platforms that provide the perfect environment that allows you to sell your products directly from these platforms without the customer needing to go to a different tab. And the entire process feels more personalized and straightforward because the users are in a place where they feel comfortable.
On top of this, there are other benefits to mixing social media and ecommerce:
You can interact with potential customers prior to a sale;

Visitors can do their research on your social media page;

It allows you to share testimonials and reviews for people to read and help them make an informed purchasing decision;

Customers can help you with word-of-mouth marketing;

You can post other things related to your brand, such as behind the scenes with your employees to show the human part of your company so that your customers will trust you more;

It's free to set up;

It creates a pleasant social shopping experience for customers;

It helps you in your sales process by reducing the friction between the discovery phase and checkout, improving your conversion rates. 
In the U.S, consumers buy more directly from brands, rather than going through Amazon, which owns 37% of all US ecommerce sales. The same goes for China, where 50% of all retail ecommerce goes through Alibaba.
If this trend continues, the future of ecommerce lies in social media, which has slowly turned into more than just a discovery place for new products and brands.
With this in mind, let's see how exactly you can leverage social media marketing ecommerce.
C. How to Use Social Media for Ecommerce 
There are a few ways to start or improve your social media strategy for ecommerce that will surely pay off. 
We're going to explore some essential steps that will guide you on how to use social media to market your ecommerce store.
1. Sell directly through social media
While each platform can create ads that direct users to their product website, there are social media platforms that embrace the full meaning of social media ecommerce, offering visitors an entire shopping experience directly from their integrated shops. 
Facebook, Instagram, and Pinterest offer native shopping solutions for business accounts, while Youtube, TikTok, and Twitter are searching for new ways of facilitating brands' social media strategies for ecommerce. We'll be focusing on those platforms that have already implemented their own ecommerce tools.
Here's how you can use social media to market your ecommerce store.
1.1. Facebook
Facebook Shops was launched in May 2020 and it's meant to help companies sell their products directly through Facebook. Businesses can create an online store for free through Facebook Shops, directly from their account, having the possibility to showcase their product collections in a personalized way, making room for branded elements, such as a cover image, colors, or fonts. You can also import items from a partner platform in case it has an integration with Facebook.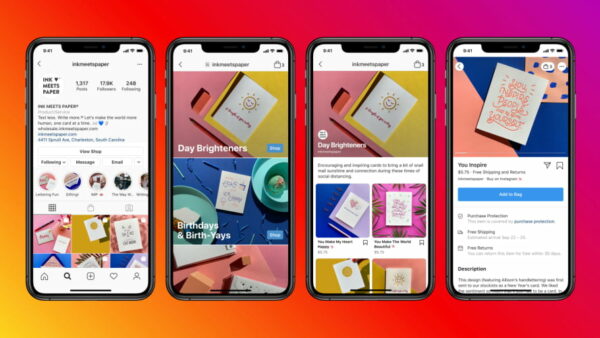 If the majority of your audience is on Facebook, you should definitely consider doing a live-streamed shopping event.
To be able to use this feature, you need to create a Facebook Shop first. Then, start a Live video on your account, and click on the Live Shopping Tab to Enable Live Shopping. After you go live, you can select the products you want to showcase in your video by clicking on the Products from Shop button.
1.2. Instagram
Instagram Shops was launched at the same time as Facebook Shops. This feature won't work if you don't have a Facebook Shop, although it is linked to its own Instagram Business Page.
After linking Shopify to Instagram and Facebook, your product catalogs will be visible for your users directly from their Instagram pages.
You can enable the View Shop button on your Instagram Business Page so that users will be able to explore your products within Instagram. This tab includes personalized product recommendations, shoppable videos, and product collections that offer a full shopping experience.
So, how is this feature different from Instagram Shops?
They may look similar, but a Shop is like an online store, and the user can browse through all the products listed by a brand. With Checkout, consumers buy a product through a Shoppable post that they see on their feed or a brand's business page and it's available for Instagram Stories, Live, and Reels.
This feature is great for brands that want to sell a product during a live stream by showing a CTA at the bottom of an Instagram Live stream.
Instagram users can click on Add to Bag to save the product for later so that they can continue watching the live video, or proceed with the purchase through Checkout. Instagram Live Shopping is connected to the Checkout feature. Therefore, if you want to sell directly through live streams, you first need to have the Instagram Checkout feature.
1.3. Pinterest
Pinterest is on a steady growth, so if it's not part of your social media ecommerce marketing plan, you should definitely consider it.
According to the company, 35% of Pinterest users are more likely to take a week before making a purchase, but they spend twice as much per month than customers on other platforms. People on Pinterest love shopping; that's why 75% of them are more inclined to say they're always shopping, compared to people's activity on other platforms.
Here are some of its features for social media ecommerce:
Pinterest went from Buyable Pins, which allowed in-app purchases, to Product Pins, which sends users to the product's checkout page. Still, the shopping process is frictionless. Moreover, Pinterest said in an article for AdWeek that Product Pins receive 40% more clicks than Buyable Pins.
Even though the checkout process doesn't happen on Pinterest, this feature still helps the user with a seamless shopping experience.
This tab will be created once you upload your product catalog on Pinterest so that people can shop directly from your profile.
The product catalog you upload on Pinterest will be turned into browsable Pins, making it easier for Pinners to skim through your products while they're in the discovery phase.
This one's a shopping shortcut so that when a user sees a Home or Style Pin, they can hold down on it and then click the shopping tag that pops on the screen to go directly to a shopping feed with products from various brands.  
Shopify-Pinterest integration
You can upload your Shopify catalog on Pinterest and turn it into browsable pins. If you have another ecommerce platform, you can still set it up on Pinterest manually, using Graph, Schema.org, or Embed.
There are four ways users can discover and shop with Pinterest straight from your website once you set up your catalog. You'll see that Pinterest favors product discovery, so there are high chances Pinners will find your brand too.
1.4. TikTok
Starting in August 2021, TikTok users can shop directly in the app. 
Blake Chandlee, president of global business solutions at TikTok, says: 
"TikTok is uniquely placed at the center of content and commerce, and these new solutions make it even easier for businesses of all sizes to create engaging content that drives consumers directly to the digital point of purchase."
The platform's partnership with Shopify allows merchants with business accounts to create a shopping tab on their profiles with all their product catalogs synced, together with a link to their online store for checkout. This makes Shopify the first commerce platform to bring shopping tabs to TikTok.
Merchants can also link their products to their videos by tagging them, a feature that helps users shop directly from the videos.
So, the users have two shopping options: directly from the merchant's storefront or click on the tagged product, redirecting them to the seller's online store for checkout. 
If you think this platform will benefit your brand, start focusing on your TikTok ads, and let your followers know about your products.
2. Advertising
Paid social media advertising can help you reach those people who are not following you already or who don't know about your business.
Here are some numbers according to Hootsuite:
190 million people can be reached by Facebook advertising;

140 million people can be reached by Instagram advertising;

170 million people can be reached by LinkedIn advertising.
And now let's see the best social media platforms for ecommerce marketing and advertising:
2.1. Facebook
With almost 1.88 billion daily active users during the first quarter of 2021, Facebook is one of the top choices when it comes to social media advertising. 
Here are the different options you have when creating ads on Facebook: 
Image ads.

The easiest way to advertise your products is through a branded, eye-catching image ad, which you can run in the News Feed and Stories;

Video ads.

This type of ad can appear in the feed, as well as in people's stories, but they go even further into in-stream ads in longer Facebook videos;

Carousel ads

. An up to 10-image or video type of ad to make room for more products to be displayed. You can also choose to showcase just one product.

Slideshow ads.

These ads offer you the ability to create a collection of short videos or photos that are displayed in a flowing motion.

Collection ads.

These are made especially for mobile devices. They allow you to showcase five images or videos to help users see your products. These collections pair with Instant Experiences so that the users won't have to leave Facebook to buy an item.

Instant Experience ads.

Formerly known as Canvas, these are full-screen ad formats that load faster than other mobile websites.

Dynamic ads.

These ads give businesses the chance to promote targeted products to customers who have previously shown interest in them or placed them in their shopping cart but abandoned the checkout process. 

Messenger ads.

An effective way of displaying your products is through Facebook Messenger ads since

1.3 billion people use Messenger every month

. 

Stories ads.

Over 500 million people

use Stories every day, which makes the story format ads exceptionally prone to be seen, leading to product discovery. 

Augmented reality ads.

These ads allow customers to use filters and animations to interact with your products, helping them in making a well-informed decision. Users can even take selfies with those filters and share them on their feed.
2.2. Instagram
Let's see what types of ads you can create for social media ecommerce advertising on Instagram:
Image ads.

Also known as photo ads, these are simple image-based ads.

Video ads. Whenever you need to showcase your product(s) in a more dynamic way, this is a perfect alternative to photo ads. Instagram Reels, in particular, are very effective in getting you in front of potential customers.
Carousel ads.

They received a higher engagement rate per post,

up to 5.13%

. You can use it to highlight multiple products or emphasize all the benefits of a single product.

Collection ads.

With this type of ad, users can browse products and purchase them directly from the ad. Once someone clicks on the collection ad, they are directed to the Instagram Instant Experience Storefront, which is compatible with Facebook and Instagram product catalogs.

 
Shopping ads.

Marketers can tag items on their Instagram ads so that users can click the tag to discover more information about the product and then purchase it. After a customer clicks the ad, they are directed to a product description inside Instagram. Then they are able to buy it from your mobile website. 

Story ads.

Instagram gives you space and the right app features to display a more creative type of ad. You can add filters, video effects, or other animated elements, which will take the entire mobile screen of the customers.

 

 

Explore ads.

This is a type of ad which appears in a user's browsing session on Instagram meant to be discovered by customers.

They don't appear in the Explore grid or the topic channels, but only when a user clicks on a photo or video from the Explore section. 
2.3. Pinterest
Almost 9 in 10 weekly Pinners use Pinterest for inspiration, followed by a purchase. Besides, there's a 3x increase in sales performance for businesses using Pinterest Shopping ads, so here are the ways in which you can advertise your products on Pinterest:
Standard Pin Ads.

This looks like a regular Pin, so it definitely won't disrupt the user experience on the platform. The only difference is that it has Promoted by under it, which will disappear once it gets repined.

Carousel Ads.

An up-to-5 image ad, giving you the freedom and space to advertise more creatively.

Video Ads.

This is a more lively form of displaying your products. The video ad will start playing when they come into view in a Pinner's feed.

Collection Ads.

You can create collection ads on desktop, but they will be shown only on the Pinterest mobile app. The ad has a main asset plus three secondary assets. Once a Pinner taps on a collection ad, they will see up to 24 assets. These collection ads showcase more products for users to choose from, like in a physical store.

Shopping Pins.

After you have your product groups in Catalogs, you can promote them through Shopping Ads. This type of ad works on the product data you provided, so they'll be displayed to pinners who find the ad relevant. Additionally, you can create a retargeting campaign to run ads for those who previously showed interest in your products. Shopping Pins include helpful details like shipping times, reviews, and promotions.
If you're not doing it already, but you're interested in advertising and selling your products on Pinterest, check out this extensive article with everything you need to know about Pinterest ads for ecommerce and how to make them with Creatopy.
3. Build brand awareness
Building brand awareness is an ongoing process, sometimes tedious but highly necessary.
I think everyone is familiar with the brand Vans. And perhaps you also own a pair of their comfy shoes. Despite its popularity, the company is still constantly posting on its Instagram page to maintain the connection with the audience.
4. Stay relevant
Not only do you have to create and post often, but you need to stay relevant to the platform you're posting on. This means you'll have to use the style and language that resonates most with the users present on a specific social media platform.
Also, keep in mind that 89% of information is better retained when text is paired with visuals, which makes it much more effective.
Another way to stay relevant is to be aware of the trends, global context, and pay attention to what's going around in the world that ignites people, so you can respond to them. It is important to mention that these trends deserve to be followed if you can generate great or funny ideas based on them.
Like Gillette or many other brands embarked on the Squid Game trend:
5. Leverage user-generated content
Social media is where people go for entertainment or to discover new brands and products. Many studies show, including this article from Marketing Dive, that people started to trust social media recommendations more than branded images.
This means you should create posts that are shareable, authentic, and helpful for your audience. Once they share your content, you can easily reach their network as well.
And it works the other way around too. You should always take advantage of your customers' posts when they mention you. Be sure to thank those who took their time to share your content.
You should also add social sharing options to your blogs and ecommerce store to give people the opportunity to recommend your products at any time.
For example, Asos uses all the user-generated content it can get. If you visit their Instagram profile you'll see more examples like this.
6. Connect with influencers relevant to your niche
You can create partnerships with influencers that have a strong presence among your target audience. They may include giveaways or content exchanges that will help both of you grow your followers.
Just like Calvin Klein made a partnership with Drewjessup for their Eternity fragrance. 
7. Provide customer service 
With the help of social media, you can not only reach potential customers but also provide stellar customer service to your current ones.
The way you handle both positive and negative comments is a reflection of your brand. You can even turn negative ones around if you're quick to respond and find fast solutions. That's why it's important to address any question or feedback that people may leave on your page. 
Even if your company has a support team, there will be times when it's much easier for people to reach out to you through social media. Answering questions properly is a sign of professionalism, transparency, and a way of showing your audience that you care. 
After all, we're always connected to these platforms. According to PwC, almost 80% of Americans appreciate the speed, convenience, knowledgeable help, and friendly service. Consumers outside the U.S. value a fast response even more. 
And these are a great way to start building brand trust because while you want to reach new customers, you should never forget about your existing ones.
Lululemon answered a subscriber's inquiry on Twitter and gave them information about their concerns.
8. Pay Attention to Social Listening
Social listening is the process of monitoring social media for mentions, comments, conversations, and hashtags related to your brand and products. It also involves competitors' mentions and industry trends, which helps you perform an in-depth analysis of your brand's status.
This is an essential part of your audience research, which will help you:
Engage with your followers;

Understand your followers' opinions on your products;

Discover the most appreciated products by your customers;

See what your competitors are doing;

Find pain points you should address and fix;

Notice potential influencers you could work with.
Here are a few tools you can use for social listening:
9. Showcase Social Proof and Testimonials
Social media, which can be the digital version of your word-of-mouth marketing strategy mixed with online reviews about your products, are a killer combination set to succeed. 88% of consumers trust other online reviews as much as personal recommendations, making social media one of the best places for you to showcase product reviews.
Some platforms, such as Facebook, allow reviews on business profiles, so companies can turn on this feature and benefit from it to the fullest.
Just as in the comments' case, you should always respond to these reviews, as this is even more effective.
Healthish Water Bottle showcased a client's testimonial so others can see its benefits already tested by someone. 
Conclusion
As we've seen, the future of ecommerce is on social media because billions of people are present on these platforms. So it's important for you to have a presence on these channels and be consistent.
I hope that these ideas are going to help you freshen up your social media ecommerce strategy so you can use it the best way possible.