8
minutes read
You are ready to start a small business or maybe you've already made the first steps towards entrepreneurship.
You know what your strengths are, what your weaknesses are, you are ready to learn from your own mistakes and build a brand or a business from scratch.
It would have been easier to just get a job but you want to be on your own. A solopreneur or micropreneur is a solo entrepreneur, someone who runs his business alone.
Will it be hard? Yes, of course.
At the same time, if you are ready to invest your precious time in achieving your goals, it will also be a great experience, even if you have a limited budget and you are forced to start as a solopreneur.
The perks of starting solo
A small business means just what the name implies: something small, a starting point from which you can either grow or fall back to your point of origin. There are however some benefits that cannot be disregarded, regardless of the outcome of your business.
a. Improve your professional skills.
The more you work, the better you get at what you are doing. Plus, when starting up a small business, you have the opportunity to develop new skills in areas that are not related to your profession such as marketing, web design and more.
b. Learn how the market works. Online and offline. 
You need a plan, you need to conduct research. With every new piece of information you acquire during this stage, you get to learn something more about the market you want to be active in.
c. Learn how to create a business plan and develop financial assets
This will be your point of origin, your first step in this new entrepreneurship life. A marketing strategy and a financial stability are the 2 important resources you must develop and constantly work on it. There will be moments when you have to decide if it's worthy to buy a car, a lap, to hire a new person or even to read this mortgage guide to see if it's the time to invest in a new home or not.
d. Learn how to create a marketing strategy. Social media is an important part of it.
Nothing grows out of the blue. Treat your business as a living creature that needs to be fed regularly. How? Through a viable and efficient marketing strategy, of course.
e. Build a personal brand. Create your logo, social media covers with banners.
You are a solopreneur, there is nobody else associated with the small business you are trying to put on the market. Your personal brand will be strictly correlated with your business brand. The more your business grows, the more your reputation will grow as well.
f. Make new contacts, meet new people.
Expand your social circle through all the business contacts you will make and of course, through social media, the first marketing platform you will use. You will have the opportunity to meet people from all social classes and all age groups. They are all important because every new contact you make may open a window of opportunity for you. If you pay attention, you can learn something new from every individual.
g. Be independent.
This is probably your main drive. You are aware of your skills, you value independence and freedom. There is no better reward than being on your own and being successful at the same time.
Social media marketing is a must for any solopreneur
I am sure you have already tried to put together an effective business plan for your startup.
What about your social media strategy plan?
If you are running the business on your own, without any other employees or collaborators, the social media marketing effort with everything it encompasses, falls under your responsibilities. I know, it's hard to do everything by yourself but if you want to succeed, there is no other way.
Time is limited at this point, maybe so is the budget as well. And let's be honest that there are a lot of social networks where people are telling you to start creating and promoting content.
This is why you need to start by putting together a simple strategy. That kind of strategy that is more convenient for you at the first step. What do you need besides some basic skills for social media interaction such as speed of action and a customer-oriented strategy?
Here are some tips and tricks for creating and improving your social media strategy as a solopreneur.
1. Choose your most effective platform for your small business marketing needs.
Do some research and find out which social media platforms can deliver the best returns of investment for your niche. I know, your budget is limited but you will invest time in creating a social media profile (maybe even more), in creating and distributing content and of course, communicating with your customers, fans or followers.
For instance, Instagram and Pinterest are based on images, YouTube on videos, while Medium is based on text messages. Facebook, on the other hand, allows you to experiment with images, texts and videos at the same time. And there are also other social media channels you must be aware, such as Quora, Reddit, Snapchat, LinkedIn and the list can continue.
Choose your platform based on your content strategy but don't forget that you should also go where your potential customers are. Therefore, your choice on a specific social media platform depends on your target audience as well.
How do you choose the best platform for your social media strategy? Just experiment on them. Give every social media channel time and resource. Try live videos on Facebook and see if your audience is interested in your idea. Try to write a more personal Medium article and see if people will share it or not. There is no secret plan for how to create a successful social media strategy, all you have to do is to start experimenting.
2. Create a social media plan and stick to it.
Ask yourself first: "How much time do I have for social media marketing?" Then, based on your answer, start by creating a strategy for the first month.
Schedule your content, invest time in creating posts that add value to your personal brand and to your followers.
Also, be consistent in your work.
If you have a small advertisement budget, don't disregard this option. It will be of great help, especially at the beginning, when you will be new on the market and with a very small pool of customers.
For instance, Smartketer recommends gif banners as "the most cost-effective […] since they offer a higher attraction value as compared to images and are lesser costly to develop as compared to videos". They are a great choice for Instagram and Facebook advertising, two platforms able to deliver really great ROI.
3. Don't treat social media marketing as a distribution channel.
At least at first, concentrate o building relationships.
Create posts that lead to engagement from other users and use native content.
Talk to people.
Ask questions.
Reply to others.
Your social media marketing strategy is supposed to make you more visible on the market and attract more followers and customers. They won't stick however unless you give them a good reason for it. Therefore, give them something back by creating high-quality content.
4. The real marketing lays in solopreneur's private space.
Be present, engage with your followers and commit to respond to all their suggestions, questions and critics individually, through private messages. Keep in mind that the best customer care you can give is by a direct approach, through private messages whether you are on Instagram or Twitter.
If you are using Facebook, make Facebook Messenger your main communication application. Address to your followers individually, thus proving that you value each one of their opinions, critics or questions and that they all matter to you.
5. Don't be a brand on social media.
Don't act like you are behind a virtual concrete wall, or worse, above all your customers like a benevolent entity whose acts should be all regarded as acts of philanthropy.
You have something to give to your customers, and they have something to give back to you as well. There should be an exchange here. However, if they are able to communicate with a real person, they will most surely do it better. A brand is an abstract concept while you, on the other hand, you are an individual, just like your customers. Think like them, post for them, and include them in your strategy.
Take for example these ads on Instagram.  Some of them don't act like brands but instead, they are trying to communicate with their followers exactly how a simple user would do it. They share experiences rather than products and when they are advertising their products, they will do it by trying to exemplify it with real life photos.
Take for example AirBnb.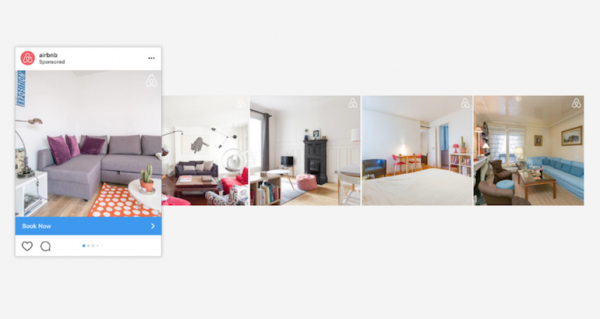 It would have been simple for them to post images of great accommodations for their clients. Instead, they are sharing images taken by their clients from some of the most beautiful places on Earth.
This is a great strategy for their brand because it makes us want to travel more and see new places on which they can accommodate us cheap and efficiently.
6. Dive deep in analytics.
Everything we do, every action we take, teaches us something.
Marketing is no different than any other activity. Sometimes you will win and sometimes lose, every lost battle being at the same time an opportunity to learn from your mistakes and make room for improvement.
This is where analytics come in place and every social media platform has a way of giving you statistics and valuable data on your marketing campaigns. First, you need to understand your audience profile and how important is social media for your website. The analytics will probably prove the importance to you but only if you pay attention to every single detail.
Find out which are the best posting hours, when your audience is the most receptive and to whom you should address.
Maybe your first campaigns will not give you great conversions but as time passes, you will adapt and become a better marketer through a thorough analysis of statistical data.
7. Embrace new opportunities, test, experiment and then analyze the results.
It matters how you start but at the same time, it also matters how you continue on social media.
Based on your results and your continuing research, you may test and experiment with different types of posts and strategies.
For instance, you can make a brochure online and distribute it on Facebook. Or, you can try with audio or video posts which can be embedded on Facebook as well. If you are using Instagram on the other hand, experiment with Instagram stories for instance, and test your results.
Analyze which strategy was better and include it in your future marketing plans.
How hard it is for a solopreneur to market a new business?
Well, it all depends on how you do it. I've started with the perks of being a solopreneur but before concluding, I would like to also point some of the hardships of being alone:
You don't have anybody to rely on. You are on your own, you need to learn everything that is to learn about how to run and market a business.
You will feel stress and sometimes it will feel like the end of the world for you. However, with every little success, there comes gratification. You will learn how to deal with stress and how to enjoy every accomplishment.
There is a lot of information to assimilate in a relatively short time span. You have to read a lot and study the market but not all the acquired information will be useful. There are tons of article on the Internet but not all are valuable. Sometimes, you will act based upon erroneous guidelines. In time, you will learn how to select your sources.
Conclusion
It's not easy to start a business on your own.
There are a lot of things to think about and your time is limited. However, if you want to start on the right foot, and I am sure you are, you should think about your marketing campaigns and create a viable marketing plan. Our free social media templates pack can be of great help.
For a solopreneur, social media is the best starting point in marketing. Based on what we have learned here, if you are dedicated, hardworking and focused on not missing the most important steps, I am more than sure you will be successful. Don't be hasty. You are allowed to make mistakes.
Learn from them, get better at what you are doing and everything will be ok.
Did you consider starting a small business on your own? How did you manage time? What social media platforms are you using and why?
Should you have anything to add to this short guide, please feel free to live your input in the comments section available below.