13
minutes read
TikTok is a new name for some, an already popular social media platform for others, and the latest battlefield for marketers worldwide. 
If you work in the marketing industry and have been ignoring this platform up until now, it's time to get out of your bubble and reassess your priorities. 
Why? Because TikTok's popularity is growing as we speak. 
---
Summary
---
The app surpassed two billion downloads on the App Store and Google Play, a record that happened during a global pandemic.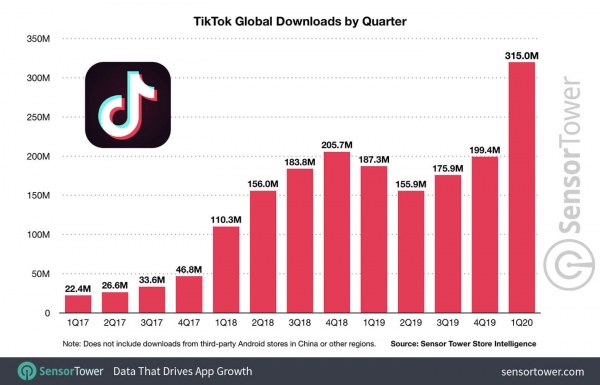 This social media platform can be part of a fruitful marketing campaign. You can use it for advertising and, if you choose your strategy well enough, you might find that TikTok can bring you satisfactory results. 
However, we'll talk about this later because now we need to answer the first two questions any marketer would ask before including a TikTok strategy in their marketing plan:
A. What Is TikTok and What Marketers Need to Know about It?
TikTok is a Chinese video sharing network service owned by a Beijing based Internet technology company founded in 2012 by Zhang Yiming. In just three years after its launch, the platform acquired over 800 million users.
What you need to know as a marketer? 
Besides the impressive number of users and the high average engagement rate, which are quite significant from a marketer's point of view, TikTok is a video-based platform that focuses on short videos.
We also know that visual data and video marketing are nowadays more popular than ever, and if you need proof of what I am saying, take a quick look at how YouTube grew over the past few years. Or how Instagram and Facebook adapted to this trend by implementing more and more features and capabilities for hosting and sharing video content.
You can use a TikTok marketing strategy as a content publisher and advertiser at the same time. 
So how do you approach TikTok advertising? Continue reading to find all about it.
B. How to Design TikTok Ads
While TikTok is a new platform, it's not that different from all other similar territories available online that a marketer could conquer.
We're living challenging times for the digital advertising industry. TikTok pushes clients and agencies to reignite that creative spark for their ads; to find either the most natural integration of the product or the most mind-blowing one.
The principles of doing good ads are evergreen.
It's just the way you translate them in a video, in an image, or even a short text that is constantly changing.
 If you want to publish ads and turn them into profit, you need to adapt to the platform and design ads that fit its profile. 
Here are some tips that will come in handy:
1. Start from templates
The easiest way to design TikTok ads is to start working with templates. Numerous apps and platforms will help you in this case, and Creatopy is one of them. To this end, you can use the Story Templates available in the app to find a design and customize it right away.
Here are a few examples you can start with.
2. TikTok ad formats and specs
But wait, there is yet something that you need to know before saving your newly designed TikTok video ads. 
What are the specifications? What sizes and formats are suitable for a TikTok advertising video campaign?
According to the official guidelines, you can create two types of ads on TikTok: video ads and image ads. 
Let's take a quick look at the specs.
You can upload a video file that's up to 500 MB, 5 to 60 seconds in length, and a format of 9:16, 1:1, or 16:9.
Below you can see a list of the ad placements available for TikTok video ads.
When it comes to image ads, there are no specific restrictions regarding the file size. However, TikTok suggests keeping them at a maximum of 500 KB. There are no restrictions for the image resolution either, although ≥1200*628px is recommended.
As for the placement, TikTok's recommendations are as follows:
3. How to create TikTok video ads
When it comes to the creative part, you need to be brief and convey your message as clear as you can in under 15 seconds. Whether you choose to use templates or start from scratch, the only thing to keep in mind is the recommended specifications. 
You can adapt campaigns that you used on other social media platforms for TikTok with minimal effort.
4. Get inspiration from other brands and agencies 
If you need some inspiration when designing, you should know there are a lot of companies that are already advertising on TikTok, so you can use them as a reference. 
There are three things that I want to emphasize, and I will discuss them in the following paragraphs:
Make sure you are authentic
Authenticity is a crucial element in both TikTok marketing and advertising. People are tired of seeing calls to action from brands they do not know or brands that are too rigid when communicating with their audience and have a hard time sending a clear message. 
They are also tired of companies overbidding on surreal offers, traits, and accomplishments that have nothing to do with their product or the real world.
People want to see the truth, something relevant to them. They want to see the real brand behind an ad, its real intentions, personality, and values.
Keep this in mind not only for TikTok but for every social media advertising campaign you do regardless of the battleground of your choice.
Don't make it look like an ad 
How many times do you click on ads that tell you to do so right away? Just what I thought. Most of you ignore them unless they come from brands you know, appreciate, and love. 
People don't want to see calls to action—they don't want the brands to tell them what to do, especially on their own time, their computers and phones. They want to see stories. They want to see something worth watching, sharing, discussing.
A good advertisement calls to action by default and not through some colorful button at the bottom, so avoid using classic CTAs and other traditional banner ad elements altogether.
Younger audiences are more receptive to new things. However, TikTok is growing in popularity by the hour, and the community is quite diverse in terms of ethnicity, gender, and age. I am sure you already know that since you've reached so far in reading an article about advertising on TikTok.
Just like on any other platform, I recommend you to start creating content and not only TikTok ads. Moreover, start designing for your audience, whatever you are trying to boost the figures for. Learn about what type of content they consume, and what they want to see. Then, deliver the right kind of videos/images to them even though they are meant as advertising materials. If they're good enough, nobody cares.
However, don't forget that what's right for Generation Z is not necessarily suitable for Millenials.
C. How to Advertise on TikTok
We've reached the most crucial part of this article, where we learn exactly what you need to do to publish your first ads on TikTok.
1. TikTok Ad Options
We've already talked about some of the options you have when advertising on TikTok. We walked through sizes, specs, and some of the publishing options.
Now, let's take a closer look at how you can work with each of these options.
1.1. In-Feed Video Ads
In-Feed ads are TikTok ads that appear in between users' videos as you scroll through the main page. They are very similar to the ads you would see while browsing through Instagram Stories. Here are two examples:
1.2. Brand Takeover
Brand Takeover ads appear right when you launch the app and display a full-screen video to a specific audience. They are great for awareness campaigns and direct sales since you get in touch with the audience directly before they interact with anything else on the platform.
However, unlike In-Feed ads, these videos might seem intrusive for some. Regardless of this, let's take a look at a few Brand Takeover examples:
They are similar to the previous type, the only difference being that they appear first and not on the main page. 
Here's another example:
1.3. Top View Ads
Top View Ads are an advertising option that allows you to build on top of the Brand Takeover. Unlike the latter one, with Top View, you cannot bombard the users with ads the second they open the app but instead show them your content as the first in-feed post three seconds after they log in.
1.4. Branded Hashtag Challenge
Branded Hashtags represent an advertising opportunity that is exclusive to TikTok. Like other hashtags challenges and hashtag trends on TikTok, branded hashtags offer organic and sponsored opportunities for brands. They are great for generating user content and for boosting awareness.
An excellent example comes from Freal Milkshakes, a brand that partnered with popular TikTok creators to drive brand awareness:
1.5. Branded Effects
Another great thing when it comes to TikTok marketing and advertising is that they offer branded shareable stickers, AR filters, and lenses that you can use on your ads to personalize them. You can even design your custom filter on the app. Here's an example:
2. How to Set Up Your TikTok Account
To start campaigning on TikTok, you need to set up a business account. Keep in mind that this is different from the individual account.
Once you get access to the advertising platform, you can see your dashboard. From here, you can do everything you need to do to jump-start your campaign. 
First, however, you need to create your first ad.
3. How to Create Ads for TikTok
Once you complete the setup, you can access your dashboard and create your first ad campaign. Under each campaign, you can organize TikTok ads into groups or as individual banners.
But first, you need to create the campaign, and to do that, click on Create.
The next step is to set up your objective, which can be to generate traffic, conversions, or app installs. After this, add a name for your campaign and set up your budget, which can be a lifetime budget or a daily one.
The next step would be to create the ad group and choose your placements. It's recommended to let TikTok deal with this option automatically to allow your ad to be shown on partner apps such as Babe, Top Buzz, and Buzz Video.
Once you are done with that, you get to choose the target audience and create your new ad, which can be a video or an image.
4. How to Monitor Your TikTok Ad Campaign (TikTok Analytics)
Everything related to your campaigns, all the data and numbers are available in the dashboard. Monitoring your stats is, therefore, relatively easy and handy.
Moreover, you can drill out into your data by using filters such as creative, audience demographics, device type, and placement, which are available within campaign reports, and learn how your TikTok ads perform based on specific metrics and dimensions.
5. The Best TikTok Ads Examples
As I was saying, a lot of brands are already using TikTok as part of their advertising strategy. Since we can always learn from our own successes and failures, it's still a good thing to take a quick look at what others do. 
Here are some examples of creative TikTok campaigns that will inspire you to create your own:
Chipotle Boorito Challenge
"Boorito" is an annual offer from Chipotle on Halloween. Last year, they decided to challenge people to post videos showcasing their before and after Halloween costume transformations, using a custom sound bite that Chipotle created just for this campaign.
Hashtag Plus is a new type of campaign on TikTok that allows users to shop for products associated with a campaign's hashtag directly through the app. Kroger was one of the first brands that saw there's a new opportunity here and got involved in TikTok advertising.
Everything is being done through the Explore tab, which features an in-app experience where campaign products can be purchased within TikTok.
The campaign required for users to post pictures and videos showing their dorm room transformations. And so, they did. In fact, this was a significant success since the uploads generated more than 3 million views, 252K likes, 1352 comments, and 1747 shares.
#DealDropDance, Walmart's Black Friday Campaign
Last year, Walmart, one of the biggest retail brands, created a campaign on TikTok encouraging users to post videos of themselves expressing how Black Friday savings at the store make them feel.
The campaign used the hashtag #DealDropDance and managed to generate over 3.6 billion views on videos that included this specific hashtag. Also, Walmart involved influencers in this campaign, such as Montana Tucker, Drea Knowsbest, BDash, Rodney Lee, and OurFire. 
With their help, Walmart managed to reach out to an audience of over 17 million followers.
Calvin Klein's TikTok Campaign
Calvin Klein is another big brand that had colossal success advertising on TikTok. They did not stick with just one video, but nevertheless, here's an example:
For what it's worth, they have so far produced over 20 videos establishing a following of 5.1K under the tag #MyCalvins.
6. Ground Rules for TikTok Video Ads and Beyond
Video content is essential these days, and it can make or break advertising campaigns in an instant because people rely on this type of content and consume it more than ever. 
When you shoot a video, you need to tell a story to capture the attention of the audience and transform your message into an effective one. 
To get the best results, the best way to deal with content creation and submission is to adhere to the popular SPARK set of rules.
What does SPARK mean?
The acronym stands for Short, Personality, Alive/Adaptive, Related/Representative, and Kind. 
Make it short because people's attention span has decreased dramatically. Short is also the equivalent of being brief and to the point to convince them not to swipe away from your ad. Of course, there's always the chance to amaze them from the very beginning, which I strongly recommend to consider whenever you start working on new material. First impressions matter, and it will take people only two or three seconds to love or disregard your work.
Personality is also an essential aspect of TikTok advertising. A strong personality will allow you to stand out from the crowd, and you can achieve this by simply being consistent, having a unique signature, using catchy phrases, images, or even gestures. However, personality does not refer only to you as an advertiser. You should take into consideration the target audience as well, analyze the demographics, their behavior, their feedback on the matters that are important to you.
Being alive and adaptable is also an essential part of the process. Background sound can help with your videos, but at the same time, it can help you even more to heed to the voice of the public and adapt according to their suggestions once in a while. Music will help you set up the mood, and TikTok provides a massive library with a lot of choices. Choose the best one, the one that fits your video and your message, and bring it to life.
You can look at these examples for inspiration.
The next step will take us to the related & representative rule. What is this about? Well, take a quick look at the viral videos you like and know on the platform. If you like them, they relate to you in some way, it doesn't matter how. What's important is that you can relate to the feelings they transmit or the message. Take this into account when you create your own ads. Find as much as you can about the audience and try to relate to them.
The final step in this process involves kindness. It's not that type of kindness that you already know. When I advise you to be kind to your audience, I am referring to the tone of voice and the way you transmit the message. It needs to be easily understandable. Here are three examples that will help you grasp the idea:
Final Thoughts
Compared to other social media platforms, TikTok advertising is instead the new kid on the block. 
However, it has grown in popularity over the past few years, and now millions of people of all social statuses and ages are using it daily. Therefore, as a marketer, TikTok may prove to be an essential part of your future ad campaigns.
A lot of brands are already doing it and achieve great results. You should try it as well, and, with this article, I hope I have been clear enough about your options and what your next steps should be.
Did you use TikTok for marketing up until now, or do you plan to do it in the near future? Let us know your take on this topic.