6
minutes read
First of all, why would you need a design collaboration tool? Well, many advertising teams face the challenge of juggling demanding briefs, tight deadlines and exigent clients. On the other side of the arena, companies of all sizes are trying to create marketing campaigns in-house, in an attempt to decrease delivery timings, errors, and budgets.
Whether you're an agency or a company with a marketing department, you know the struggles.
Streamline Your Team's Workflow & Boost Ads Production
Creatopy helps thousands of companies and agencies change the way they create and produce ads by providing an all-in-one online design collaboration tool.
With the possibility to create large scale advertising campaigns and remote collaboration, Creatopy is the go-to advertising software for companies of all sizes and industries, agencies and freelance professionals across the world.
"Prior to Creatopy, we were only making static ads in Photoshop. Creatopy has opened up a whole new way we can serve our customers and give them better-performing ads.
Since we're on a team account we're able to all see and edit ads that are made from anyone on our team rather than having individual accounts. As a manager, I'm also able to see who made which ads and give credit to the appropriate person who made them or track down who made the latest revisions to them." Laura C., Creative Manager
What is a design collaboration platform?
---
A design collaboration platform allows teams of multiple users to design, edit, share projects, and assets, communicate and analyze results, inside the same application. Remote collaboration is possible because a design collaboration platform is fully web-based, allowing teams spanning many continents and markets to work together effectively.
---
Creatopy is an online design tool that enables teams to collaborate on designs at every step of the creation process and work remotely, from every corner of the globe.
Because it's a cloud-based application, you can work online, wherever you are, as long as you have access to a computer. Also, you can store all of your brand assets and design elements, as well as design projects. Everything you own and work on is completely shareable with your team, so anyone can take over, comment, or leave feedback. At the same time, your design elements like fonts, graphics, pictures, color codes are available to all of your team members for use.
A creative management platform will help you to accelerate your ad production flow, communicate efficiently with your team on feedback, and monitor and optimize your ads.
Who can use this design software?
Creatopy is great for anyone who needs to create outstanding designs (companies, agencies, and freelancers), but it's been optimized to provide smart solutions to teams who produce large scale campaigns and function remotely.
Here are a few categories of professionals who can make use of Creatopy:
Designers

– can generate sets of ads (20+) fast and easy. Also, the animations tool allows designers to skip the coding part and design outstanding HTML5 animated ads that meet the latest industry standards.

Marketers

– can supervise the design process and get involved by editing banners and leave valuable comments. The drag & drop editor is extremely simple to use, so marketers don't need design skills to be able to make amendments themselves.

Advertisers

– can create large scale ad campaigns faster than using conventional design software, thus improving production timing.
The benefits of working with a design collaboration tool:
1. Collaborative design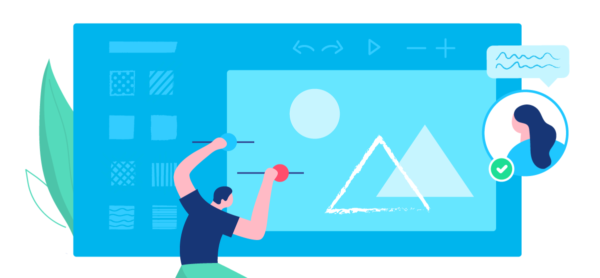 We see online design as a collaborative effort of the whole team, rather than as the isolated work of an individual.
Creatopy's editor is, without a doubt, an amazing tool for collaboration. It's got all the features you need to create static and code-free animated ads, a clean interface, and an intuitive menu.
The editor has been designed to incorporate complex features but to provide an extremely accessible experience to anyone, no matter the level of design skills or experience. Which makes it easy to use by anyone, be that professional designers or marketers.
And because Creatopy is essentially a collaboration platform, any team member can access his colleagues' designs, view and edit them at any given time.
2. Streamlined workflow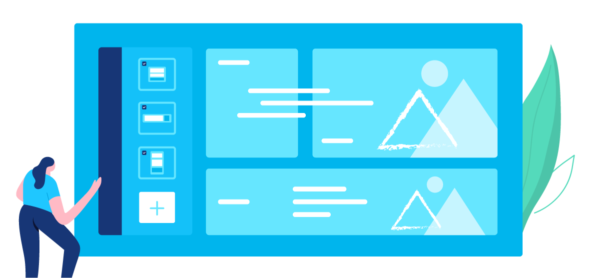 All businesses need an effective production process. Yours too. With Creatopy, you can produce sets of ads for all of your media purposes and placements in a few simple clicks.
Large scale ad production with the Banner Generator – This revolutionary tool was created to help companies and agencies create display ads campaigns fast and easy. Using this tool you can create sets of 20+ banners in an instant, including animated banners.
Resize your layouts for all your media purposes in one click with the Resize tool – Resizing your designs for various placements and platforms is time-consuming. Using Creatopy's Resize tool you can resize a layout with a single click in a set of 50+ banners of all sizes and formats.
This smart scaling tool will multiply your design and distribute the elements perfectly within various layouts, without the need for you to intervene.
3. Collaborate & communicate inside the platform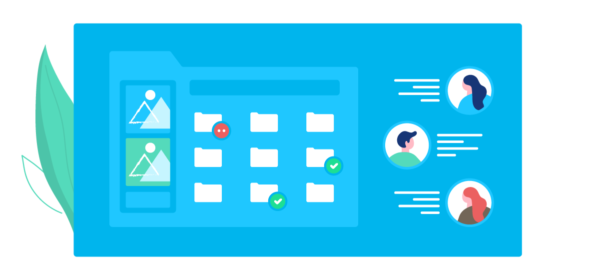 Creatopy is a design collaboration software that enables teams of all sizes around the world to work together on projects through a set of collaboration tools for business.
Multiple team members – You can add how many people you want to your team so you can wor

k together to create flawless designs.

Shared projects –

In Creatopy, you can create separate projects for each client to keep your work organized. You can then share them with your teammates to view and edit. Thus, a member can see and edit the designs you've made and contribute to getting a better result.

Brand kits

– Each member can create a Brand Kit where he can store images, templates, and brand assets like fonts and color palettes. The Brand Kits are also accessible for anyone in the team to add or remove elements.

Instant online feedback through a shared link –

Your team can communicate on designs in real-time and approve them remotely. This feature is especially great for companies with remote employees or collaborators, and for large companies that operate across the globe on multiple markets. It

takes the burden off your shoulders and puts an end to the tedious back and forth process of obtaining feedback and approval through emails.
Status labels allow you to keep track of your projects –

There's no need for you to use another complimentary project management tool to keep track of your projects. In Creatopy, you can add status labels to your (or others) designs which allows everyone to get a bird's eye view over the projects. This allows a fluid project workflow at all times. Anyone interested in the stage of a specific project can check the status labels and make changes as the progress changes.
4. Brand consistency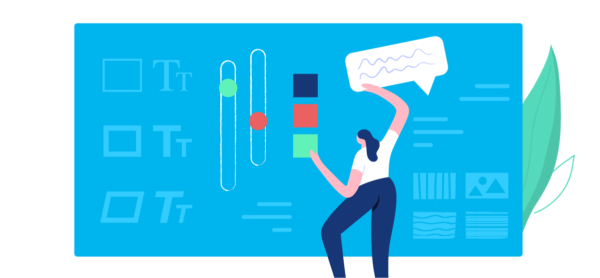 Because Creatopy is a web-based design platform, all of your actions will be performed online. But, that doesn't mean you have to keep all of your design elements and brand assets stored elsewhere on the web, or worse, in your computer.
You get endless storage space within the platform to stock your images, templates, fonts, and color palettes.
You can store them in individual Brand Kits and access them whenever you work on your projects. Your colleagues can access them too. Thus, you'll always have your brand's assets close-by and avoid using similar substitutes that would otherwise compromise your brand image.
5. Full access to Creatopy's in-app content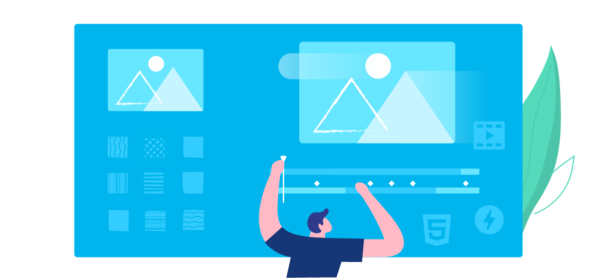 Creatopy comes with a generous content offer, including templates, stock images, animation effects, and downloadable file types.
Thousands of

ready-made static and animated templates

covering all industries, sale seasons, and holidays & events.

Stock photos library

– 2 million+ professional free stock images

HTML5 preset transitions
All types of file formats available for download:

static file types ( JPG, PNG, GIF, PDF) and animated file formats (GIFS, MP4, HTML5,

AMP HTML

)
Level up your business with a design collaboration software
So many reasons to use an online design collaboration tool, isn't it? A web-based design platform will not only help you to keep your team together but it will also provide you with top-notch collaboration tools to speed up your workflow, increase your production volume and ultimately, return on investment.
If you'd like to give it a try with Creatopy, start your free trial now.
Illustration by Anita Molnar