11
minutes read
We're living in a time when the internet is everything, a place where people go to find anything from A to Z, and this includes education.
As a result, advertising for a school is now done online as well since future students are sure to start doing their research there instead of actually going to the school and asking for information in person.
Although much more convenient, the online world comes with a few drawbacks for schools that want to attract students.
One of them would be other educational institutions that are fighting for their next pupils' attention. This is why we wanted to give out a hand and discuss some of the best education advertising ideas out there that you can use to boost your campaign's success.
Whether your aim is to promote the next enrollment period, advertise an event, or just increase your school's visibility, investing in school advertising is necessary to achieve that.

So, without further ado, here are 17 effective school advertising ideas you can start using right now:
1. Know Who You're Targeting
As with any type of online advertising, you need to figure out who you want to reach.
Firstly, you should consider the basics, like age, location, and gender. Secondly, know their interests, education, job title, or field of study—whichever of these applies to your situation. That way, you will be able to narrow down the pool of people that you want to target with your education ads.
The best way to go around this would be to create a persona. Make a profile for it and assign the characteristics you feel are essential. While you might be tempted to try and reach all possible applicants, it's a much better idea to narrow down your target audience and be specific.
Figure out what this persona might like about what you have to offer and find out what their "selling points" might be.
For example, imagine you're a school advertising your business-focused program. The persona you're targeting should be young, career-focused, and interested in securing a stable job, among other characteristics. Narrow it down as much as you can and go from there.
2. Improve Website Experience
Once you have your educational ads ready, it's important to also have a great landing page and a functional, user-friendly website. While some prospects might not interact with your ad, those who are really interested will want to find out more—and the odds are they're going to land on your website.
As this will be their first time acquainted with your school, it's best to try and make a great first impression. Along with necessary and useful information, your website should be easy to navigate, and most importantly, it should be fast. No one likes to spend minutes waiting for a page to load. Therefore your priority would be to ensure that users have a good experience while navigating your website.
A landing page needs to tell people what you have to offer, so you want to make sure it contains all the relevant information that prospective students might be looking for. This is where the conversion actually happens and where people take the next step towards showing interest in your program.
Here's a great example from Rutgers University, that has all kinds of resources for students, as well as an organized and easy-to-navigate landing page.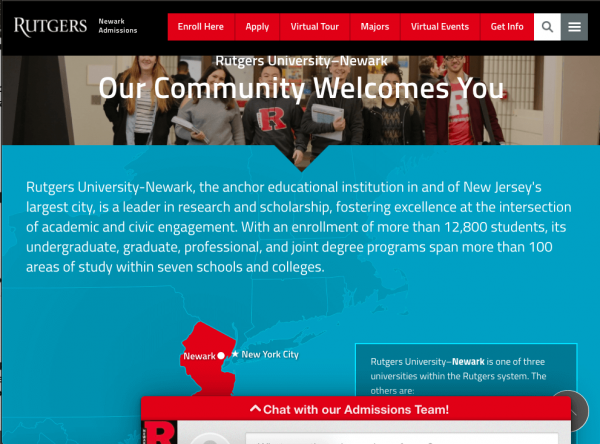 3. Use Video Ads
Video education advertising is preferred due to many reasons. While images are much easier to create, they're also more limiting when it comes to the amount of information you can add to them.
That's not to say you should only use video ads. Images have their fair share of benefits as well, such as being more effective in driving people to your website.
Videos, however, are a great way to make a good impression, given that you can use more information, present them more appealingly, and can come across as more personal.
With the added benefit of sound, you can either use background music on your slides or just have someone talk to the camera about the reasons why they would recommend that particular school or program.
King's College does a great job at creating engaging video content for Facebook ads: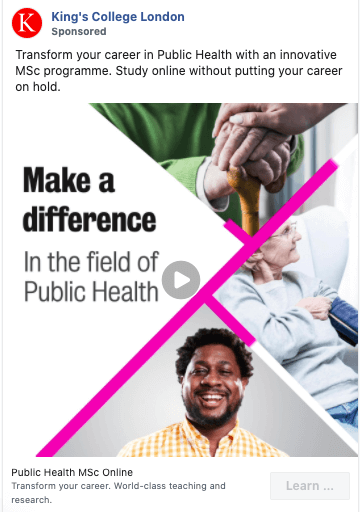 4. Build a Community on Social Media
Community is everything nowadays, especially among Millennials or younger generations. Therefore, the best way to try and appeal to them is by creating a sense of a community on social media. Use the most popular platforms out there like Facebook, Instagram, or Twitter, and try to continually engage with users.
Take a look at one of UCLA's great Facebook posts aimed at doing mainly this–building a community while teaching their audience something: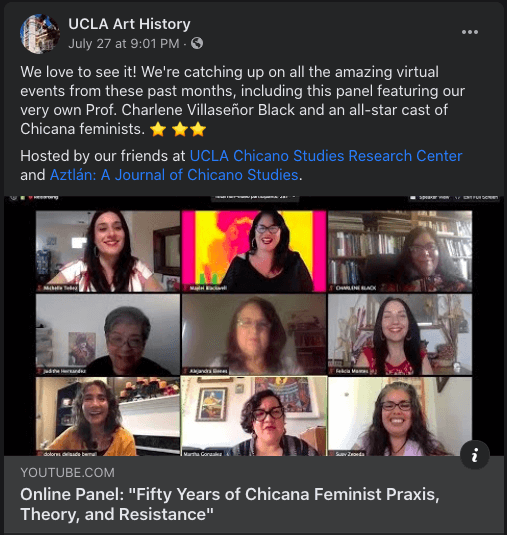 For someone coming across your school through your education ads, they're sure to check out your social media as well, and you'll want to come across as trustworthy as well as enjoyable. This will not only help you gain the attention of prospective students, but it's also a great way to build up your brand.
5. Boost Your Social Media Posts
School advertising on social media, especially on Facebook, will require boosting. Instead of just creating a post and waiting to see how many people it will reach or if someone interacts with it, you can try boosting it. It's an effortless and quick way to make sure your content reaches an audience, without you needing to create an ad.
Most businesses rely on this option because organic reach is actually declining nowadays, and most posts don't reach an interested audience without proper targeting.
However, if you wish to drive some organic traffic to your website, you'll have to mainly rely on producing high-quality content but be aware of the fact that unlike boosting your posts, this option is not guaranteed to bring results.
Like most universities, the University of Michigan is active on social media these days, trying to reassure their future students that they're doing their best in making sure that their health and safety is a top priority.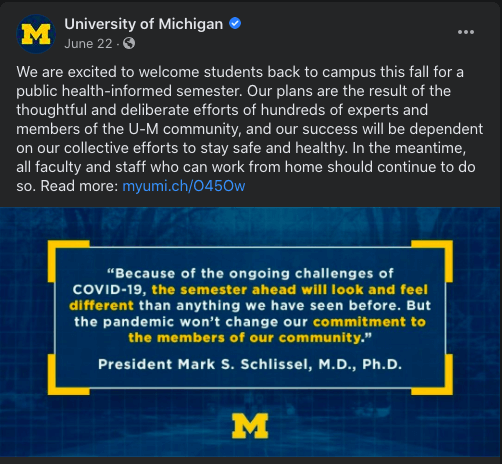 Boost your most interesting and informative posts, and you'll drive more engagement on your Facebook page. However, educational ads and boosting posts are not mutually exclusive. In fact, they are both recommended for trying to attract more prospects to your website.
6. Use Pixels
Using a social media pixel is a great way to monitor your advertising success and to get the most out of your ad budget.
Pixels are basically snippets of tracking code that help identify and collect the user's preferences. Also, the best thing about them, especially when it comes to school advertising, is that they allow you to retarget specific ads to people that have already visited your website.
The most popular pixels are those from Facebook and LinkedIn, and they're both straightforward to use with Google Tag Manager.
Installing Facebook pixels, for example, will help you look at demographic data such as gender, location, age, and interests, which can later be used to target this audience. It will also show you how users interact with your website after seeing your Facebook ad, which can provide precious data.
7. Invest in SEO to Improve Visibility
While social media is great to reach your audience, you'll also need search engines, since a lot of students will first go looking on Google, Bing, or Baidu instead of waiting for education advertising to pop up on their social media platforms.
The best education advertising campaigns are almost always running on search engines as well, simply because that's the fastest and most efficient way of reaching the target audience. Use proper keywords and set up some creative education ads, and you're sure to have great results.
Before you start investing money in SEO, you need to find out what's on Google Trends. Research the keywords that you're interested in and see how well they're doing in certain areas.
On top of that, Google Trends is also an excellent tool for finding out which educational programs are more prevalent during specific periods of the year. Knowing this will help you create a better advertising strategy and will give you an idea about when's the right time to promote it and in which areas you should promote.
You can see in the example below that the keyword "finance courses" has been most popular in April and in areas such as New York, Massachusetts, and Connecticut.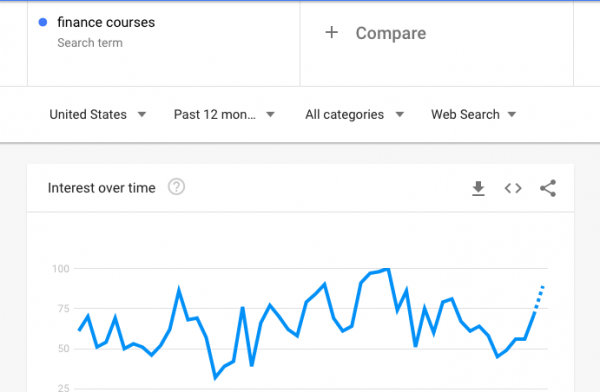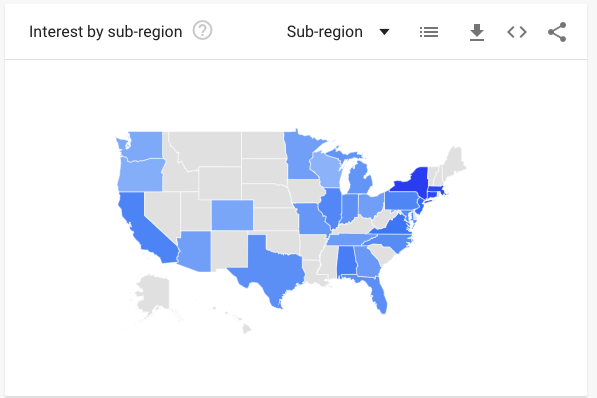 8. Use Automated Bidding
Automated bidding is a great way to go about creating the best school ads. It's more efficient as it takes the pressure off of manually setting bids to meet your goals.
You simply have to set your goal and choose the automated bid strategy that you'd think would work for you. From there on, Google will automatically set bid amounts for your ad to result in a click or a conversion.
For this, the data of a user's device and the operating system will be analyzed, plus demographics, location, and the time of day they are performing the search. It's basically a tool that is continuously learning and gets more accurate and efficient the longer you use it.
There are six automated bid strategies, and they range from increasing site visits and visibility to getting more conversions and meeting a target return on an ad. If you have a clear goal in mind, this strategy will help you meet that goal easier and faster.

9. Make Sure the Timing is Right
When it comes to higher education advertising or really, any type of education level, you need to think about timing. The best-case scenario would be to run your ads a few months before the school year starts. This way, there will be plenty of time for prospective students to do their research and come across your school or your program.
The most common error in school marketing campaigns is rolling the ads close to the beginning of the school year when most people are already set on their school of choice.
Here's an excellent example of a preschool advertising on social media that they're ready for enrollments and are also offering tuition discounts: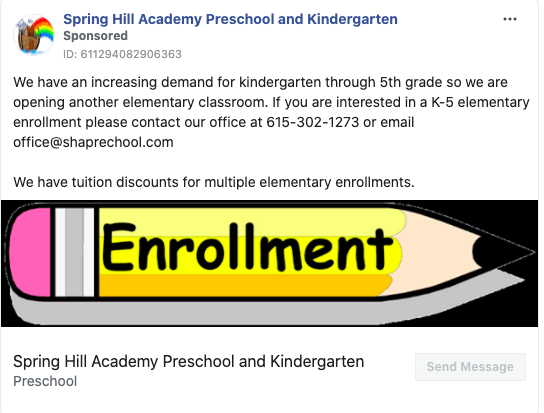 10. Choose High-Quality Images and Videos for Your Ads
Blurry or low-quality images don't leave a good impression on most people as they don't give off that feeling of professionalism and will make you seem less trustworthy.
There are several ways to go about this. One would be to hire a professional photographer to take some great shots of your school or campus or use high-quality stock photos.
It would be advisable to go for the first option since you want your target audience to get an accurate image of how your school looks like. Among some of the best school advertisement examples is the one below from Bishop Lynch High School, where you can see a high-quality image depicting actual students enrolled at this high school: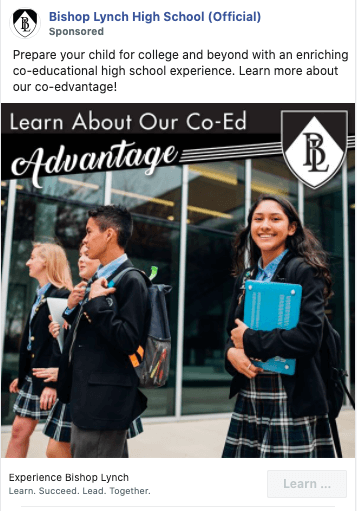 11. Address the Audience in a Conversational Way
Higher education advertising might seem like it would need really formal language. However, you have to keep in mind that you're addressing actual people that usually prefer plain and unambiguous language.
Also, you want to capture their attention, and the best way to do this would be in a conversational and approachable manner. If the language used in your ad copy comes across as too cold or formal, you might lose people's interest.
Check out this ad from The London School of Economics and Political Science–it's straightforward and engaging at the same time: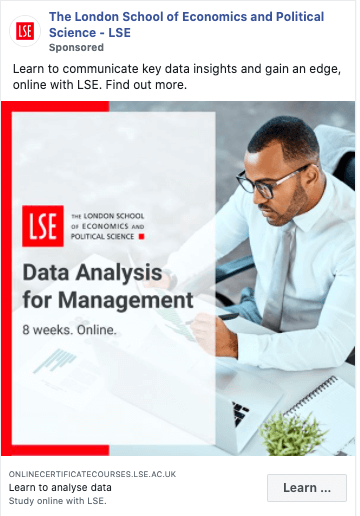 12. Add Statistics in Your Copy
Adding statistics in the copy of your ad is proved to be an instant boost of trustworthiness. It can be anything from the number of yearly graduates to the number of students who choose to apply every year.
Statistics are a great way to stand out, especially if your school advert concerns a well-known high school or university with a larger number of yearly applicants. Get inspired from this ad from Central Michigan University: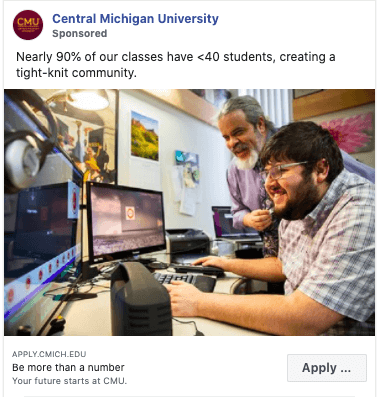 13. Run Two Versions of the Same Ad
To make sure you're using all the available tools, avoid relying just on one type of school ads design. Have a few versions ready and try them all out to see which one works best. Performing A/B tests is a fail-proof way of attracting more prospective students to your website.
In the example below from the University of Phoenix, the message is basically the same as well as the layout of the ad. However, the image and text are entirely different in this school advertisement banner.


14. Be Accurate and Informative
When creating the copy for your college or high school ads, you'll need to make sure that the information is consistent, relevant, and informative.
Double-check everything before submitting it and pay close attention to the accuracy of the information, as well as the correctness of the copy regarding grammar and vocabulary. Here's a great example of a perfectly well-put-together ad from Cambridge College: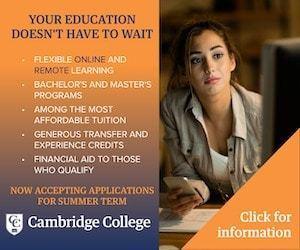 15. Make Your Ad Interesting
Using education templates for your ads is a great way to save time and publish your creatives faster. However, creative school ads would include some kind of engaging material, especially if we're talking about a preschool or a high school.
High school advertising, in particular, will have to attract the attention of young people that will need something more than just words and statistics to actually be interested. One way of doing this would be to use quizzes, games, or experiments that have the added bonus of going viral. As long as the posts are both informative and entertaining, more people will want to engage with them.
Here's an example of a simple quiz targeted at preschoolers: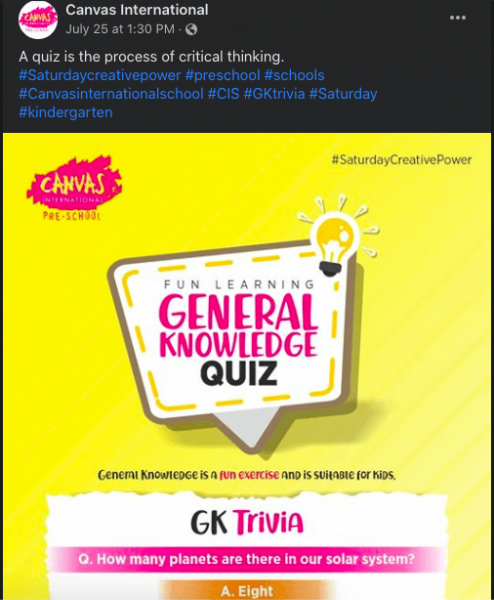 16. Use Testimonials
Among some of the most outstanding school advertisement ideas would be to use actual testimonials and reviews of the school. Prospective students or even parents will find your ad much more trustworthy and reliable if it contains the opinion of someone that has already been in close contact with your school.
The following example of an ad for an online university depicts the story of a mother and wife that attended this college and found it to be a very wholesome and useful experience.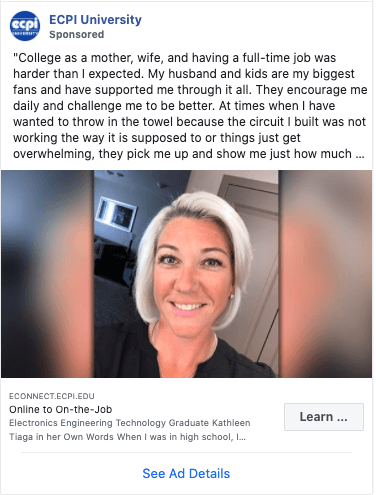 17. Create a Compelling Call to Action
Since words are more important than you'd think, you have to include a great call to action in your ad. It doesn't have to be over the top—you just have to make sure it's simple, catchy, and gets people to interact with your ad.
Encourage the audience to find out more about your school and what you have to offer. Present yourself as an excellent education option and try to stand out.
Check out the example below from the University of Essex for some inspiration as it does a great job of conveying why people should choose this particular university.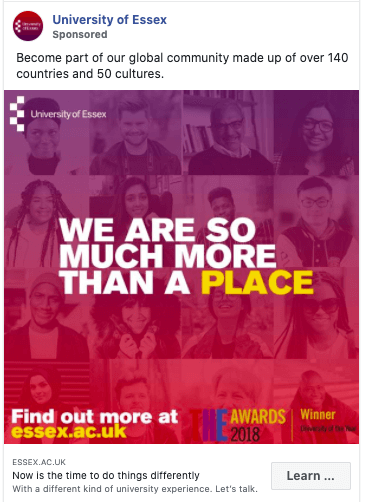 Conclusion
Education advertising might not be an easy thing to do, since you're trying to reach an audience that is about to make a significant decision in their lives, so you'd want them to make the correct choice when choosing your school.
Above anything else, be honest in your ads and use all the available tools there are to reach your target audience. With a little bit of work and a reasonable budget, you're sure to have some great results.