8
minutes read
If you're a graphic designer working in a creative team where there are a lot of campaigns going on at the same time, you might be thinking about how you can optimize and automate your graphic design process. 
For any marketing team, having a streamlined workflow and processes in place will lead to a better output. There's an ongoing battle for finding that balance between producing high volumes of ad creatives while still maintaining quality and delivering the best work. 
According to a study by Nucleus Research, marketing automation can reduce marketing overheads by 12.2%. 
So it's time to automate the ad production process and get rid of repetitive tasks to have more time doing research, brainstorming with the team, and coming up with design ideas. 
Let's start by looking at the creative design process. 
A. How the Typical Graphic Design Process Steps Look Like
1. Starts with the brief
In most cases, the person in charge of the project that the graphic designer will be working on is the one who's going to create the brief. 
It's usually a document that contains important information regarding the scope of the project, goals, strategy, and what's needed from everyone involved. As a best practice for a smooth creative design process, the brief should include as much information as needed so all the project members are aligned. 
For example, if the brief is for an upcoming holiday ad campaign, then it will contain details such as the target audience, social media platforms or channels that will be used, start and end date, campaign goals, main message, and more, depending on the scope.  
2. Continues with research
Even though plenty of details are provided in the brief, the research step is essential for inspiration purposes so everyone can get those creative juices flowing. And this is especially important for an efficient graphic design process, since the creative assets can have a huge impact on CTR and, ultimately, conversions.
At this stage, designers can look at competitors or dig deep into previous ad designs that delivered amazing results. 
3. Moves to brainstorming
Depending on how each project team agrees, this step can be optional, but usually, all team members will gather after a few days from the debrief to present the ideas they've come up with. 
This can include anything from concept to messaging and visuals. 
Once everyone agrees on a concept and campaign message, it's time to start working on the deliverables. 
4. Goes to review
A good practice is to get feedback in the early stages of the visual design process so you know you're on the right track. That way, the feedback can be addressed in a timely manner instead of waiting for the final stages of a project to be completed.
The review stage can include many reviews and receiving feedback from multiple people, so you can expect a lot of back and forth. 
For example, Creatopy has incredibly helpful design collaboration features that help teams stay on the same page. A marketer can leave a comment on a design to highlight what needs to be changed, and the graphic designer can reply when they're done.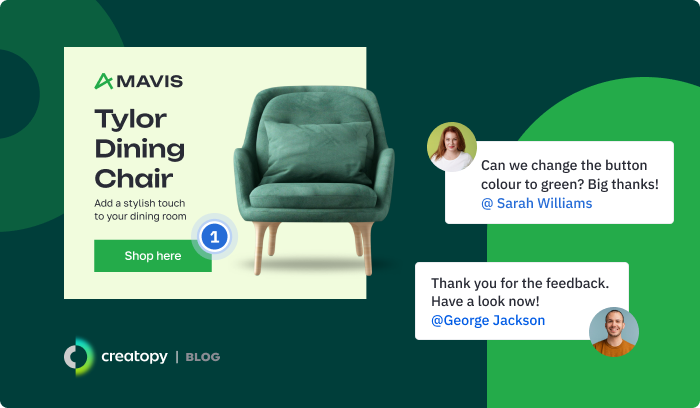 5. Ends with final approval
After all the relevant feedback is implemented, it's time to do a final check for all the deliverables. And then, if everything looks good, the campaign can be launched on different channels according to the timeline. 
B. The Main Issues Creative Teams Encounter When Large Volumes Meet Tight Deadlines
1. Resource allocation  
Allocating resources effectively can be a challenge, especially for smaller teams. Designers, copywriters, marketers, and advertisers need to find the best way to work together during these times to make sure the quality of their work will not be affected. 
2. Consistency
Brand consistency can increase revenue by up to 33%, so not doing everything you can to achieve this can impact your business goals. 
Maintaining brand consistency across a large number of ads is crucial, but it can be difficult when producing a significant volume of content in a short period.
3. Revisions managing
A high volume of ads can lead to an increased likelihood of revisions and changes. Managing these efficiently can be a logistical challenge, but it's definitely not something to tread lightly, as you don't want to publish campaigns that have mistakes.
4. Adapting to platforms 
Different advertising platforms and formats require certain sizes and adjustments, which can be time-consuming and complex when dealing with a lot of ads. This is why it's best to think of ways to automate these kinds of things. 
5. Quality control
Ensuring that each ad meets quality standards is crucial, but it becomes increasingly challenging with a high volume of ads to produce and oversee.
To overcome these challenges, creative and marketing teams often need to implement efficient workflows, collaboration tools, and project management strategies, as well as consider automation solutions to help meet the demands of delivering a large number of ads within a short time frame.
C. How to Automate the Graphic Design Process
Creative teams, though unique in their dynamics, often share some common challenges. Graphic designers frequently find themselves grappling with the pressure of high demand and tight deadlines, which can lead to feelings of frustration and stress. 
These challenges are not exclusive to any one team but are shared by many in the industry. Additionally, while each creative team has its own distinct characteristics and processes, there are often a multitude of intricacies behind the scenes that make the experience unique to each company or team. 
Navigating these similarities and unique aspects is a continuous journey for creative teams seeking to optimize their workflow and maintain the well-being of their team members.
Here are three methods you can use to start simplifying your work moving forward. 
1. Create custom brand templates
If you're finding yourself having to create ad designs from scratch every single time for campaigns, then you'll love this solution. 
Think of custom brand templates as shortcuts that anyone in the creative team can use (not just the designer) to reduce ad production time and work more efficiently. 
Here are the benefits that will convince you to switch to this method of working:
Save a lot of time.

Creating ads from scratch shouldn't be something you need to do every time there's a new campaign. Editing and personalizing an already existing custom brand template takes only a few minutes. Not to mention that it also acts

as a single source of truth.
Keep brand consistency

. Having branded templates is the easiest way to ensure all your campaigns stay on-brand and the company image remains consistent on all digital channels. A custom template usually contains the logo, colors, font, and images that are

part of a company's brand kit

.  
Gives room for non-designers to edit ads

. As long as there are strict brand guidelines in place, even a non-designer can make other creatives based on the original template. That way, the creative team doesn't have to wait for graphic designers' help in case none are available.  
Creates a structured workflow

. By having custom templates for various channels and scenarios, it's going to be much easier to start working on a campaign.
How to create a custom brand template in Creatopy
Sign in to your Creatopy account and select a

Project

.

Select a design (Note: you need to already have a design saved in your chosen Project).

Click on the three vertical dots icon.

Select

Add to templates

. The template will be added to the same Project under the

Custom templates

section.
To edit a custom template:
Select the

Project

that you want to work on.

Go to the

Custom templates

section.

Select the template you want to edit.

From the Preview page, you can click on:

Create from template

(which creates a copy of the template, or on

Edit template

(use when you want to make adjustments to your template).
Note: Custom templates can be created by the following roles: Team Owners, Admins, and Template Designers.
2. Use an AI banner generator
These days, there's not an ounce of online content left without the mention of AI.
And for good reason.
AI has undeniably transformed the visual design process by helping creative teams generate more design iterations in the shortest amount of time. As a result, the time spent on repetitive tasks can now be allocated to other meaningful things. 
This feature that we have in Creatopy will save you hours of work each week. Let me show you how an AI banner generator can cut down your workload so you and your team can streamline scaling ad creation. 
Create multiple ad sets

. Let's say you need to design tens of ads for a display ad campaign. That would normally take you a lot a lot of time if you'd had to create all the sizes manually and then build the same design tens of times. Luckily, there's a better way to approach this. With Creatopy, you can generate multiple ad sets in just a few seconds. The easiest way to do this is to either choose a display design set or a social media design set and start from one of our templates. Alternatively, you can create your own custom set and choose from our preset sizes or add your own custom sizes. Then, you can follow the same workflow. You also have the option to start from blank.     
Bulk editing

. Now that you've got all the ad sets, you may need to make a few edits here and there, depending on the feedback you receive. One of the best things about our AI banner generator is that any edit you make will reflect on all the ad sizes you created, so it saves you plenty of time. 
Bulk download

. Imagine having to download tens of ad sizes individually. Fortunately, you don't have to when you design in Creatopy. After you get all the approvals on your work, you can download all the ad sizes in just one click. Then, you can send the zip file to your team so they can launch the campaign.  
3. Generate multiple ad versions with data feeds
If you're a designer working with ecommerce stores or for global campaigns, then this is a must-use solution.
The idea is simple: you upload a CSV file and all the data included in each column will be used to generate various designs. 
The following ecommerce platforms allow you to export CSV files according to your needs: Lightspeed, Magento, WooCommerce, PrestaShop, Shopify, Wix, Big Commerce, Squarespace, Weebly, and Volusion. You can also do the same thing for Etsy, Amazon, eBay, and Walmart. 
Usually, the marketer will work with the designer to create the CSV file containing the list of elements based on which the platform will generate the ad variations. It can be anything from headline, body text, target URL, background, CTA, and more. 
Before creating a CSV file to use in Creatopy, make sure you check the CSV upload requirements.
After you have prepared the file, follow these steps to activate the Feed:
Open your design or the design set you want to work on.

From the Toolbar, click on

Feed

>

Select Feed

>

Create new Feed

.

Select

Upload from my computer

and click on

Select file

.

After you upload the file, the Settings section will be available. Click on the drop-down menu icon to set the separator type on your CSV.

Click

Continue

to finish the activation of the Feed.
Then, it's time to link the design with your CSV file. For each parameter (like headline, description, or button), click on the dropdown menu to link the columns in the CSV file. Use the Row preview to see all the variations you've just created and check how they look. 
Once you're happy with how everything looks (and you've got approval from the team), you can download all the assets in any format you need at the same time.
Final Thoughts 
AI and automation are valuable allies for the graphic design process, which saves creative teams a lot of time and liberates them from mundane tasks. Instead, they can channel their time and energy toward the creative and strategic aspects of their work. 
Despite the rise of AI, human qualities such as creativity, intuition, a deep understanding of brand values and messaging, empathy, and decision-making remain indispensable. These elements contribute to the creation of content that not only resonates with audiences but also embodies the best of human values.