4
minutes read
As of today, you can upload Photoshop designs to Creatopy for quick resizing, scaled ad production, powerful animations, and collaborative ad-making flows, resulting in more time saved and a smoother workflow.
By facilitating PSD file importing to Creatopy, we aim to enable creative teams to achieve complex outcomes with minimal effort.
How Does the PSD Importing Work in Creatopy?
Creatopy users can upload PSD files to the platform directly from the dashboard by simply clicking the Create button and selecting the PSD upload option from the dropdown menu.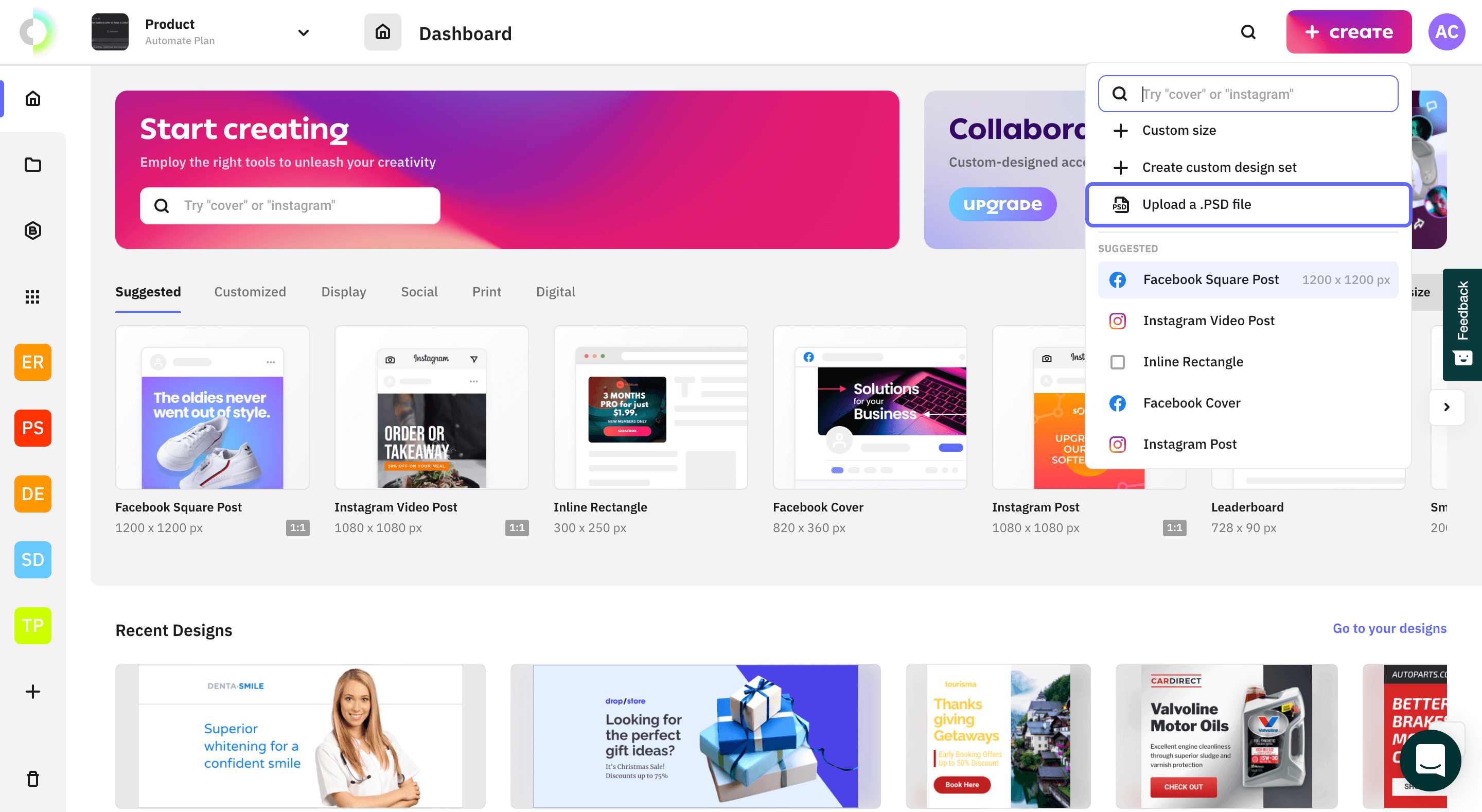 This will take you to the next step, where you can select the layers you want to import from the PSD file.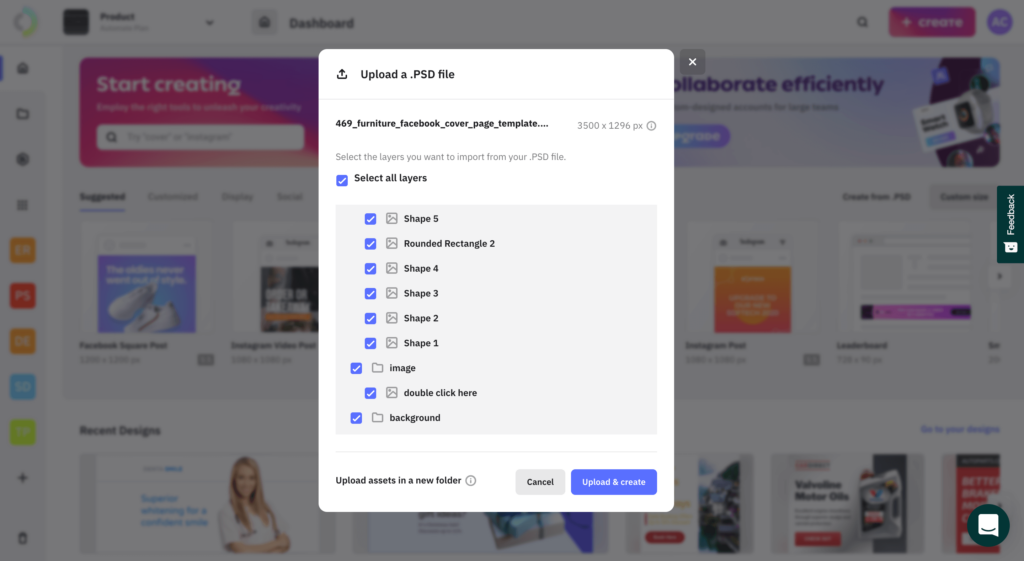 You can upload PSD files from the search field or the editor, by simply dragging and dropping Photoshop files directly onto the stage.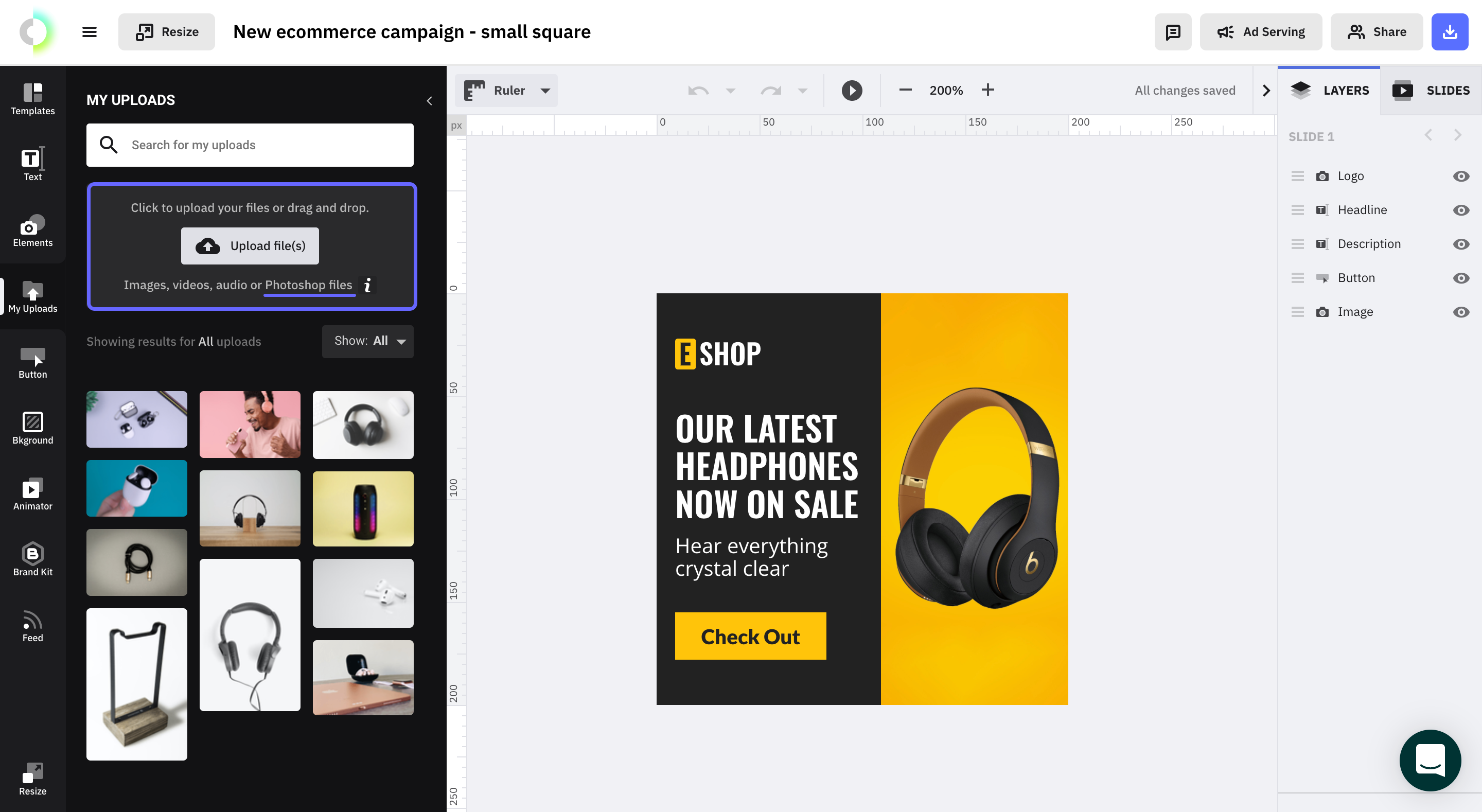 We have put together a comprehensive help article with step-by-step details on uploading PSD files and importing the layers. Likewise, given that some designers prefer working in Illustrator, we have included a section in which we present a workaround on how to convert Illustrator files to Photoshop files.
Why Is This New Addition Relevant for Creative Teams?
The PSD upload functionality has many benefits for both designers and marketers who work in agencies and in-house creative teams. Professionals who often use Photoshop to design ads can combine their Photoshop skills with Creatopy's advanced ad-making capabilities, such as resizing, scaling, and ad serving to take ad production to the next level.
This proves that ad design doesn't have to involve a lot of manual or repetitive work. With the help of design automation, which lies at the core of Creatopy, the ad creation process can become much faster and more efficient.
Below we have listed a few of the reasons that make this new implementation worth looking into:
Scaled ad production from one single master design
Creating the same ad design in various sizes can be time-consuming. In Photoshop, you would have to do it from scratch for every size. Thanks to this feature, you can now create only one design in Photoshop and then generate all the other sizes you need right away in Creatopy. This translates into hundreds of work hours saved for every ad campaign.
Equally, region-specific advertising campaigns require ads in local languages and varying images. With Creatopy, you'd only use one PSD master ad design and generate new variations with a few clicks.
Smooth ad production, even without access to Photoshop
The ad production process usually involves the design and marketing teams. Responsible for running ad campaigns for different markets and on various networks, the marketing team often requires small adjustments to the artwork created by the design team.
With Creatopy, marketing teams no longer have to wait for a designer to help them modify something they can do in a matter of seconds. If you have the PSD file, simply upload it in Creatopy and quickly make the tweaks you need. Then, download it in the desired format.
Creative teams can collaborate better and become more efficient when juggling between Photoshop and Creatopy. Designers can now shift their focus to creating the ad concept while marketers handle the rest of the ad production flow with the help of automation.
Not to mention that Creatopy offers a collaborative environment, where teams can share feedback, their work, and move projects forward together.
Rebuilding ads from scratch is a matter of the past
Once the designer creates the template in Photoshop, it becomes an asset that both marketing and design teams can use anytime, reducing the time it takes to start the advertising campaign and eliminating the need to rebuild each ad from scratch.
With Creatopy, there is an increased capacity to produce and reuse assets while perfectly preserving the integrity of ad compositions (alignment, spacing, design) and branding. Having access to a repository of pre-made assets is helpful for any creative team out there.
Ad production with fewer limitations
Creatopy helps you go beyond the limitations of Photoshop. Once you import your design to Creatopy, you can add animations and transitions. Then, you can simply export your design in HTML5, GIF, AMP, or MP4 format or serve it directly to your advertising network of choice.
Final Thoughts
We hope that this new feature will improve your ad production and serve as a link between the creative departments involved in ad creation.
Stay tuned for more game-changing product releases, all with the goal of making ad production more efficient and complex, yet effortless.