5
minutes read
Here's a quick rundown of what's changing:
Starting March 1, 2023, we are updating our pricing packaging

The new packaging comes with new plan names: Basic, Pro, and Plus

All three pricing plans are now self-service, which means that anyone can start a trial right away without contacting the sales team

If you are a Creatopy paying customer, there is no price increase, and you'll have access to the same features for as long as you maintain your subscription active
New vs. Old Packaging
We are confident that the updated pricing packaging will enable our customers to better tailor Creatopy to their specific needs and offer additional resources to assist with their daily work.
Below you will see a screenshot of our existing pricing packaging. If you want to fully compare the plans against each other, please visit our pricing page.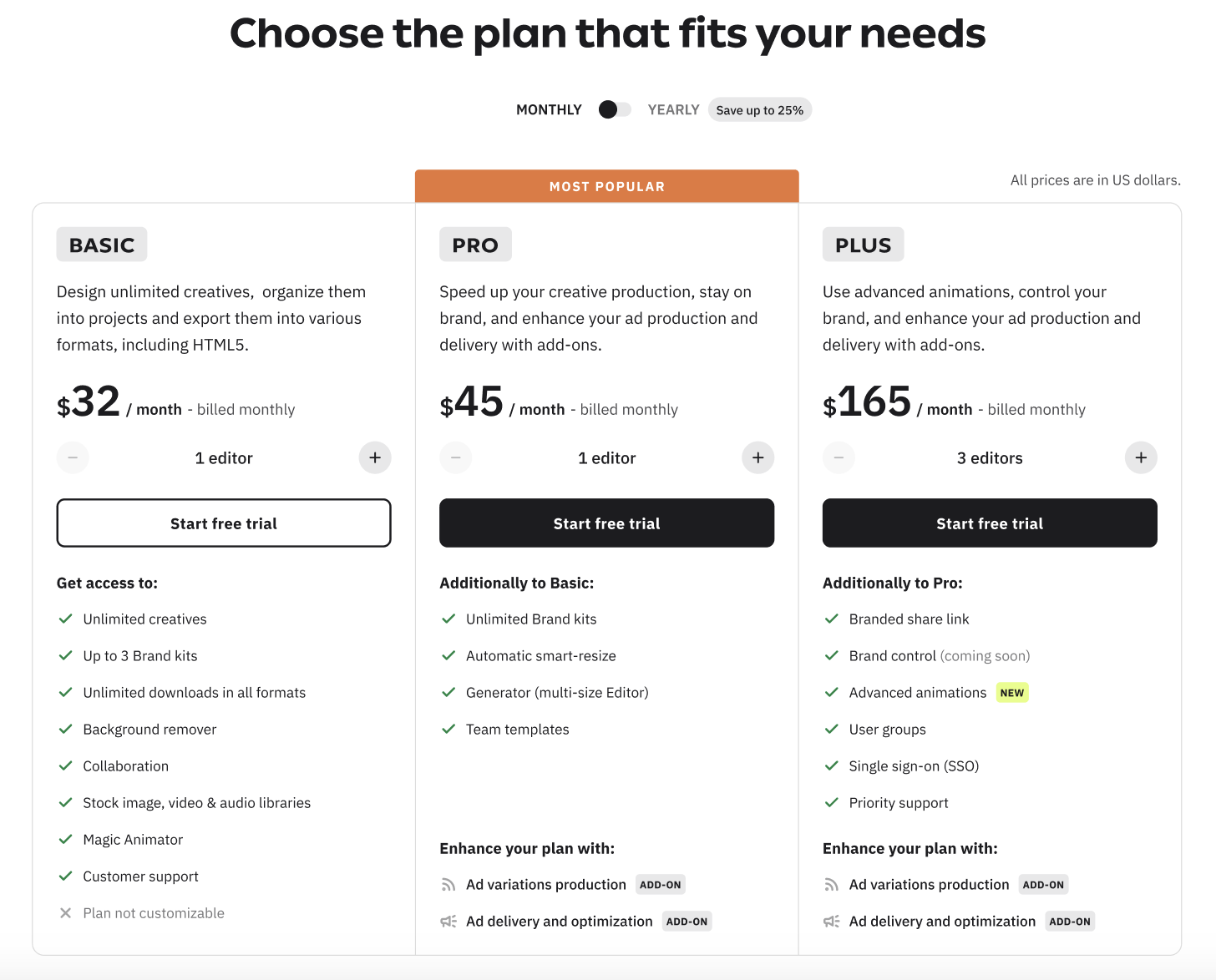 Purchasing a Creatopy subscription is now easier than ever. Browse the plans and choose the one that best matches the capabilities you need.
Enhance plans with usage-based add-ons
We have added the ability to customize upper-tier plans (Pro and Plus) with extra features like ad variation production and ad delivery and optimization. The two add-ons bring into play the power of design automation, ad serving, and optimization.
Ad variations production is all about creating high volumes of creative variations through automation. The added benefit is combining creative automation technologies to produce static and video ads in bulk for multiple platforms and uses.
Ad delivery and optimization enable you to go live with your ads via ad tags across various programmatic advertising networks. Likewise, you can create dynamic ads, track the performance of your creatives with powerful analytics, and make real-time optimization.
To use any of these, select the number of export credits and impressions you require per month, and the costs can be easily calculated at checkout.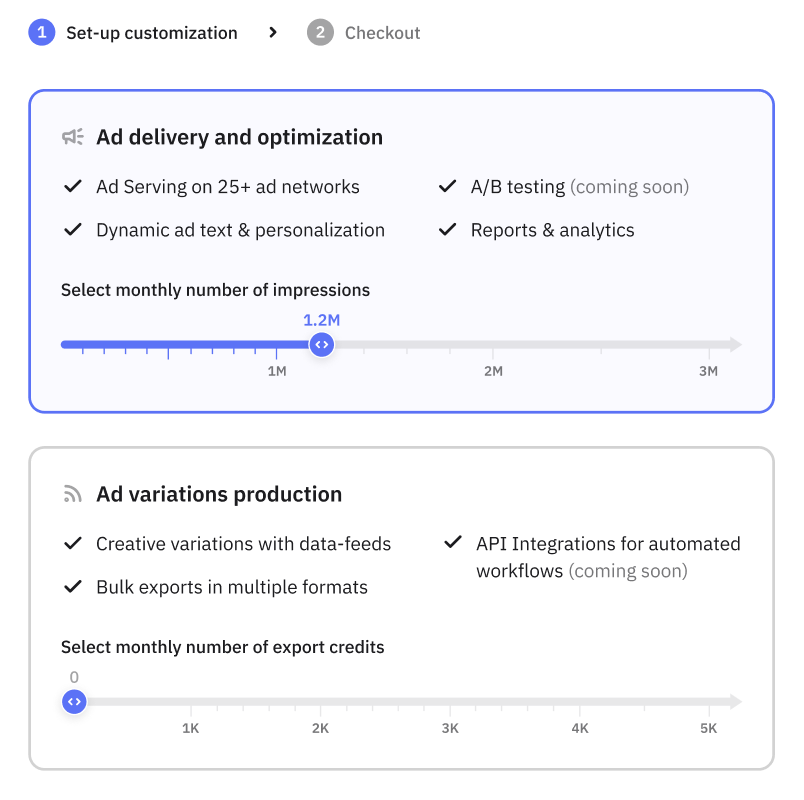 To read more about ad variations production and ad delivery and optimization, click on the links provided.
Now let's take a closer look at the three pricing plans and their corresponding features and capabilities.
Creatopy Basic
The Basic plan gets you started with ad creation. With a focus on intuitive and easy-to-use tools, the Basic plan is the ideal solution for creating static and animated ads for display and social media platforms. You have access to Shutterstock images, premium audio and video libraries, and ready-made animations. The background remover is also part of the Basic plan to help you further customize your creatives. Exporting is available in JPG, PNG, GIF, HTML5, MP4, PDF, and AMP.
Under the Basic plan, you can create up to three Brand Kits and use all the collaboration tools available, including commenting and sharing projects.
Creatopy Pro
The Pro plan facilitates design automation and its endless benefits. The plan includes everything in Basic, plus some must-have capabilities.
You can resize your creative to any size you need with just the click of a button. Furthermore, you can edit multiple sizes at once, which saves you a lot of time. You have the option to create your own custom-branded templates and unlimited Brand kits, which set the foundation for the brand and any future campaigns your team may create.
Creatopy Pro allows you to expand the platform's capabilities with optional add-ons that increase the power of design automation and ad serving: ad variations production and ad delivery and optimization.
Creatopy Plus
The Plus plan unlocks more advanced capabilities suitable for complex teams. It comes by default with 3 editors (but you can add more) and includes everything in Pro plus some game-changing features.
You can customize animations to the finest details, including the rotation angle, movement path, and scaling rate. Even the share links you send to your stakeholders can be customized to display your brand at all times.
In terms of collaboration, you can create user groups with intuitive permissions management to help your ad production team be as efficient as possible. With single sign-on, you will enjoy a quicker sign-in process and an enhanced level of security. And if any problems arise, the Plus plan comes with premium support and guidance.
Just like Creatopy Pro, the plan allows you to expand the platform's capabilities with optional add-ons: ad variations production and ad delivery and optimization.
Nothing Changes for Existing Customers—Only the Plan Name
If you are a current Creatopy customer, you will continue to pay the same subscription price as you have until now and benefit from the same features. The only exceptions are as follows: you want to upgrade to a different pricing plan, need to cancel your subscription, or your subscription expired due to payment issues.
What will change for you is the plan name:
If you are a Create customer, your plan will be called Basic

If you are an Automate customer, your plan will be called Pro

If you are an Optimize/Enterprise customer, your plan will be renamed to Plus
The name update will be visible immediately after the release.
Why Did We Update Our Packaging?
We decided to make these changes to our packaging for several reasons:
Enable plan customization
First, we wanted to give customers the option of tailoring the plans to their specific needs. We understand that creative teams are complex in terms of structure and objectives, and it goes without saying that their expectations from a creative automation platform vary.
With the new packaging, we offer personalization in terms of the number of editors you can add to your team, the option to choose a plan based on its feature set, as well as the option to include additional features, such as ad variations production and delivery and optimization, billed by export credits and impressions.
The benefit of the two add-ons is that those who do not need these capabilities can avoid paying for bundled features they won't use.
Enable a self-service model
By rolling out the new pricing packaging, we aim to give you the autonomy to try the platform's full capabilities and purchase the relevant plan on your own.
There are a few points worth mentioning here. When it comes to the free trial, you can try out all the features, including those that are charged based on export credits and impressions. The only restriction during the free trial is that you are limited to 50k impressions and 100 export credits.
Similarly, if you decide to purchase a plan and require more than 3 million impressions per month or more than 5,000 export credits per month, you must contact our Sales team to discuss a deal that is appropriate for the complexity of your requirements.
If you want a product tour or a proper demo, please get in touch, and we will schedule a session when it is most convenient for you.
The platform's foundation is built on creative automation
Automation is present in every layer of Creatopy, but the previous packaging was limiting customers' access to it. And so, we knew we needed to change this.
Creative automation is the solution to the most difficult problems that advertisers face in ad production, delivery, and optimization. It underpins creative variety across sizes and variations, ad serving, dynamic ads, real-time creative optimization, A/B testing, and many other Creatopy features. All of this is designed to help businesses reduce time to market and increase the productivity of creative teams when designing and launching an ad campaign.
Final Remarks
That's the full picture of the new packaging. Please contact us if you have any questions or if any of the information we provided is unclear.
Otherwise, if you are a Creatopy customer reading this, please keep in mind that, with the exception of the plan name change, none of these changes affect you.
If you are new here and want to start a free trial, check out our pricing page.