5
minutes read
Ad tags are commonly known as HTML or JavaScript code snippets and are used for ad serving.
They carry essential information for any display advertising strategist, like the ad unit's size, format, and other specifications needed to track performance.
However, there is a certain reluctance in using ad tags even among seasoned professionals, as the code must be customized for every ad platform. There are also various size limitations to be taken into account, so the whole process tends to be rather tedious.
Well, things are about to get a lot simpler with Creatopy's ad serving features.
Our new ad tag functionality was designed specifically to ease the ad serving process, save man-hours, and allow for better control of your ad campaigns.
With just a few clicks, any team member can get a unique embed code for specific use: ad buy platforms, DSPs, SSPs, CMS, and standard.
There are 24 ad networks to choose from, or you can select the standard ad tag for general use. The feature allows you not only to display ads on any website, regardless of their size and format but also to update your live ads in real-time and track their performance.
Now, without further ado, let's see how ad tag works.
How to Use The Ad Tag in Creatopy
Activate the ad serving option
Whether you create a single design or an ad set, you can easily use ad serving. The only thing you need is an active Optimize subscription and you can export custom embed ad tags. In case you want to start with this plan or upgrade from your current plan, you need to contact our sales team.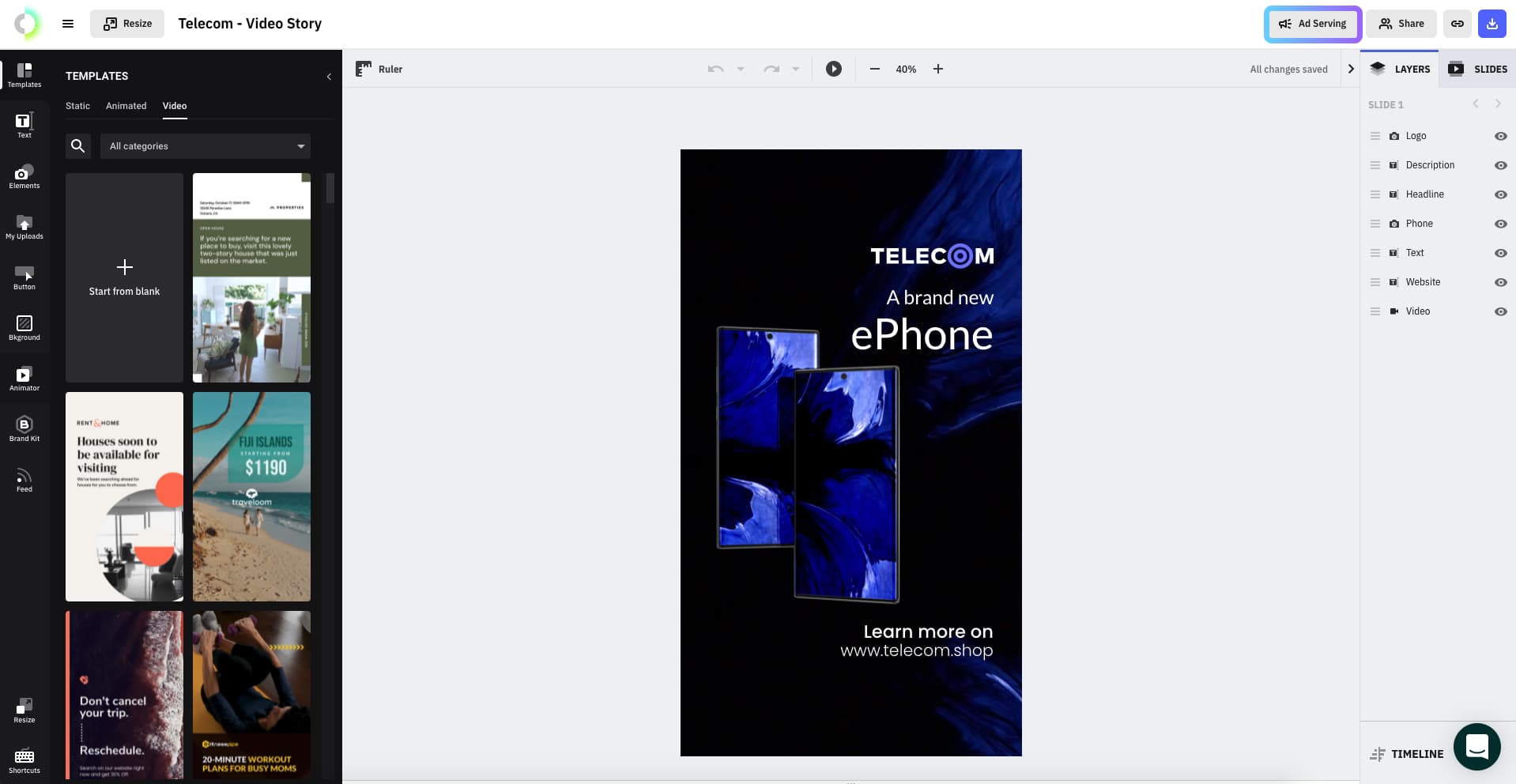 Select the ad network/s
Once you decide on using ad serving, choose the preferred ad networks through which you'd like to serve your ads. You will get the optimized HTML script for the ad networks you work with, so you can display your ads on any website.
You can choose from 24 ad networks or use the standard ad tag for general use.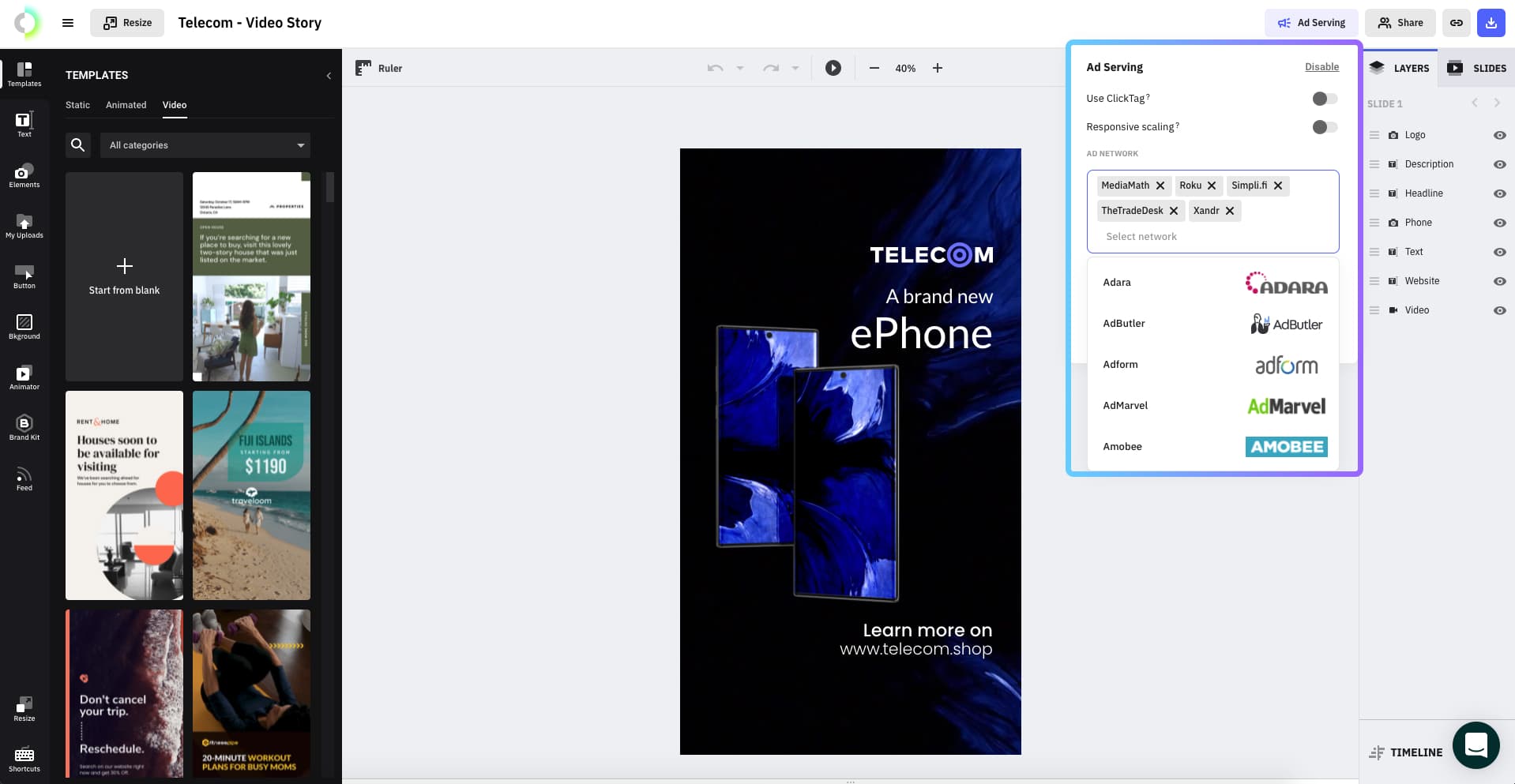 Before you download or copy the ad tag code, you can activate the ClickTag option and/or responsive scaling. Use the Click Tag to set or overwrite the URLs in your ad designs.
If the responsive scaling option is selected, your design will become responsive while retaining its overall proportions. The size of the design will change based on where it's placed. If this option is turned off, the design will be embedded in its original size.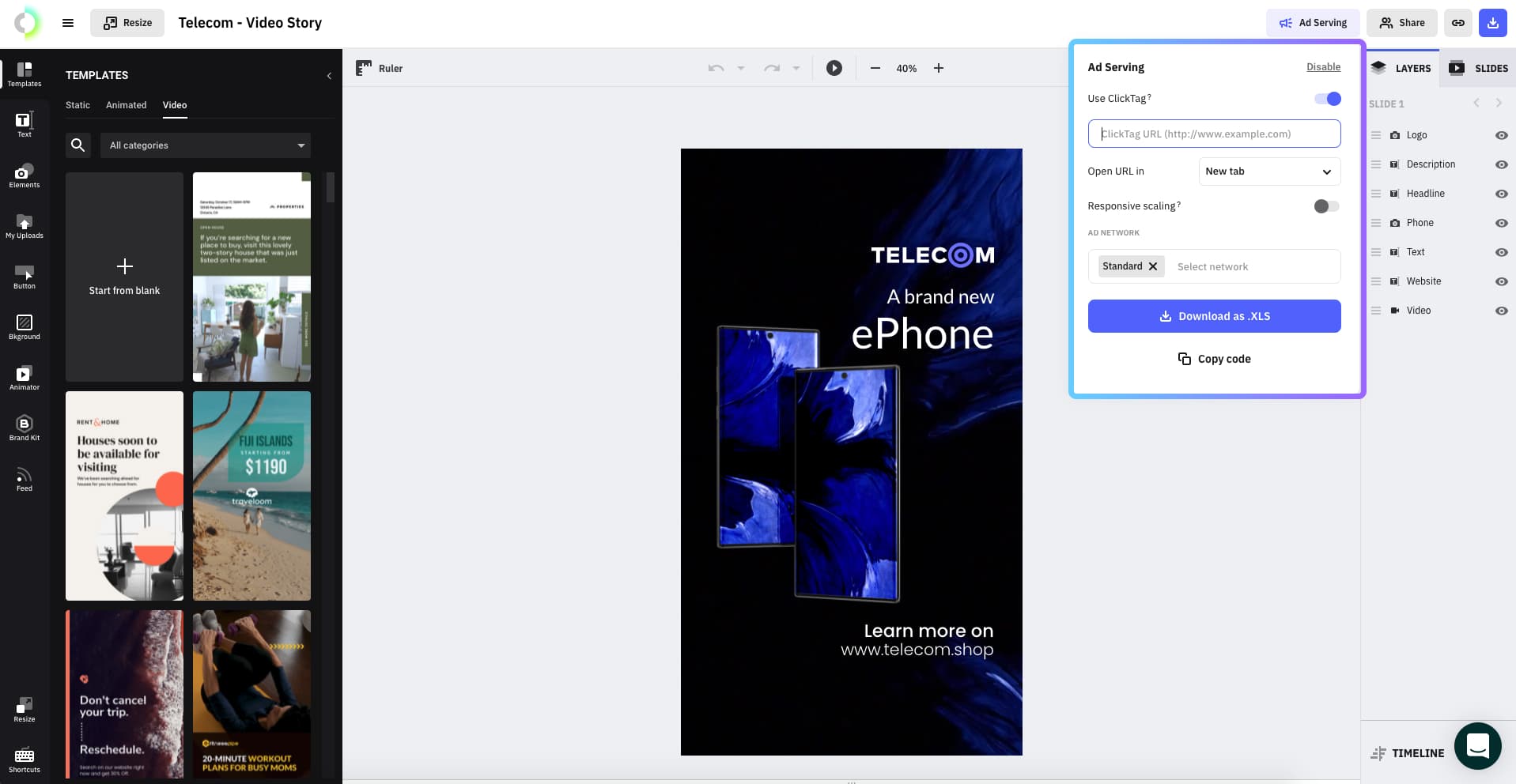 Embed your ads
All that's left is for you to embed the designs either on a webpage or in an advertising campaign. You don't have to worry about the various size limitations, because thanks to the ad tag, you will have the correct code for the right ad network.
Another big advantage of using ad tag is that it simplifies ad serving and saves you plenty of time when updating a live campaign.
This way, you can easily customize published ads with real-time updates. You don't have to pause your whole campaign or re-upload your ads if you have to change different assets or aspects of your visuals.
Make changes to your designs by enabling the ad serving and sync the latest updates directly in your live campaign.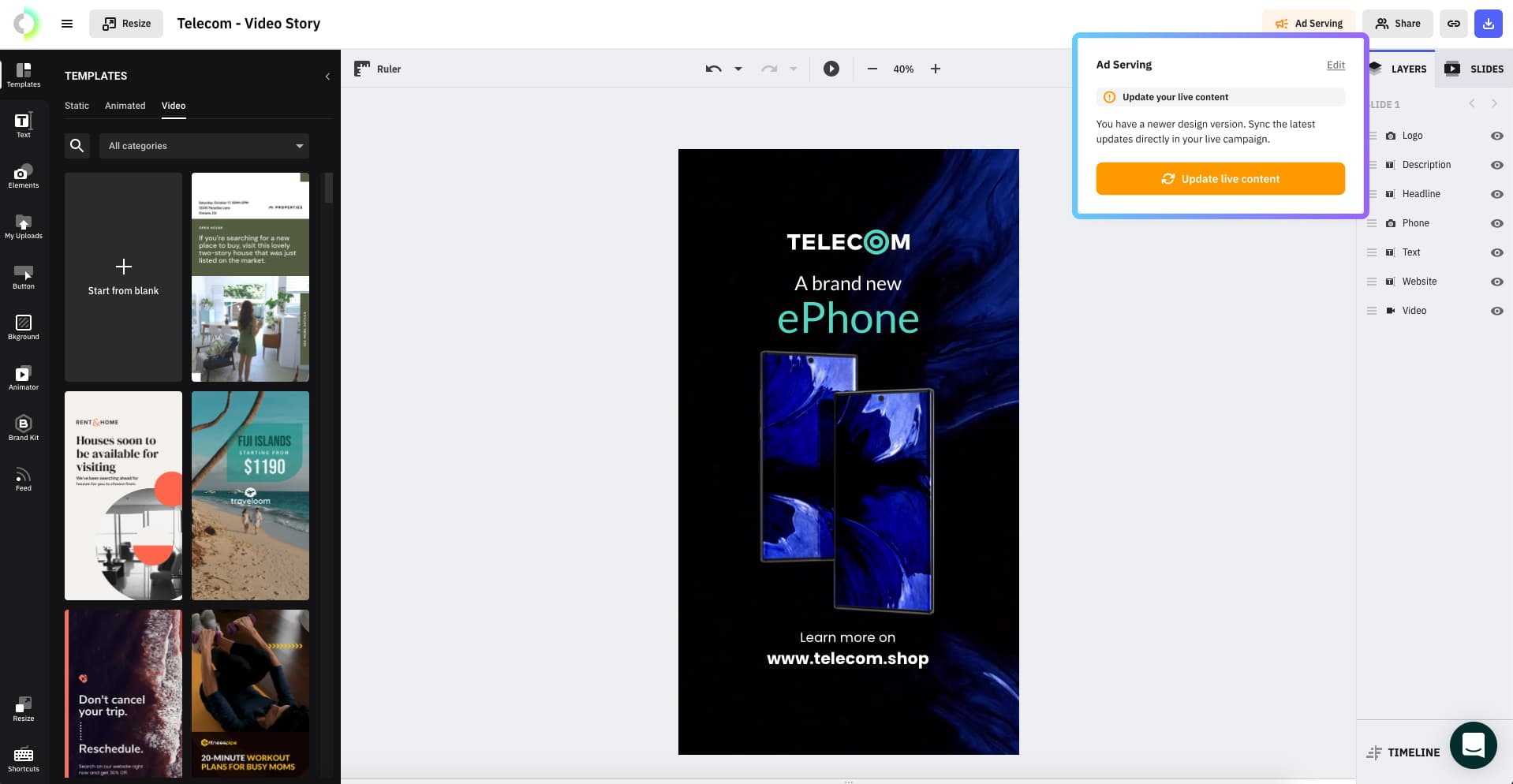 You'll also get access to detailed analytics, allowing you to analyze traffic insights for each ad network independently. Examine your data regarding impressions and clicks for a specific time frame.
You can easily check detailed insights about tracked data based on device, ad network, and projects that are being used.
Get more specific with the analytics of your ad campaigns with external tracking. Get a detailed overview of your ad impressions and clicks across multiple channels and creatives.
Simply generate your tracking URLs and insert them into Creatopy's ad serving tool. Check easily how well your campaign is performing so that you know when to optimize and step up your game.
The Power of Ad Serving + The Feed Ad Builder
The Feed Ad Builder allows you to create multiple design variations using a data feed served via CSV or URL.
Ad Serving allows you to serve these ads and make real-time changes to them, but these updates need to be operated directly on your creatives.
And here's where the Feed Ad Builder and the Ad Serving features come together. If you activate the sync between feeds and designs, you'll be able to make changes directly in your data feed, which will reflect in your live ads.
For this to work, you must upload your data feed as a URL rather than a conventional CSV file and have Ad Serving enabled. Make sure each element of your design is linked to the corresponding data in your feed, choose your desired syncing frequency, and get your live campaign set in no time.
Why You Should Use Creatopy's Ad Tag?
The use of ad tag for ad delivery has major advantages:
No more size restrictions. First and foremost, the size limit imposed by the ad platform on which you will serve your ads will be eliminated. These size restrictions are usually around 150KB on average. However, certain platforms may have greater limits, while others may have lower values. The size limit is abolished when using ad serving since the designs are hosted on our servers;
Bring in more traffic. Your ads can now manage substantial traffic volumes;
Access to real-time stats. You have access to all of our real-time analytics tools, and all of your designs are instantaneously updated on your preferred platform.
Make live updates. If you make edits to your ads, you don't have to re-upload them unless you want to modify particular assets.
Conclusion
Creatopy's ad tag allows you to update live ads in real-time and display them on any website, regardless of their size and format.
Give it a try to see how easy it is to run display advertising campaigns and optimize them through our platform.