5
minutes read
Opening a business in a new city is already a feat in itself. At this point, many business owners will go about their days without doing anything different for their operations. But opening an operation in a different city is a big move. It should be accompanied by equally momentous changes within your overall business strategy. 
This is especially important when considering your marketing operations. You may be daunted when scaling up your marketing strategy — after all, you're navigating unfamiliar territory. But with proper planning, research, and preparation, it's achievable.
Benefits of Expanding Business to a New City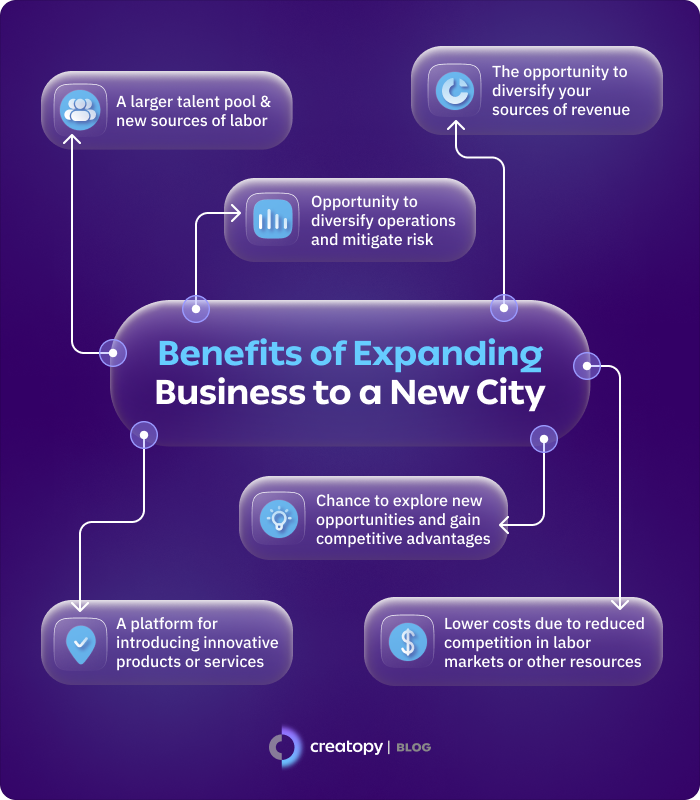 A new city means a new customer base, and with it comes the opportunity for increased revenue. Expanding to a new city can help broaden your brand recognition and presence, allowing you to target different customer segments in different markets. 
Other exciting benefits may include the following:
A larger talent pool and new sources of labor;

Opportunity to diversify operations and mitigate risk;

The opportunity to diversify your sources of revenue;

A platform for introducing innovative products or services;

Chance to explore new opportunities and gain competitive advantages;

Lower costs due to reduced competition in labor markets or other resources.
Before you dive in headfirst, you must understand the challenges of scaling marketing operations in a new city and prepare accordingly.
Challenges Related to Expanding Your Business to a New City
As every business is different, so are the challenges each business will face when opening in a new city. However, there are certain common hurdles that you should expect, no matter what you sell, including: 
Navigating unfamiliar regulations and laws;

Securing the necessary permits or licenses;

Growing a loyal customer base in the new market;

Attracting and retaining employees in the new city;

Finding reliable suppliers, vendors, and partners in the area;

Creating an effective marketing strategy to target local customers;

Building brand recognition

and name awareness among new target markets;
Despite these numerous challenges, you can easily prepare for each one and ensure your business's success. By using ad design automation platforms, businesses can customize, automate and expand their advertisement production and delivery processes. These platforms enable companies to quickly copy launch campaigns across different cities or locations — which is incredibly handy when you don't have the resources or time to build a comprehensive marketing strategy from scratch.
Understanding Your New Audience
Before you even think about creating a marketing strategy for your business in a new city, you must understand how to advertise to your target audience. 
This can be especially difficult if you're unfamiliar with your audience in a new city. As such, prepare accordingly with the following steps:
Research competitive businesses in that area and identify potential opportunities.

Get feedback from current customers in the new city through surveys or focus groups.

Monitor

social media trends

and conversations to gain insights into emerging trends.

Identify target customer segments and create tailored messaging to reach them.

Test out different campaigns and analyze their performance.
Most importantly, you should analyze data collected on customer preferences and behaviors in the new city. Gather as much data as possible. With it, you can make informed decisions when optimizing your marketing strategy. 
You might even discover that what works for some locations may not be suitable for others. For instance, a city within a five-mile radius may have an entirely different customer base and brand preferences than a city located 15 miles away. Adapting your messaging accordingly is key to success in each locale.
Tips for Expanding Digital Marketing Efforts
A large part of your marketing strategy as you expand your business should be dedicated to digital marketing efforts. In an increasingly digital world, this is the best way to build your brand and your audience. 
Here are some tips for revamping your online marketing strategy:  
Update your website with the correct contact information, store hours, and addresses.

Create professional social media ads

focusing on customer engagement and building relationships with potential customers.

Use

online banner makers

and other automated tools to quickly create ads targeting local customers.

Create a social media marketing strategy

. Take advantage of location-based targeting on social media platforms to reach a more localized audience.

Create campaigns around hyperlocal topics or events relevant to your target audience.

Develop local partnerships and collaborations with influencers, bloggers, or press outlets in the new area.

Invest in search engine optimization (SEO)

to ensure your website has the highest visibility in the area.

Conduct a local competitor analysis — specifically regarding their marketing strategies. This gives you insights into what works and what doesn't — and ultimately create an effective plan for your own business.
Beyond this, ensure you have a consistent brand identity and message across all of your digital channels. As you move into new cities, make sure the marketing materials you're producing showcase a unified presence and deliver a clear call to action.
Tips for Expanding Traditional Marketing Efforts
Traditional marketing efforts are your key players, but taking them farther into a new location calls for more innovative thinking and expansion. After all, it's no good to simply duplicate the same campaigns. 
A great example of this is focusing on creating marketing initiatives that are relevant to your new city. Hosting events like workshops, lunch & learns, or even meetups can also be a great way to get new customers interested in your brand and services.
Other tips for expanding traditional marketing efforts include:
By taking a more creative approach to traditional marketing efforts, businesses can ensure that their message reaches its intended target audience — even in an unfamiliar area.
Considerations Related to the Individual City
Now that you've explored how to effectively expand your digital and traditional marketing strategies, you must consider the specific city you're targeting. Think about the area's culture, the language spoken, and other factors that might influence your strategy.
If you're expanding into an area with a high percentage of Spanish speakers, your marketing efforts should reflect that culture. 
Other tips for evaluating the individual city include:
Research local news sources to gain insight into what is happening in the area. This can provide you with ideas for marketing campaigns that are relevant to the current issues and topics in your target city.

Look at customer feedback ratings from people who have used similar products or services in the past. This will give you an idea of what potential customers expect.

Assess the effectiveness of existing marketing channels in the new city and other communication strategies, such as word-of-mouth or referrals, that could be utilized more effectively.

Monitor social media for insights into people's perceptions of your company in the new city. 
Ultimately, expanding into a new city requires patience and dedication — but with smart marketing strategies, a comprehensive plan of action, with attention to detail, businesses can exceed their goals and grow their presence in the new city.