6
minutes read
One of the most important things in design as we try to aim for readability and simplicity is color. It's very important to get it right and there are many tools and resources out there to facilitate the creative process. Find your color inspiration and get even more creative with your design.
Here are 21 color apps that we've tested and chosen.
1. Color by Hailpixel – color palette creator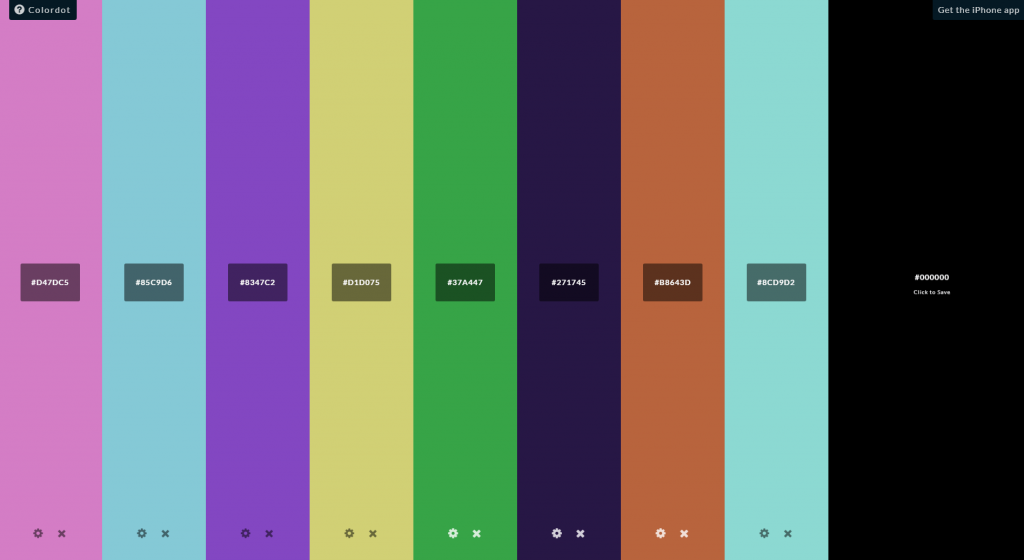 Color by Hailpixel is a simple tool which allows you to create the color palette you need by using your screen as a canvas. Move your mouse back and forth for hue, up and down for lightness and scroll for saturation.
This app was created by Devin Hunt, an entrepreneur who focuses on creating better products and companies through design and research.
2. Method of Action – color palette test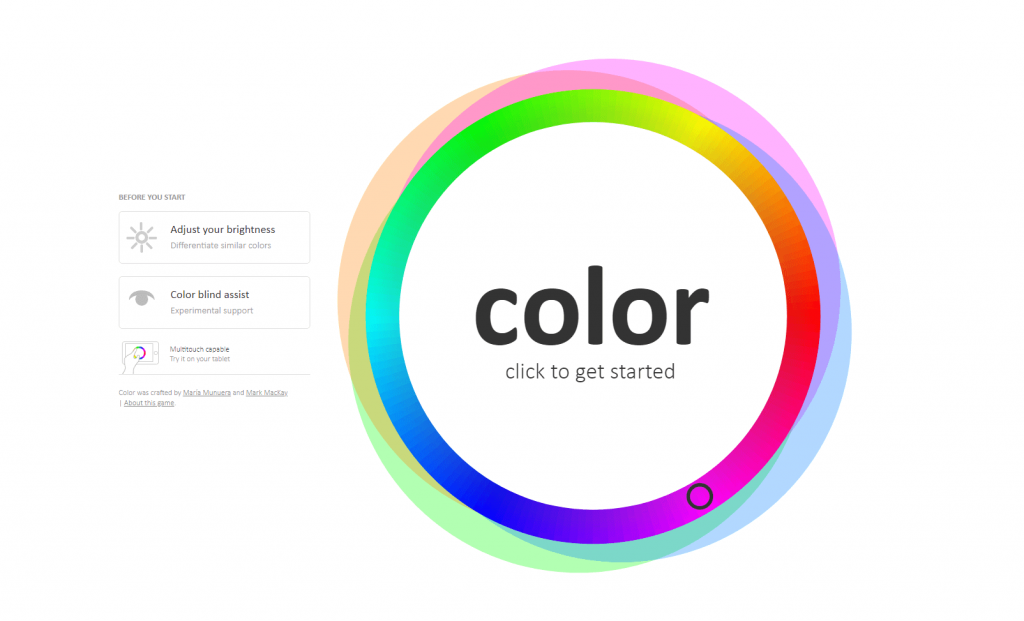 Method of action is a great tool for designers. These color matching tests were created specifically to help you learn and get inspired. You receive a grade based on your performance and the results are visible even after just a few tries. Perhaps because of the game format, these become almost addictive.
3. Color Hunt – color palette collection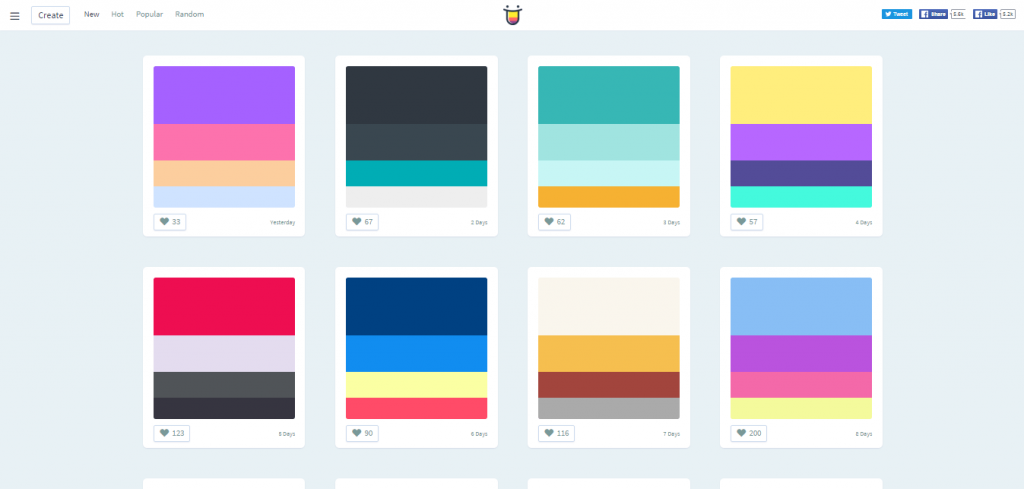 Color Hunt is a social platform, a collection of color palettes and a good place to check out if you're undecided about the shades you want to use for that new website or intricate dress you're creating. The colors are free to use and if you come up with something you can't already find, you can submit it and share it with the world.
4. Colorful gradients examples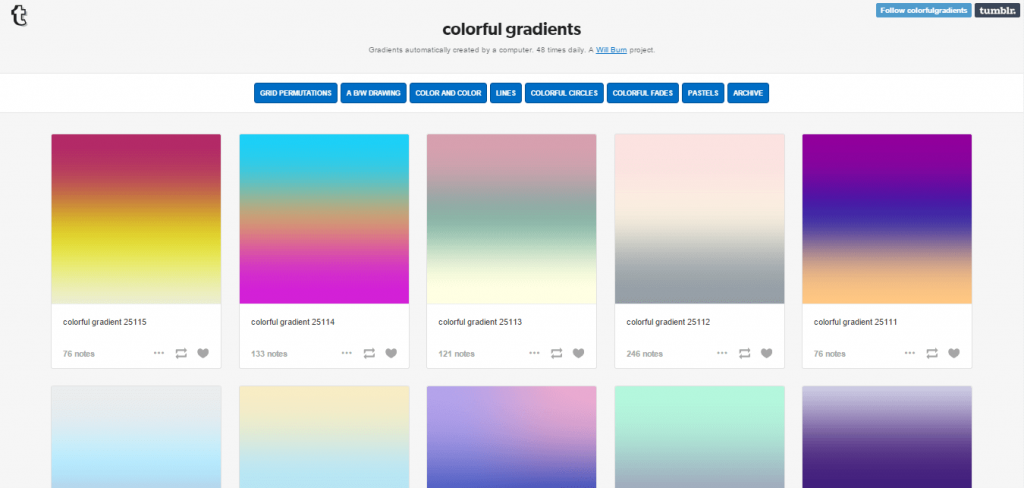 Even though flat design is mostly the thing nowadays, gradients have not left the picture. A color resource for creatives, Colorful Gradients is passionately curated by Will Burn and it is all about those ever-changing gradients.
5. Brand colors – color palettes examples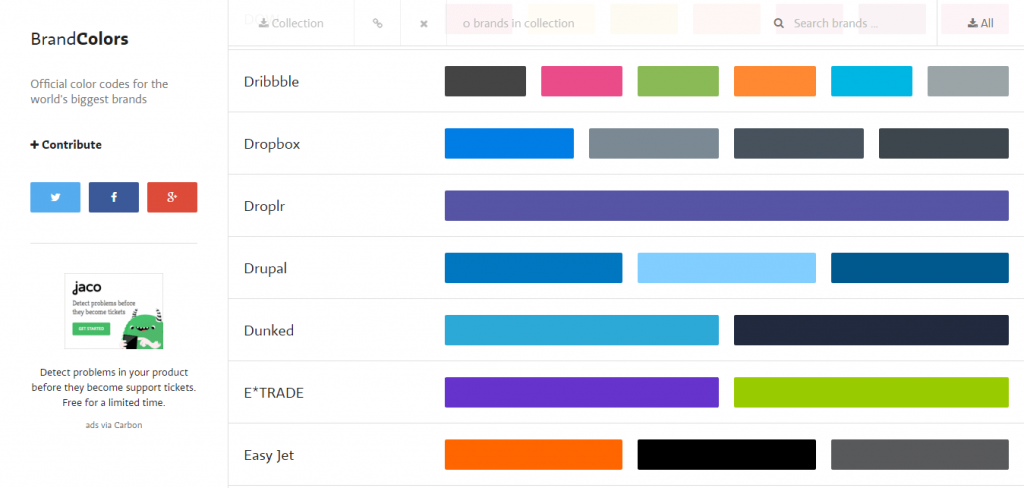 Simple and straightforward, Brand colors gives you the color palettes used by the world's most famous brands such as Dropbox, Adobe, Amazon and so on. This is one of those resources that you know will someday come in handy, so go ahead and bookmark it.
6. Coolors – color schemes generator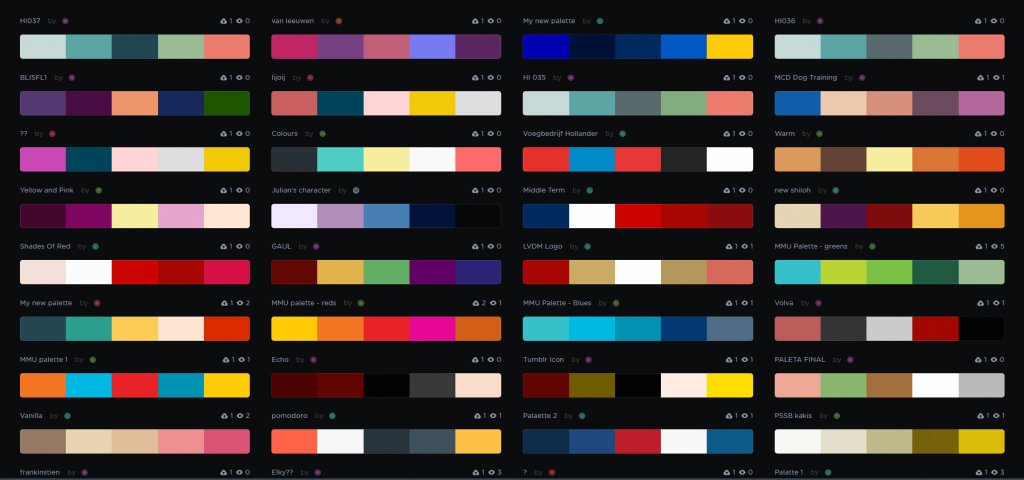 A fast color schemes generator created by Fabrizio Bianchi, a 25-year-old designer/developer, Coolors was created to support, help designers in their search for chromatic perfection. All color choices compliment each other splendidly and I loved them all, which is objectively rare.
7. Color Hex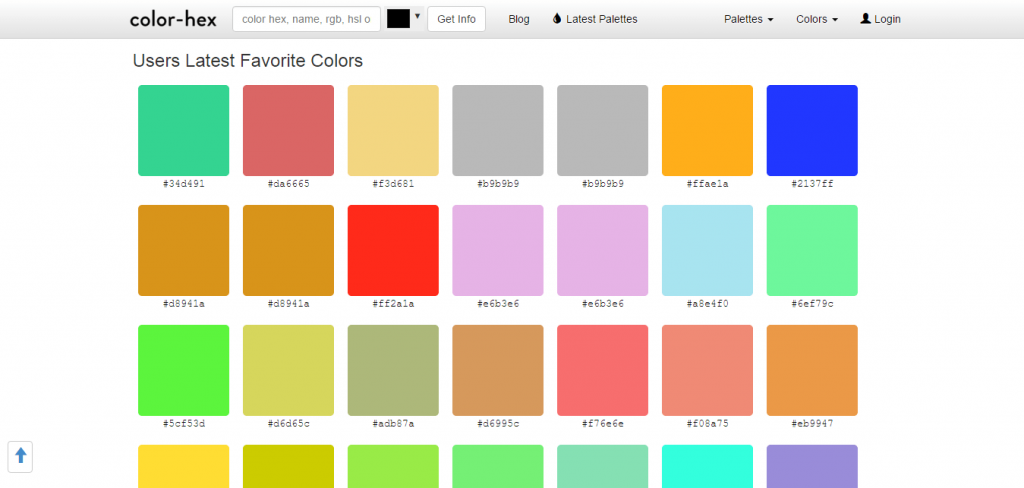 Color Hex is here to make life easier for designers bringing to the table advanced color information, various palettes and generating a simple CSS code for the color you're interested in. The practicality and convenience of Color Hex are undeniable.
8. Adobe Color Wheel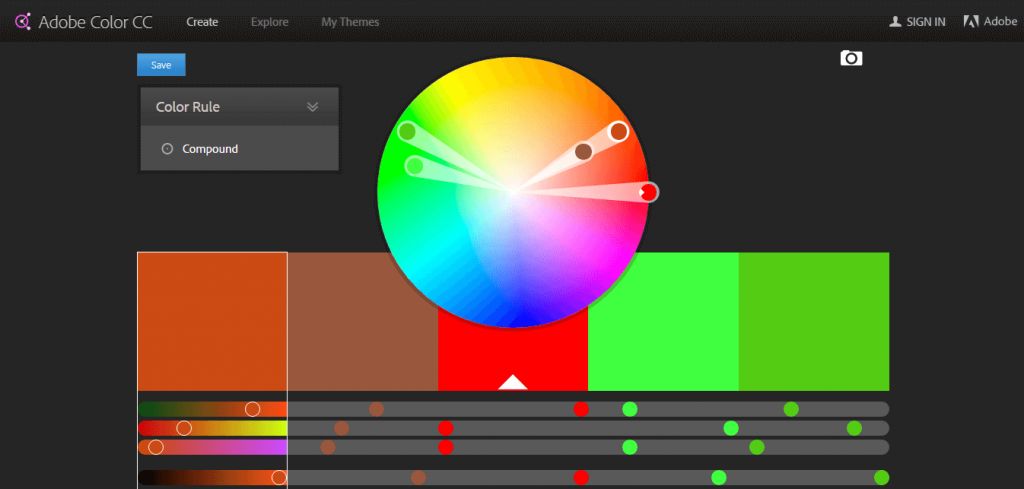 A professional designer favorite, the color wheel has been repeatedly recommended as an incredibly useful tool. With Adobe Color Wheel, you can easily create your color scheme using the color rule and save the final product.
9. The Ola Brothers – Sip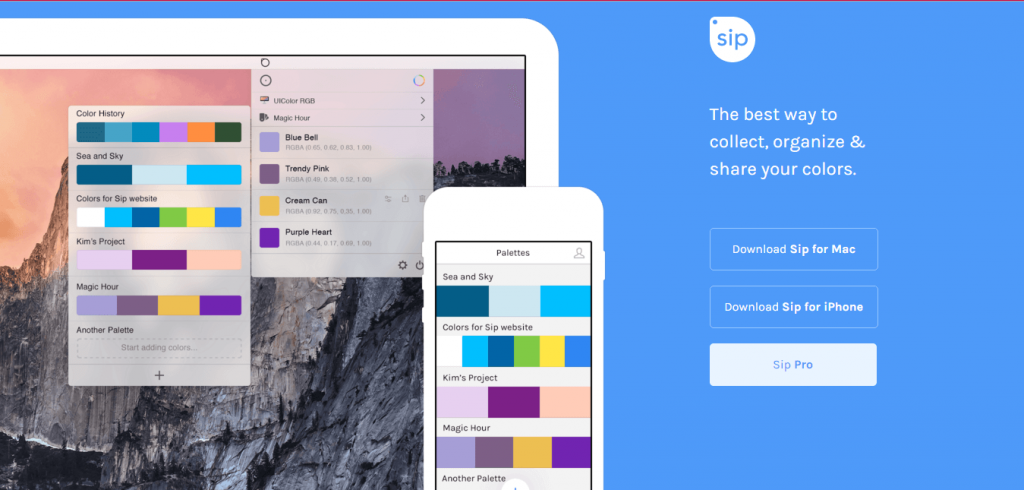 For Mac and iPhone users, the Sip app is a great color organizer, an app designed to facilitate more color in your life. You can easily download it to your device and just get started on your mood board, design project or redecorating ideas.
10. Colour Lovers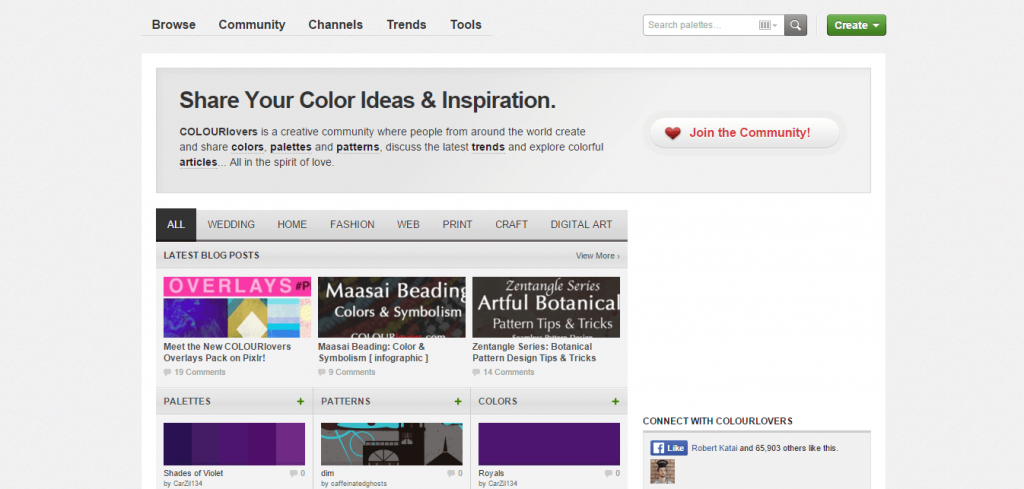 Highly recommended by professional designers, Colour Lovers is a creative community that provides inspiration and tools to help you achieve your design goals and to make the creative process as simple as possible. You can browse through their inspiration posts, colors, patterns, and palettes.
11. Material Palette – color palette generator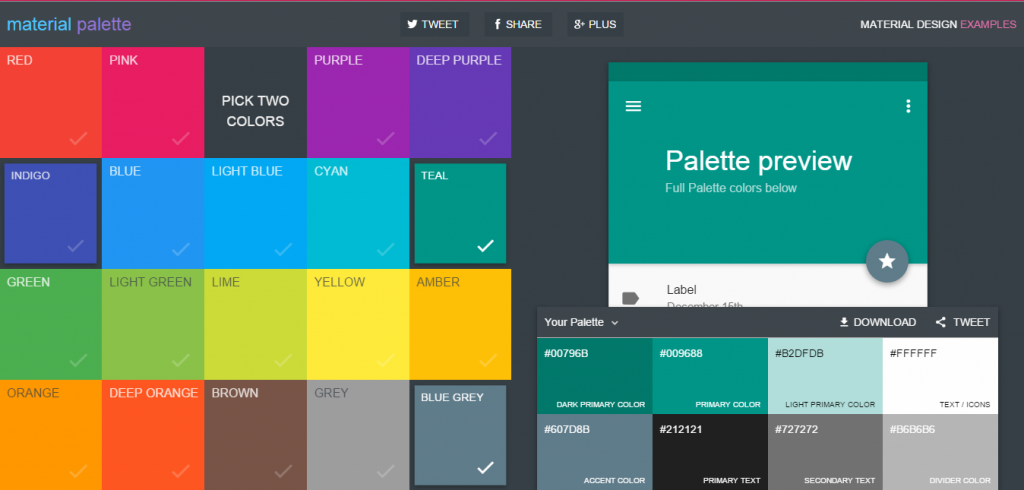 Material Palette can help you create a color palette based on your initial choice of two colors. Very simple and easy to use, you can try out various combinations and figure out which nuances work best together.
12. Colour code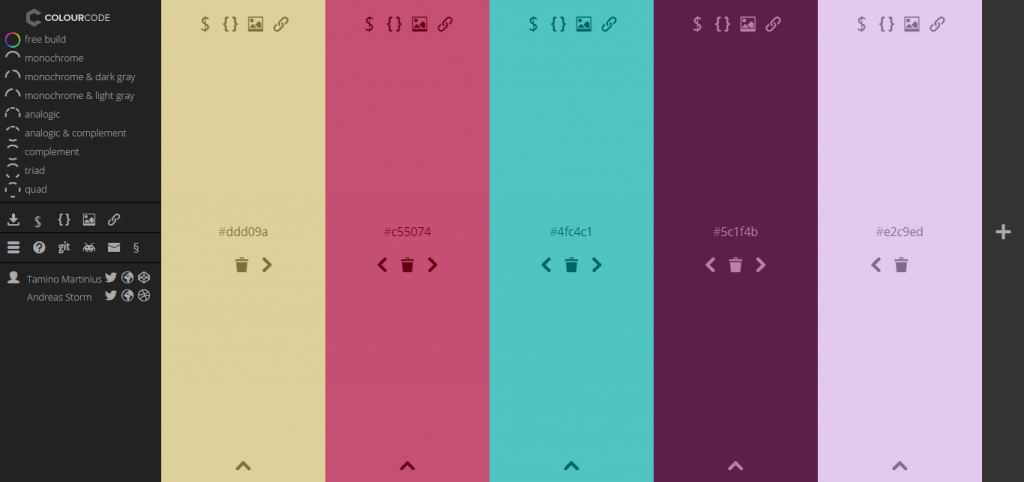 Another cool tool you can use to build your palette is Colour Code. You can start with monochrome, analogic, complement or free build and when you're done just save or download your choice. The people at Colour Code make both creating your scheme and sharing it, super easy and for this reason, they are my personal favorite.
13. Check My Colours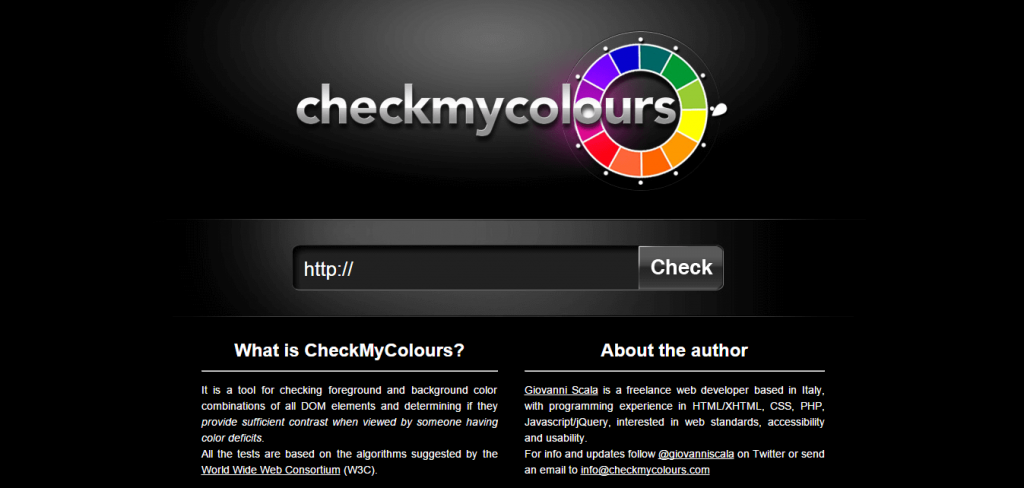 Do you ever wonder if your website would pass the test of a critical eye? Well, you don't have to wonder anymore. Check My Colours can tell you everything that's right and everything that's wrong with your website color-wise.
14. Mycolor Space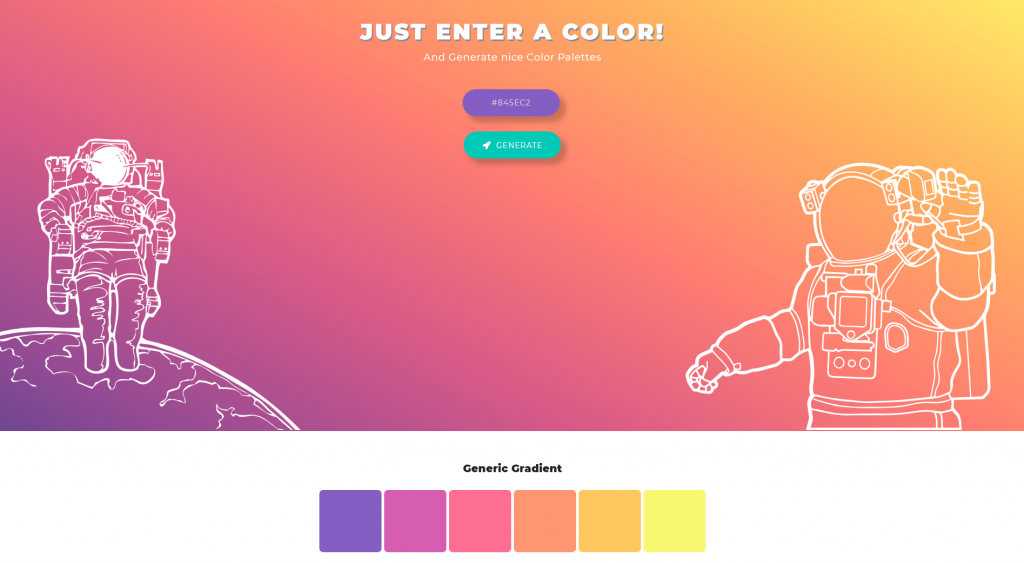 Mycolor Space is a beautiful app that helps you create amazing color palettes starting from a color code you enter. Give it a try if you run ut of ideas for your next design project and get your creative juice flowing again!
15. Color Hunter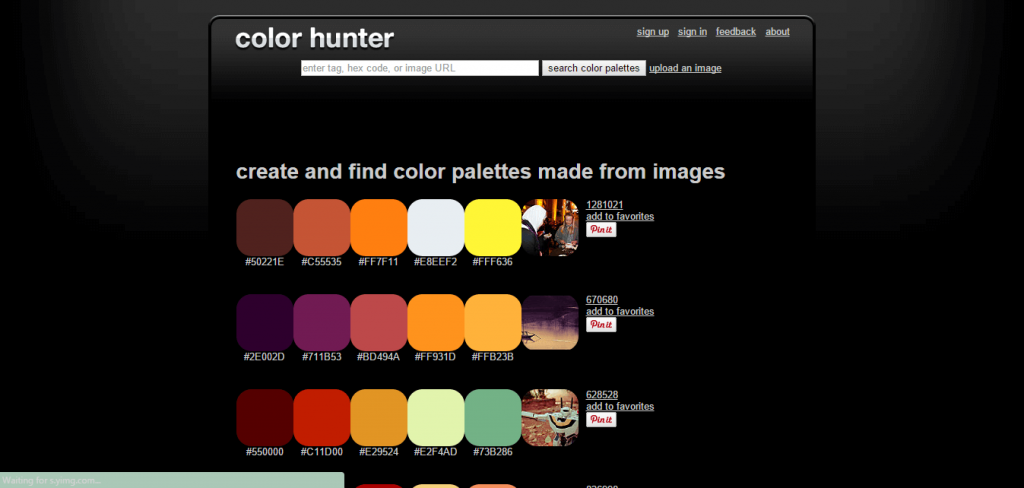 At Color Hunter you can find a large variety of palettes derived from images or you can upload your own image to obtain a color scheme. You can also search for the specific color you want, search an image url or a hex code to find your palette. This resource appears to be endless and there's certainly something for everybody.
16. TinEye Labs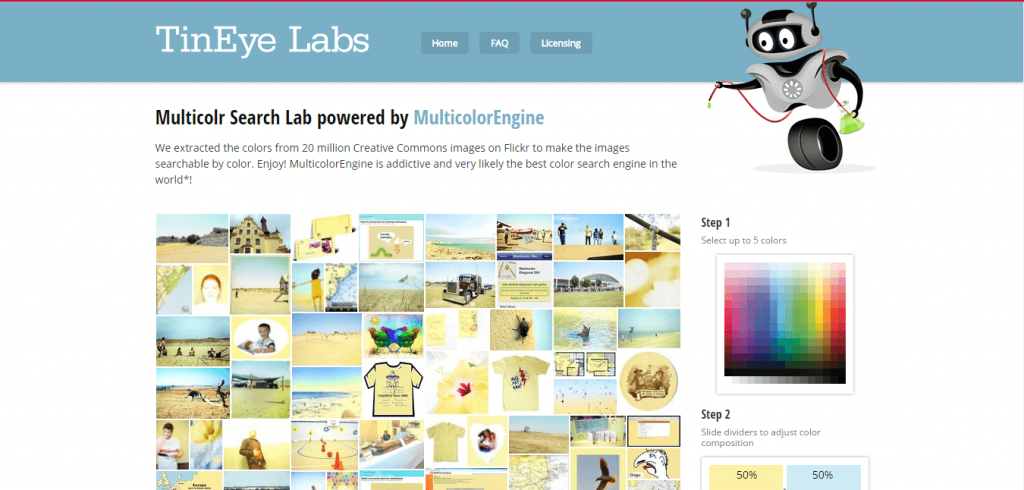 Using the TinEye Labs tool, you can find a host of Creative Commons images on Flickr based on your color choices, up to 5. If you need to find something particular you can adjust the color composition and search by tags as well. This is useful because it comes to the rescue when you have a clear idea of what you want or when you have a clearly defined context. Ans of course, every picture is just so gorgeous.
17. Spy Color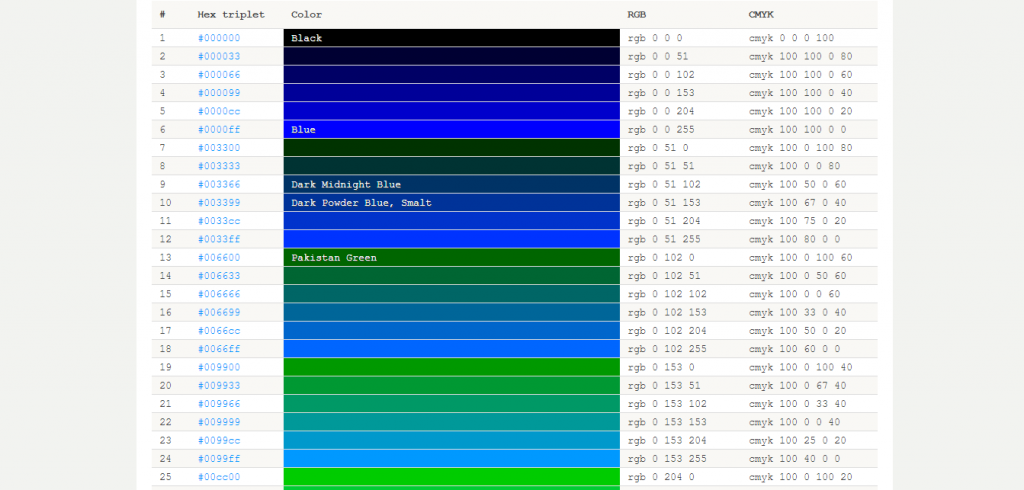 Spy Color is a straightforward, simple tool that you can use for color information and conversion. You will find all the color information you need here and there's also a cute gradient of the day.
18. Design Inspiration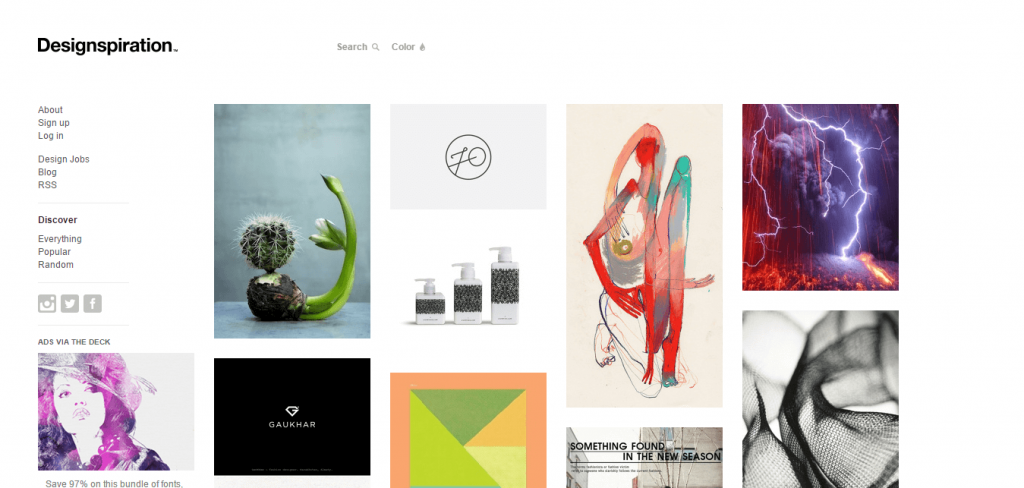 This design blog full of inspiring pieces, besides being immensely cool on itself has a tool that allows you to search inspiration based on your color choices. Entertaining and eclectic, Design Inspiration stays relevant while exploring time enduring and fresh art design pieces.
19. Paletton – The color scheme designer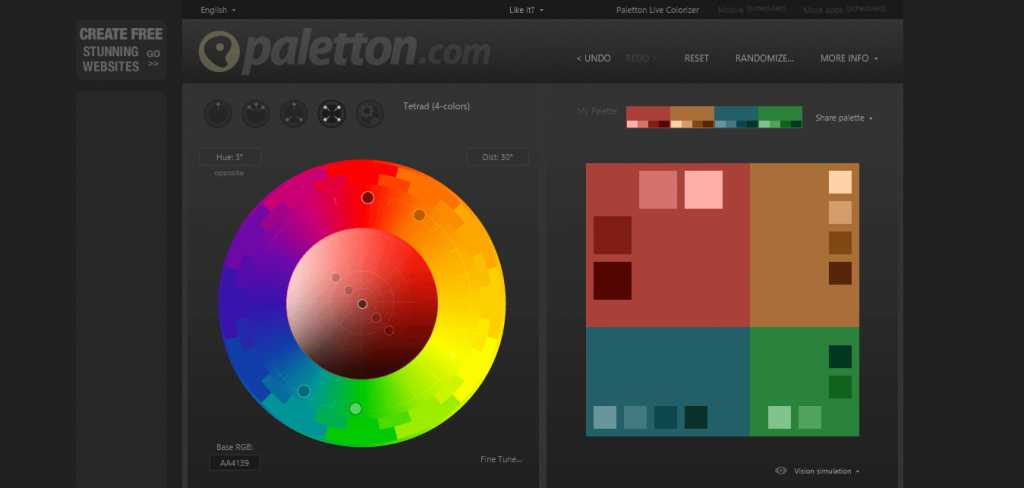 Paletton is considered by many designers around the world to be one of the most useful color tools because of its versatility. Using the wheel of color you can select the following settings: monochromatic, adjacent colors, triad, tetrad and free style. You can edit shades of each color individually and once you're done, you can share your work with the world.
20. ColorMunki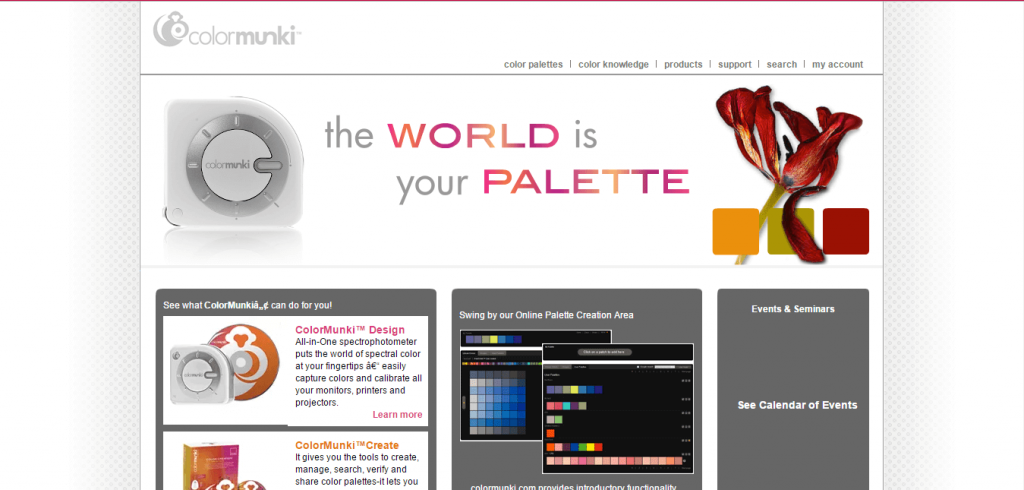 This wonderful resource not only helps you create your palettes, but it has a full section on color education and includes training videos, color clips, a glossary and a color IQ challenge. Check out ColorMunki today!
21. Color Rotate – create and extract color palettes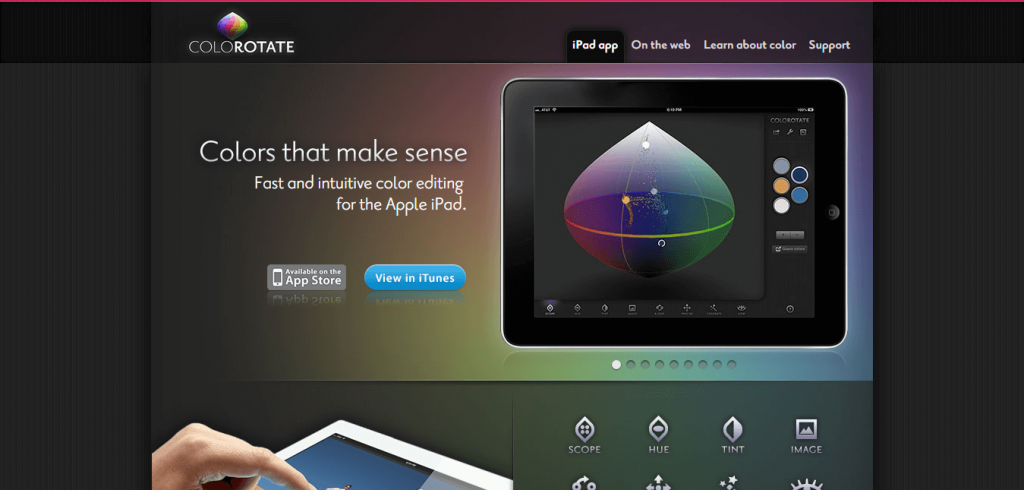 Color Rotate offers fast and intuitive 3D color editing for your iPad. The wide variety of options and the convenience that it works with Photoshop and it's social media friendly, makes Color Rotate a must have app for designer Ipad users. You can use it to analyze, adjust, create, edit and share color palettes as well as extracting them from images.
What are the color tools that help you move along? We'd love to hear your suggestions, so let us know in the comments below.