11
minutes read
Brand consistency is key in marketing and sales. Customers don't like mixed signals any more than a romantic partner would.
For a brand to gain customers' trust and become recognizable in their eyes, it needs to be consistent in all external—and even internal communication—in terms of both visuals and messaging.
This is where the brand style guide comes into play. If it is well-crafted and clearly outlines brand identity guidelines, this document will let all departments and employees know how to communicate on behalf of the company.
Although some essential elements must always be present, there is no one-size-fits-all approach to building this guide.
That being said, let's dive in and discover the basics of creating an effective brand style guide.
1. What Is a Brand Style Guide?
It's a set of guidelines that dictate how your brand identity is reflected in every piece of content you create. The guide incorporates all ground rules for keeping consistency in brand communication from logo to colors, typography, and tone of voice.
Also known as brand bible or brand guidelines, this document will help all your departments synchronize to communicate across all marketing channels. Despite sounding quite formal, you can take creative liberties with its contents, format, and length.
While content and length are somewhat dependent on each other—the more elements you include, the bigger the length— the format is a matter of personal preference. You can stick to one format or use multiple formats simultaneously. These are the three you can choose from:
PDF guide

– is the most commonly used format because it is easily accessible and downloadable. For example,

Slack's brand style guide

PDF can be downloaded from their website by anyone interested.

Interactive web page

– this is probably the most enjoyable format of the bunch, thanks to its dynamic features and engaging navigation.

Mozilla Firefox's brand guidelines

fit perfectly into this category.

Printed guide

– an oldie, yet a goldie, print is still used by some brands, such as

NASA

, especially as a secondary format. For example, you could print out some style guides and offer them to employees or partners in a goodie bag to ensure they are aligned with the brand.
2. Why Do You Need a Brand Style Guide?
Take the first brands that come to mind. Off the top of my head, I picked Coca-Cola and Google. What do these two have in common? They have always been consistent in communication. Their logo, colors, and even brand personality have stayed pretty much the same throughout the years.
I bet you thought of equally recognizable names who have followed the same course.
That's because consistency builds brand recognition, and it also makes customers feel like they can trust you, as I mentioned earlier.
Achieving brand consistency without a set of clear guidelines—especially as a big organization with multiple departments that need to coordinate—is basically a mission impossible. Not to mention all the external collaborators, partners, and agencies that you must align with.
By following the branding style guidelines closely, you will be able to present a unified brand image and avoid situations where incorrect colors, misplaced logos, and off-brand messaging are used.
3. What to Do Before Creating Your Brand Style Guide?
3.1. Define your brand identity
Think about the way you want your customers to perceive you and how you would like to position your brand on the market.
Ask yourself a few important questions to determine the key elements of your brand identity:
What are your brand's objectives? →

Brand mission

What does your brand set out to do in the long run? →

Brand vision

What are the principles that guide your brand? →

Brand values

What differentiates you from your competitors? →

Unique selling proposition

What would your brand sound like if it were a person? →

Brand voice

Who do you want your customers to be? →

Target audience
Once you've got a grasp on your brand identity, it will be a lot easier to start translating it into guidelines.
3.2. Research your competitors
Take some time to research your competitors' brand identities and communication. Read their brand guidelines and identify good practices, as well as things you could do better yourself.
Through research, you can also discover what visual identity elements (color combinations, fonts, etc.) others have used and try to stand out by making different choices.
3.3 Find visual inspiration
There's nothing like a Pinterest board to inspire you visually. Start building one that reflects your brand identity and add photography, illustrations, or any kind of imagery that would match the feel you want to convey.
You can ask more departments from your company to do this Pinterest board exercise and see what they come up with. Not all employees may have an eye for design or aesthetically pleasing visuals, but seeing different perspectives will surely help.
3.4 Think long-term brand evolution
Your initial branding style guidelines are not set in stone. You learn as you go, so it's only natural your brand identity will slightly change over time. Just make sure you have a solid foundation to build on, and the process will be smooth.
Once you start following brand guidelines, you may also notice some of them need adjusting. Don't be afraid to experiment with them over time. Just keep in mind that the main point is for your brand essence to remain the same.
See how Firefox's logo changed over the years, but the two main imagery elements, the globe, and the fox, remained the same. Of course, this is less true for their latest logo, which caused a great deal of controversy online because of the missing fox.
Although Firefox later clarified that the newest logo represents Mozilla's entire family of Firefox products and the fox is still present in the browser's logo, this event proved how attached customers can be to a particular brand image.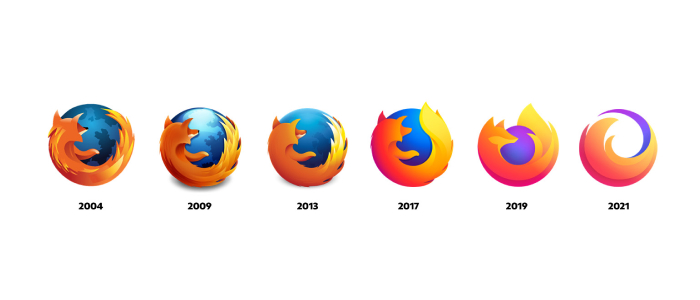 4. What to Include In a Brand Style Guide?
4.1. Brand story
There's nothing like a good story to hook people, so make sure you start by introducing your brand. Pour your brand essence into it and let the vision, mission, and values seep through.
The vision represents what the brand sets out to do in the long run. It should be aspirational yet grounded in reality. The vision isn't usually communicated externally, so it's not something that your customers will read but something they experience from interacting with the brand.
However, some companies choose to share their brand vision with the public, as IKEA did.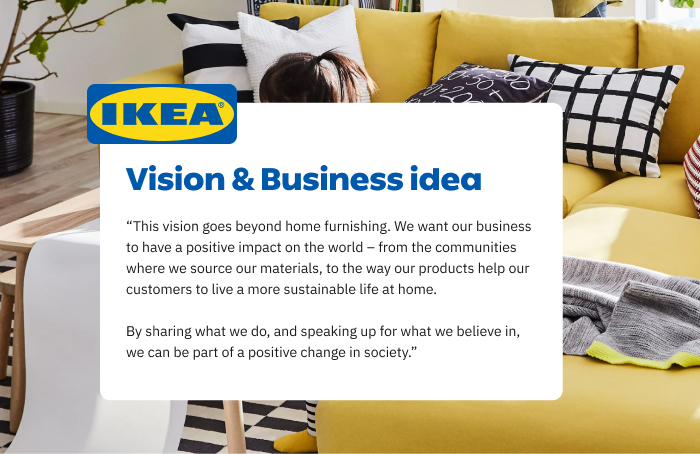 The mission statement is a short sentence that summarizes the brand's purpose and objectives. Unlike the vision, the brand mission is made public to customers, so it must convey the right message.
Let's take Tesla's mission statement, which is "To accelerate the world's transition to sustainable energy". Aside from the clever pun, which was definitely intended, the statement does a great job of reflecting the brand's purpose—to reduce carbon emission by leading the world's transition to electric vehicles.
Brand values represent the brand's principles and shape its actions. Similar to how principles work in human interaction, they command your customers' respect.
Take a look at Zappos's ten core values, which are relatable yet inspiring.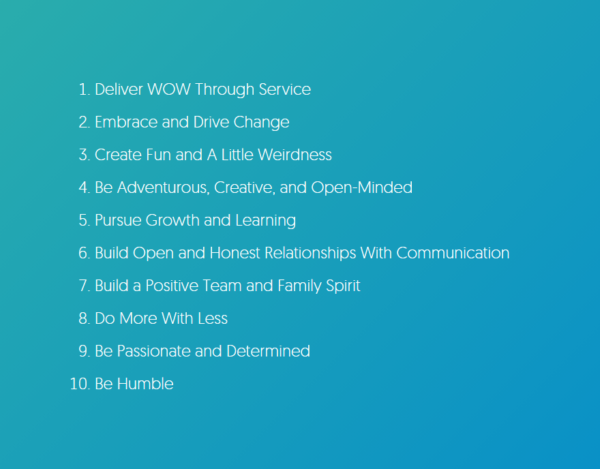 4.2. Logo use
Your logo is the visual representation of the brand's identity. Its purpose is to spark recognition, so it should always be represented accurately. Poor logo depiction can negatively impact the way customers view your brand.
Primary logo and variations
You should start by introducing your primary and secondary logos, as well as your symbol, if need be.
Take a moment to describe the logo and explain what it means to the brand. Additionally, you can write about its history if you think it's relevant to the version in use.
Specify logo colors and list their PMS, CMYK, RGB, and HEX codes (we'll mention these again later). Also, don't forget to mention color variations, if any exist.
Apart from the primary logo that features a green and cyan gradient, Creatopy has four other logo variations with different gradients in vibrant colors.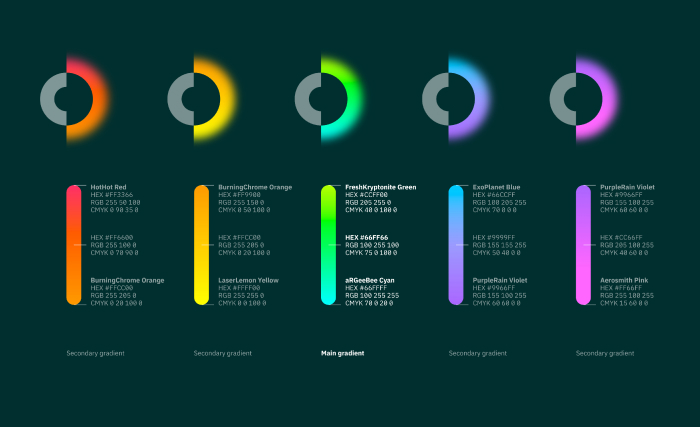 Logo size does matter. Indicate proper proportions and mention the minimum size allowed, so your logo is legible and recognizable on all digital and printed materials.
You can also indicate logo dimensions in relation to other elements without giving a specific size.
You should also add placement guidelines for your logo, referring to where exactly you want it to be displayed on certain communication materials.
Establish clear rules such as your logo always being placed on the top right side of the first printed page or at the end of emails.
Specify if your logo requires a certain amount of clear space around it. Proper spacing will make it easy to spot among other graphic and typography elements.
Netflix set clear spacing rules by indicating the width of the letter T in Netflix is the minimum amount of space needed on all sides of their logo.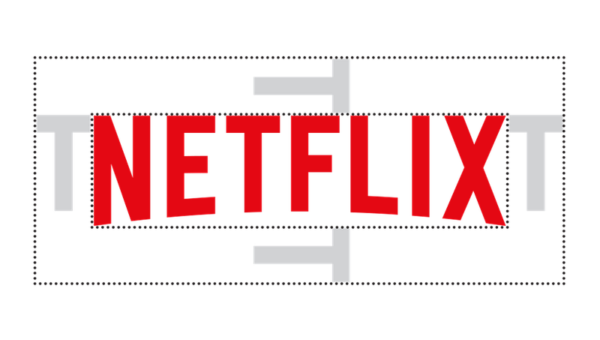 Once you've covered the logo do's, make sure to also tackle the don'ts. Logo misuse cases usually include incorrect colors, placing the emblem on top of an inappropriate background, and rotating, distorting, or altering it in any shape or form.
Take a look at Creatopy's examples of forbidden logo usage to get an idea of what misuse cases you could cover in this section of the guide.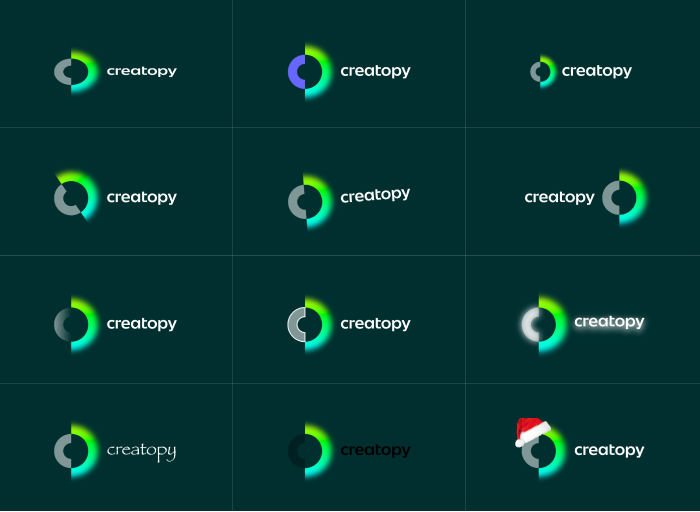 4.3. Color palette
Colors are known to evoke strong emotions in people and even convey information, which is why picking brand colors is not done randomly. In fact, it can be quite challenging and might require looking into color theory beforehand.
Some brands have a very narrow palette of three or fewer colors, while others also use secondary or even tertiary palettes.
Show swatches of the brand colors and list the Pantone Matching System (PMS) color codes, as well as the CMYK, RGB, and HEX color codes.
These are used by graphic designers and printers to fully optimize designs and control colors for printing, and by web designers to accurately represent color formats digitally.
Let's take a look at Creatopy's primary palette consisting of three colors, White, Neon Green, and Black, intended to make the brand's appearance feel clear, modern, and dynamic.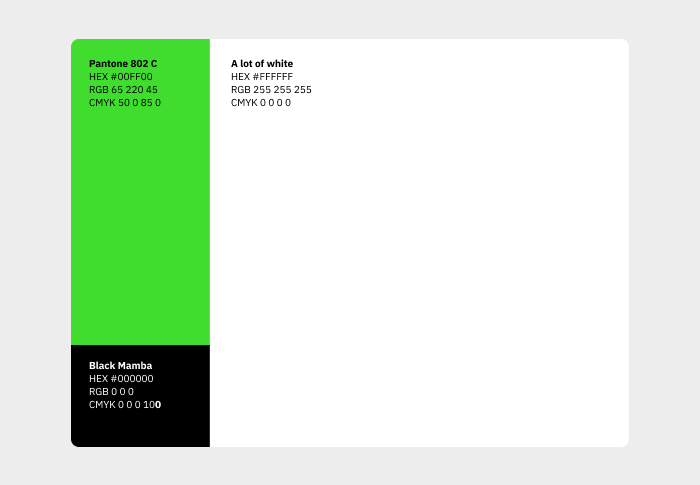 The secondary palette is made up of three colors to be used for layout elements and illustration (Tangerine Dream, Red Hot Riding Hood, and Cold-fusion Secret) and three background colors (Dagobah Forrest, Mr. Wolf, and Tunguska Blueberry), plus pairings between the two categories.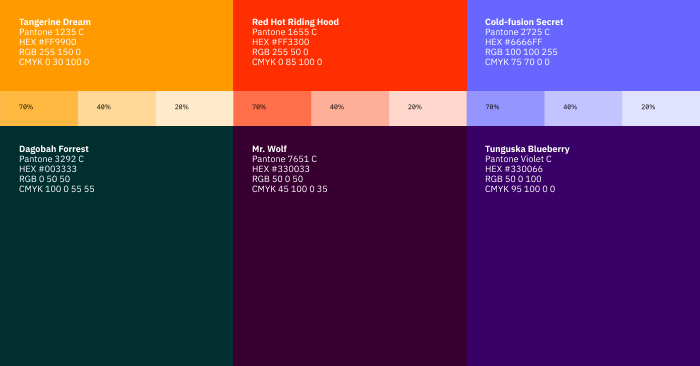 4.4. Imagery guidelines
Photos, illustrations, and videos should all carry the feel of your brand. This is the part where the Pinterest board we talked about earlier comes in handy. You can take a look at it again to get inspiration for this section of the guide.
It would be best if you had a comprehensive image strategy, and the simplest way to do this is to find a common theme for your imagery and stick to it.
Creatopy's image typology is all about bright colors, glows, and neons, representing the bright light of creativity.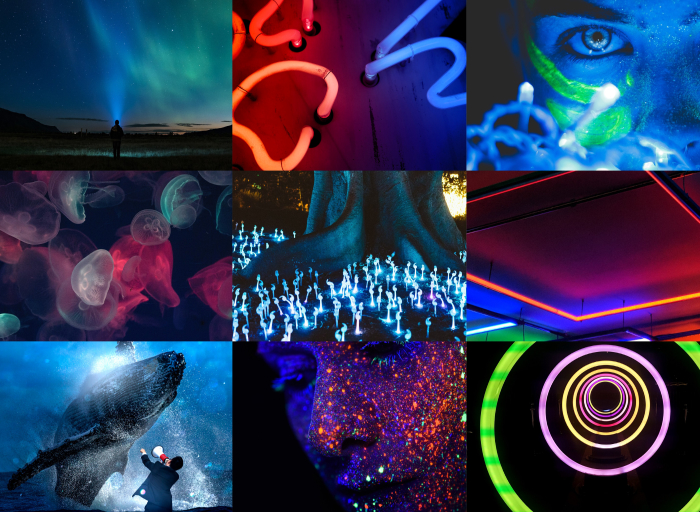 If your brand isn't new and you have a collection of images that have worked for you in the past, present them as examples in the style guide.
Check out Adobe's imagery system, which comprises corporate and product imagery, reportage lifestyle photography, and conceptual imagery. Additionally, Adobe included here some examples of visuals that must not be used in association with the brand.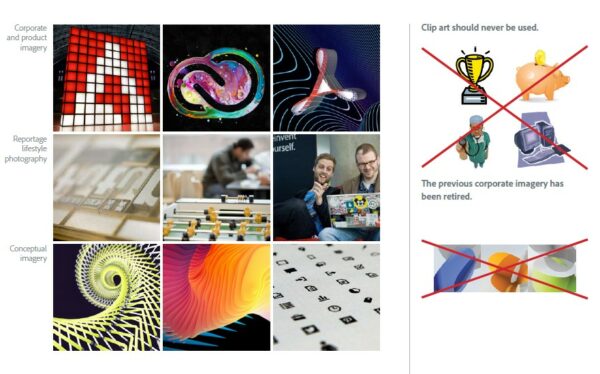 4.5. Typography
The font needs to come together with the other elements of your brand identity as part of a cohesive image. It should also be memorable, easy to read, and able to get your brand's personality across.
Read into font psychology before choosing your brand's typeface. There are four main font categories, and each of them provokes specific associations and emotional responses in people.
Name all the fonts you use in brand communication. You can also describe each typeface and explain why it suits your brand.
Some brands choose a single font to represent them, while others combine two or more. You can select different fonts for logos, headlines, subheadings, and body text. But make sure they go well together.
If you really want your font to stand out from the crowd, you can do what Uber did back in 2018 when they rebranded and chose a bespoke typeface. They use the custom-made font for everything, and it is memorable, despite its minimalist look.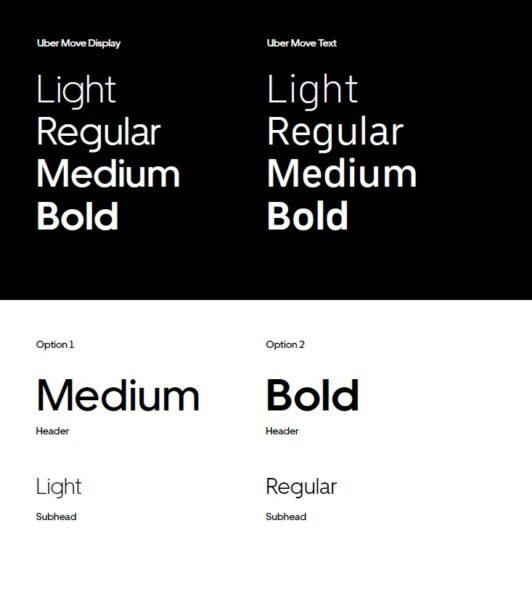 Typefaces can be stylized in various ways (bold, italics, uppercase, size, weight, etc.), so you need to give precise instructions on what every content element should look like.
Use type hierarchy to order different font styles by importance. Show what they would look like together in an actual piece of content.
Don't forget to mention whether your choice of fonts requires kerning and provide ratios for spacing.
Last but not least, let everyone know if you want your text aligned left, right, or centered.
4.6. Tone of voice
Find your brand voice and speak up.
Your brand's tone of voice should be an extension of its personality. Is it enthusiastic and funny, with a dash of sassiness? Or serious and respectful? It's all up to you.
Twitch created its voice guidelines around its core values. Because they are a fun and playful brand, their tone of voice is quite relaxed, like that of "the friend who plays games with you", as they put it.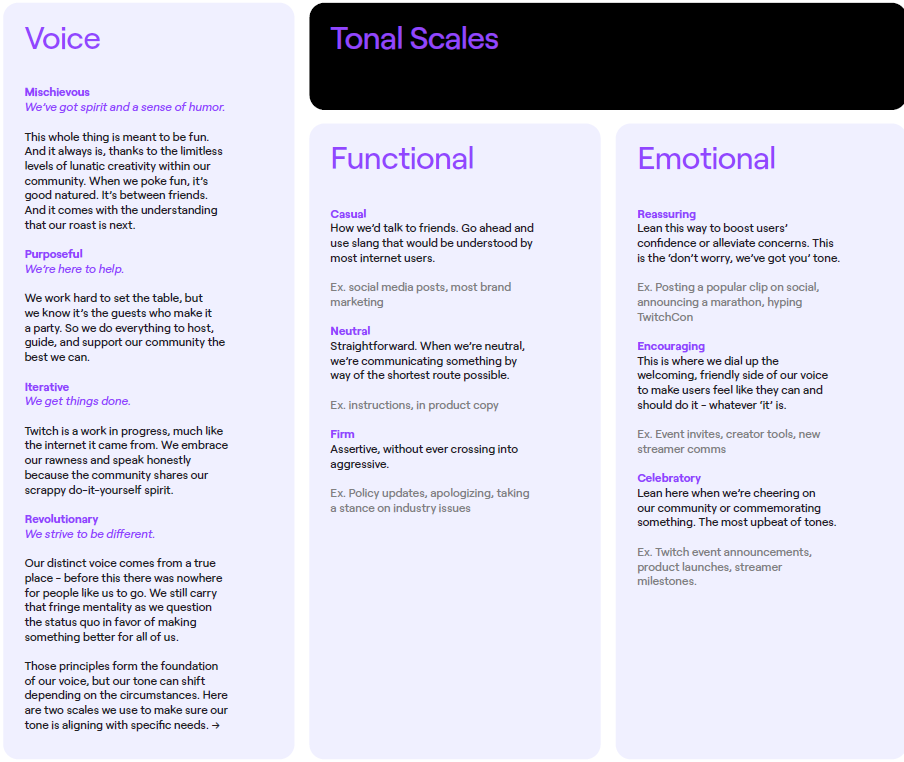 Although the tone of voice is not the same as brand messaging (the latter refers to the actual words you use while the first refers to how they are said), most brands use this guide section to give guidelines for both.
You can list words that should be used in brand communications and words you don't want to be associated with your brand.
As seen below, Sainsbury's went down this route and stated that only objectively true adjectives should be used in their brand communication.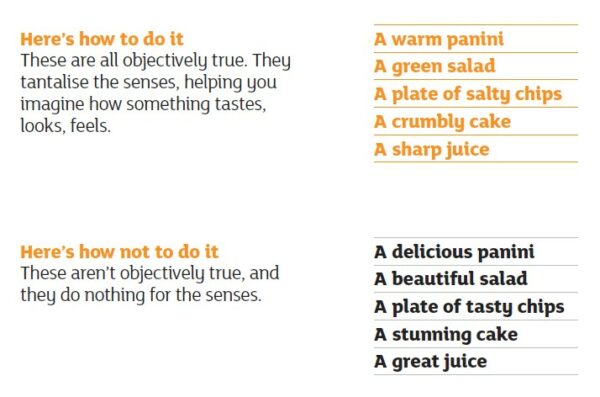 In addition to vocabulary guidelines, you can be even more thorough and give grammar, punctuation, and spelling guidelines.
Make certain you also tailor your message to ensure it resonates with your audience. A good practice is to provide examples of messages that have been successful with your audience.
4.7. Web styles
Your brand's website can have up to 100 pages or more, and your developers could use some guidelines to help them get the brand style across all of them.
The instructions in this section can refer to all sorts of commonly used user interface (UI) elements (such as buttons, form elements, or iconography) that appear on most, if not all web pages of the brand's website or app.
In 2020, Waze introduced its new brand identity and unveiled a new set of subtly modified icons. The colorful pictograms show up on their in-app map and are a distinctive feature of their web style.

4.8. Grid system
The layout of your web pages or printed materials can be something specific to your brand and an integral part of the unified identity you present to the public.
You can create a grid system to arrange text, images, and other design elements on a page. This is basically a series of columns and rows that helps you uniquely structure the brand's content.
Here you can see Apple Australia using a 6-column grid system to structure their homepage content, making it easy to read and providing a great user experience.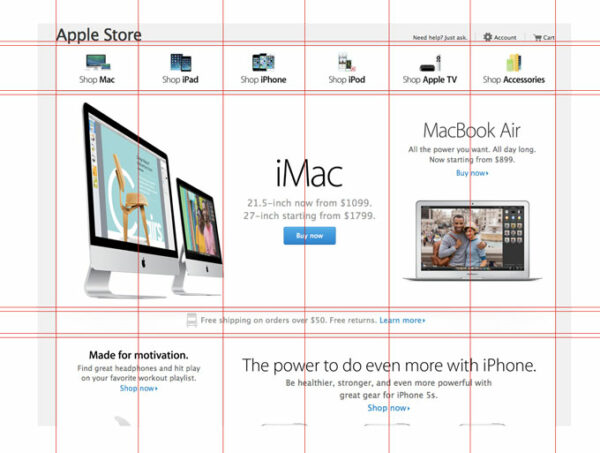 The grid system is invisible—it just shapes the way your on-page elements look. By using it constantly, on web pages, in documents, PDFs, and presentations, you will have a consistent architecture for the brand's marketing materials.
4.9. Collateral
The corporate kit is usually a binder containing official documents like certificates and business cards, plus all kinds of branded stationery such as letterheads and envelopes. Some companies also include goodies—flags, mugs, pens, USB flash drives, etc.
The same goes for the PR kit, which can include a selection of important press releases and memorable press coverage, product sheets, management bios, and visuals, all in a branded presentation folder.
All items can be listed in the brand guidelines, so all brand employees are familiar with the contents of the two kits.
You can add internal and external brand communication templates in the style guide. Social media posts, PowerPoint presentations, or any other type of templates you think would be of use.
To Sum It All Up
In the end, it's all about attracting and keeping customers, and to do that, you must always be consistent in communication. Creating a brand style guide is the first step to a cohesive brand identity, and hopefully, you're ready to tackle the challenge of crafting your own after reading this article.
To ensure you incorporate the brand's core values in every design and keep consistency across all platforms, you can use Creatopy's brand kit feature. Just import the elements defined in the brand style guide (logos, color palettes, typography, and imagery) and always have them on hand while designing your visuals.