9
minutes read
Think about an industry whose estimated worth is at $1.5 trillion and it's not real state or new tech. It's an industry that we are all involved in because we buy those products frequently.

It is the sports industry.
The sports market is on the rise and you can see it for yourself below, according to the information provided by Statista.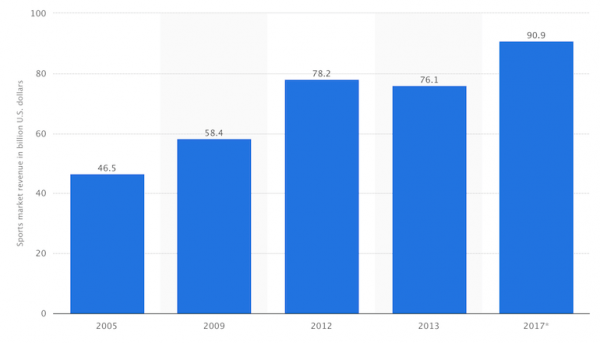 Rugby, Football (soccer), Formula 1 and Tennis are at the top of sports growth rates and market size.
You can think of any aspect you want when we talk about the sports industry: salary, sponsorships, product placement and other marketing tactics that bring money into their pocket.
And sportsmen also earn a lot of money. Think about Floyd Mayweather, Cristiano Ronaldo, Lebron James, Roger Federer or Phil Mickelson. You can google them and see how much money they make.
But now that we see how big this industry is, let's take a closer look and see what we could learn from their marketing, more precisely, what we could learn from their digital marketing strategy and the way they design their banner ads.
Because if we understand how they do it and what makes it work, it means we can also try and test it to see whether it fits our strategy or not.
After you read this article you're going to know how to design banner ads that convert, what are the most important elements you need to focus on and how to use test marketing in your banner ad strategy.
Are you ready? Grab a coffee (or tea) and start reading:
1. Powerful Statement
Everybody got to a point in their life when they needed something to get inspired. Some of them are inspired by the people around them: family, friends or colleagues. Others get inspired by watching a movie or by listening to music.
And then there are people that get inspired when they're browsing the internet, surfing around to find a piece of content with a simple quote. These are the people that get inspired by motivational quotes from Pinterest, Instagram and other social media networks.
Think about the 2016 Grammy Awards moment when Stevie Wonder made a powerful statement by reading the winner from a Braille card. That was his statement. Add that to the right moment in front of the right people – the ones who can make a change in this world.
Check out this video and see how he makes sure that everyone understands the importance of this statement.
Nailed It #StevieWonder — So perfectly done! @wusa9@947FreshFM#Grammys — Showing this to my @BestBuddiespic.twitter.com/4dWmnBjWa4

— Tommy McFLY (@TommyMcFLY) February 16, 2016
But why am I talking about the power of a statement?
Because brands should use their statement every chance they get. In our case, they should use their statement in banner ads too.
For example, Nike's winter campaign is taking the message to a statement level: "Choose Your Winter".
That means that their customers and their fans are one of a kind people, who are not easily frightened by the cold and won't let bad weather stand in the way if they want to do sports. They are choosing their own winter by going outside and doing whatever they do. This is a statement Nike is making not only for their customers but for the entire world – our community is a powerful community.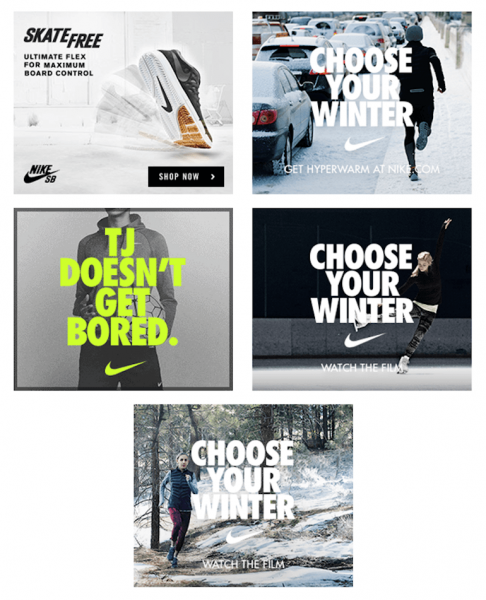 Another interesting statement comes from a brand I love a lot. Converse refuses to be portrayed as a common shoe – they are sneakers. And who has this kind of word added to their vocabulary?
The generation who knows what Converse is. This is why in their banner ads you can read this powerful statement that says "Shoes are boring. Wear Sneakers" . You just can't ignore this kind of message on a banner ad.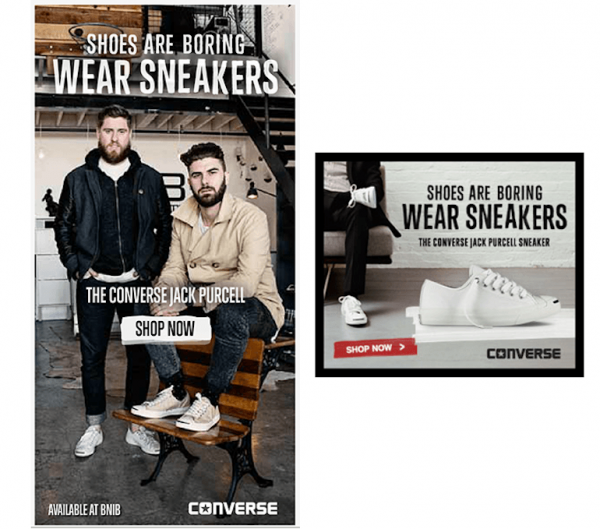 2. Make Room For The Logo
Think about Nike. This is a multi-million dollar company with a $35 logo. Yes, only $35 for "a stripe that would look good on a shoe". That was the amount of money that Nike paid the student Carolyn Davidson in 1971.
Now you can see Nike on every shoe, every product they launch and, of course, in every advertising campaign they plan.
On the other hand there is Steve Jobs who paid $100,000 to Paul Rand to create a brand identity for Next.
What Steve Jobs said about working with Rand:
"I asked him if he would come up with a few options, and he said, 'No, I will solve your problem for you and you will pay me. You don't have to use the solution. If you want options go talk to other people.'"
So, how important is a logo for your product? Very important, right? Then why don't most of the marketers and designers that create banner ads use their logo?
It doesn't have to be perfect to be usable. You don't have to be Nike, Apple or Starbucks to have a perfect logo to use in your banner ad. You have to be proud of your brand.
This is your brand and you should take it and place it everywhere you can, even on your banner ads.
How should you use your logo in your banner ads?
For example, if we take a look at the Vans banner ads you can see that their logo is positioned in a way that allows you to identify it easily. Look at what color they used and how much space they save for the logo so it can stand out in the banner ad but not in an aggressive way. And if you take a closer look you can see that they always tried applying the logo to one of the banner ad's edges so that is hangs on one side just the way it does on the shoe in real life. Smart and simple.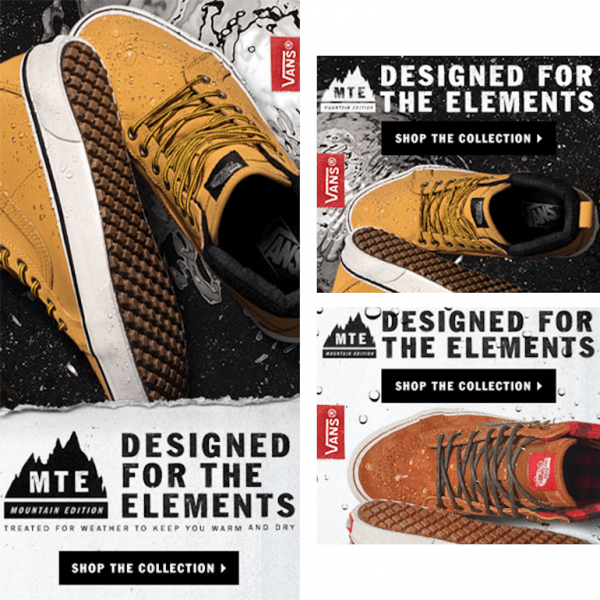 3. Target You Main Audience
Does every marketing strategy start with the customer in your mind? Who is your customer?
[Tweet "Every marketing strategy starts with your customer base."]
Who are your customers? What is their value? What products do they use in their everyday life? A lot of questions about customesr and you know why. Because they can be the core of your business.
Take care of your customer so they will take care of your business.
How to develop your customer persona? What are your typical customers' roles?
If you don't know too many things about your customers, here is a great guide from Quick Sprout where you can find out more on how to focus on your customers.
And now that we understand the importance of knowing your customer really well, let's go deeper into our topic:
Why most people don't trust banner ads when they see them?
Because of how the banner ad looks, because they don't understand what you want from them and last but not least, because they are not part of your main audience.
My colleague Csenge wrote a great blog post on how to define your target (I truly recommend you give it a read before you start designing a new banner ad).
So, when you design a banner ad you should always have your target in mind first, and once you figured that out, you can think about brand too.
For example, if we look at the K-SWISS banner ads you can notice an important word ("Entrepreneurs" or "Board") next to the American DJ Diplo in a fancy suit. That means that their target is the youngster who wants to live to the fullest and, at the same time, he's the new entrepreneur who breaks the rules. A forever young DJ in a suit advertising sport shoes? K-SWISS knows their audience and we can tell this by how they created their banner ads.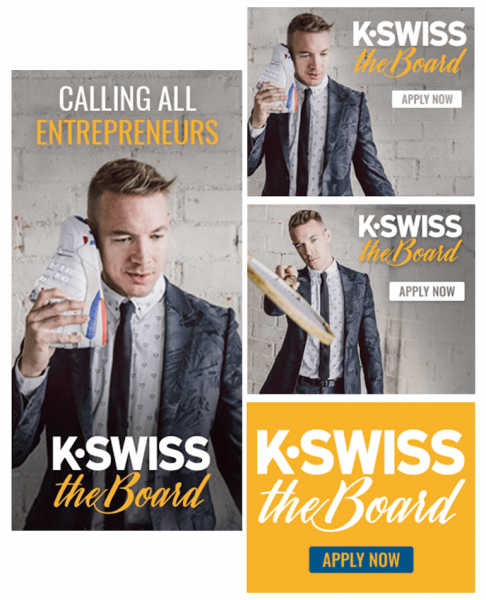 Do you know your target?
4. Test Test Test
How do you know how to improve a product if you don't have enough data and stats? How do you collect them? By using professional tools that help you monitor your product. But how do you know if your product is good or bad if you haven't tested it before? Here comes the importance of testing.
Should we test the market before we launch a product? Should we test our employees before we hire them? Should we test the banner ad before we improve it? Yes. Yes. Yes. Because it all depends on the context, time and resources. Today things are moving too fast and we need to stay in touch with the reality.
Did you hear about test marketing?
It is a tool used by companies to provide insight into the probable market success of a new product/service, or effectiveness of a marketing campaign.

You use test marketing to evaluate the factors, conditions, context and other points of the performance for the product.
According to HBR there are 2 important benefits using test marketing:
Provides an opportunity to test a product (or in our case, a banner ad) under typical market conditions in order to obtain a measure of its sales performace
To identity and correct any weaknesses in either the product or its marketing plan before making the commitment to a larger sales launch.
To show you how sports footwear brands are testing their banner ads, I give you two examples.
The first is from New Balance who is testing several banner ads by changing the format of the fonts in them, colors and also the CTA. If you look closer you will see the difference between the four banner ads – and also, you can see how they used their logo in the banner ads.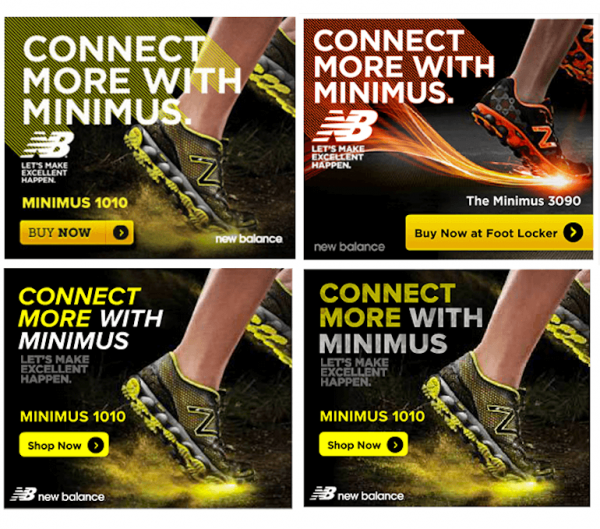 The second example comes from Air Jordan.
Even if they have a very crowded banner ad, you can understand pretty easy that it's about basketball and the well known logo of M.J. dunking, makes it obvious. You can see how Air Jordan are testing their CTA buttons in their banner ads by using a few different versions: "See More Chaos" , "Go To Quick" or "Explore The Chaos".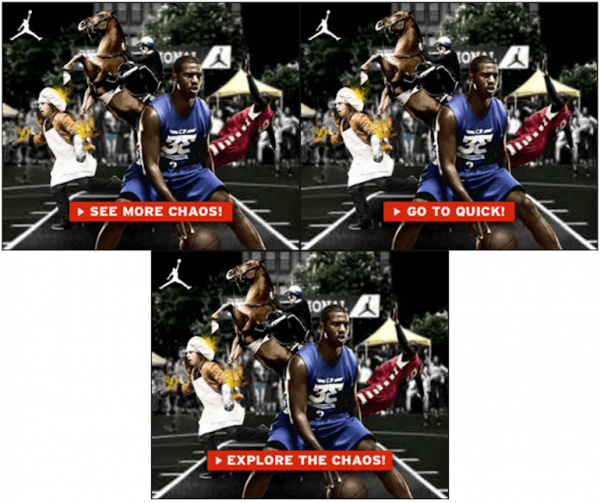 So who said that you can't try other CTA buttons? Nobody. Test it and use the one that converts the most.
5. When Style Hits Your Banner Ad
What is the most important factor in the fashion industry? Style. If you don't have style, you can't make it. But "style" can be a subjective topic, because what is stylish for you might not be stylish for me, right?
But let's see what the giants of the fashion industry have to say about style:
Coco Chanel said about style that:
In order to be irreplaceable one must always be different
So, for Mrs. Chanel, style is all about being different.
On the other hand, Yves Saint Laurent has a unique view about style
Fashion fades, style is eternal
And Giorgio Armani comes with a different approach on "style"
The difference between style and fashion is quality
Here you have some of the world's top fashion designers' quotes about style. Are any of them similar? Not quite. But do you see how important style is for them? Exactly.
Now let's get back to our topic about using style in your banner ads if you design for the footwear sports industry.
What do sports and style have in common?
Let's look at Adidas.
Adidas divided their brand into different categories, but they all work inside the same industry – sports and streetwear.
If you go on their official website you see 2 main categories: Sports and Brands. In the Sports section you can find products for basketball, football, golf, running, tennis, outdoor and training. The second category, Brands, divides into 4 subcategories: Originals, Porsche Design Sport, NEO and Stella McCartney.
Adidas is not only a sports brand, but also a street footwear brand. You can see this in the banner ad below. I love the personality of the models used in their banner ads but the one element I love the most is the message: "and the street goes on". It's clear that these sneakers are for the street wear.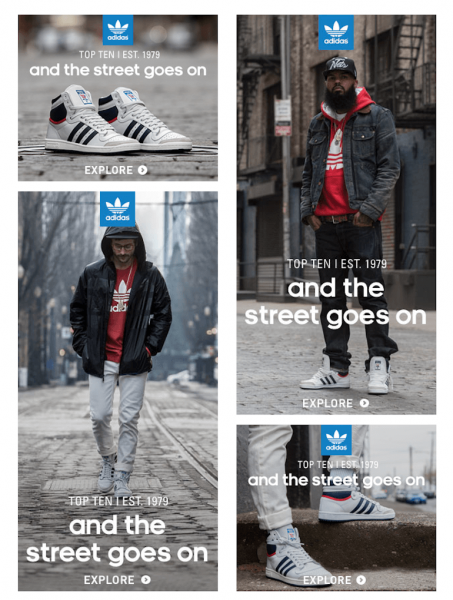 Conclusion
If you want to design a banner ad for your footwear brand, don't forget about these 5 important elements: a powerful statement, the importance of your brand, test marketing and the style of your product.
Keep in mind that a smart marketer learns from others and then makes his own work better and smarter.
Let me know what other footwear brands you like because of how they design their banner ads and why?