8
minutes read
In the past decade, the evolution of visuals has changed the way we consume content on the internet.
There are many reasons as to why visual content marketing has earmarked such a position for itself – the rise of social media platforms, shortening of user attention span and easily available tools to create one's own visuals.
To give you an idea of just how important visual content has become and why every marketer is looking at visual content as a must-have part of its marketing strategy.
Here are a few numbers, for you to take notice:
• There is an 80% increase in reader eagerness for content which has color visuals.
• Video content dominates 74% internet traffic.
• Users are able to grasp 10% of non-visual content, however, if the same content uses visuals – the remembrance rate increases to 65%.
• Retargeting with banner ads have a 70% higher chance of converting on your website.
• Instagram has 42% market penetration among millennials the most sought-after demographic.
Marketers are playing with different ideas of how they can use visual content to achieve their goals. But, due to stiff competition, changing user taste and preferences and a whole of other factors, have made the business of creating visual content a very complex and demanding task.
To come up with award-winning visual content, marketers have to wear multiple hats. One hat is – of the marketer who needs to strategize and the other of the designer – who needs to visualize. When these two aspects come in close harmony, it's only then you are able to produce visual content of the highest standards.
The intricate process of bringing these two aspects closer requires precision – and that's where most marketers falter. Here's an example of how sometimes marketers are way off their mark and makes you say "what were they thinking?"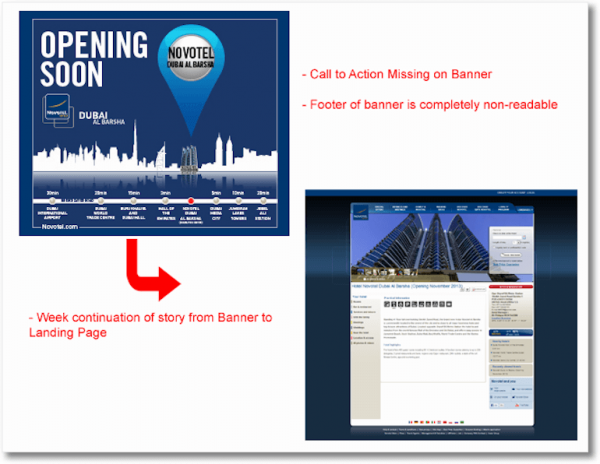 This clearly shows that this banner was made by a designer who lacked the required marketing acumen.
Here are the three observation from the example:
• Observation 1 – No call to action (CTA)
• Observation 2 – The textual content, which happens to be talking about the USPs is clearly non-readable.
• Observation 3 – The major chunk of the banner ad concentrates on only graphics and graphics alone and gives no knowledge about the brand.
These are one of the many blunders committed by so-called 'visual content marketers'. To save yourself from making such blunders – here are 5 visual content mistakes you should avoid making:
1. Too many different visual 'styles'
Each visual content pieces is like a jigsaw puzzle, each content piece helping you tell a story. Sure, each piece might look different but essentially the theme needs to be consistent. It's only then that readers can easily identify and trust your story.
Why is there such huge variation in thematic styles?
It's a serious mishap, prevalent in the business of visual content. Even the most seasoned visual marketers get sucked into making such a blunder. The reason being – internal communication.
Nowhere is there so much dependency needed between marketers and graphic designers than visual content marketing. This requires them to be on the same page every time, all the time.
For example, a marketer is working with a designer for coming up with their visual content which needs to be published on Saturday. Marketer sends an email regarding the brief that is required for the visual content strategy. The brief requires creating a banner ad with red and white color, which needs to be completed by Friday.
The banner ad is created according to the brief given to the designer. The banner ad is then emailed to the marketer by Friday evening. The marketer sends a feedback with just two pointers:
The banner size was supposed to be 300×100 and not 300x 250
The deadline was Friday morning and not evening.
To cut the story short – the marketer fell behind his deadline and subsequently there was no visual content that was published on Saturday.
The above is a clear case of how both of the marketers and the designer were on the opposite side of the communication spectrum. Instead of forwarding, copying and replying to so many unnecessary emails, how can we get everybody on the same page, so you can get things done and not lag behind deadlines.
Using something very simple such as shared labels will help them strengthen their internal communication by letting them collaborate on the same task without having to take the pain of forwarding unnecessary emails. Secondly, it will help in managing tasks by letting you know about the status, instantly.
This was just one of the many examples of how internal communication can affect the continuity of your thematic style.
Here is an example of how Buzzsumo uses its mascot, a sumo wrestler, as a common theme across its blog articles. This has helped Buzzsumo carve a distinct brand identity in an otherwise cluttered market.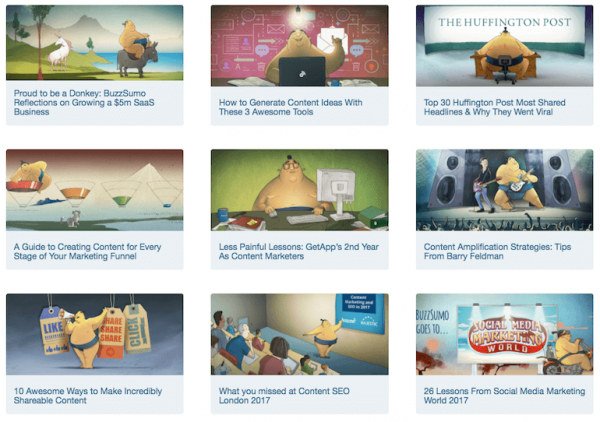 Another example is to stay true to your brand and have a consistent identity, even if we talk about twitter profile, Instagram photos or email signature.
For example, with Wisestamp you can design an amazing outlook email signature in less than 2 minutes. You can choose from a collection of signature templates, customize and include IM & social profiles, share your blog posts automatically, news and more.
2. Choosing just about any marketing platform
No matter how romantic, the idea of satisfying your creative satisfaction might sound – visual content marketing is still very much a business agenda. Not able to target your audience, that will generate genuine conversions, beats the entire purpose of creating visual content in the first place.
Targeting visual content on the wrong platform – kills the effectiveness of visual content. I wish there was a smarter reason on why marketers tend to do that, but it's actually a pretty silly one.
Most visual content marketers do not properly assess the relevance of different platform and the kind of audience that interacts with these platforms. It is either based out of bias opinion or suitability of the highest paid person(s).
Here a few key notes on how each platform serves a different purpose:
• Twitter – Content with 'humour' will be tweeted more.
• Instagram – Video content which is less than a minute would be most suitable for this platform.
• LinkedIn – If your content is aimed at working professionals, this could be the ideal platform. However refrain from it, if your content deals with sensitive subjects, it might not be well received.
• –– If your visual content deals with niche products which require more education than advertising like the – stem cell, in that case, Facebook would not be much use to you.
To target the right platform for the right visual content – data. Deploy your visual content based on hard real-time data. Collect data across multiple metrics to determine who your target audience is and how they interact with each platform. Classify them into different categories called as user persona.
3. Stuffing 'em all
Visual content requires more tactics than one might think. It's usually due to the absence of proper tactical ideas, that marketers find themselves smitten by the fantasy of – 'the more, the better'.
Adding too many elements in your visual content doesn't just make it worthless, it's a far-fetched idea to think that more visuals attributes will help in increasing the customer engagement – in fact, it does the opposite.
Imagine, it's a Monday morning – you are already going through your regular Monday blues and then you get an email notification, you open the email and see this: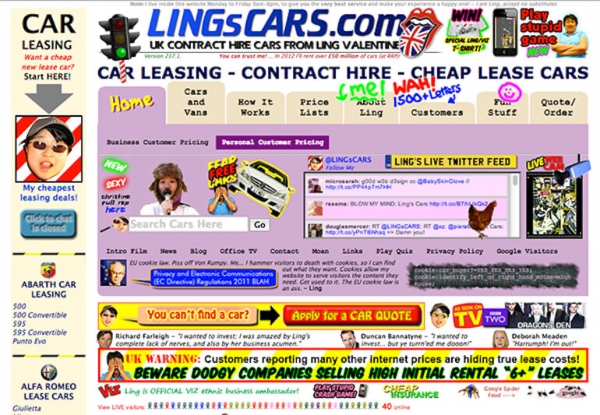 This is definitely not going to help you ease the pain of Monday!
A better way to go about is – while at the stage of visualizing your content, highlight one element in your entire visual content piece that should aim at taking the instant focus of the reader's attention.
In the visual content marketing world, the strongest visual element is called the hook. The hook needs to be carefully planned. It plays a vital role for content pieces which require a large amount of text.
Here's a great example of how you could design an effective hook.


4. Dude, where's my CTA?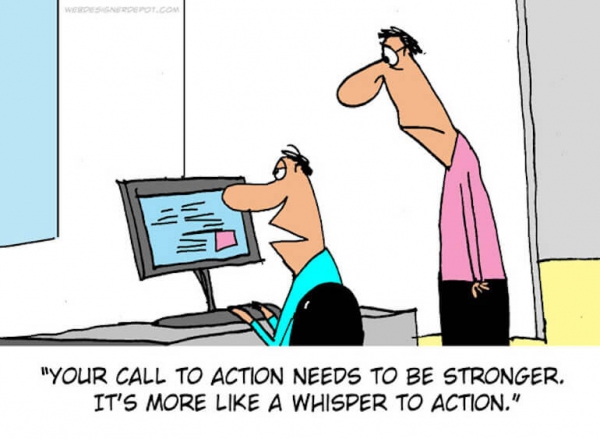 The ultimate objective of your visual content is to make users click the CTA button – that's the end goal. Marketers tend to forget that CTAs are a direct method of measuring the success of one's visual content marketing strategy. At the same time, they provide a clear instruction of what you expect users to do after going through your content piece.
This might either be a huge designer error a marketing error or probably both. The complexity and the time required to visualize and conceptualize CTAs are of great importance – a lack of dedication to providing that amount of time or sincerity can lead to disastrous results.
To efficiently create an actionable CTA, Instead of, designing the visual first and then trying to infuse the CTA to complement the visual elements, try to first come up with the CTA and then design the visual elements that highlight the CTA.
Here's how you should be doing :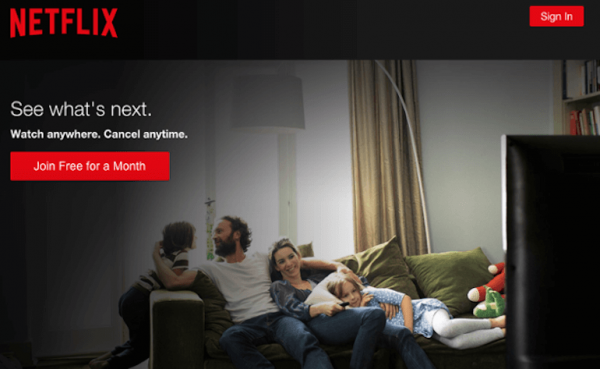 Here's how probably you should NOT be doing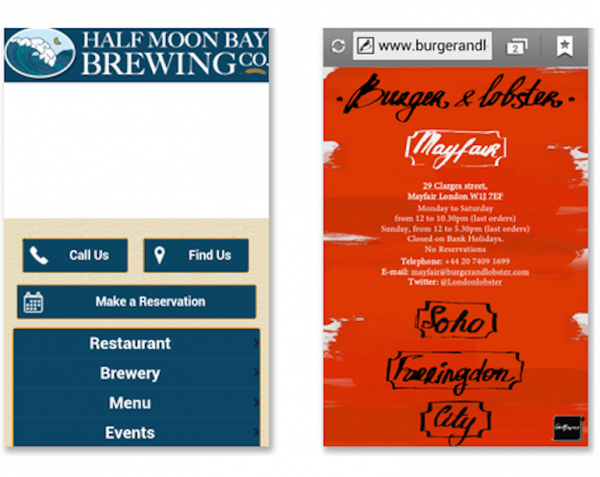 5. Getting your banner ads right (so you think!)
Banner ads constitute an important part of visual content marketing, if not the most. Banner advertising has been right there from the early days of visual content when it was still in its adolescence. And just like visual content, banner ads have also evolved.
Sadly, it seems many visual content marketers are a step- behind evolution. This is one of the reasons why banner blindness has become so predominant in the internet world. It is almost ironic that with a staggering 7% CAGR for banner advertising overall, banner blindness is still a reality.
Most marketers are still making bad decisions when it comes to reaping the full potential from their banner ads. Here are a few banner ad mistakes that you might be making without even knowing:
• Awesome design, weak copy – Just because it's visual doesn't mean you ignore the relevance of the text. Users might initially get attracted to the visuals but it's your copy which is going to engage them further on, even generate possible conversions.
• Poor quality images – In a world of high definition, you cannot afford to have images from the 80's. Use good quality images to keep your banner ads engaging.
• NOT mobile -friendly – Optimize your banner ads for mobile. With mobile penetration increasing rapidly, it makes sense to have your banner ad look engaging and relevant to user needs. (Learn more about how to design effective banner ads)
Conclusion
Visual content needs to be imbibed through the lens of storytelling. This means each piece of content needs to be visualized in the context of a bigger picture.
The success mantra of visual content marketing is that both marketers and designers need to complement each other. Every aspect of internal communication and visual tools need to be taken care of.
There is no right or wrong. Visual content is a long term commitment with even a longer duration till you see results. To keep your visual content fresh and relevant – make sure you are constantly testing it. Catchphrases to CTAs – hashtags to HD images – make sure you are regularly tweaking them, this way you are able to nurture and develop your visual content marketing for years to come.
Contributor: Niraj Ranjan, co-founder/CEO, Hiver