10
minutes read
Knowing the fundamentals of classic typography is a must-have skill for any graphic designer.
The only issue is that there are a ton of modern fonts out there so it may be overwhelming to choose one for a new project, whether it's a website, logo, or online advertising campaign.
To give you some inspiration, I went ahead and asked our graphic designers for help.
I simply couldn't write an article about classic typography without their input.
So I went ahead and asked our talented graphic designers about their favorite fonts.
A huge thank you, once again, for everyone who took time out of their day to help me out with this article.
Here are the fonts they picked.
1. Brandon Grotesque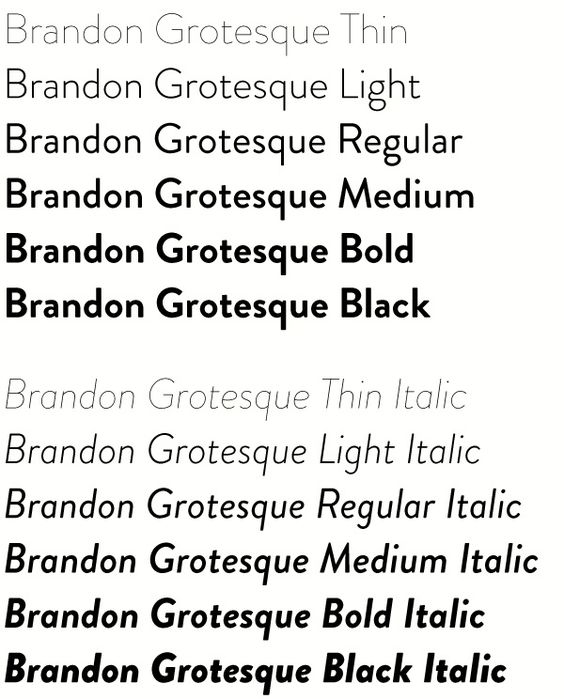 Picked by Naomi Veres:
Elegant, functional, and with an element of warmth due to its slightly rounded corners, Brandon Grotesque is the most versatile font in my personal font library. With a diverse range of weights, Brandon is that one font that looks good spaced out in a thin weight and bolded in all caps. It works well in a diverse range of contexts, such as headlines and body texts, but its greatest strength lies in evoking warmth and friendliness despite its geometric style. It's a font family that extends itself in creating structure and balance in a refined way.
Brandon Grotesque is a classic sans serif font. It was designed by Hannes von Döhren, who is the owner of HvD Fonts, a type design studio.
This typeface was greatly influenced by the geometric fonts that were quite popular in the 20s and 30s. It's available in six weights (thin, light, regular, medium, bold, and black) and also matching italics.
Hannes von Döhren managed to create a geometric-inspired typeface that has a soft and warm feel to it.
In 2011, Brandon Grotesque even received the Certificate of Excellence from the Type Directors Club, NY. Classic sans serif fonts will never die.
2. Baskerville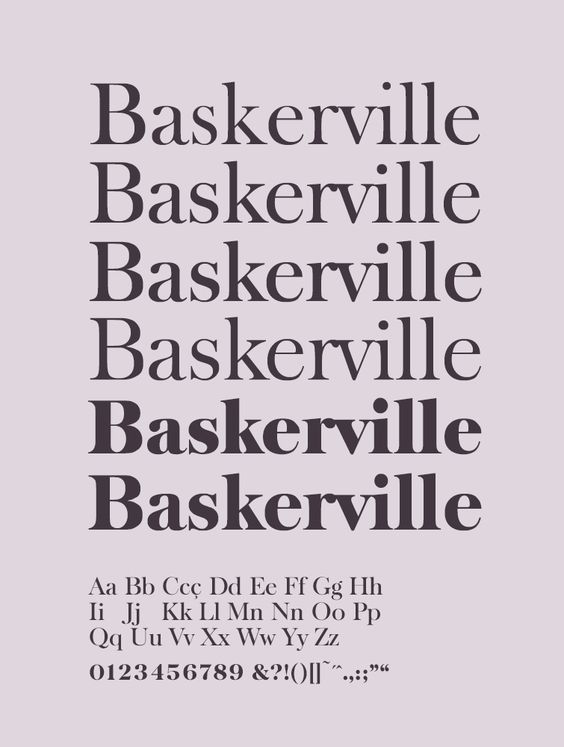 Picked by Laura Balla:
Baskerville is the transitional font that I always go back to because it's easy to read, sharp, and appealing, which makes it an excellent typeface. Also, the contrast between thick and thin strokes in the letters results in elegant forms throughout the entire font family. The font style is somewhere between classic and modern due to the fact that the font was designed in 1757, but nowadays, it's one of the most popular fonts. It doesn't just elicit trustworthiness but also is stylish enough to give any design an element of elegance without overdoing it. It can be used for body text, but you will be amazed by what you can do with it in purely typographic art compositions.
Baskerville is a classic serif font designed by John Baskerville, back in the 1750s.
Baskerville (the man) started his career by teaching calligraphy and carving gravestones. At that time, the books that were printed in England had a low standard of quality, and the typefaces that were being used had a conservative style.
Because of this, he wanted to create books and print them using a higher-quality method.
This font has a few interesting features:
For the letter E, the bottom arm extends further than the upper.
The letter W has no center serif.
For the lower-case g, the bottom loop is open.
Baskerville manages to accentuate the contrast between thick and thin strokes, which makes this font an excellent option for the modern days. Classic serif fonts never dissapoint.
3. Proxima Nova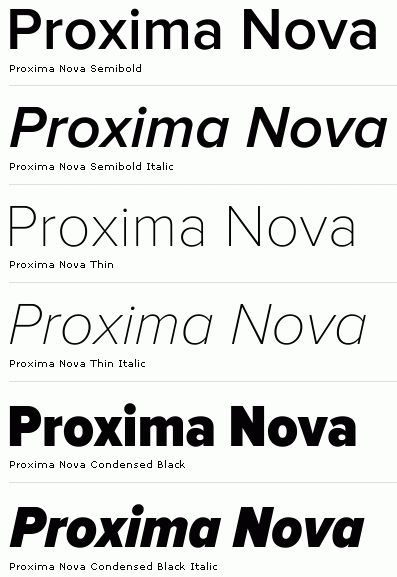 Picked by Robert Andor:
I call it "my favorite" because of its versatility. It became one of the most used fonts among designers. This font comes with seven weights (thin, light, regular, semibold, bold, extra bold, and black – each one with an italic version too). I use it as a safe font (especially whenever I don't know what to use), and it matches most of my combinations. I've been using this font in Menus, Headlines, anything that you could think of (even logos) and it does great!
Proxima Nova was created by Mark Simonson in 2005, who is a graphic designer, illustrator, and founder of a studio specialized in lettering and typography.
Simonson has been working on this typeface in various forms since 1981. Proxima Nova is actually a complete remodel of Proxima Sans, that was released in 1994, which is now discontinued.
There are 48 fonts in this family and three widths: Proxima Nova, Proxima Nova Condensed, and Proxima Nova Extra Condensed.
Is has eight weights: Thin, Light, Regular, Medium, Semibold, Bold, Extrabold, and Black. There are also matching italics for all the widths and weights.
Proxima Nova is a hybrid between Futura and Akzidenz Grotesk, which combines a modern style with a geometric aspect.
Even though it's quite a popular font on the web, it's a great option that can be used for various purposes, like Robert said.
4. Rockwell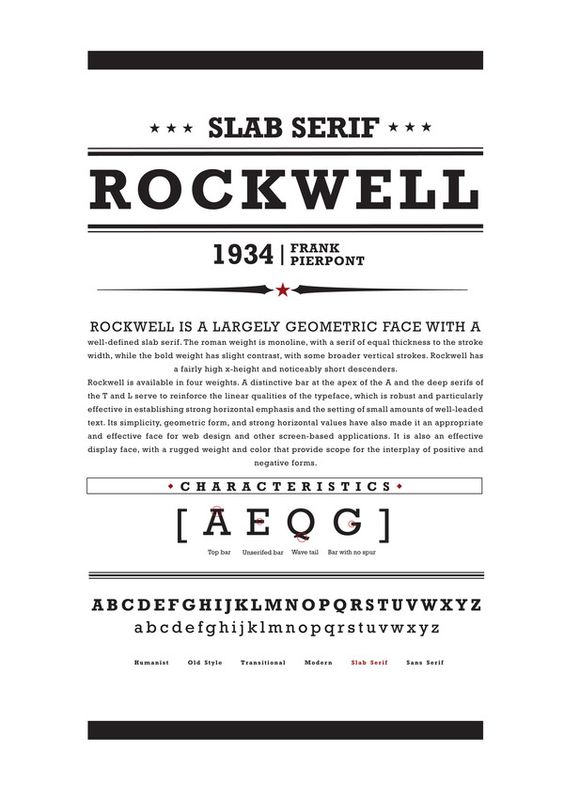 Picked by Gyöngyi Balogh:
There are many beautiful classic fonts to choose from, but my current favorite is Rockwell. It was created for headlines, it was designed by the Monotype Corporation and was released in 1934. It's a geometric slab-serif font with a monoline construction and some extra strokes that give this font a bit of a rough, but elegant look. This font is more of a display font. It is not recommended to use it as body text, but it goes well with most simple and thin fonts. I use this font whenever I need an interesting, elegant, and bold font for headlines, illustrations, or designs.
Rockwell is a geometric slab serif font that was created in 1934 by Frank Hinman Pierpont.
The robust design makes it perfect for display work, or headlines, but it will also look great on print or for display advertising campaigns.
What sets this typeface apart is the uppercase A has a serif at the apex, and the lowercase a has two storeys.
The Guinness World Records even used Rockwell in some of its early-1990s editions.
5. Regattia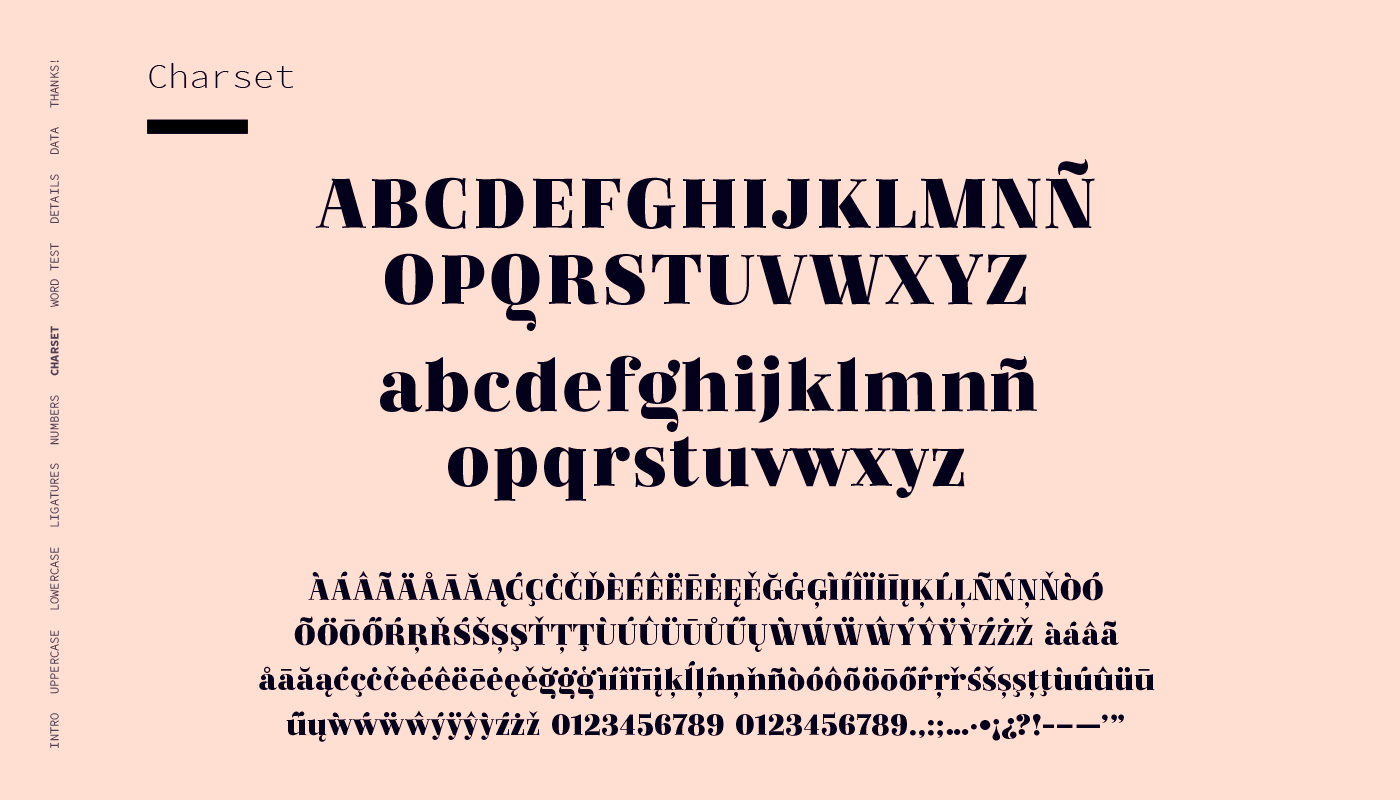 Picked by Melinda Angi:
I love using Regattia because its details are beautiful, and it supports multiple languages, which makes it highly functional. Elegant, sophisticated, and friendly at the same time, it works best for big headlines in magazines, websites, and posters. Because it's so eye-catching, it works elegantly at large sizes. It's also great for packaging and branding. My favorite letter in the font family is the lowercase g hands-down—it's simply beautiful.
Regattia was designed by Bruno Sáez López, who is a UX designer and front-end developer. This is a contemporary fat Didone font, ideal to be used for headlines, posters, logos, packaging, or branding.
It's available in two styles: bold and stencil. What's more, is that it's a free classic font.
6. Keiss Big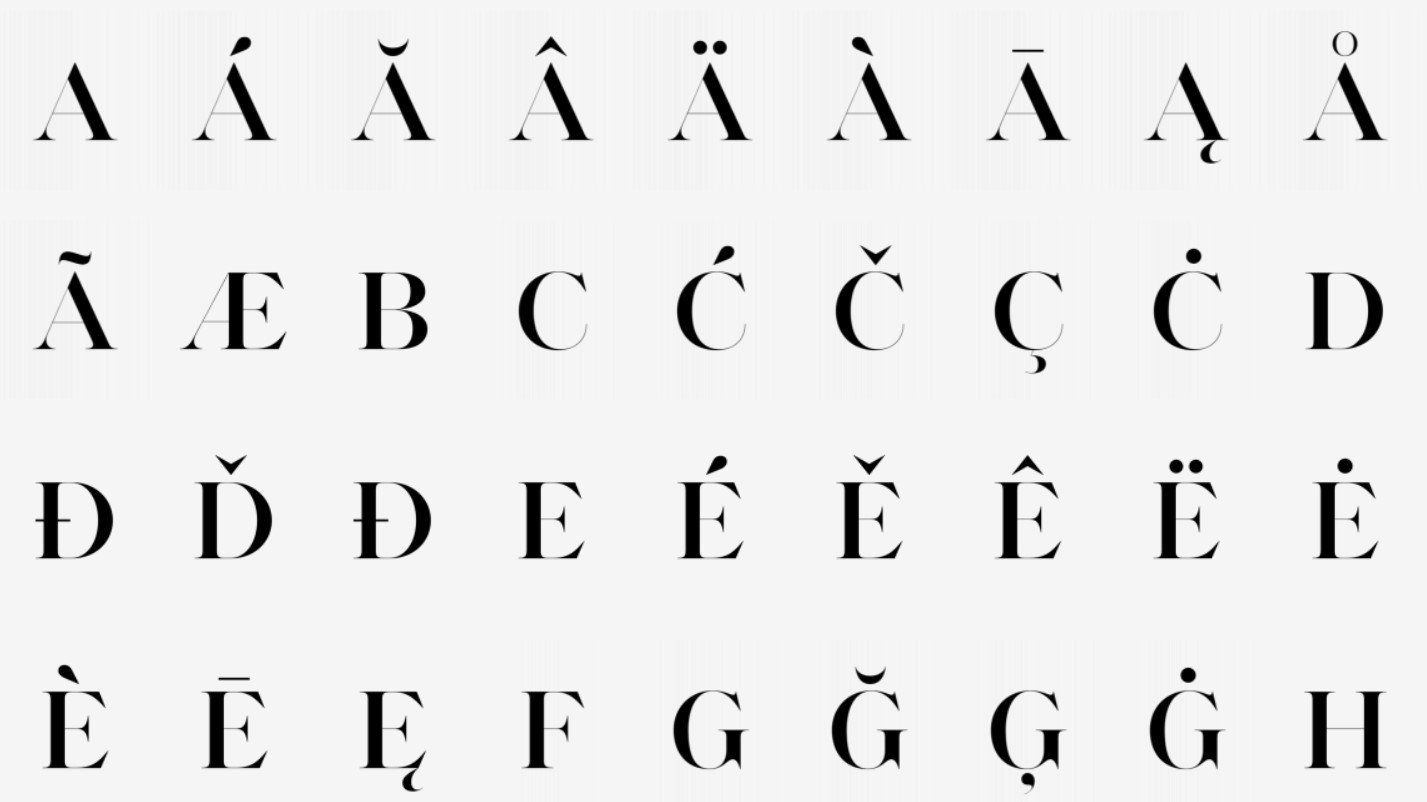 Picked by Andrea Dankai:
Keiss Big is part of the Keiss font family that is a very popular nineteenth-century Scotch Roman typeface. Keiss is a versatile type of family that can be used in many different themes of design projects (Menus, Headlines, Posters, Logos). It contains beautiful ligatures and stylistic alternates that give your typography a unique design. The bending and the beautiful curving of the letters are what signifies for me the classical style of this font. This is the reason why it is the best choice for editorials and other commercial uses.
Keiss Big was designed by Dino dos Santos in 2017. He wanted to keep it classic while adding new elements that help differentiate this font from the typeface that inspired him to create it.
There are three very distinct optical sizes (big, title, and text) that make this font suitable for contemporary newspapers.
In total, there are 50 styles that can be used. The Title and Big styles range from Thin to Heavy, and each comes with matching italics.
The Text style goes from Thin to ExtraBold and is ideal for text usage because it has narrow proportions.
7. Futura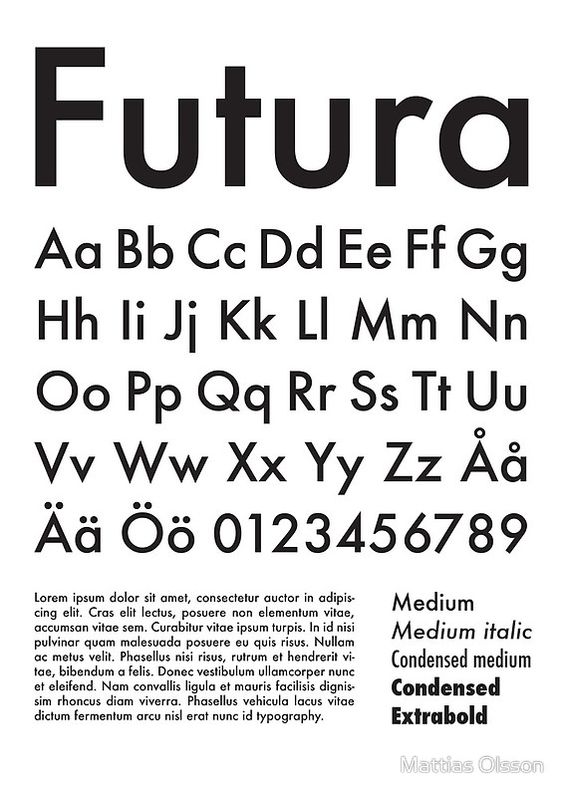 Picked by Gery Meleg:
Call it commercial, mainstream or an old school classic, Futura, first released in 1927, is an evergreen, classic typeface by Linotype, which not only survived two world wars and almost a century of typography history, but it is still one of the most used and most recognized typefaces of the modern world. A true classic font, with a modern vibe, a go-to font in the world of fashion, and so much more. The combination of all those round, geometric curves, as well as those edgy & sharp cuts, will guarantee its next 100 years in the future of design, as well as a generous place in the Hall of Fame of Iconic typefaces.
Futura is definitely one of those classic font styles. It's a geometric sans-serif typeface and was designed in 1927 by Paul Renner.
Over the years, this font has been used by huge brands, such as Alfa Romeo, Domino's Pizza, or Gillette.
The design of Futura revolves around geometric shapes, especially circles, which makes it an efficient and modern font, even in this day and age.
Because of its versatility, it can be successfully used for both print and digital materials, as well as for headlines and body.
IKEA actually used this font in its logo up until 2010.
The strokes are smooth, even, and have a low contrast, which makes Futura a timeless font.
8. Bodoni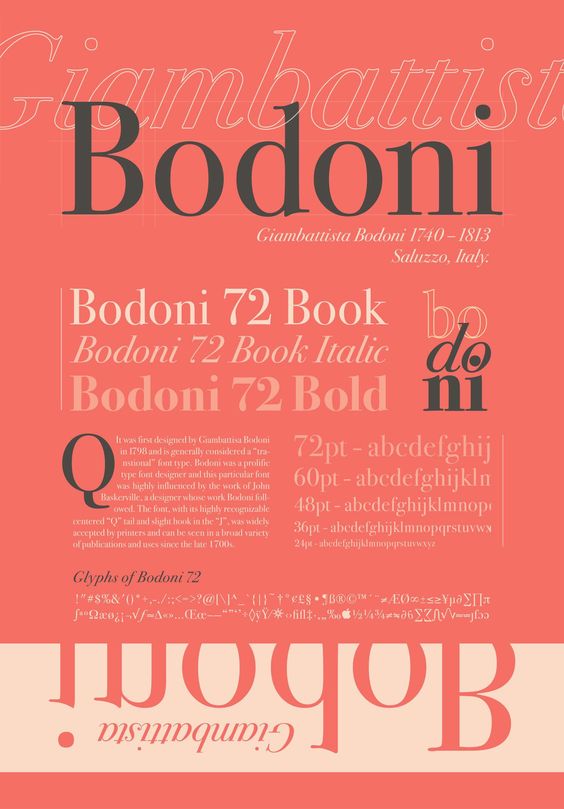 Picked by Réka Szőke-Kónya:
I love serif fonts. One of my favorites is Bodoni. Its beauty comes from the contrast between thick and fine lines, which form a rounded aspect. Besides this, I can say that it is attractive and elegant. This serif typeface carries the taste of Italian elegance and the spirit of excellence. It works well in headlines and also in many kinds of design projects.
Bodoni is actually a serif typeface series designed by Giambattista Bodoni in 1798. It has been revived quite a lot ever since.
This is a modern serif typeface, which was greatly influenced by the font Baskerville, which I mentioned earlier.
The unbracketed serifs, the contrast between thick and thin strokes, and overall geometric style make Bodoni an elegant typeface that can be used for print materials, or in body text.
9. Montserrat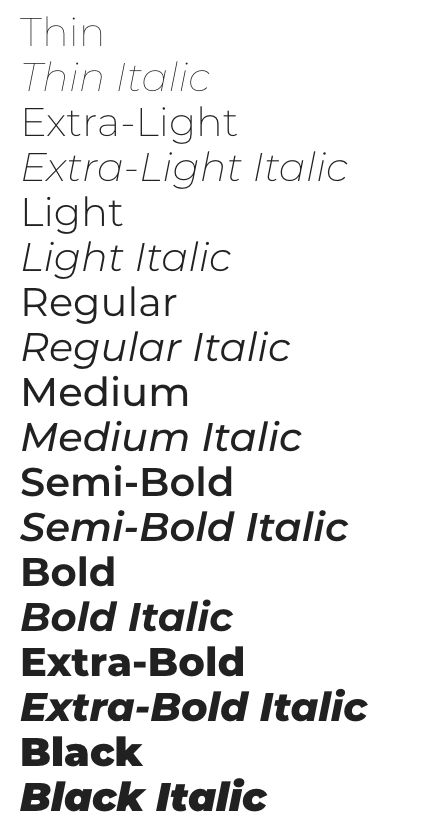 Picked by Corneliu Copacean:
Montserrat is a very well done typeface that I often use. I love that it works well on print and also on the web, especially the bold one, which, in my opinion, is superb when used in a heading or title. The font was created by Julieta Ulanovsky, who was inspired by the signage found in a historical neighborhood in Buenos Aires, from which the typeface gets its name from. Not many people know that this typeface was crowdfunded on Kickstarter site in 2011, and now can be found as a free web font in Google Fonts.
Montserrat is a font designed by Julieta Ulanovsky, a graphic designer from Buenos Aires, Argentina.
When creating this typeface, she was inspired by the old posters and signs in the Montserrat neighborhood of Buenos Aires.
Due to urban development, places will never return to its original form, and so Julieta Ulanovksy wanted to keep alive certain special and unique designs. The letters that influenced the font creation are what make the city so beautiful.
In the summer of 2017, the typeface was redrawn by Jacques Le Bailly. Also, the set of weights have been adjusted to make the Normal lighter and better for use in longer texts.
10. Lato

Picked by Razvan Bei:
One of my favorite fonts is Lato. I love it because it has a wide range of applications, wherever it is for printing or web. Lato is a sans serif typeface that was created in 2010 by designer Łukasz Dziedzic. It has multiple styles (thin, light, regular, bold, and black) that can be used for headings and subheadings but also for body texts. The proportions and the roundness of the characters make this font very easy to read and understand. I think that this is one of those fonts that's going to pass the test of time. You can find it as a free web font on Google Fonts.
Lato means "summer" in Polish. This sanserif type­face was designed by Łukasz Dziedzic, a Warsaw-based designer.
His goal was to create a typeface that would appear somewhat "transparent" when used in body text, but, at the same time, it would show original characteristics when used in larger sizes.
Right now, the Lato typeface family sup­ports more than 100 Latin-​​based lan­guages, over 50 Cyrillic-​​based lan­guages, along with Greek and IPA pho­net­ics.
11. Poppins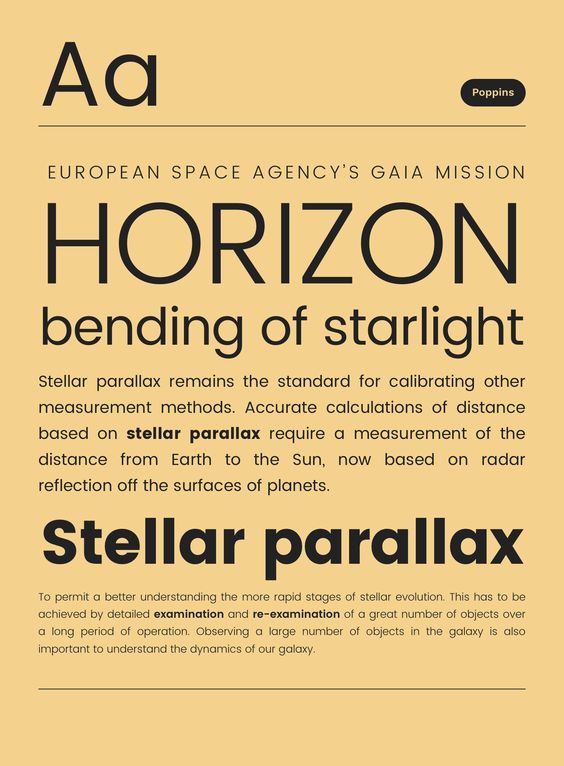 Picked by Ruben Szekrenyes:
Geometrical. Sans serif. Simple. Heading, subheading, body – it works anywhere. Many times, when I find a font I like, there may be a letter I dislike, so I won't use it, or it doesn't work on small tex, or in all caps. This one is versatile, and I can use it everywhere – and this is the beauty of this font. It's simple and quiet, but it's so awesome when you get to use it :). It has all the weights you need and supports many languages, as well. What else do you need?
Poppins is a newcomer in the Geometric sans serif typeface category published by Indian Type Foundry in 2014.
It provides support for both Latin and Devanagari languages and is available in nine weights with matching italics.
The Devanagari design is somewhat new, and it's also the first-ever Devanagari typeface that has a range of weights in this genre. Similar to the Latin, the Devanagari is based on geometry, especially circles.
Final Thoughts
As you saw, our designers managed to help me compile a list of classic font styles that are extremely varied.
Therefore, I hope you will be able to discover a new font or learn a couple of things about others that will help you with your online design.
Do you have a favorite font that you use all the time? Let me know in the comments.