9
minutes read
Some love Valentine's Day, some hate it and some go back and forth between the two depending on their relationship status.
If you're an advertiser, this day is simply a great opportunity to sell products or services.
And you need to step up your advertising game because last year Valentine's Day sales took a hit due to the pandemic.
According to the National Retail Federation, spending dropped from 27.4 billion dollars in 2020 to 21.8 billion dollars in 2021.

Many couples decided to spend the holiday of love at home instead of going out to a fancy restaurant and also gave up gifts such as flowers, jewelry, candy or alcohol.
So the stakes are higher this year.
But you can take some of the pressure off by going through these 17 memorable examples of video, display and social media Valentine's Day ads from recent years that might inspire you.
1. Movistar: Time for a Reality Check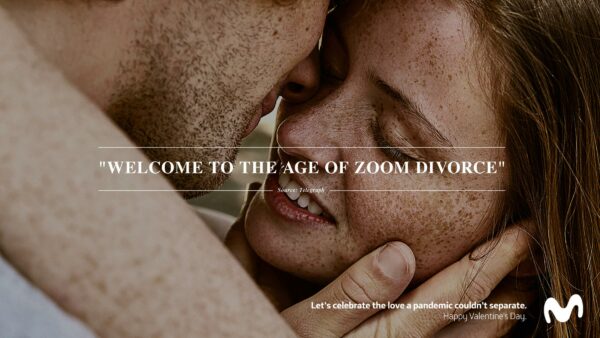 The pandemic caused a lot of changes around the world, including an increase in divorce rates. Couples who were simply hanging by a thread were forced to spend much more time together, which ultimately led to their demise.
Many people broke up during these difficult times, but this 2021 Movistar ad encourages us to see the glass as half full and celebrate those couples who managed to stay together despite all adversities.
The juxtaposition of the happy couple photo with the "Welcome to the age of Zoom divorce" text (an actual article title from The Telegraph) has a great impact on the viewer and prepares the ground for the brand's main message delivered by the caption "Let's celebrate the love a pandemic couldn't separate."
2. Liar Wine: An Unusual Gift Idea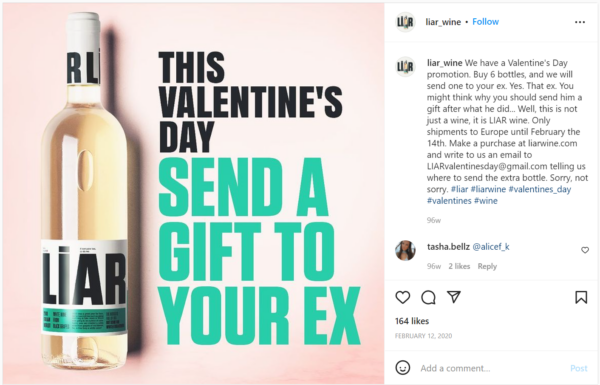 We've all been there at some point in our lives. And by there, I mean in a place where we wanted to get back at an ex in one way or another. It's shameful, true, but also kind of funny when you look back and realize how insignificant it is in the present moment.
Liar Wine saw an opportunity to advertise their product to those who find themselves in this mindset on Valentine's Day. Whether they have been lied to or cheated on by their significant other, they can send a bottle of Liar wine to an ex for free when purchasing six bottles of wine for themselves.
Unusual but totally suited for their brand's name, this is definitely one of the most creative Valentine's day promotion ideas for social media.
3. McDonald's: Against All Odds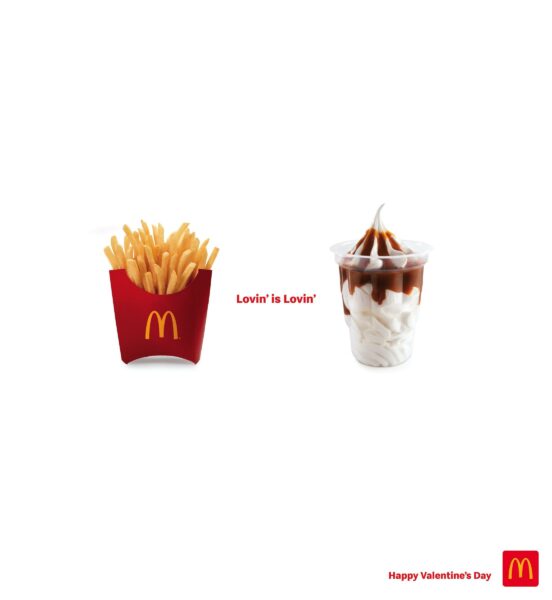 Sometimes simplicity goes a long way and this McDonald's ad proves it like no other.
From a design point of view, the ad is quite plain. The brand simply put two of their most popular products on a white background and added two short sentences, one in between the product images and the other next to their well-known logo.
The idea to pair these products didn't come out of nowhere. Quite the opposite, McDonald's took inspiration from their customers.
While some may frown upon seeing the unlikely pairing, others love the fries and ice cream combo and will feel the urge to drive to the closest McDonald's restaurant to have it.
However, the clever copy in the context of Valentine's Day and alongside this odd couple of products is what makes this ad great. It suggests that love surpasses all differences regardless of their nature.
4. OpenTable: FOMO Is Real
Many of us have experienced the desperation of not being able to book a table for a Valentine's Day dinner date. Hopelessly haggling with one restaurant phone operator after another and switching between denial, anger, and bargaining, with little hopes to achieve acceptance.
OpenTable's ad taps into this justified fear of missing out and opens with a jaw-dropping stat about dinner reservations for Valentine's Day going up 500%.
Once they've established the problem, they present the solution: booking on OpenTable, an online restaurant reservation service that will help you book quickly and avoid all the drama.
Short and to the point, this ad does a great job at presenting the benefit of the service in a playful and amusing way.
5. Teleflora: Plushie Gifts Are a No-No
Teleflora's 15-second ad tells it as it is: offering plushies for Valentine's Day is childish.
The use of storytelling in this ad is quite amazing. It opens to a teddy bear in an office, talking to a woman sitting down in front of a computer.
As the story unfolds we find out the teddy bear was gifted to this woman by a man named Brian, and she is deeply unsatisfied with it, having told the man his gift is a cuddly symbol of his inability to be in a serious relationship.
The hilarious conclusion of the video ad is only natural. Flowers say it best.
6. Panera: The Movie That Could Have Been
Panera's ad is created as a movie trailer for a fictitious romantic comedy set to premiere on Valentine's Day.
The two main characters played by Boy Meets World's Ben Savage and Danielle Fishel follow the typical rom-com narrative. They have a meet-cute while picking up their orders at Panera and fall in love over pepperoni pizza, then drama ensues, and they separate. Still, the guy eventually wins the girl back with a grand love gesture inspired by Love Actually.
Panera's fictitious movie won't win any Academy Awards, but the ad surely deserved a spot in our article for its original concept and funny execution.
7. Snickers: A Classic Movie Remake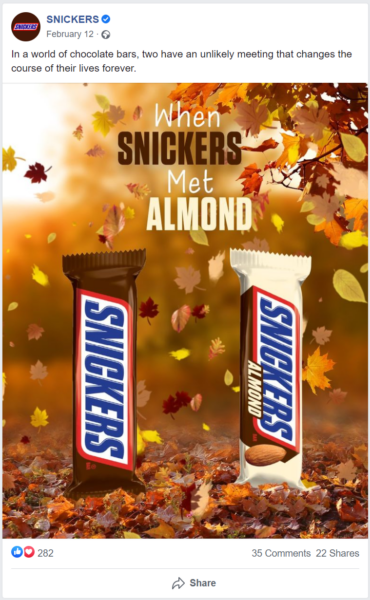 I must admit I'm not a big fan of romantic movies, but I love When Harry Met Sally and Snickers did a great job recreating the movie's poster for Valentine's Day, using two of their famous chocolate bars as the two main characters.
They changed the title to When Snickers Met Almond and added a short synopsis for their version of the movie to complete the visual.
The best thing about this Valentine's Day advertising idea is that it is enjoyable even for Facebook users who haven't watched When Harry Met Sally.

8. Jared: Radiant Display of Elegance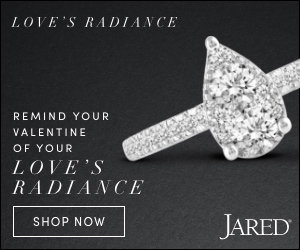 Jewelry is one of the most common gifts for Valentine's Day and jewelry companies rarely miss the opportunity to advertise for the occasion.
This Jared's Valentine's Day jewelry ad is simple, elegant, and very much on brand. The dark, monochrome background allows the shining ring to be the focal point of the ad, while the copy further emphasizes the idea of radiance, which is common to both jewelry and love.
However, the CTA button fits in with the other design elements a bit too well, making it quite difficult to notice.
9. Bouygues Telecom: Connecting to Your Partner
Ah, an ad that addresses the oh-so-common problem of our era⁠—spending too much time on our smartphones.
Bouygues Telecom takes advantage of Valentine's Day to introduce a wonder product: the mobile phone charger with a 3.2 cm cable (approximately 1.2 inches) that prevents couples from scrolling on their phones while they are charging.
We meet a couple that used to be madly in love, but their relationship had grown cold over time, and while they are together in bed, they spend time apart holding their phones.
But thanks to Bouygues Telecom's solution they rediscover each other and rekindle their relationship in this lighthearted Valentine's Day creative ad.
10. Cloudza: Feelings of Security
Cloud security is not exactly the most romantic of services, but that doesn't mean you can't advertise for it on Valentine's Day. This Creatopy display ad template proves that all you need to do is find a good angle that allows you to link the brand and service to the holiday of love.
In this case, it's the ad copy that does the trick. The play on the idiom "head in the clouds" is a perfect fit for cloud security services and makes for a clever Valentine's Day promotion idea. The design alone doesn't hint at love at all but complements the copy in a subtle way.
11. Victoria's Secret: Less Is More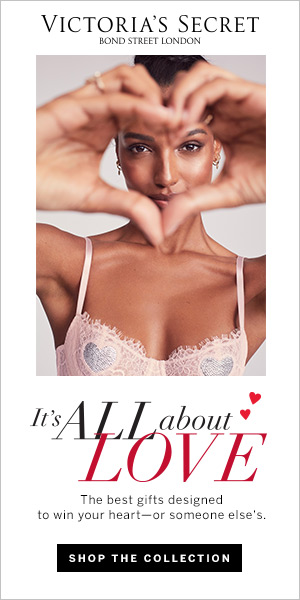 Instead of choosing the obvious sexy path, Victoria's Secret, one of the most popular American lingerie retailers, chose a cute, subdued approach for this Valentine's Day display ad.
The main focus of the ad is the photograph of a model wearing a Victoria's Secret pale pink bra. Hearts are a subtle recurring element throughout the design and we can spot them in the photograph, as well as embellishing the typography.
The photo's color palette is made up of warm colors and pastels, which are nicely complemented by the red color and black and white shades of the background, text, and CTA button.
12. Dunkin': Bold, Colorful, Love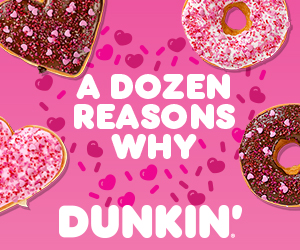 Unlike Victoria's Secret, Dunkin' is not as subtle in letting people know this is a Valentine's Day ad. But this boldness is characteristic of their brand.
The ad is overflowing with heart design elements, including the heart-shaped doughnuts and sprinkles on top. Pink is the predominant color, and they use different shades of it for the bold design.
Apart from suggesting you should definitely get Dunkin' doughnuts for Valentine's, the copy "A dozen reasons why" seems to also promote their dozen doughnut boxes.
13. Cadbury: Sweet Love Gestures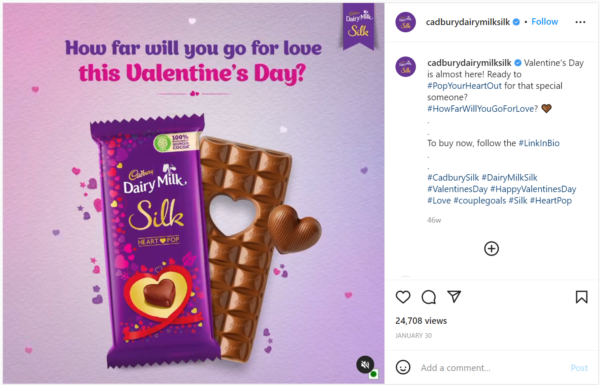 You know those ads where the product steals the show? Such is the case of Cadbury's Silk Valentine's Day Instagram post.
Every year for the sake of Valentine's Day marketing, the brand releases a limited-edition Silk chocolate design that fits the "pop your heart out" idiom. Lovers can share a Cadbury chocolate tablet in the sweetest way possible by removing a heart-shaped cutout and gifting it to the other person.
The ad's paper-like background and subtle design elements do not distract from the product at all, and the shades of purple and pink perfectly match the brand's colors. The copy encourages lovers to pair the Cadbury chocolate with some grand love gesture to show a special someone how much they care.
14. Tiffany & Co: The Scent of Love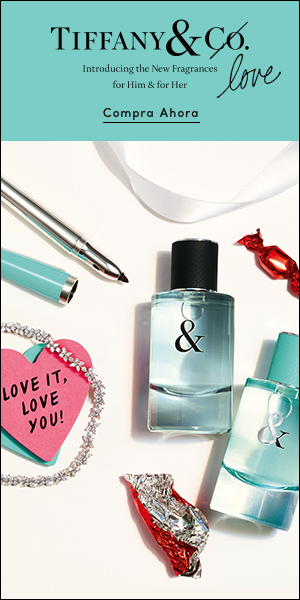 Despite Tiffany's being best known for their jewelry, this is not a Valentine's Day jewelry ad, but one that promotes fragrances for him and for her.
They designed a classy display ad for people who dislike the in-your-face Valentine's Day design elements and colors and steered clear of cliches by using a single heart-shaped element in the form of a sticky notes pad which looks natural in the ad's flat lay photograph.
The two main colors are teal and white, a refreshing combination in a sea of red and pink Valentine's Day ads. The ad copy is pretty straightforward, but they got creative with the brand name and turned Tiffany's and Co. into Tiffany's and love.
15. Flavor Bakery: A Piece of Cake
Here's a Valentine's Day display ad that Marie Antoinette would definitely click on, but so would couples with a sweet tooth that want to celebrate their love with dessert.
Few can say no to enticing food imagery, which is why this perfect-looking cake is the focal point of the ad. And if the picture isn't convincing enough, the ad copy is a reminder that a special occasion like Valentine's Day is worth celebrating with cake.
Sweet and simple, this Valentine's Day ad template is a great starting point.
16. Pizza Hut: Love on a Platter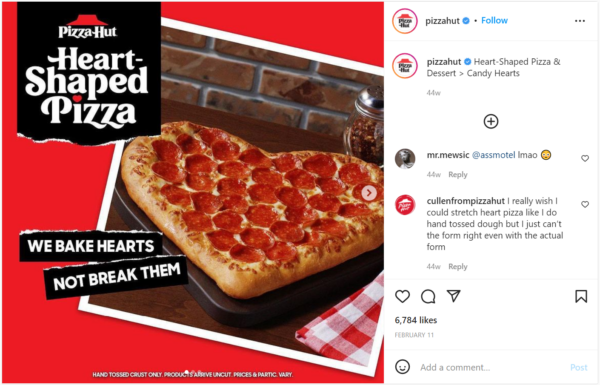 In 2021 Pizza Hut created a heart-shaped pizza for the pizza lovers out there who want to have a romantic meal on Valentine's Day and took to Instagram to promote their offer which ran for a limited time.
The visuals resemble a scrapbook, with the product photos placed on a red background and black paper cutouts with text highlighting them. Apart from the shape of the product, it's the cute wordplay in the copy "We bake hearts, not break them" that makes the ad stand out.
17. Soap & Glory: Love Your Skin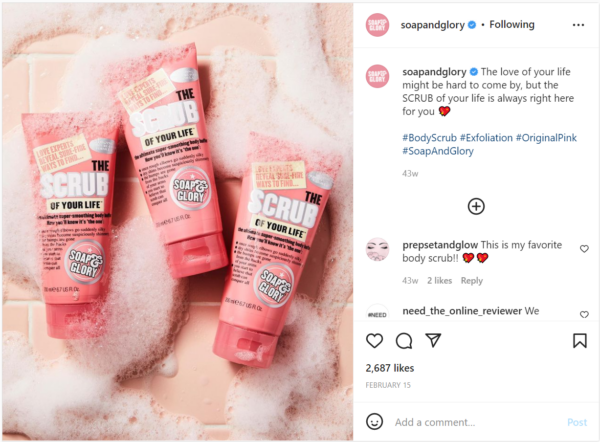 Soap & Glory is famous for its vintage-inspired product packaging designs and quirky, often punny product names.
For this Instagram Valentine's ad, they used a simple photo of their body scrubs in beautiful pastel shades that denote feelings of optimism.
The caption for the post basically wrote itself because the product's name "The Scrub of Your Life" is a play on the well-known idiom "the love of your life". But that doesn't make it less creative.
Final Thoughts
Valentine's Day is an opportunity for your brand to stand out online or offline through various types of ads, such as print, social media, display or even email marketing ads.
There's plenty of room for creativity in Valentine's advertising so feel free to take any approach that is in line with your brand values and might appeal to your target audience.
Steer clear from cliches, or use them to your advantage. It's all up to you.
Either way, I hope this list inspired some Valentine's day marketing ideas of your own that have the potential to drive your sales up.