12
minutes read
Are you considering boosting your audio marketing and you're looking for some podcast artwork inspiration? Welcome!
You've landed on the right page! You'll find here all you need to know to start to create your brand on any podcasting platform and even design your own artwork!
But first, let us consider the benefits of podcasts.
Is podcasting still a thing in the age of YouTube vloggers?
Yes, it is. Podcasts have a different type of usage, and it connects people more with the hosts. I will explain it.
By usage, I mean the context in which people use podcasts. We listen to podcasts when we travel from one place to another or when we go to work.
Podcast is the 21st-century commuter's best friend.
We even listen to podcasts at work, whenever there's a break in the workflow. We listen to our favorite podcast while sipping our favorite coffee. The thing with podcasts is that they do not require our full attention. We can walk, eat, drink, drive, travel, workout while listening to our favorite podcast show at the same time.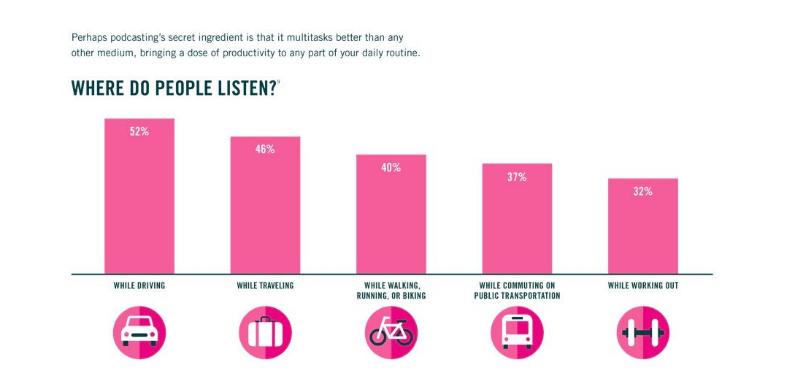 ---
Here's a sneak peek at the article:
---
Advantages of podcast content marketing as opposed to video or blogging:
People can listen to podcasts while being productive or traveling.

Podcasts are suitable for all types of devices.

People connect with the hosts of the podcasts.
---
The power of podcasts is undeniable and above of, most intimate of all. Why intimate, you may ask? Well, having someone whisper in your ears is quite intimate, I find.
Why do we listen to podcasts?
According to Entrepreneur , nearly 68 million Americans listen to a podcast on a monthly basis. That's 24 percent of the whole nation! That's a lot!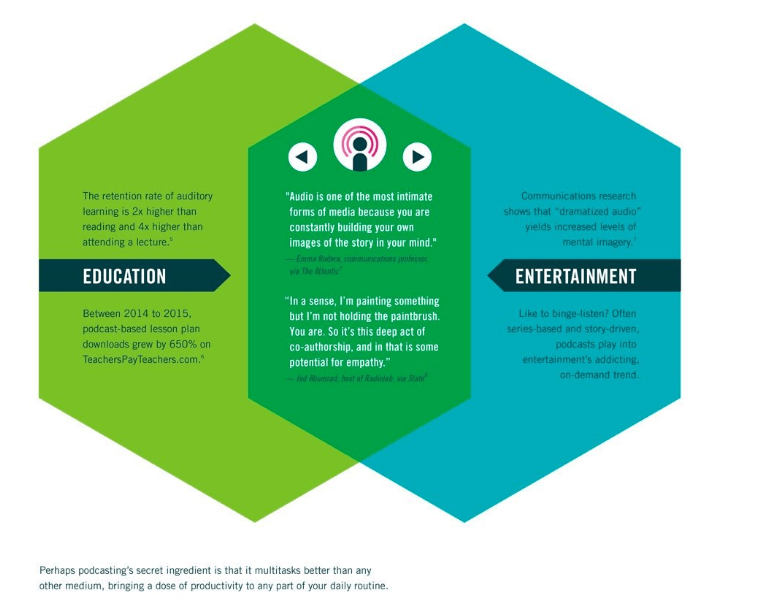 Main podcasting platforms:
Part of your strategy is choosing your podcasting platform. You can choose one and stay true to it, but you can upload your podcasts to 2 or 3 platforms. But first, you need to know what each of them offers.
1. How to design podcast artwork
Decide what your podcast channel is about
So, you feel like you have a lot to offer to the world and would like to start your own show on the internet: a podcast channel. First, decide what topics you'd like to cover and choose a category. While it may be tempting to talk about the latest movie blockbuster and next time about global warming, your podcast channel won't be coherent and thus your followers will be confused.
Therefore, it is better to decide what kind of subjects you'd like to cover and aim to fit in one category. Have a look at the categories listed below to understand what I'm talking about:
a.Business
We don't study business in school (unfortunately), so this niche is full of opportunities. If you've got some tips on starting a business, how to run a business, join this category. Learn from the titans and set up your own podcast channel.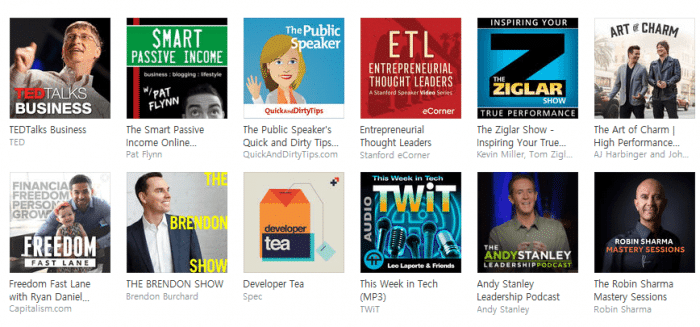 b. Education
There are many people listening to podcasts to improve their English skills, or to update their history knowledge. If you're an expert in your field, create an education podcast and make the world a smarter place.
The reason I'm walking you through all these categories is for you to understand that each niche has its own atmosphere, colors, and designs. And that you need to communicate your topic in your artwork.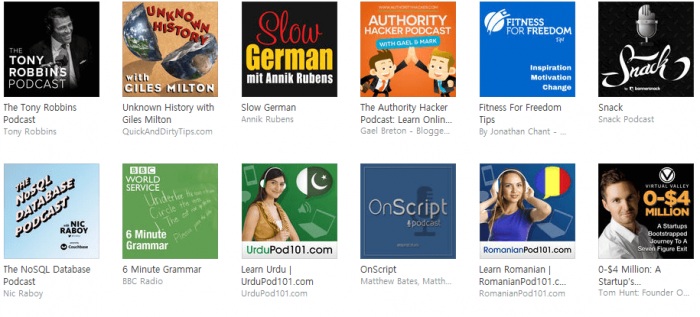 c. Comedy
Podcasting is one of the best ways for comedians to promote their sketches. You can promote yourself too, and maybe even get noticed.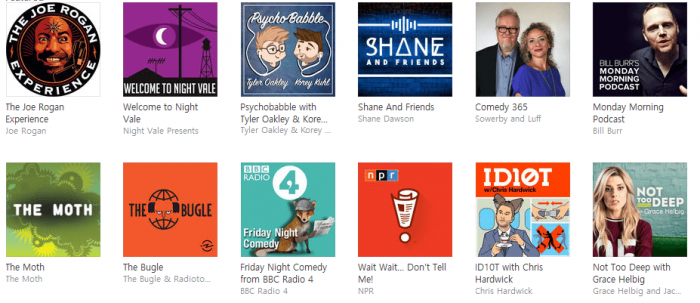 d. Sports
Sports podcasts have their share of fans, so don't be disheartened by the lack of video. Real fans will listen. Real fans will be interested.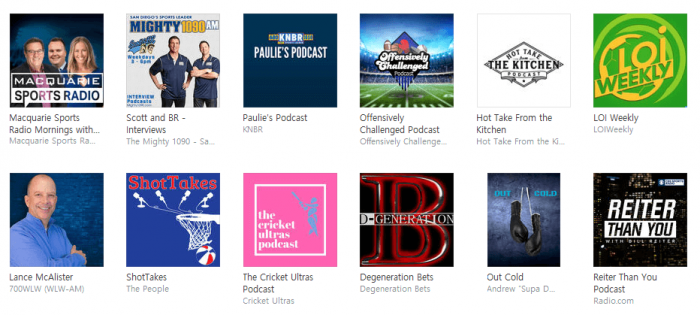 e. Kids & Family life
If you're passionate about gardening, interior design, or parenting, you can join the "Family life" category. This implies publishing podcasts on family life only, finding a suggestive name, and creating artwork that depicts family life.
There are people who just want to offer a good ol'bedtime story to children to help them fall asleep. In case you're one of these people, set up your channel having your target in mind. Find a sweet name, use cartoon characters and warm colors.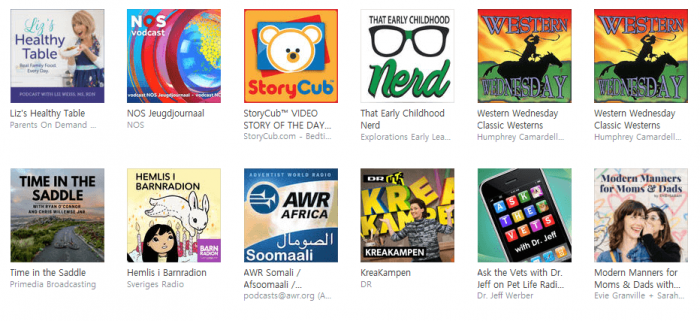 f. Science
If you're into science and revolutionary breakthroughs, you can create a Science channel. This means you will publish only science-related podcasts, find a smart name for your channel, and designing a logo that will speak to other people interested in science.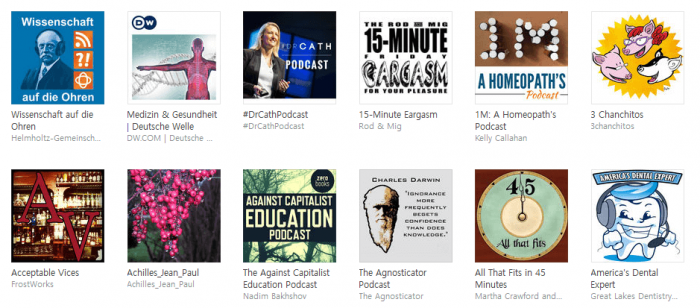 g. Health
Maybe you're a professional doctor with many years of experience and would like to share your medical advice with anyone on the internet. Or perhaps you're just a person who wants to share his journey fighting anxiety and help others find their peace and trust in life. Either way, you fall into the "Health" category.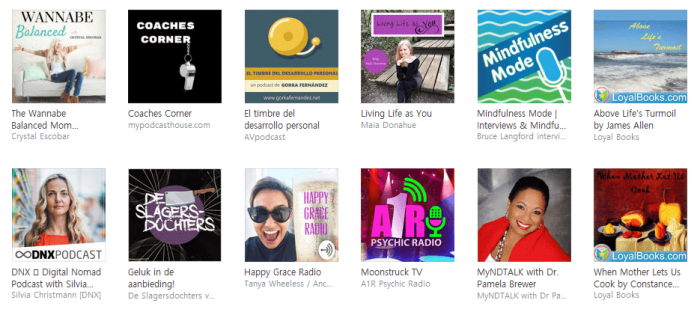 h. Spirituality/Religion
Start a spirituality/religion podcast series if you want others to learn about a particular religion or spiritual theories. We all search for answers, deep down.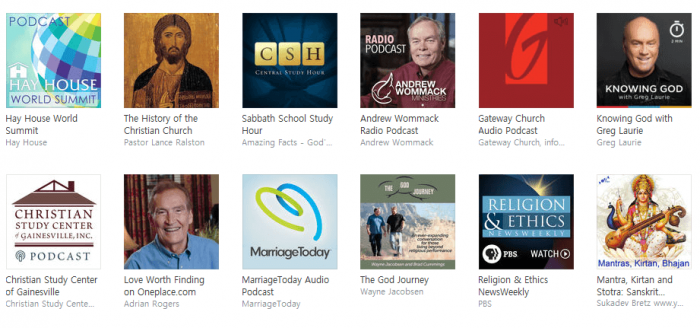 1.2. How to start making podcast artwork
Embarking on this journey implies staying open to new, learning a few new things about branding, artwork creation, and marketing. Having the gift of eloquence is a wonderful blessing, but sometimes it is not enough. There are more than 30 podcasting platforms out there, reaching international audiences. The competition is huge. You need to stand out somehow.
After you have decided what type of show you want to have and picked a niche, it's time for branding. Building a podcast show brand may seem complicated if you have no previous marketing background. That's why I have put together a list of all you need to know to create your brand and the steps you need to follow. Plus, a demo video showing you how to create a profile picture or a podcast cover photo for your podcast channel with Creatopy.
Credit: Startup
Credit: The Entrepreneurs
---
The elements of podcast branding:
The name of the show

The logo

The host(s) of the show

A unique color palette

An original and memorable slogan

Objects related to your field: drinks,

gadgets, etc.
---
1.3. Find an appealing name
Choose a name for your podcast channel that will clearly state what you're talking about. Keep it simple but creative. The name can either be about your topic (business, education, religion) or the benefits of listening to your episodes (improve your skills, chill, understand a theory).
Generally, you can follow one of these combinations:
| | |
| --- | --- |
| Your Name + what the show is about | Gary's history class |
| What the show is about + Your Name | History class with Gary |
| The benefit of the show | Live better podcast |
| The topic of the show | The Self-development Journey |
| Or use a metaphor. | Mindfulness for a crystal-clear mind |
Credit: On air with Ella
Credit: Self Improved Podcast
1.4. Podcast logo design
Now that you've chosen your category and have found a unique name for your podcast channel, it's time to create your podcast logo.
Your logo will be your trademark, that's why it's essential to take your time and come up with a creative concept. As we've seen so far, having your picture next to your name is not the ideal solution for a logo. Not in 2018. So, you have to create something unique. First, choose your color palette. Then, pick a font and write a memorable slogan.
You will use your logo for your profile picture and cover photo. It will appear everywhere on podcasting platforms, on social media, when you post an update, and on other websites linking back to you.
1.5. Define your color palette
As a rule of thumb, your podcast's color palette should be your brand's color palette. However, if you don't have a well-shaped brand yet, you can start choosing your color palette now.
There are a few things you should know. There are many ways you can combine colors, but there are 3 main principles that have lived through the ages and they're perfectly suitable for podcast artwork design too.
Analogous colors – This combination basically means that you can choose one main color for your brand and two or more colors that sit right next to it on the color wheel. These colors allow harmonious designs and are very easy to match.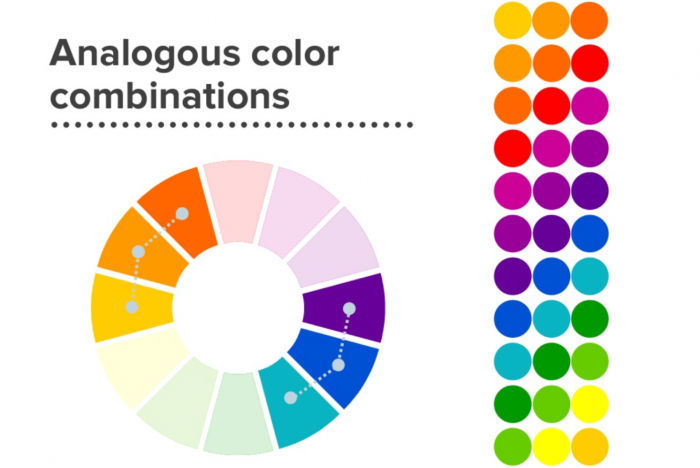 Credit: Presentitude
Complementary colors – If you're a bold person/brand, you can go for complementary colors.
These colors are placed opposite in the color wheel, and when put together they complement each other. For example, orange adds warmth to a composition where blue makes everything look cold.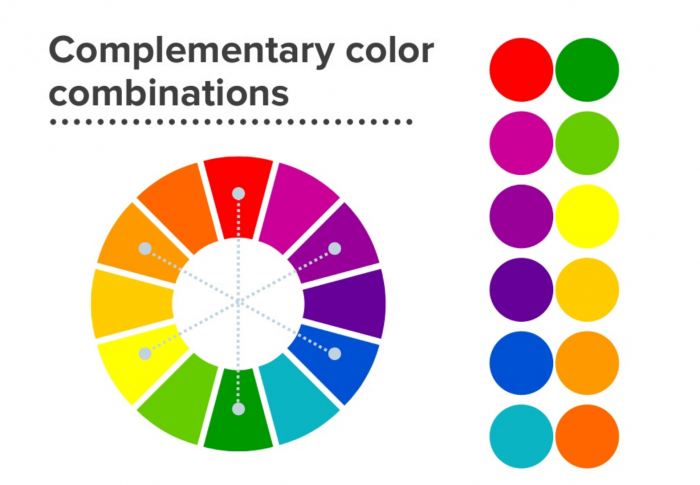 Credit: Presentitude
Triadic & Tetradic colors – A triadic or tetradic color combination uses colors that are evenly placed in the color wheel. You can find them using a triangle (for the triadic colors) or square shape (for the tetradic colors). They are brothers and sisters of the main complementary colors.
You'll always find them sitting next to the complementary colors. They are less saturated and can create a daring and harmonious effect at the same time.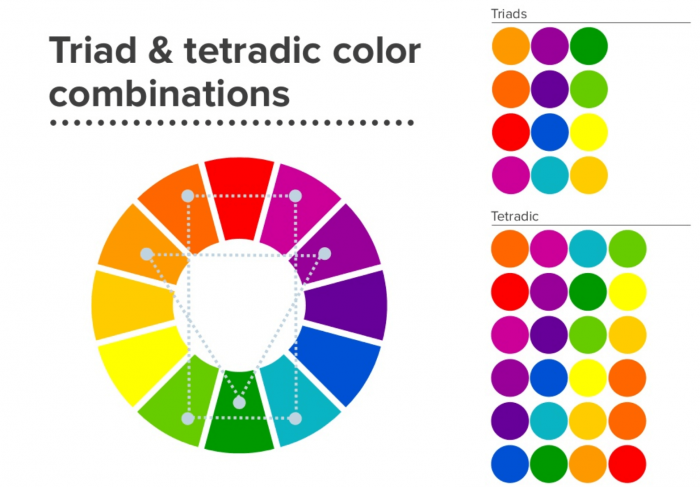 Credit: Presentitude
1.6. Typography
Podcast is all about words and fonts can attach additional meaning to words. A word can give you the impression of screaming or joking, depending on the font used. Also, the typography you choose should match your brand's personality. If you're a comedian, you should select a playful font, but if you're a business coach, you must go for a serious type.
If you want to build a strong, consistent brand, then find one or two cool fonts and stick with them. Use them everywhere in your communication, from podcasting to social media or events.
Credit: Art & Cocktails
Credit: The Throwback Podcast
1.7. The slogan or the call to action
A slogan completes your brand's identity and adds personality. There are many ways in which you can create a slogan. A slogan can be:
A brand's promise to its customers.

A brand's emotional promise to its customers.

A definition of the brand.

A question – people realize they lack something.

A metaphor

A funny joke

A word game

Credit: The Sound
1.8. Other elements + the host(s)
Including elements related to your field in your podcast artwork is a MUST. For example, if you host an educational show teaching the French language, you should include the flag of France or a picture of Tour Eiffel. If you have a business show, you can add elements such as currency symbols, graphics, business icons like suits & ties.
The host(s)
Also, you can choose to have your picture in your logo. Many people do. Especially if your show is more about you as a person, as a motivational speaker, comedian, leader.
Have a look at the examples below:
Credit: Amy Schumer
Credit: The Long Shot
1.9. Avoid microphones, headsets, and other overused images.
While it was ok to use headphones and microphones in a podcast's logo 10 years ago, today it may look rather outdated. The truth is these elements are overused. However, you still need to give people a hint of what you're doing there so adding a stylized icon of a microphone/headset next to your main elements may look better than a microphone/headset itself.
Credit: Modern Love
Credit: Happy English Podcast
1.10. Use suggestive words
Another way to suggest podcast is to add specific words like "talk", "conversation", "debate", "podcast" or even "explained" like in the example below:
Credit: Super Soul Conversations
Credit: Today Explained
2. Artwork materials
2.1. The profile picture
All podcasting platforms allow you to upload a profile picture. Part of your marketing efforts within the platform is to create an eye-catching picture that will captivate people browsing the shows and give your podcast a try. Use all the knowledge you've got from the chapters I listed earlier and make a podcast image that will catch people's interest.
Scalability
When designing your profile picture keep in mind that people are using all sorts of devices to listen to your episodes. Thus, your podcast icon should look great on desktops as well as on phones, tablets, and laptops. The image you create will be scaled to various dimensions. That's why it should be clear enough even when it's just a small icon on an iPhone.
Also, platforms use various dimensions for the profile picture. Your image should be able to match all the standards without cutting the quality.
Here's an example of how a profile icon looks on:
iTunes desktop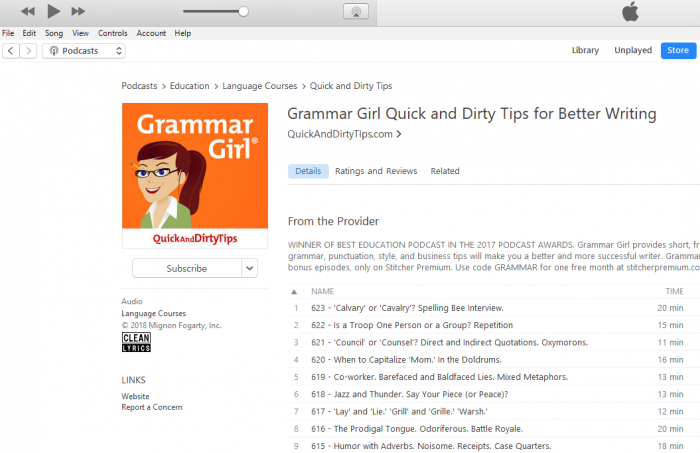 Stitcher desktop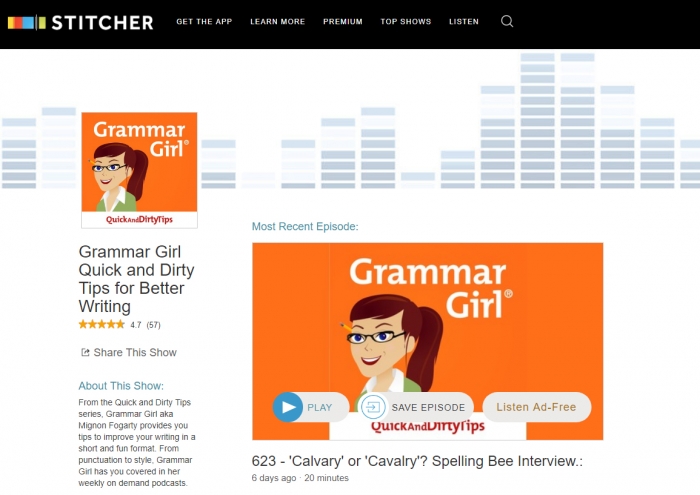 Stitcher mobile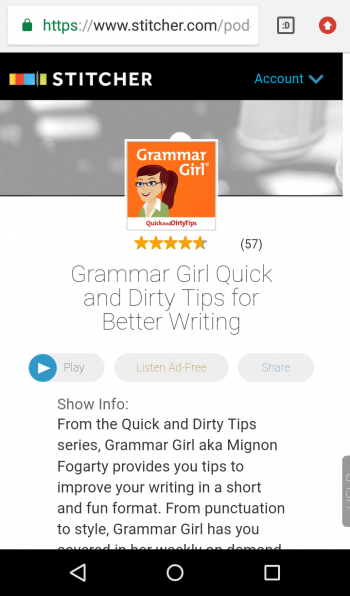 SoundCloud mobile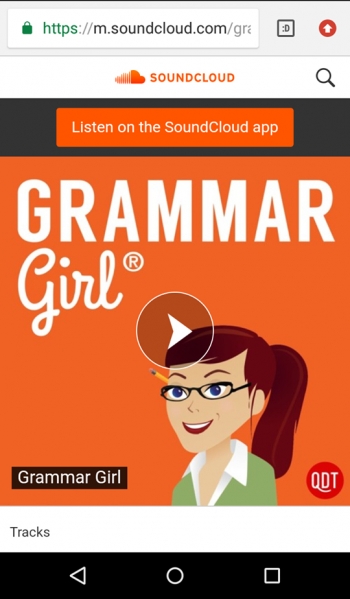 2.2. The cover photo
Some platforms allow you to upload also a cover photo. For example, SoundCloud offers you a wide side-to-side banner space that you can use to say more about your brand and podcast series.
Have a look at the examples below to get an idea of how you could create the best podcast cover art: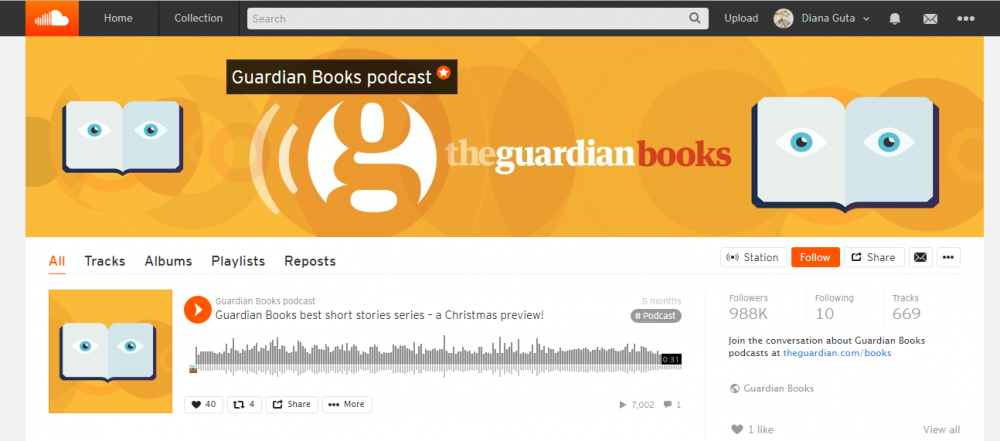 Credit: The Guardian Books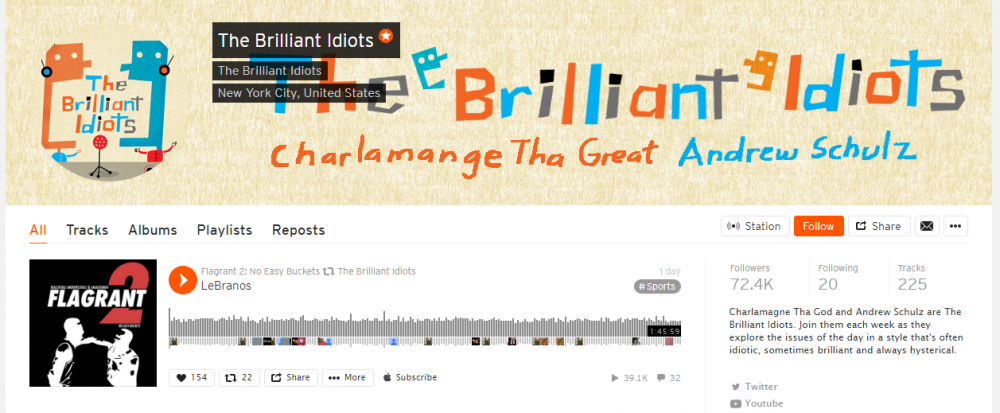 Credit: The Brilliant Idiots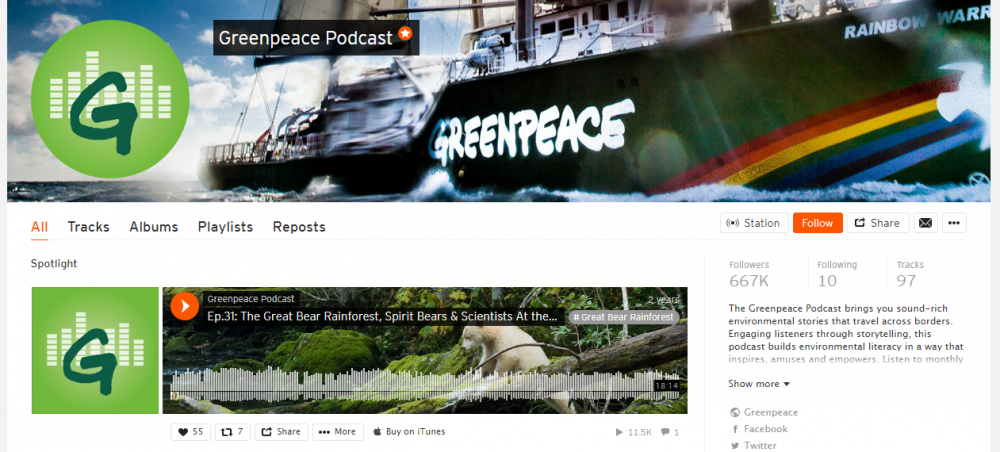 Credit: Greenpeace Canada
3. Podcast artwork size requirements
Each podcasting platform has its own cover art size requirements. Let's go through some of them:
Design requirements for iTunes:
Podcast image size:
minimum size: 1400 x 1400 pixels (72 dpi)

maximum size: 3000 x 3000 pixels (72 dpi)
Podcast artwork extensions: JPG, JPEG, PNG
Design requirements for SoundCloud:
Profile image:

any image up to 2mb in size, .jpg or .png of at least 1000 pixels x 1000

.

Header image:

.

jpg or .png of at least 2480 x 520 pixels with a 2MB size limit.
Design requirements for Spotify:
Profile picture: at least 300 x 300 pixels.

Header image: at least 2660 x 1140 pixels, but 6000 x 4000 is preferred. Does not exceed 20 MB.

Extensions:

JPG, GIF, PNG
4. How to design podcast artwork in Creatopy..in minutes
And now, let's try Creatopy's podcast artwork creator. Let's create a podcast profile image for iTunes.
Create a

Creatopy account

.

Go to "Create a banner" and choose "Custom size". Then type 1400 x 1400.

You can either begin with one of our podcast artwork templates or start from scratch. In this case, select a color/an image/a texture for your background.

Add your picture/elements from your computer.

Write the name of the show you host and a call to action. Select a font and a color for your text. You can change the size and alignment. You can position your text wherever you want in the composition.
Use additional shapes to highlight your call to action or to create a special atmosphere. There are hundreds of shapes that you can grab, resize, and color as you wish to suit your composition.

Click save.

Hover your mouse over your document, click the arrow and download your file as a .jpg or .png.

Upload the file to your podcasting platform.
Go ahead, create your artwork!
I hope you feel more confident now to start creating the artwork for your podcast show with our online graphic design tool. Let me know if you have any other questions on podcasting design, I'd be happy to help!
Oh, and please, do leave me a link in the comments section below to your podcasting show. I'd love to listen!
Thanks for dropping by!