11
minutes read
If you are doing social media advertising for your brand I bet that you've also heard about Facebook video ads.
Nowadays, a digital marketer has a lot of work to do when doing digital advertising. They have to choose between Google display advertising, Facebook advertising, Sponsored content, retargeting, native advertising, video advertising, and the list can continue.
But in this article, I want to focus more on video content marketing, especially Facebook video ads.
According to Vidyard, 86% of business-related video views take place on desktop browsers.
And Cisco estimates that by 2020, 75% of mobile traffic will be video.
Facebook generates 8 billion video views on average per day and every day they are working on creating a platform where every marketer can do a great job!
This means that video is growing more and more and we as marketers should understand why it's important and how to use it. Last but not least, we should understand what we can do in order to build a bridge between our brand and our community with this kind of advertising.
Now let's dive deep into this article and see how we can create and launch video ads for Facebook that will help our business.
How to Create Awesome Facebook Video Ads
What are Facebook video ads?
So what we should know in order to make great Facebook video ads?
First of all, you should invest in quality.
People don't want to see ugly content and they don't want to engage with low-quality video content. That's why you only have the first three seconds to grab attention on your Facebook video ad and convince the user to watch it thoroughly. That means that you need to be creative, tell them who you are and what you can do for them in a short-short period of time.
Also, I recommend you to use professional online tools, like Creatopy, that can help you create high-quality Facebook video ads. With Creatopy you don't have to download any software, install any plugin, or update any app. Everything you want is only a signup button away. And you also have professional templates that will help you start your work right now.
After you sign up, go to Start creating choose the size you want to start with. Type in "facebook" and choose between the Facebook Square Video and Facebook FHD Video.
After you choose the size, you have the option to choose a video template or start from scratch. If you already have a video for your Facebook video ads, then you can upload it from your computer by going to My uploads.
You can customize its duration, change the text, or any other elements. Once you're done, download your video in MP4 format.
Now, your Facebook video ad is ready to be launched on your next campaign.
Another tip I want you to know is that you need to have a great offer.
Why do you launch this campaign? What do you expect from it? Think about this from a business perspective. That means that you need to understand who your target audience is. Your offer should be clear and succinct with the description.
The third tip you must learn is that you need to add a description to your video. All you have to do is click the 'Add Captions' button when you are ready to promote your video. These video captions present text on your video when the sound is off. So when you upload your video as an organic post, you need to add the video caption by yourself.
People don't want to be bored with autoplay videos and also Facebook's news feed is created to be viewed with the sound off. This is why adding a description to your video is a great strategy to make people watch your content without having the audio element.
The best Facebook video ads are the ones that give value to the targeted audience.
How to set up your Facebook video ad campaign
If you want to start doing Facebook video advertising you should first go to facebook.com/ads/manager/creation.
Now that you are on the Adverts Manager Page, select the "Video views" option and click Continue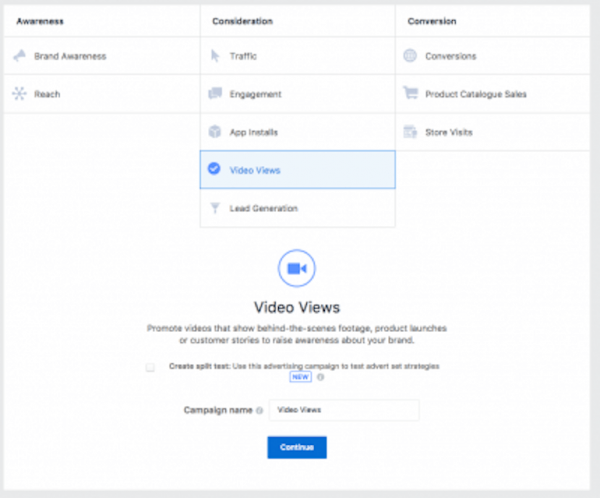 Then you need to set up the target audience for your video ad campaign. This means that you need to understand who your audience is, who your buyer persona is and what you want from them. A pretty effective method is to combine Facebook Ads with previous Google Search Campaign for a better targeting.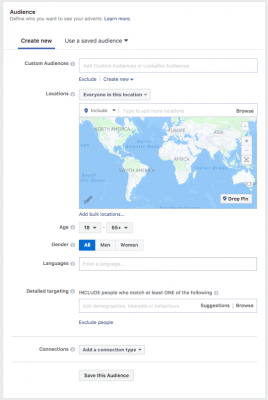 After this you can choose a daily budget amount that fits your campaign.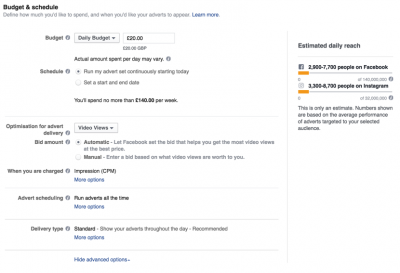 Then, you need to choose the amount of money you want to spend on your video ad campaign on Facebook and you can optimize your advertising delivery. There are several options to take into consideration. If you want, you can bid based on "video views" (this is the option that charges you when someone watches more than 10 sec of your video ad) or you can bid a "daily unique reach".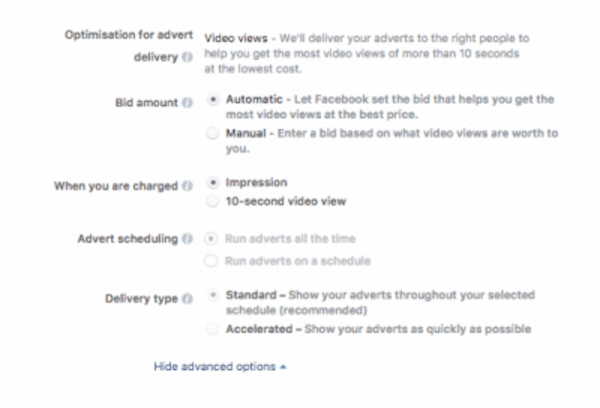 After this, you click the "Continue" button and you get to the page on which you can upload your .mp4 video format that was created with Creatopy or with other tools.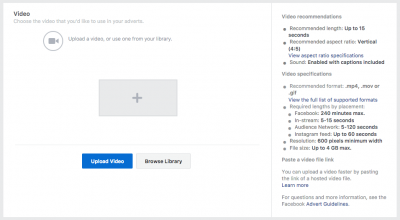 Focus on the criteria Facebook has when you upload a video:
You can only use MOV or MP4 video files format

The resolution of your video should be at least 720p

The recommended aspect ratio must be widescreen (16:9) but I recommend staying to the square screen (1:1) if you want to do mobile advertising also

If you want to do a Facebook video ad campaign you should know that your video must have 60 minutes max (2.3 GB) and for Instagram, it should be 60 seconds max (2.3 GB)
You also have the opportunity to choose a thumbnail for your video. There is a section where you can upload a "Custom image". It's an awesome feature that will encourage users to view and click on your Facebook video ad.
Don't forget to choose a Call to action button for your ad campaign.
For example, if you are a restaurant that has created a video and launched a campaign in order to show people the new summer menu you will choose the "See Menu" call to action button.
Call to action buttons are very important in your campaign, so here is the complete list that you need to know about:
| | |
| --- | --- |
| Book Now | Like Page |
| Download | Call Now |
| Watch More | Get Directions |
| Apply Now | Learn More |
| Contact Us | Get Showtimes |
| Request Time | Send Message |
| See Menu | Shop Now |
| View Instagram Profile | Sign Up |
A great example of how a brand used a Call to action button comes from AHAlife that though their ad, invited the Facebook user to shop in their store after they had watched the video.
As Aaron Zawoski said in an article about CTA's "The purpose of a call to action is to direct viewers to the next activity you want them to take, be it to respond to the video, comment or share it or take action outside of Facebook."
All you have to do is to preview the ad and see how it will look on Desktop News Feed, Mobile News Feed, and Instagram (if you choose to launch it on Instagram too).
When you are ready, just click the "Place Order" button and wait for Facebook to review your ad.
If you looking for the best Facebook video ads that can inspire your next campaign, I recommend you to check out the Facebook Business web page. There you've got all the success stories you want to know about.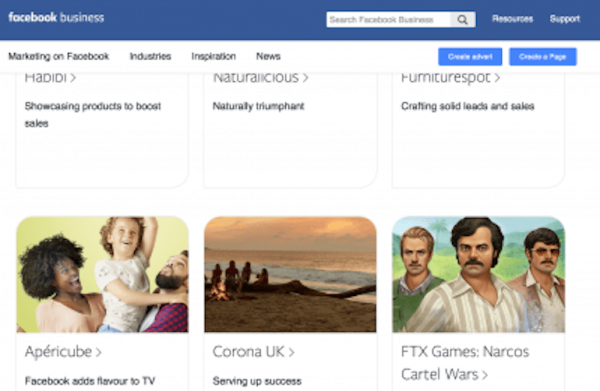 Video ads are a type of advertising that you can launch on Facebook by targeting a specific audience, with a specific objective by using video content.
If you ever made a Facebook ad campaign you already know that there 2 types of ads: static and dynamic. So when I talk about dynamic ads I'm referring to Facebook video ads.
Why are videos important on Facebook?
According to Socialbakers videos get more reach than any other type of posts such as photos, links, or just simple text updates.
As we can see, videos are a great strategy as a visual storytelling tool.
The difference between a Facebook video and a Youtube video is between the social and search situation. Users on Facebook don't search for content. They are mostly interested in scrolling through their feed and engaging with the content they find interesting. On the other side, on YouTube – the users are more encouraged to search and find video content that will answer their questions or needs.
Also, Socialbakers saw in their data that more brands are using Facebook to share video clips instead of using Youtube.
Brands posted 20,000 more videos on Facebook than they did on YouTube in December 2014.
via Socialbakers.
Why you should use Facebook video ads
With Facebook video Ads marketers can create all kinds of videos that will make the users click on them and get to where marketers want them to get. You can create videos that showcase your product, your brand, or maybe your newest feature of your product.
We all use Facebook because we want to connect with others, we want to engage with valuable content, and to find news about the brands we like.
According to a Facebook research, there are 100M hours of video watch every day. That means that every day there are hundreds and thousands of video content created and published on Facebook.
And people love video content.
How do Facebook video ads really work
The video content will appear exactly as a usual Facebook post format. Think about dynamic images. To be easier to understand, Facebook video ads are just like sponsored video posts.
This is how a sponsored video ad looks like on Facebook.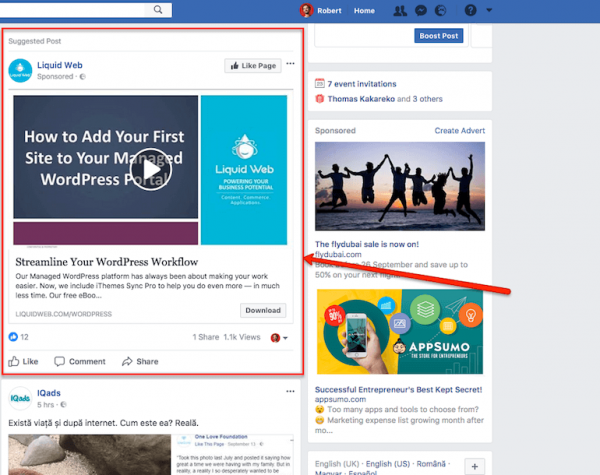 The first Facebook video ad came out on 17th December 2013 and it was a trailer for the Divergent movie.
How long can Facebook video ads be
I heard this question many times so this is why I want to clarify it. According to the Facebook business video ad guide, the maximum length a Facebook video ad can have is 240 minutes and the file size should be up to 4GB max.
Facebook is also recommending us to use MP4 or MOV format, but they also created a list of the video formats that can be uploaded on Facebook natively.
I made this table for you to better understand what format you need to create your video to make sure will be accepted by Facebook.
| | | |
| --- | --- | --- |
| 3g2 (Mobile Video) | gif (Graphics Interchange Format) | mpg (MPEG Video) |
| 3gp (Mobile Video) | m2ts (M2TS Video) | mts (AVCHD Video) |
| 3gpp (Mobile Video) | m4v (MPEG-4 Video) | nsv (Nullsoft Video) |
| asf (Windows Media Video) | mkv (Matroska Format) | ogm (Ogg Media Format) |
| avi (AVI Video) | mod (MOD Video) | ogv (Ogg Video Format) |
| dat (MPEG Video) | mov (QuickTime Movie) | qt (QuickTime Movie) |
| divx (DIVX Video) | mp4 (MPEG-4 Video) | tod (TOD Video) |
| dv (DV Video) | mpe (MPEG Video) | ts (MPEG Transport Stream) |
| f4v (Flash Video) | mpeg (MPEG Video) | vob (DVD Video) |
| flv (Flash Video) | mpeg4 (MPEG-4 Video) | wmv (Windows Media Video) |
Actionable tips: Before you start thinking on how long your Facebook video ad should be make sure that you are thinking about how you will engage with the audience. Think about the key message of your video ad, how much budget you will have and what's the purpose of the campaign.
Facebook video ads vs image ads
Facebook video ad or Facebook Image ad? Well, it really depends on so many things and the only one who has the right answer is you.
In their latest Facebook IQ report, they are showing which format is the best and in what circumstance.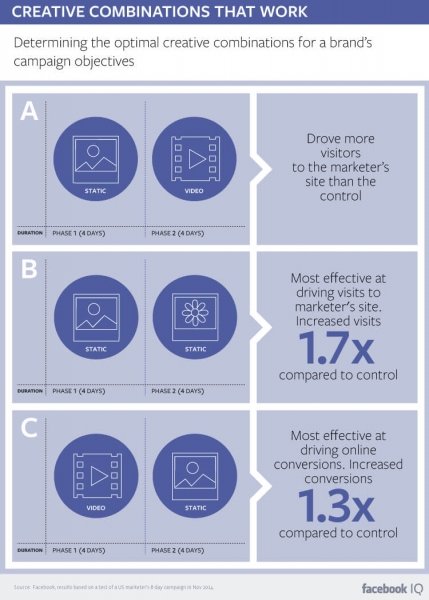 If you want to drive more visitors to your website, you should use static ads, such as images. But if you want to drive online conversions, you should use videos in your campaign.
It's not a who vs. who game, it's more like a who and who game that can drive better results depending on the campaign objective.
How effective are Facebook video ads
There are no successful ideas on how effective a Facebook video ad is. It really depends on several things, such as industry, targets, financial resources, and also the purpose of it.
As Sheryl Sandberg said, there are 1.5 million small and medium businesses who shared videos on Facebook in September of 2015.
"Some likely paid to turn those videos into ads to get more views. And considering average ad revenue per user in the US shot up 50% this year, the video ad strategy is working," via TechCrunch.
But the first thing we should all know about how effective a video will be or not is the content itself. You can create all kinds of video ads on Facebook, depending on their lengths, the production, and the message.
On their page, Facebook presents a video in which they are showcasing the kind of videos you can create from short to longer, such as cinemagraphs, animated Gifs, vertical videos, ads in Instagram Stories, Carousel, Canvas, Collection, Live, 360, Ad breaks or audience network.
Here is the featured image that will give you a better understanding of the content.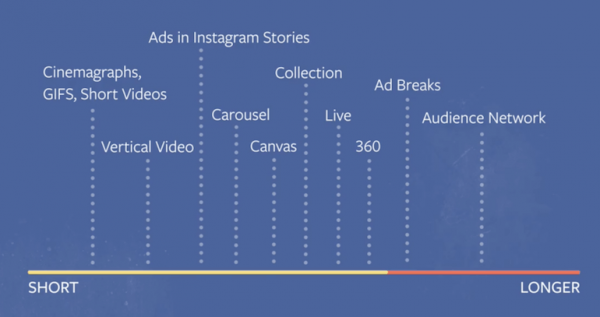 Facebook recommends that if we want to launch a mobile campaign using video ads we should make the content 15 seconds or less because people prefer shorter videos. This means that short videos have higher completion rates.
Let's look at how Facebook video ads helped Inspiralized to target a larger audience and make their buyers come back again to their business.
The healthy eating brand used the Boomerang video type to launch a campaign so they can boost their sales for Mother's' Day. With this campaign, they reached 14 times more people and their CTR increased by 3.4 times in only 5 days.
Inspiralized created 4 mini videos, using different angles and presenting their product (the Inspiralizer) in action. So they launched the video campaign to ran on Instagram and in Facebook News Feed.
The actionable tip we should take right now from this simple campaign is that when you understand your audience you shouldn't be afraid to try different angles and create creative content for them.
Are Facebook video ads more expensive?
If you are interested in how much is the cost-per-view on a Facebook video ad the answer is very simple. There is no such thing as an expensive video ad, it depends on how you optimize your campaign. These ads on Facebook are simply delivered after an ad auction.
Because the bid is fluctuant there is not a definitive total cost-per-view. And if you are interested in understanding how bidding works on Facebook and how their ad auction works, I recommend you to check out their help page.
Now that we talked about what Facebook video ads are and took a closer look at a campaign, let's see how we can create this kind of video ad that will increase our results in online campaigns.
So what kind of Facebook video ads you can create?
As I already mentioned before you can create videos that showcase your product, service, new feature, or just to create brand awareness.
Another kind of video you can create is a product demonstration. All you have to do is record a movie with your product in action and you are ready. Make it simple and valuable for the user who will watch it.
If you are a freelancer, an entrepreneur, or a one-person company and you want to promote yourself I recommend you to create a short piece of content with you being the main subject and present your U.V.P. (Unique Value Proposition) and why people should take action after seeing your video. Don't be afraid to tell them who you are and what you can do for them. This way you can build your personal brand very easily.
Conclusion
Facebook video ads are hot and trendy among digital marketers. I see tens of cool videos in my newsfeed every day and I bet that you can easily create a video ad for your next campaign.
All you have to do is take the steps I wrote in this article and you are ready to begin your journey.
Now back to you, let me know in the comment section below what you think about the Facebook video ads?