11
minutes read
For small businesses that are on a budget, free advertising can prove to be a lifeline.
But big companies shouldn't shy away from these opportunities either.
Free advertising allows you to get the word out while avoiding some costs, so you can direct your budget where it matters most.
In this article, I show you the best ways to advertise your business for free.
Besides, I included six tools you can try at no cost, to help you apply these ideas and a list of free online advertising sites where you can post your ads.
Let's get started.
15 Free Advertising Ideas to Help Your Business Stand Out
1. Claim Your Google My Business Listing
If your company has a physical location, setting up a Google My Business listing is one of the best ways to advertise your business for free.
Not only does this contribute to your SEO efforts, helping you stand out in Google searches and on Google Maps, but it also enables you to project a more trustworthy image.
Your Google My Business listing should feature your address, operating hours, phone number, website URL, and other information potential customers might find relevant.
Find out more about how you can optimize your listing here and get free local advertising.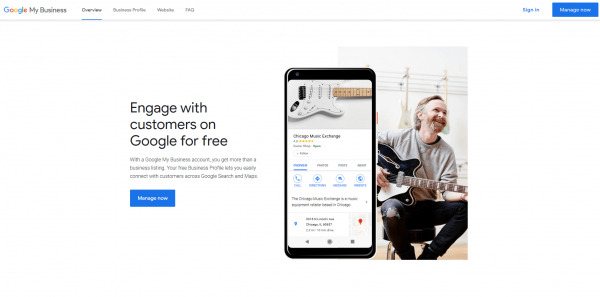 2. Post your business on other listings websites
Besides Google, there are many other websites where you can advertise your business for free. Yelp, TripAdvisor, Angie's List, and The Business Journals are just some of them.
Find the ones that fit your business best and maximize the chances of being discovered online.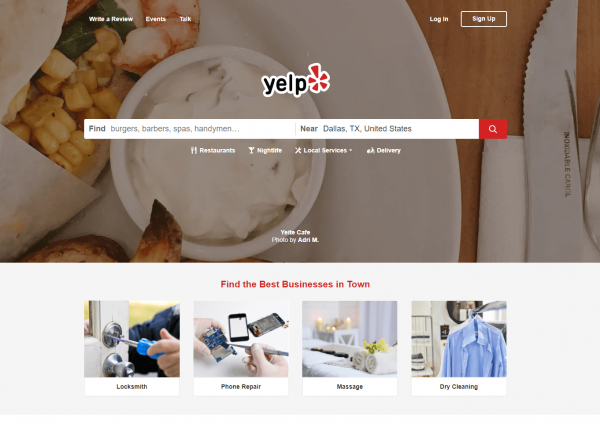 3. Have an active social media presence
Everybody's using social media in one form or another.
Facebook, for example, had roughly 2.5 billion active users as of April. You, too, should tap into that enormous free business advertising potential.
There are many social media networks out there, from LinkedIn to TikTok. For your social media advertising efforts to have the desired effect, choose the ones that are most popular with your target audience.
The frequency of your posts will depend on the network you are using. But to avoid driving your audience away, make sure that you are not sharing only promotional content. A combination of creation and curation is the way to go.
4.
Take advantage of user-generated content
User-generated content shows potential customers that others are happy with their purchases and helps you showcase your products in use.
Encourage your clients to share photos and videos of them using your products on social media. You can then repost this content on your own social media accounts, feature it on your website and newsletter.
Try creating a hashtag around your brand, like the well-known fashion company H&M did with #HMxME.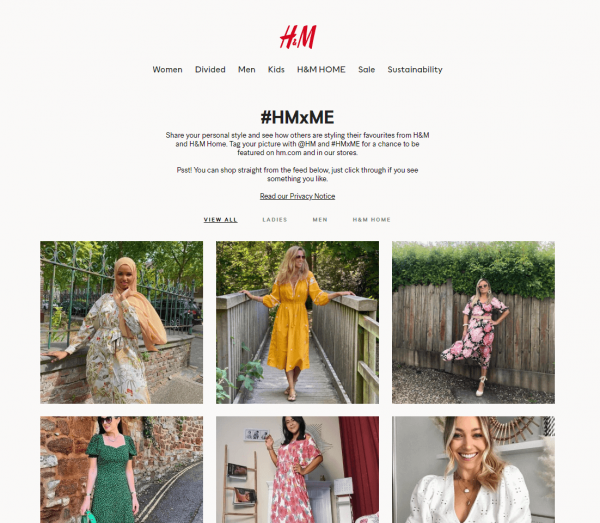 5. Run a giveaway
Giveaways are another great way through which you can boost exposure for your business online.
For your giveaway to be successful, the prize you are offering should appeal to the target audience. But make sure it is closely related to your business, or the leads you will generate won't be as valuable.
Since we're talking free advertising, offer your own products and services as a prize.
Also, make sure that the rules of the giveaway are clear and easy to follow. These will vary based on the end-goal of your campaign.
For example, you can direct the contestants to submit their content, share your post, follow you on social media, or subscribe to your email newsletter.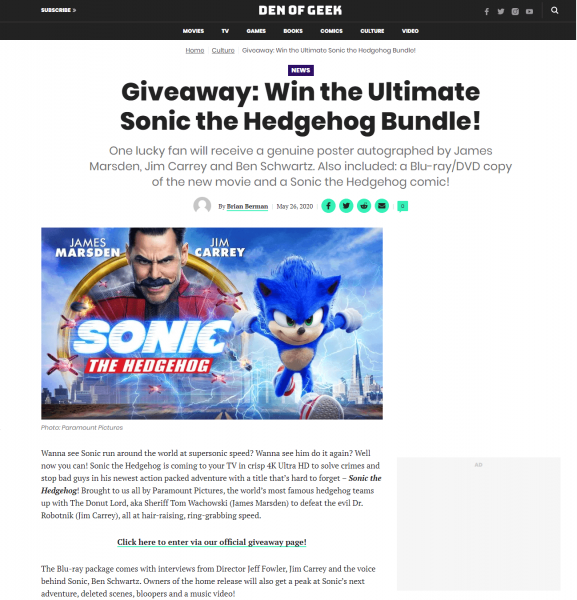 6. Write a blog for your business
If you've got a knack for writing, a company blog is one of the most powerful free advertising tools you can use.
There are several advantages to having a blog for your business. These include being able to educate your target audience, increasing brand awareness, driving traffic to your website and product pages, and having quality content to post on social media.
Most importantly, a blog should play a big part in your SEO strategy.
By consistently publishing SEO-optimized content that is relevant to your industry, you can significantly improve your Google rankings and boost your online visibility.
7. Offer to write guest posts on other websites
In addition to having your own company blog, you should also consider writing guest posts for other websites and industry publications.
You can easily find out if a website accepts guest posts by doing a quick scan of their published content or checking their Contact Us section.
You can also get your business featured in guest posts through blogger outreach. If you contact the right person and convince them to promote your product or service, you can get tons of new leads.
Besides allowing you to reach new audiences, guest posting can bring a lot of value when it comes to brand building.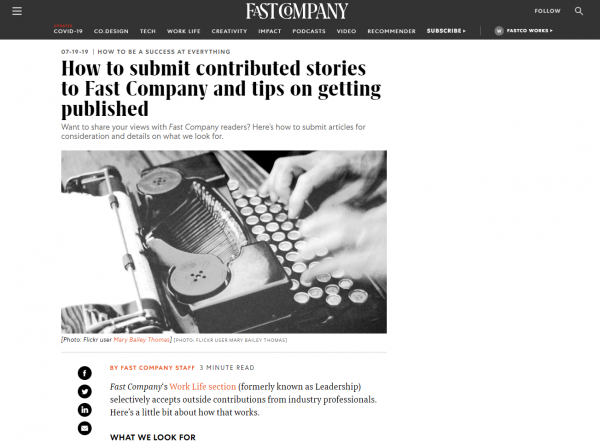 8. Create eye-catching visual content
In a fast-paced world in which attention spans are continually shrinking, visual content is essential for grabbing the attention of your audience.
Visual platforms like YouTube or Pinterest are thriving, with YouTube being the second-most popular social network after Facebook.
There's no secret that video storytelling is seen as one of the top strategies in marketing these days.
Therefore, you should consider creating a YouTube channel for your business, where you can post free ads, how-to videos, and other content your audience might find interesting.
You shouldn't overlook featured images, banners, cover photos, and infographics either. These visual assets keep your blog and social media visitors engaged, are easy to share, and, when optimized, can help your website rank on Google Images.
9. Encourage your customers to leave online reviews
Positive online reviews are essentially promoting your business for free, so you should encourage customers to leave you feedback on Google, Yelp, Facebook, or directly on your website.
Moreover, ratings and reviews are usually seen as more trustworthy than advertisements, as they come from actual users and not from the company trying to sell the product.
You should read and respond to all reviews, no matter if positive or negative.
This way, you show your customers that you really care about their experience, are open to suggestions, and willing to solve any issues that may arise.
10. Participate in conversations on industry forums and Reddit
Look for online forums related to your industry and contribute to the discussion by answering users' questions and sharing insights or how-to tutorials.
Reddit is one of the most popular networks of communities out there. There's a subreddit for almost anything, so don't hesitate to explore and find the ones that match your business's niche. Moreover, you can use r/AMA (Ask Me Anything) to run a Q&A session.
However, keep in mind that spamming these forums with promotional materials and ads is frowned upon and can have the opposite effect, getting you negative attention. You can even get banned from certain pages for excessive advertising, so use them wisely.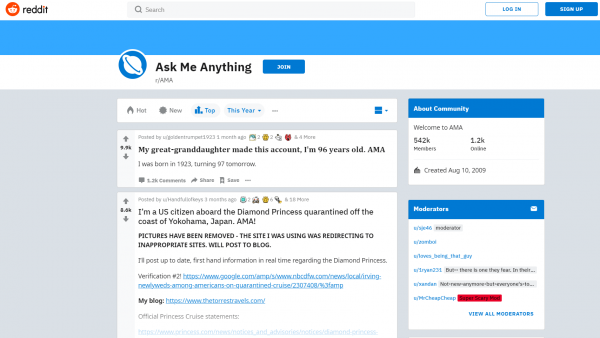 11. Answer questions on Quora
Quora is the go-to Q&A website, where anyone can get answers to their questions.
Similarly to participating in forums, answering questions on Quora can help you be seen as an authority in your industry.
Remember, being overly-promotional can easily backfire. Instead, focus on being helpful when answering questions.
12. Send an email newsletter
If people signed up on your mailing list, that means they want to receive news from your company. A regular email newsletter can help you keep your customers updated with your latest blog posts, offers, product releases, and more.
According to a case study by Monetate, "4.24% of email marketing traffic will make a purchase compared to 2.49% of search engine traffic and 0.59% of traffic from social media."
So, you shouldn't overlook email marketing when thinking about your free advertising strategy.
13. Host a webinar
As events and conferences are probably not going to happen offline anytime soon, webinars are gaining popularity as a way to advertise a business online, while also encouraging knowledge sharing.
By hosting a webinar or being featured as a guest speaker in one, you can expand your audience, increase awareness about your company, and boost your credibility in the industry.
There are several free webinar platforms you can choose from. Zoom, for example, offers basic features for free for up to 40 minutes, as long as you have under 100 attendees.
14. Offer to do interviews on industry podcasts
Just like doing guest posts for various websites, appearing as a guest on relevant podcasts can help you reach new audiences—those who don't have the time to read articles and prefer listening to podcasts instead.
To get started, contact podcast hosts from your industry and pitch them interview ideas. For your pitch to be successful, familiarize yourself with the show first and talk about the value you can bring to its listeners.
15. Partner up with other businesses
To further expand your reach, try partnering up with businesses from your industry that sell products that are complementary to yours. This can prove especially fruitful as a free local business advertising technique.
For example, if you own a coffee shop, you can sell your products at the local donut shop as well and vice versa.
To take this example online, you can use your partner company's website for advertising your products for free and letting them do the same. It's a win-win.
6 Tools You Can Try For Free, Including a Free Ad Maker
There are several tools out there that can help you put these free advertising ideas into practice. Below is a list of six different tools from different domains, which you can try for free.
1. AnswerThePublic
In order to produce quality content that ranks well on Google and answers the questions of your target audience, you first need to know what people are looking for.
AnswerThePublic is a free online tool that uses autocomplete data from search engines to show you the most popular questions and queries based on a particular keyword.
You can use it to stay on top of trends in your industry, find out what people are wondering about, and monitor your brand reputation by seeing what consumers associate it with. This way, you can put together a content strategy based on real insights rather than guesswork.
2. Creatopy
If you're looking for a free banner maker to help you create banner ads, social media ads, posters, and flyers, all in one place, then Creatopy is the right choice for you.
You can sign up for free and start creating your designs using your own elements or choosing from hundreds of templates. If it turns out you love what it does and want more access, you can then choose the subscription that best suits your needs.
With this multipurpose, free ad creator, you can take advantage of several of the tips listed above. Moreover, you can post your ads directly on free advertising sites.
3. HootSuite
HootSuite makes social media marketing for your business easy. With this tool, you can manage multiple accounts, create and schedule posts, curate content, get valuable analytics, and more.
Also, the monitoring feature helps you track topics that matter in your field and quickly join the conversation.
HootSuite offers a limited free plan with three social media profiles, 30 scheduled messages, and one user.
4. Trello
Trello is a fun, free, and easy-to-use project management tool that takes you from idea to action. With Trello, you can create project boards for your advertising campaigns, product launches, editorial calendar, and anything else you set your mind to.
Trello keeps your team connected and organized and helps you monitor progress in real-time. Each project board features lists of tasks that you can assign to various team members. Task cards then allow you to set due dates and add details, comments, attachments, and more.
For a seamless workflow, this tool also permits integration with a variety of apps, such as Twitter, Dropbox, Google Docs, SurveyMonkey, and Evernote.
5. Mailchimp
With Mailchimp, you can create an email marketing campaign in just four easy steps: pick a template, add your content, choose who gets it, and hit send.
Moreover, with the automation feature, you can set up a welcome email for new subscribers or an abandoned cart email when someone leaves stuff in their online cart.
You can then learn from your campaigns, use A/B testing to find what works best, and better target your audience to up your ROI.
Mailchimp offers a free plan for up to 2,000 contacts, making it the right choice in terms of free advertising for small businesses that are just getting started.
6. Agorapulse
The Agorapulse Timeline Contest tool allows you to run free contests directly from your Facebook timeline.
All you need to do is invite your page visitors to like and/or comment on a post to enter the contest. Agorapulse then helps you pick a random winner based on the rules you set.
This tool also works with quizzes and photo contests. It automatically filters the comments that contain the right answer to your question or the photo that gathered the most likes.
The best part? Agorapulse Timeline Contest is completely free.
Bonus: A List of Free Advertising Websites
Granted, classified ads might seem a little outdated, but you should not underestimate the free exposure these can get you.
Here are ten free ads sites you should check out:
1. Craigslist
Craigslist is one of the largest and most popular classified ads websites out there. According to Business Insider, Craigslist continually ranks among the top 20 sites in the US and gets more visitors than Netflix.
Posting ads on this site is free, except for a few categories, including cars/trucks, furniture, services, and some apartment rentals, for which you have to pay a small fee of around $5.
2. Facebook Marketplace
Facebook launched Marketplace in 2016, and it quickly became one of the go-to places to advertise for free. The popularity of the social network lends itself to its free ad posting site, which is now used by over 800 million people monthly.
If you already have a Facebook business page, you can add a "Shop" tab to it, where you can list your products. These products will then appear in the "Stores" section of Facebook Marketplace.
3. OLX
Similar to Craigslist, OLX is an international classified website where you can post ads for cars, jobs, furniture, clothing, and even pets.
OLX has many sub-sites that are serving different countries. For some countries, including the US, Canada, and Norway, the company also offers an app called letgo, which was named one of the Best Apps of 2016 by Google.
4. Locanto
Locanto is a Germany-based free advertising website, available in 60 countries. It allows you to post ads for jobs, products, classes, events, real estate, and more, which will remain live for 60 days.
As it is more community-oriented, Locanto is best suited for small, local businesses looking to enhance their online presence.
5. Oodle
Oodle is a giant ads aggregator that features listings from various websites, like eBay, BoatTrader.com, and ForRent.com, as well as local newspapers. It used to power Facebook's initial attempt at a marketplace feature and now boasts over 15 million unique users monthly.
To reduce fraudulent activity, Oodle requires users to have an active Facebook account to post new ads.
6. Geebo
Geebo markets itself as a safe alternative to most free online advertising sites and any ad posted on Geebo will first be reviewed by the company.
Consequently, it might take longer for your ads to go live, but once they do, this might help you appear more trustworthy in the eyes of potential customers.
Just like the other websites presented above, Geebo hosts a variety of ads, from merchandise and farm equipment to services and employment.
7. Hoobly
Hoobly is a free ads site available in 30 countries but mostly targeted towards the US.
This website is very similar to Craigslist but offers more security features. For example, you'll have to register for an account with your email address to be allowed to post ads. This aims to decrease the number of spammers and fraudulent ads on the website.
Featuring books, careers, collectibles, clothing and accessories, electronics, jewelry, and real estate, Hoobly has an extensive collection of ads.
8. Gumtree
Sometimes called the Craigslist of Europe, Gumtree started out as a UK-based free ad posting website for those moving to London from Australia, New Zealand, and South Africa. Now, it caters to several other countries, including Canada, France, Poland, Ireland, Germany, and Italy.
Besides the usual ads for cars, appliances, jobs, and property, the website has a useful Trending section, where you can find out what people have been searching for the most during the past weeks.
9. ClassifiedAds.com
A cleaner-looking, easy-to-use alternative to Craigslist, ClassifiedAds.com features a variety of listings, from motorcycles and off-road vehicles to for-sale business and web domains.
Its search bar takes you to a search result page similar to that of Google, from which you can access various ads, some of them paid.
10. Adpost
Adpost is a worldwide free ad posting website, which boasts more than 30 million page views per month. The basic classified ads this site offers run for 30 days and can feature up to 100 photos and one video.
You can also get highlighted, priority-ranked and targeted ads for as little as $10.
Final Thoughts
Advertising online for free doesn't have to be a hassle, no matter if you own a small business or a Fortune 500 company. The secret is knowing where to start.
Which ideas do you think would work best for your business, and which tools are you excited to try out?