5
minutes read
We need catchy banner images whenever we plan to launch a new advertising campaign, social media campaign, mobile app or we just want to share a new blog post. High quality, preferably cheap or free images, that fit our brand and topic.
According to a Xerox study, If you want to increase people's willingness to read a piece of content by 80% then you should use colored visuals.
The success of your ads might depend on the quality of your banner images. They can be blurred, boring, irrelevant for your business, or too common. The banner background image plays a crucial role when you want to convey a certain message.
Did you know that banner ads with images of people perform better? That's the reason why we have a huge stock of premium photos in our banner maker.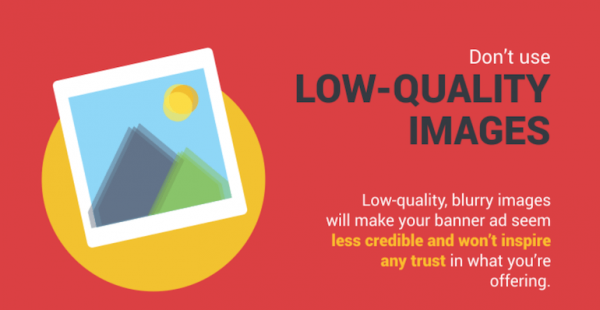 We always recommend our users to stay away from low-quality images, because blurry images will make their banner ad seem less credible and will not build trust in what they are offering.
An interesting image can create awareness of your banner and it has the power to make your ad look more professional, even though you are not a professional designer.
46% of marketers say photography is critical to their current marketing and storytelling strategies. Source: cmocouncil.org
I know how it is to browse several hours the internet just to find the right banner image. I've done that many times. It was before I've found these websites where I can download free images that I can use for my banners.
I'm going to leave this list here for you. You will save a lot of time, trust me.
1. Pexels – "Best free stock photos in one place" for your banners

Website: https://www.pexels.com/
You can find more than ten thousand free banner images on any category – building, technology, nature, city, black and white and so on – on Pexels. They are all carefully selected from free image websites or uploaded by their own users.
They help millions of designers, writers, artists, and programmers to create beautiful products and tell their stories. They call it "Empowering Creators".
2. IM Free – "A curated collection of the web design resources"

Website: https://imcreator.com/free
I just love IM Free website because they include more than just photos. Here you can find a lot of icons, buttons, and templates, that will fit into your image banner ads. Another great thing is that the website is user-friendly and you can find easily whatever you are looking for: people, travel, cars, winter or anything else.
So, if you are looking for something related to sport, lifestyle or art and music category, here you will find images to download for free.
3. Unsplash

Website: https://unsplash.com/
Unsplash is one of the best sites out there where you can find high-resolution images. Yes, you can copy, modify, distribute and use all of the images for free. Every 10 days they feature curated collections of beautiful banner images free to use under the Unsplash License.
4. Pixabay – "Free High-Quality Images"

Website: https://pixabay.com/
Pixabay is huge. They have a wide collection of photos, banner images, illustrations, vector graphics, and more than a thousand film footages.
It's hard to believe that it all started from a personal image collection, but it's true. It was founded in 2010 and today it represents one of the biggest interactive online communities.
5. Jay Mantri

Website: https://jaymantri.com/
Jay Mantri works as a photographer and he is posting seven new photos every week. Why? Because he wants you to "make magic" with them. And believe me, with these photos, you can make magic even in your banner ads.
Many of these photos include landscapes, life moments, common objects or even coffee.
6. FoodiesFeed – "Free food pictures". Use them in your banners!

Website: https://www.foodiesfeed.com/
If you are in the food industry, maybe you have a restaurant or you are a food blogger. You should use these food banner images. Why? Because Foodie's Feed has photos of almost anything related to this industry. They upload every week five or even more photos and collections of other images.
Also, these photos look very delicious – and if you want to support them, there is a PayPal button for donation.
7. FreeImages.com

Website: https://www.freeimages.com/
Don't forget about the stunning images, illustrations, and vectors that you can find on this website. Feel free to use them on websites, blog posts, social media, advertisements, film and television productions, web and mobile applications.
8. KaboomPics – "Breathtaking Free Pictures for business or personal projects"

Website: https://kaboompics.com/
KaboomPics is the friendliest image website that I've ever seen. It has a fair amount of images that are unique and breathtaking. It's perfect for bloggers, website owners, small businesses, freelancers & social media gurus.
Would you like to know who is the owner? Meet Karolina, a web designer from Poland. Taking photos is her passion and she knows how hard it is to find high-quality images for free.
9. Death to the Stock Photos

Website: https://deathtothestockphoto.com/join/
Maybe you haven't heard about them, but they offer a series of personal and commercial photos each month. You just need to sign up with your email address and you will get high-quality images each month delivered in your inbox.
Another reason to sign up for this website is their creative statement: "We aim to be just like coffee for the modern creative."
A good banner image might help your ads to get noticed and your article to get read. It can highlight the message or it can transmit a different message, even without text.
If a relevant image is paired with that same information, people retained 65% of the information three days later. Source: lifelearn.com
These websites will help you to choose the right banner images for your ads, blog posts, social media campaigns, and mobile applications.
What's your favorite image website? Let us know in a comment below!