4
minutes read
There's one type of content that's been lurking around for years (30 to be more accurate), on blogs, social networks, messages, and emails. One type of content that people don't talk about as much as they should. We decided to give it some attention, so today we are talking about GIFs and how to make your own GIF.
As a millennial myself, I find GIFs as being the most wonderful thing the internet has ever invented. (Well, technically it was brought to us by Steve Wilhite of CompuServe which was the engineering lead on the team that adapted the GIF file format in 1987). I always have a reaction GIF at hand, because I never know when I'll need one. When I don't, I use a GIF maker app and make my own GIF.
Before getting into more complex matters like how to use a GIF creator app, let's talk a bit about the concept of GIF.
GIFs vs. Animated GIFs
GIF comes from Graphical Interchange Format and represents a highly compressed image that allows up to 8 bits per pixel (which in total allow up to 256 colors across the image) and can be either static or animated.
"WHAT? I thought GIFs could only be animated visuals."
Well, not really. The ones we know and use in our daily conversations are the animated ones. The only difference between a static photo and a static GIF is that the GIF has smaller dimensions than a JPEG or PNG.
"More compelling than a static photo and more immediate than Web video, the animated GIF … is a uniquely digital mode of conveying ideas and emotion. Like the Twitter hashtag, which has transitioned from a functional way of sorting content to its own part of speech, the animated GIF has gone from a simple file type to its own mode of expression. GIFs have grown up, and they are everywhere right now."
says Ann Friedman, journalist, and GIF guru.
Why would you want to use or make a GIF?
From blogs to threads on Facebook or Twitter, GIFs are an astounding tool for marketers and social media people. They represent a great way to express emotion and separate large blocks of text in articles. The great thing about them is that you can find a GIF for any context you need. And Giphy comes in aid here. If you keep reading this article, I'll show you how to make your own animated gif with the help of an online GIF creator!
GIFs are a great way to show your brand's personality


@hootsuite A1: GIFs allow us to express ourselves and relate with others in a fun way. #HootChat pic.twitter.com/ZAOW0R4DcZ— GIPHY (@GIPHY) February 4, 2016

They're a good educational tool.

It's pretty easy to show the functionality of a product by using a screen recording software and then add some annotations or transitions with the help of an animated GIF maker.

They're easy to consume
GIFs are part of the snackable content category. If an image has a thousand words, well – a GIF has a million!
4. They're effective
GIFs are much better than images and cheaper to be created than videos. Basically, it takes the best from both worlds.
5. They're mobile-friendly
Since GIFs have pretty small sizes, it's easier and more important – faster to upload them from a mobile phone compared to videos.
6. GIF is part of the pop-culture
If anything happens around the world it's gonna have a GIF in less than a minute. GIFs are the visuals of a generation!
The GIF gift – Creatopy GIF maker
With Creatopy, you can download an animated GIF format.
What does that mean?
All users with a PRO or a TEAM plan can download their animated banners in dynamic, high-resolution GIFs with all the smooth transitions and animations.
Why is a GIF creator useful? Even though the internet is big and there are many chances you'll find exactly what you want and need, there are times in which you want to be the creator of your own visuals. Take the task into your own hands. For example, you might need an easy How-To explanation of a feature of your product. Instead of using images, you can effortlessly use a GIF maker app and make your own step-by-step GIF. Just like I did below. This is how you can easily save your GIF from Creatopy.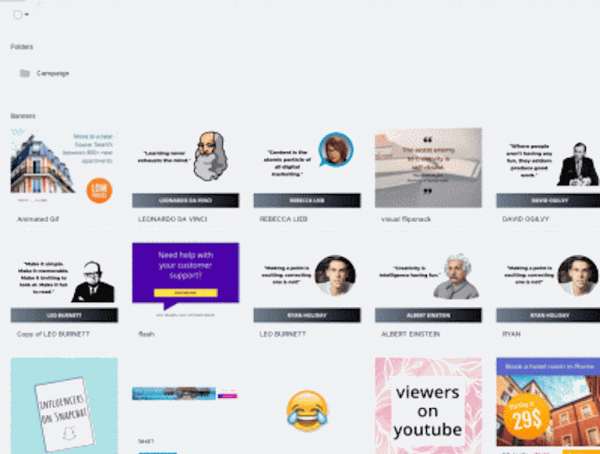 Creating your own animated GIF banners is fun. But when you don't have the time to go through an entire creative process, you can use one of the templates we have ready for you. Check some of them out!

That's about it! Hope you find this article about GIFs and how to use a GIF maker useful. Let us know in the comment section below how you integrated GIFs in your strategy and whether you found them useful or not!