15
minutes read
Whether you've been advertising on the Google Display Network with no significant results, or you're new to the platform, this Google Display Network best practices guide is for you. 
We'll explore important industry tips and tricks on how to optimize display campaigns. By the end of this article, you'll be able to set up effective campaigns that drive results. 
Because it's the world's largest platform for display ads, GDN can help brands like yours reach potential customers locally or globally and increase sales, leads, or boost brand awareness. 
The targeting possibilities and settings combinations within the platform are endless. You just need to know how to make the right setups. 
But instead of spending days studying Google's documentation articles, our guide to display ads best practices will provide you with all the information you need to: 
Make use of the platform's automation capabilities;

Stay in the driver's seat all the way;

Make the right settings for targeting, bidding, and ad placement;

Use remarketing to reconnect and re-engage past customers;

Start running effective display ads campaigns. 
---
Table of contents:
---
How Does Advertising on the Google Display Network Work?
The Google Display Network helps businesses find audiences that could be interested in their products or reconnect with past customers and show them ads at the right place and the right time.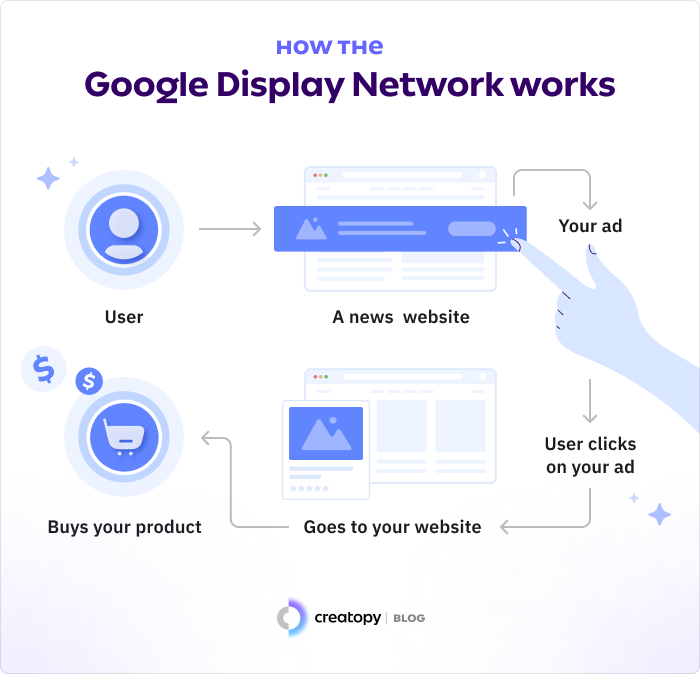 The Google Display Network offers an incredibly vast collection of sites and apps for advertisers to reach new and existing audiences: three million websites, 650,000 apps, and Google properties such as Gmail or YouTube. 
Whatever your marketing goal may be, this platform can help you achieve it, providing you with tools to drive sales, leads, website traffic or build awareness and consideration for your brand.
Thanks to machine learning technologies, display campaigns combine targeting, bidding, and ad formats to deliver the best results. 
Now, let's see how you can optimize your campaigns with these display ads best practices. 
A. Targeting Best Practices
Let's go quickly through the targeting options available in Google Ads for display campaigns. 
There are two possible ways to target your ads: by audiences you'd like to reach or by content you'd like your ads to appear on. 
1. Targeting by audience
Demographics.

Target people based on their stored data, such as age, gender, location, parental status, marital status, education level, home ownership status, and employment status. 
Affinity audiences.

Target people based on

their interests and habits. 
In-market audiences.

Target people who are actively searching or researching a product category. For example, you can show your ads to people looking for related products on the web. 
Your data segments.

This setting is used in

retargeting

campaigns. We will detail this in a chapter about retargeting and

remarketing

. 
Custom segments.

Reach audiences by keyword, app, website, and even types of locations visited. This type of targeting allows you to show ads to people who have visited websites, apps, and physical locations similar to the ones you have typed in the settings. 
2. Targeting by content
Keywords.

Target specific contexts using keywords. For example, you can show your ads to people performing a query related to your products. 
Topics.

Target certain websites and apps using topics. For example, you can choose to show your ads on pages that show content from the same category as your products. 
Placements.

Target specific placements (websites and apps) by keywords or by typing in the exact name of the placement. 
Optimized targeting
Starting from August 1st, 2023, Google Ads will introduce optimized targeting, a targeting setting that includes the old and popular similar segments setting that the platform offered for many years. 
With optimized targeting, you can target users who are likely to convert. This setting allows Google Ads to create a profile of a person who converted based on real-time conversion data. Optimized targeting is on by default in the Google Ads campaign settings, but you can turn it off if you decide you don't want to use it.
Now, if you're wondering, "How can I optimize my ad targeting on the Google Display Network?" follow these steps to optimize targeting and reach your ideal audience. 
1. Pair your goal with targeting
Depending on your marketing goal (driving traffic to your website, sales, and leads), you need to use specific targeting options. 
For example, if you want to increase your brand's awareness and reach, the recommended targeting settings are detailed demographics & affinity audiences. 
Select in-market and custom intent to influence consideration (website traffic & product, and brand consideration). 
If you want to drive action (sales, leads, app promotion, local store visits, and promotions), it's best to use remarketing. 
2. Segment your audience
One of the most elementary but equally important display advertising best practices is to start your campaign using multiple target groups. Add as many groups as you can come up with. Whenever you add an audience segment to your campaign, you increase your reach. The more audience segments you have, the more different people you will reach and the higher chances for them to click on your ad or convert (perform the desired action).
Then, as you launch and run your display campaign, monitor each audience group to see how they perform. Delete the groups that don't click or convert and select only the groups with high-performing rates. 
3. Test different targeting options
Create custom audiences
Make use of Google's custom segments, which allows you to create your ideal target audience by entering relevant keywords, URLs, and apps.
By using keywords, you tell Google to target people who used those terms to make a search or are interested in those terms. 
By entering URLs, you let Google know what websites your ideal customer will likely visit. Your ads will then reach people who browse websites similar to the ones you entered. 
By entering apps, Google will show your ads to people who use apps similar to the ones you entered. 
Here's an example. An online bookshop wants to promote its children's books sales. But rather than targeting books fans, the online shop can target parents who read books to their children by entering specific keywords, URLs, and apps:
Keywords: bedtime stories, classic bedtime stories;

URLs: websites for parents, parenting, mom blogs, and children's education;

Apps: from the family, education, and teacher-approved games & apps categories. 
Build "personas" with combined segments
Use the combined segments option to build "personas" out of your target audience. This setting allows marketers to intersect different segment attributes. For example, you can pair demographics data with in-market and affinities to create "personas" that represent different types of users. 
Let's say that you sell anti-aging beauty products and want to show your ad to women aged between 30 to 60 years old (demographics) who have searched for anti-aging products recently (in-market segments) and who are passionate about skincare (affinities segments).
To create a new combined segment, follow these steps:
Go to your

Google Ads account

.

Create a

new campaign

or

select an existing one

.

Click on

Audiences

, then

Edit Audience segments

. 

Then select

Targeting

and

Observations

.

Select

Browse

.

Click on

Your Combined audience segments

, then

New combined segment

. 

Enter the

audience name

in the window that appears.

Under

"Include people who match the following conditions,"

add the audiences that you want to target. 
B. Display Ad Creative Best Practices
1. Highlight your unique selling proposition
Identify your product's main benefit and use it to build your advertising campaign around it. Use your unique selling proposition as your driving force when you build your creative concept, craft the ad copy, and design your visuals. 
2. Write a clear, actionable message
Use a strong headline to capture people's attention with your banner ad. Detail your offer in a short description. Offer more details on your landing page. Craft a powerful call to action that will drive people to take action (click the ad). 
3. Use eye-catching visuals
Select and use only high-quality and appealing images because the visual is the key element of an ad. It not only draws attention to your ad, but it can also entice users to click on it. 
4. Create seamless campaigns
It's important to offer a great experience to your target audience. A positive experience implies serving a unified and coherent message from the moment they see your ad on a website/app to when they visit your landing page to find out more about your offer. Therefore, all of your ads and landing pages should have the same design, colors, and message. 
5. Include prices, discounts, and exclusive offers
If you have a sale going on, let people know about it. Use specific terms like discount, sale, special offer, coupons, and promo code. Use a big font and position the deals strategically within the ad to impact the viewer's eye. 
Best practices for uploaded display ads
One of the options available in Google Ads to create display campaigns is to upload your own banner ad into the platform. This hands-on approach allows you to have full control over your ads. 
Here are Google's specifications and recommendations for uploaded display ads:
Accepted file types for static ads: JPG, PNG;

Accepted file types for animated ads: GIF,

AMPHTML

,

HTML5

(only for accounts older than 90 days with a total spend of over $9,000);

Maximum size: 150KB.
Now, I'm sure you're wondering what are some effective ad formats for the Google Display Network. Let's go through the most popular ad formats and sizes.
Top performing display ad sizes
Top-performing ad formats and sizes for desktop
Leaderboard

:

728 x 90

pixels; 970 x 90 pixels;  

Rectangle

: 336 x 280

pixels;

300 x 250

pixels; 

Skyscraper

: 300 x 600

pixels;

160 x 600

pixels; 

Square

: 200 x 200

pixels;

250 x 250

pixels. 
Top-performing ad formats and sizes for mobile
Rectangle

: 300 x 200 pixels; 

Leaderboard

: 300 x 100 pixels; 

Small leaderboard

: 300 x 50 pixels; 

Square

: 250 x 250 pixels; 200 x 200 pixels. 
Best practices for responsive ads
With responsive ads, you have less control, as Google's machine learning model determines the optimal combination of assets for each ad slot based on your performance history. 
An asset is part of an ad, like a headline, description, image, or logo. You add the assets for your ad, and Google will then assemble them and automatically adjust the size, appearance, and format to fit just about any available ad space. 
For example, a responsive display ad might show as a banner ad on one site and a dynamic text ad on another. Also, if you upload videos, they will be shown instead of images whenever Google Ads determines that your videos could drive better performance.
When you upload your images, add two or more high-quality images: one square (1200 x 1200) and one landscape (1200 x 628 required). Google recommends using at least five square and five landscape images for a high score.

Use high-quality images. Blurry images will impact your campaign's performance. Images are the most crucial element of responsive display ads. Upload images with a strong visual focus and avoid text.

Relevant images that support the main point of your ads tend to perform the best. 

Choose the right image for scaling optimization (close-up images). 

Upload simple images that support the main idea of your headline, description, and landing page. 

All submitted fields must represent the same advertiser and be relevant to the promoted product. 

You can also add videos to your responsive display ads campaign to maximize reach on the Google Display Network.

Formats and recommended sizes: landscape (1200 x 628 pixels; minimum size accepted is 600 x 314;

aspect ratio 1.91:1); square (1200 x 1200 pixels; minimum size accepted is 300 x 300; aspect ratio 1:1); portrait (600 x 1600 pixels; minimum size accepted is 600 x 1067; aspect ratio 9:16).

Minimum number of images: 1

Maximum number of images: 15 

Max file upload: 5120KB 

All ads must comply with

Google's Ads policies

. 
C. Ad Placement Best Practices
It is never advisable to adopt a targeting strategy based on placements only, as you risk narrowing down your reach and not getting impressions, clicks, or conversions. 
Diana Aldea, PPC Manager at Creatopy, recommends combining audience targeting with placement targeting for the best results. 
1. Use as many placements as you can
If you decide to include placement targeting in your settings, you need to add many websites and apps (like hundreds!) where you would like your banner ad to appear to make sure your ad is shown, seen, and clicked. 
Just type in a keyword in the Targeting – Placements section and Google will instantly provide you with a list of websites, apps, and YouTube channels that are relevant for that keyword. 
The thing is, when you run campaigns on Google Ads, you compete with other advertisers to show your ads on the placements you select. If you choose popular sites/apps, chances are that other advertisers are targeting them as well, so you may need higher bids to get impressions. If this is the case, you can always adjust your bids. 
2. Test different ad placements
Add as many different placements as possible, but remember that they should be highly relevant to your brand. Always check to see if your target audience coincides with that website/app's audience. 
As your campaign unfolds, check the performance of your placements daily, and see which websites and apps bring traffic to your website. If you find non-performing placements, exclude them immediately and add in other placements that could potentially bring better results. 
Always monitor to see how different placements perform and adjust them as the campaign rolls. 
3. Set up content exclusions
One of the best parts about placement settings is placement exclusions. Google allows advertisers to exclude content that may not be suited for their brands. This means that you can opt out from showing your display ad on certain websites and mobile apps. 
To set up content exclusions:
Go to the

Navigation Menu

;

Click the

Tools and Settings icon

;

Select

Content suitability

;

Choose between

"

Expanded inventory," "Standard inventory," and "Limited inventory."
Advanced settings
Select manually which type of content you'd like to opt out of. Go to Exclude sensitive content and select the content type that you'd like to avoid. 
Exclude sensitive content
Excluded placements
Then, exclude the placements that are not relevant for your brand and audience. You can choose to exclude various categories of apps, like casinos, games, or trivia. 
Excluded types and labels
Click on the Expand types and labels and select the content labels that you'd like to exclude and the content type. 
D. Ad Optimization Best Practices
1. Run A/B tests
Start your campaign with two or three different banner ads running simultaneously. This is called A/B testing, or split testing, and is used to compare two slightly different versions of the same ad to see which one performs best.
Then, use Google Ads reporting to monitor the: 
Clicks

, to see how many users have clicked on your ad;

CPC

, to understand how much a click on your ad has cost you;

CTR

 is the number of times people who see your ad end up clicking on it. Check the CTRs for all the ads, and choose the ad with the highest CTR. Analyze and understand what could be the reason why some ads got fewer clicks. Then, start making changes. But don't change the ad completely. Instead, change one asset at a time, and run the ad for a few weeks. Monitor the CTR and conversion rate to see how it performs. 
Also, check the performance of your landing page:
Check the

conversion rate

to see how many users converted. If you notice that your conversion rate is low, you need to make changes to your landing page because that is the place where people convert. 

Check the

bounce rate

. A high bounce rate indicates that people are not interested in what you offer on your landing page. This should also prompt you to make serious changes. Optimize your landing page and create a seamless user journey. The campaign should be coherent from the ad to the landing page, meaning you must use the same colors, visuals, and call to action.
2. Focus on high-performing ad groups
In parallel, monitor each audience to see how they perform. Go to the Audience reporting tab in your Google Ads menu and investigate. 
If you see groups that don't click or convert, simply delete them and keep only the high-performing ones. You don't want to waste your money on audiences that don't take action. 
Another trick is to use Google Ads' optimized targeting option and allow the network to maximize conversions for you. There could be audience segments that you may have missed in your manual setup, so make sure you enable this setting. If at any point you notice that the performance is not improved by enabling this, you can disable it anytime.
3. Optimize for mobile 
Use animated ads rather than static

 and video whenever possible. Not only are animated ads more popular than static, but advertisers have come to cater to users' preferences and use animated predominantly.

According to Creatopy's display ads design trends study

, 63% of all display ads are animated.  

Design your display ads mobile-first

. Create the set of ads starting from the mobile ads, and then scale up for desktop and tablet sizes and formats. This way, you ensure your mobile ads are set up for success. Use an

ad automation platform, like Creatopy, to scale sets of display ads

, starting from mobile ads. 

Optimize your website for mobile

. The website is the place where your potential customers (people who click your ads) will land, so having a mobile-optimized website is crucial. If your website is not optimized, it will take a longer time to load, which means you can lose potential customers. According to a Google study,

40% of people will leave a page if it takes longer than three seconds to load

.
E. Remarketing Best Practices 
With remarketing, you can show your ads on the Google Display Network sites and apps to people who have previously visited your website or interacted with your brand on desktop or mobile, one way or another. 
The best part about remarketing is that you can tailor your message specifically for these groups of people who are further down the sales funnel. 
This targeting technique allows advertisers to reach people across devices as they browse the three million sites and apps registered with the GDN and also Google's property platforms like YouTube and Gmail.  
Another benefit is that you can create high-performing campaigns with automated bidding. 
Follow these Google display ads best practices for remarketing to create successful campaigns. 
1. Create separate remarketing campaigns
Separate your remarketing campaigns from your awareness campaigns. 
Use the audience exclusions setting to do that. This will help you avoid audience overlap, and also to change your ads, landing pages, bids, and budgets. 
For remarketing campaigns, you will need to create reinforcing messages (for ads and landing pages) that speak to people who have already shown an interest in your brand and are now considering your products/services. 
2. Make use of your data segments 
The data audience segments allow you to reach: 
People who visit your website or apps

 as they browse the GDN sites and apps. To create a website visitors data segment and be able to reach people who visited your website, you need to add the

Google tag

to your website. This tag will then send data from your web pages to Google Ads. 
People who installed your app

. You can re-engage people who have your app on their phones by showing them ads while they are using other apps that are part of the GDN. To do this, you will have to create

app campaigns for engagement

. 
Customers who shared information with you

. Google Ads will use the

Customer Match feature

to generate customer segments. Here you can upload lists of data, like emails or zipcodes, that customers have provided.
3. Use dynamic remarketing
Dynamic remarketing takes the process of remarketing a step further by allowing you to show previous visitors ads that contain products or services they viewed on your website. Using dynamic remarketing, you can bring back visitors who have seen your products or added products to their shopping cart. 
This feature will help you show your whole inventory of products in custom ads. To do this, you will need to: 
Upload a basic

.csv, .tsv, .xls, or .xlsx feed, and Google Ads will take the products from your file feed; 

Add the

dynamic remarketing tag

to all of your web pages. 
Google will then create custom responsive ads using the assets you have provided. 
F. Ad Serving in Creatopy
If you're a Creatopy user or you're considering getting a subscription plan, you need to know that you can serve your display ads directly from our platform. 
Ad serving is included in the ad delivery and optimization add-on (Pro and Plus plans). This feature enables you to publish ads to your chosen ad networks at the click of a button. 
We currently work with 25+ ad networks, and yes, Google Ads is one of them. All you have to do is generate an ad tag code for the banner ad you've designed in Creatopy, and import it into your chosen ad network, where you will do the usual campaign setup. 
With our integrated solution, you can eliminate the need to download and re-upload creatives to the ad network. With a few clicks, ads can be updated in real-time.
Tracking the performance of your campaign is also possible in Creatopy. Launch ads and monitor the impressions and clicks they get, and gain detailed insights about all tracked data based on device, ad network, and projects.
Learn how to serve ads from Creatopy.
Key Takeaways
I encourage you to implement these Google Display Network best practices into your own campaigns and see how they perform. Remember, always monitor the key performance metrics and adapt and optimize your campaign along the way. 
Make use of the Google Display Network's capabilities to target the right audience, run ads where your brand can meet the audience that is most likely to buy, and ultimately, use remarketing to re-engage customers again and again.