Create display ads
Get access to an easy way of creating display advertising campaigns that help you reach your audience in the moments that matter. With Creatopy, you can work in a collaborative environment and design static and animated display ads for Google Adwords, Google Display Network, or Bing Display.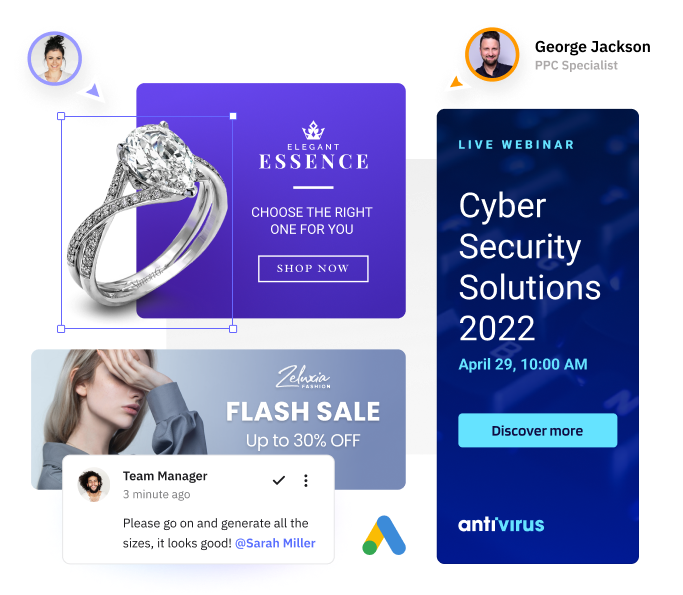 Make display ads from templates
Start already inspired and get a head start by choosing one of the available display ad templates. Use Creatopy's drag and drop editor and personalize the template until it matches your brand. You can use the smart resize function to create multiple ads based on the same design and have branded ads across all channels.
How to create display ads
Choose a template

Browse our customizable display ad templates and choose the one that fits your business. You can also create a design from scratch by selecting a predefined size from our library.

Customize your design

Display ad design has never been easier. You can change the imagery, colors, and fonts to find the best possible composition for your ad—everything in a drag-and-drop editor.

Generate multiple sizes

Maintain brand consistency across platforms by instantly resizing your design in various sizes using the smart resize tool. Edit them simultaneously and have your display marketing ready in no time.

Export your banners

Download your banners in one of the available formats, including JPG, PNG, HTML5, AMP, or GIF for the ad networks of your choice. Share your display ad and reach your target audience.
features
Creative automation for display ads
Your display ad design process can be done in-house from start to finish. Easily customize your visuals and automate ad production while working perfectly synchronized with your team members.
Design generator
Instantly create various sizes of a design with our banner generator. Get to the customizing part faster and change colors, fonts, headlines, and other elements on your display ads at once.
Effortless video editing
Use Creatopy's online video maker and turn your ideas into eye-catching animated display ads. Choose an animation preset and use the timeline to edit your banner with smooth transitions.
Brand alignment
Keep consistency across platforms by uploading your assets into a brand kit. You and your team can access brand colors, fonts, logos, and other elements at any time directly from your workspace.
Ad serving
Deliver static or animated banners directly to the ad display network of your choice regardless of file size and format. Make real-time changes to published ads without reuploading them.
Multiple ad variations
Create endless variations of your display ads based on a CSV file that you can upload thanks to the Feed Ad Builder. Pair it with the Ad Serving and sync your data feed with your ad design.
HTML5 & AMP export
With our display ads maker, you can download visuals in HTML5 format to offer an enhanced discovery experience. For faster loading times, you can opt for the AMPHTML format.
from our blog
Design inspiration
Display Advertising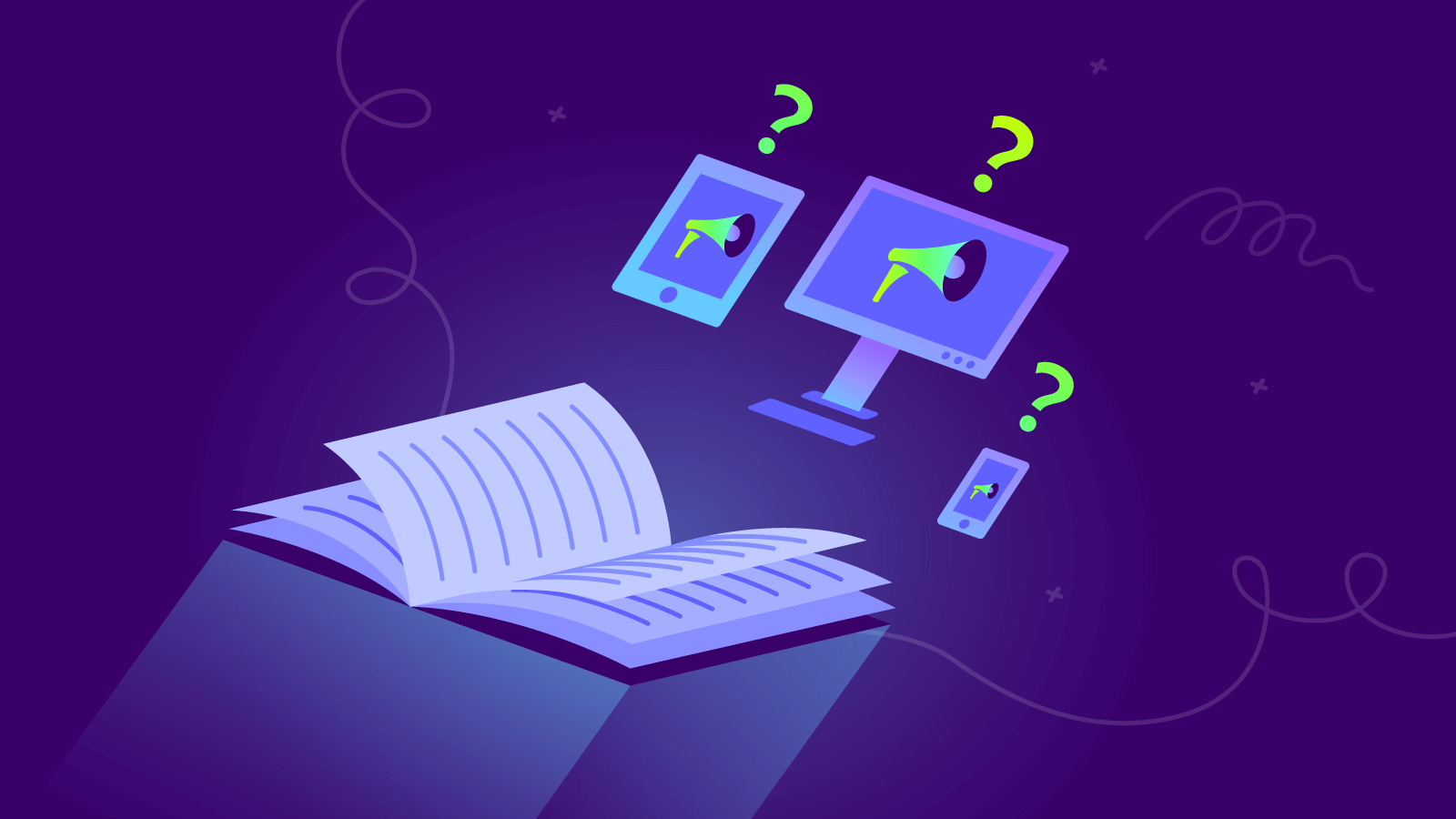 This complete guide will catch you up with all the basic concepts you need to know about display ads, what they are and what types exist so you can create successful campaigns.
Colors in Display Ads
A walk through the theory of colors and a look at our list of 40 curated color palettes will provide you with all the knowledge you need to make a banner that stands out from the crowd.
Display Ad Formats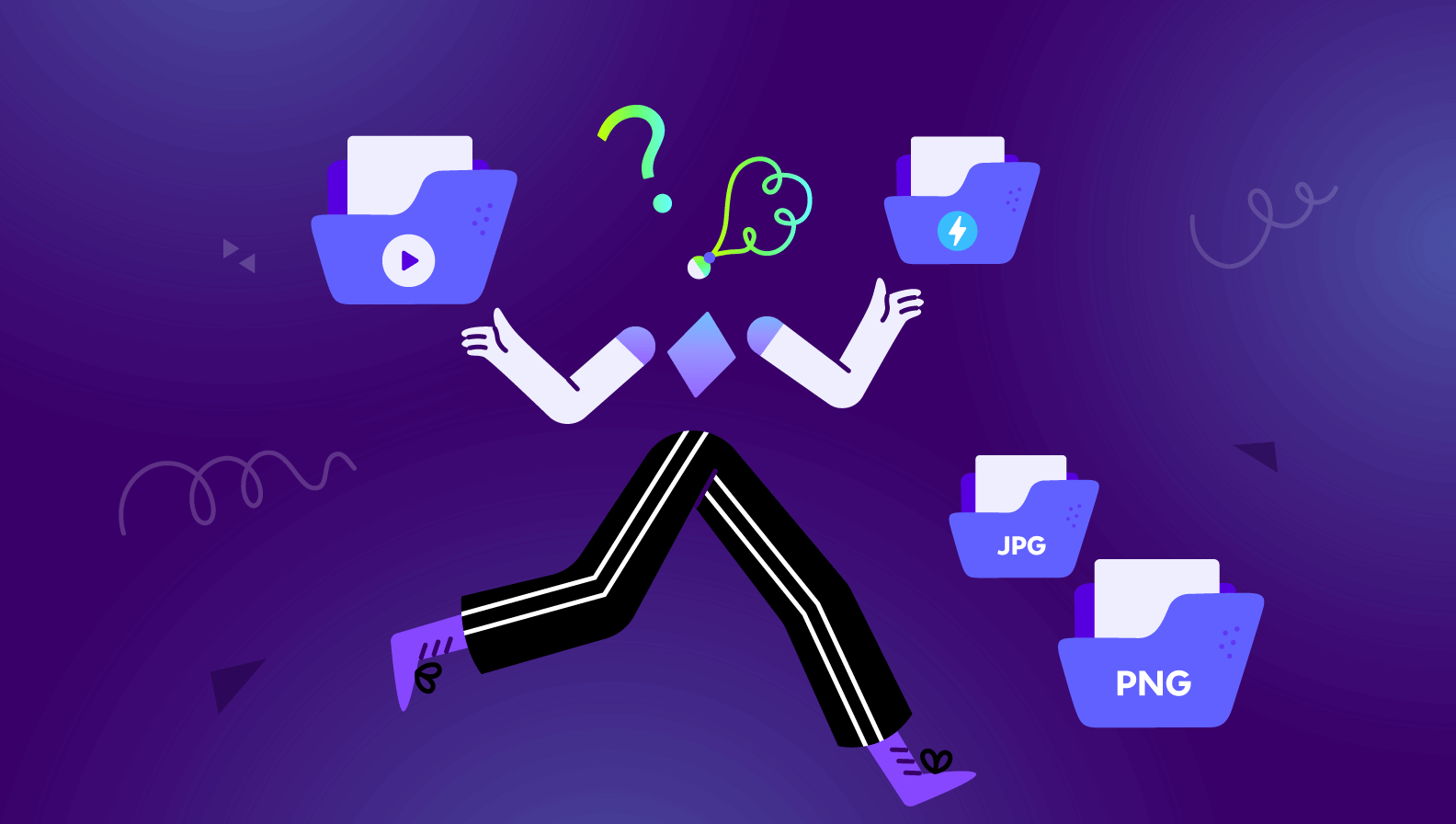 Learn about the various static and animated file formats you can choose from, while exploring the pros and cons of each individual display ad format.
Level up your display ad creation process
Change the way you design display ads and increase your productivity by delivering full campaigns faster and in a cost-effective manner. Start a free trial and experience the collaborative platform together with the automation features.