8
minutes read
The more you know about your customers, the more you can offer them exactly what they need.
Marketing research can be expensive for some businesses. So what solutions are there to get to know your audience better without spending a fortune?
In this webinar, we invited Amanda Natividad, the VP of Marketing at SparkToro, to tell us what audience research is, how to conduct it, and what to do with the information you gather.
Before reading any further, we must say that we did not capture all the examples that Amanda offered us in this article, so if you want to watch the video for all the insights, watch the webinar on-demand here.
---
3. Finding better buyer personas
4. Tools for conducting audience research
8. Story: learning the wrong lesson from a great campaign
9. Q&A
---
1. Market Research
Market research is the organized effort to gather information about target markets and customers. You can do it through surveys, focus groups, reports, etc.
Unfortunately, there are some drawbacks when conducting market research.
Some of these drawbacks are:
Research surveys are expensive (around $30,000).

Interviews and focus groups are time-consuming. You need a couple of experts to lead the focus groups, it takes time to find the right people to interview and weeks to collect all that data.

There is a difference between what people say they would do and what they will actually do. They can offer an aspirational answer rather than a realistic one.

Market research is not accessible to everyone. If you're a founder, a marketing team of one, or don't have enough resources, the chances of having and spending $30,000 are non-existent.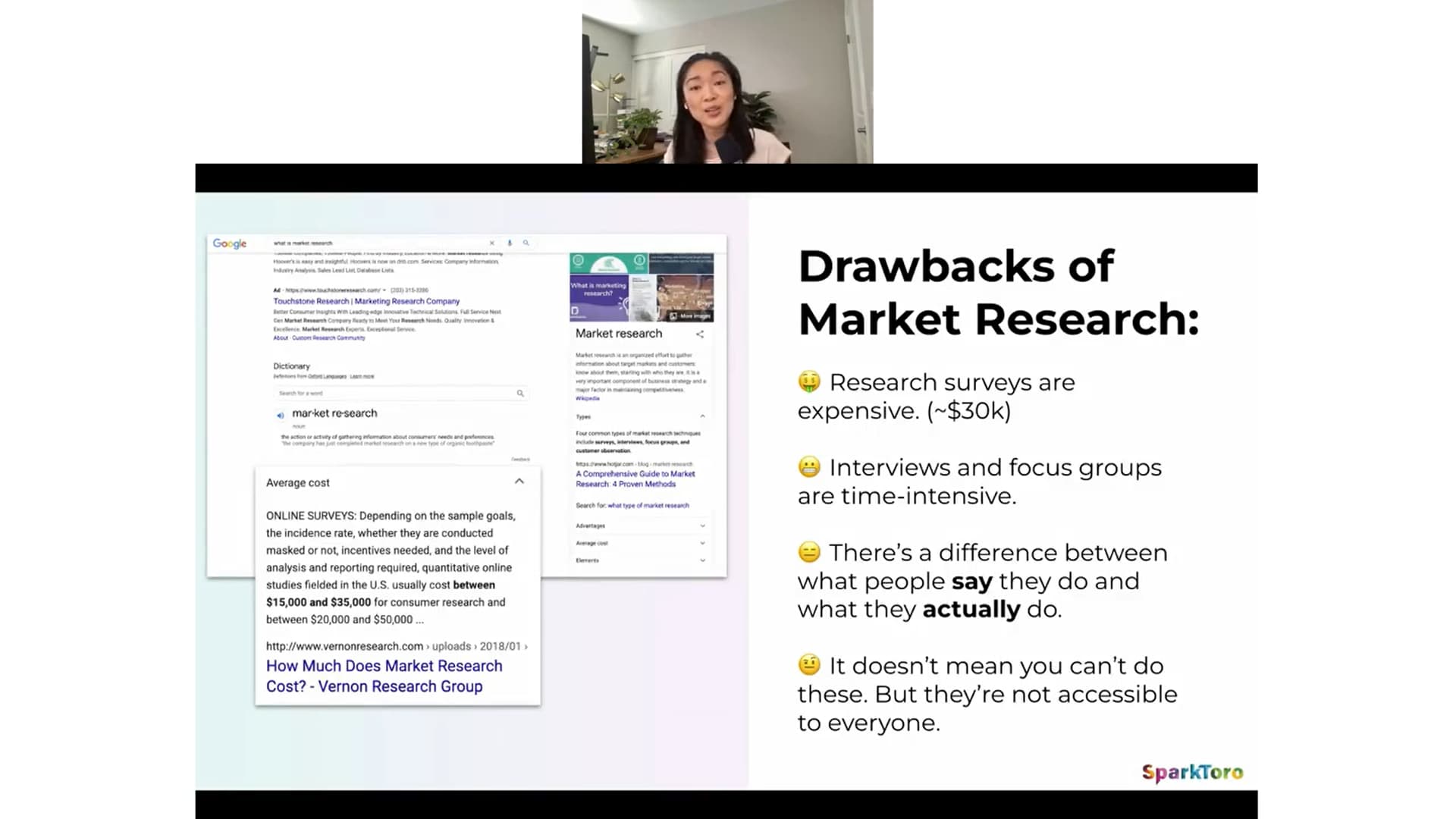 2. Audience Research
The alternative to market research is audience research. Or, it can be done as an addition to market research.
So what is audience research all about:
It's about learning about your audience's online behavior.

It helps you find your audience's sources of influence, such as podcasts they listen to and social accounts they follow or interact with.

It helps you understand your audience on a practical level and what you can do with these insights.

It helps you apply all the knowledge found through audience research to your marketing efforts.
In the webinar, Amanda offered us a great example of how you can do audience research and what you can do with all the insights you find.
She took James Clear, the author of Atomic Habits, as an example.
Using audience research tools, she managed to find which other accounts James Clear's followers were also interested in.
She also found out what topics they discuss online such as business models and critical thinking.
Based on this knowledge, Amanda suggested what you can do to attract this type of audience to your accounts.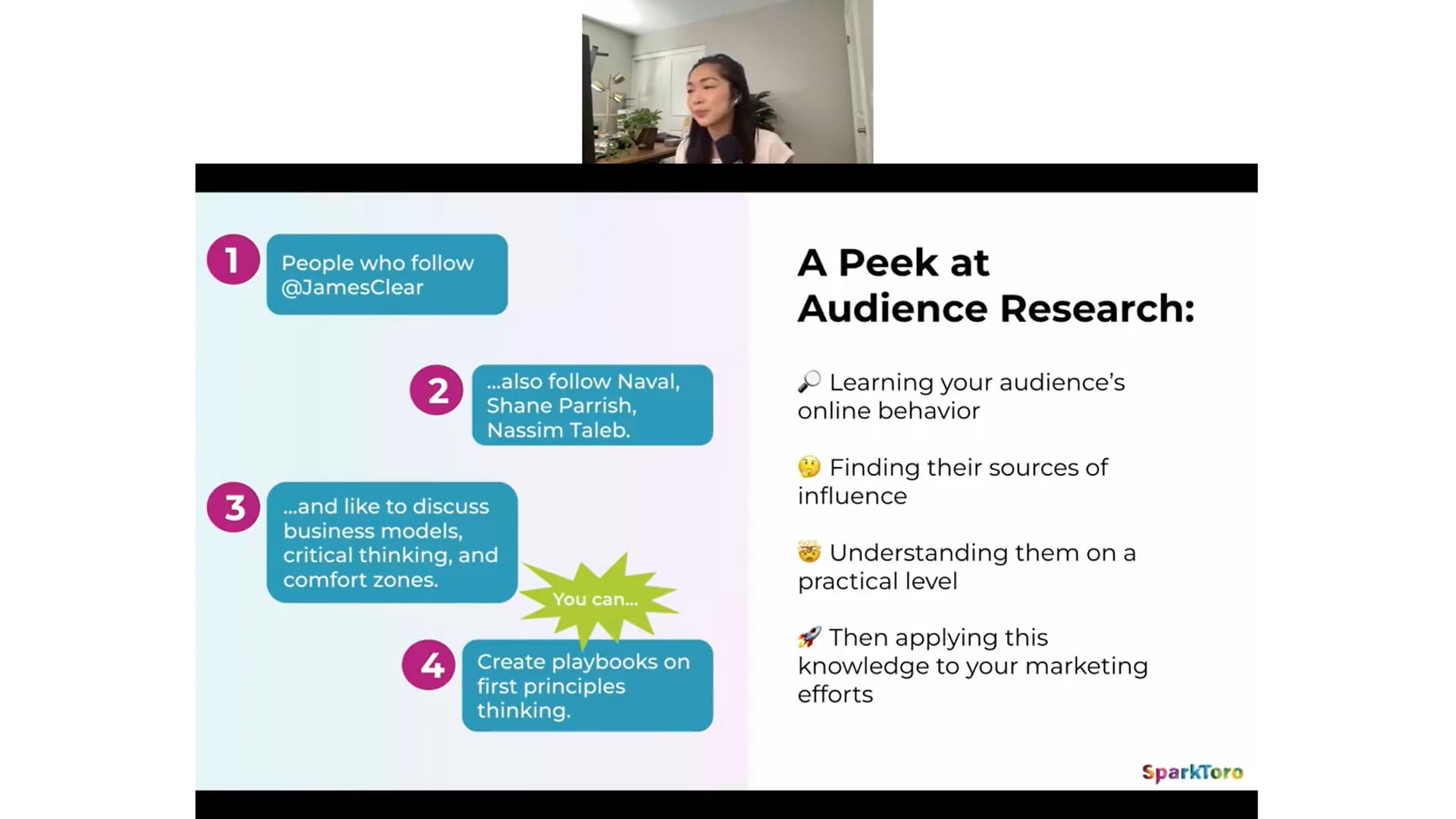 3. Better Buyer Personas
Audience research can also help you design better buyer personas by learning more about your audience on a macro level, whether you are at the beginning and want to learn more or already know something about your audience.
Suppose you have a following, meaning that you have a decent amount of website traffic, or your account has a couple thousand followers. In that case, you can learn more about your website visitors and social media followers.
If you're in a well-defined niche, you can search for topics people talk about online to help you define your buyer personas.
You can also look at other brands that may not be your competition but with which you share an audience. You can then analyze different types of audiences that they have and see if you can find a lookalike audience for your business.
4. Tools for Conducting Audience Research
When conducting audience research, there are some tools that you can use. Amanda told us about four tools, all of which have a free and paid version.
4.1. Followerwonk
Followerwonk is an app used to find more about your Twitter followers, and the tool is free if your account has less than 25,000 followers.
Here you can have a report with data about your followers, such as where your followers are from, or find words that people who follow you use in their Twitter bios.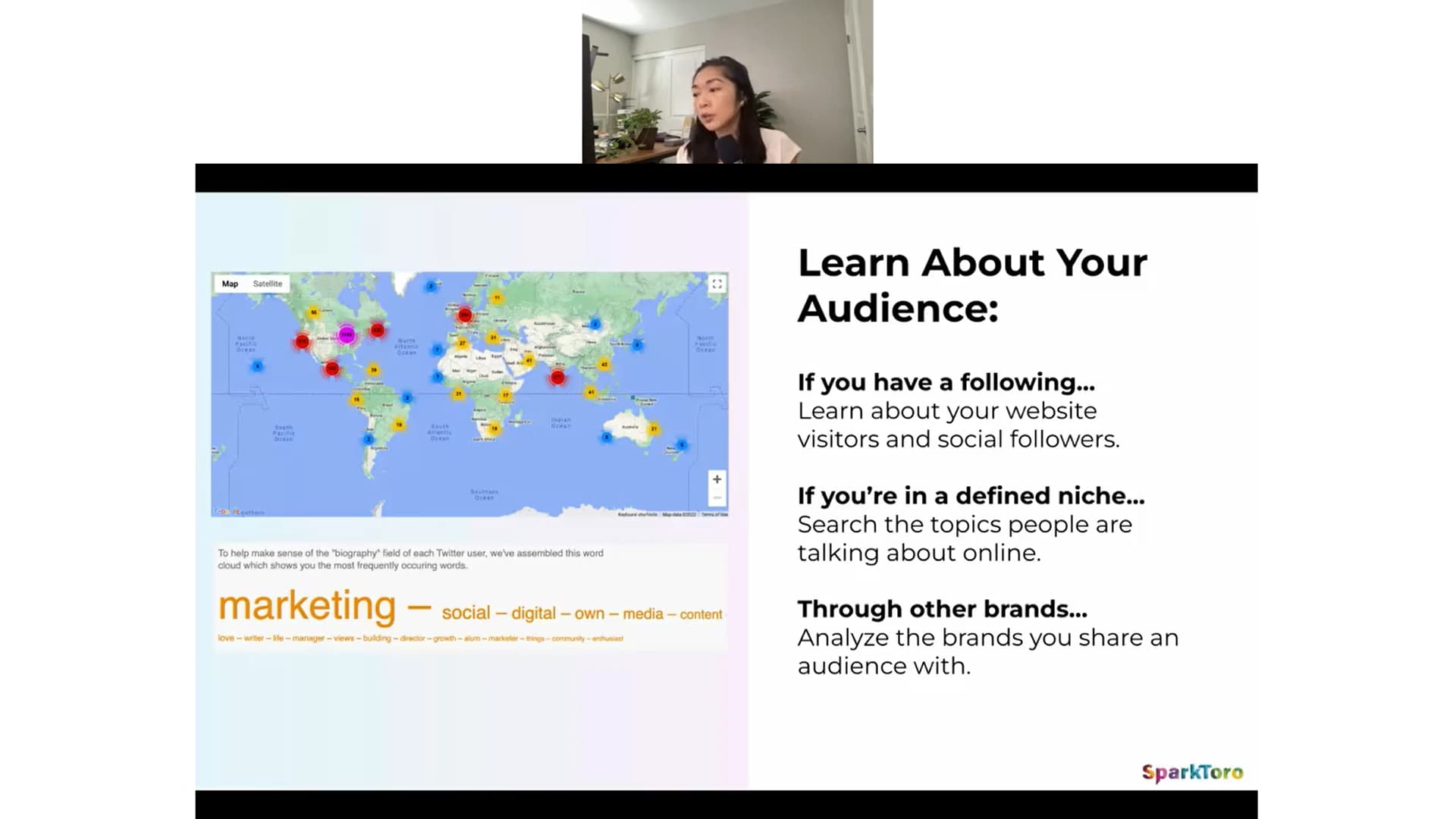 4.2. Similarweb
With Similarweb, you can analyze your domain and find out data about the gender of your customers and their age. You can also see their interests or other visited websites.
It is also possible to compare your website with other similar websites. For instance, if you find a website with whom you share your audience, and it's similar to you, maybe you can make a partnership.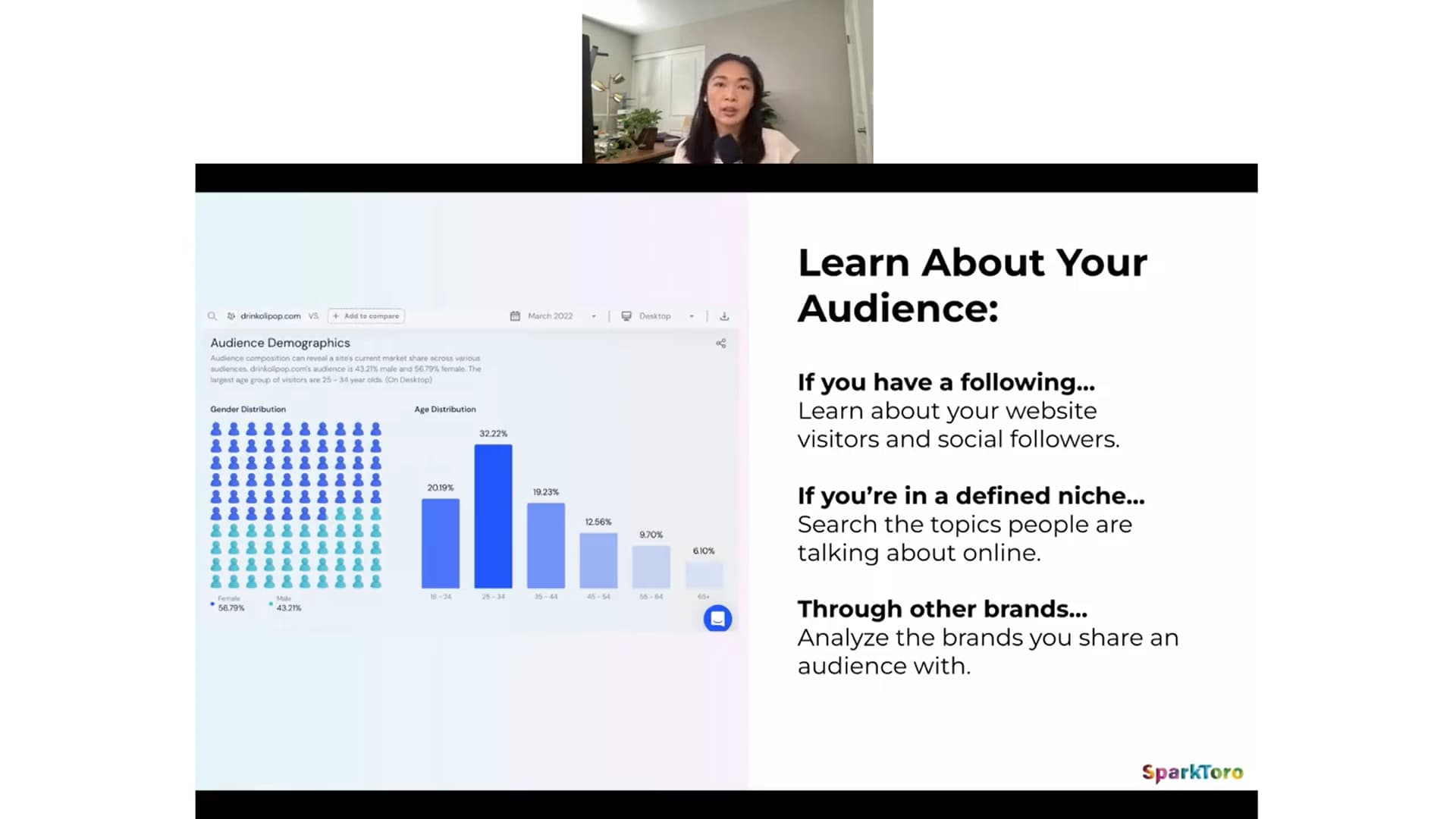 4.3. SparkToro
Since Amanda is interested in the creator economy, she ran an analysis in SparkToro to find out what Convertkit and Gumroad users have in common.
Convertkit is a newsletter tool, while Gumroad is an ebook publisher, and their audiences will probably be similar.
She compared the websites and found a sample of bio phrases, website visits, and accounts that are followed by accounts in both queries.
The conclusion was that people who use these websites are into productivity and use dictionaries a lot.
The point of all these tools that help you conduct audience research is so you can get an idea of the profile of your potential buyers.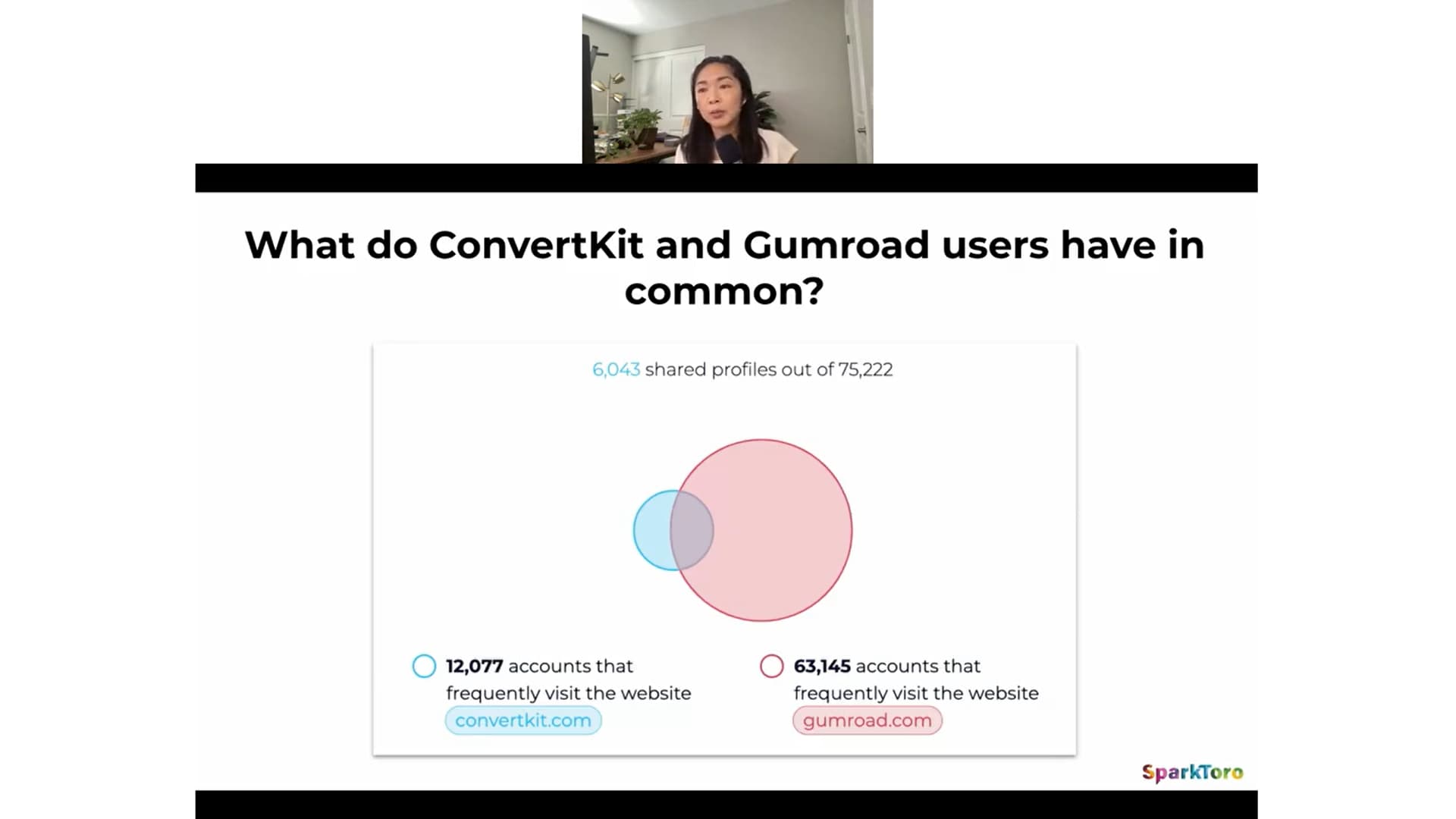 5. Layer on First-Party Data
To explain how to layer the audience research on first-party data, Amanda did an analysis using Clearbit and SparkToro.
Clearbit is a tool that gives you insights into your email list. Like the other tools mentioned above, Clearbit has a free and paid version.
Amanda used the 2,800 email addresses sourced from Twitter and podcasts and found that her followers work in B2B. She also found the industries her followers work in and the size of the companies they work for.
She took all this information from Clearbit and then used Sparktoro to run some queries to see what her audience frequently talks about or if they use specific words in their profile.
The analysis gave her an idea of good topics to write about and words to incorporate into her followers' copy.
Using the social tab of SparkToro, Amanda found which social accounts her audience engages with and found hidden gem accounts.
Based on what she found in the social tabSparkToro, she could contact these social accounts and build some co-marketing materials.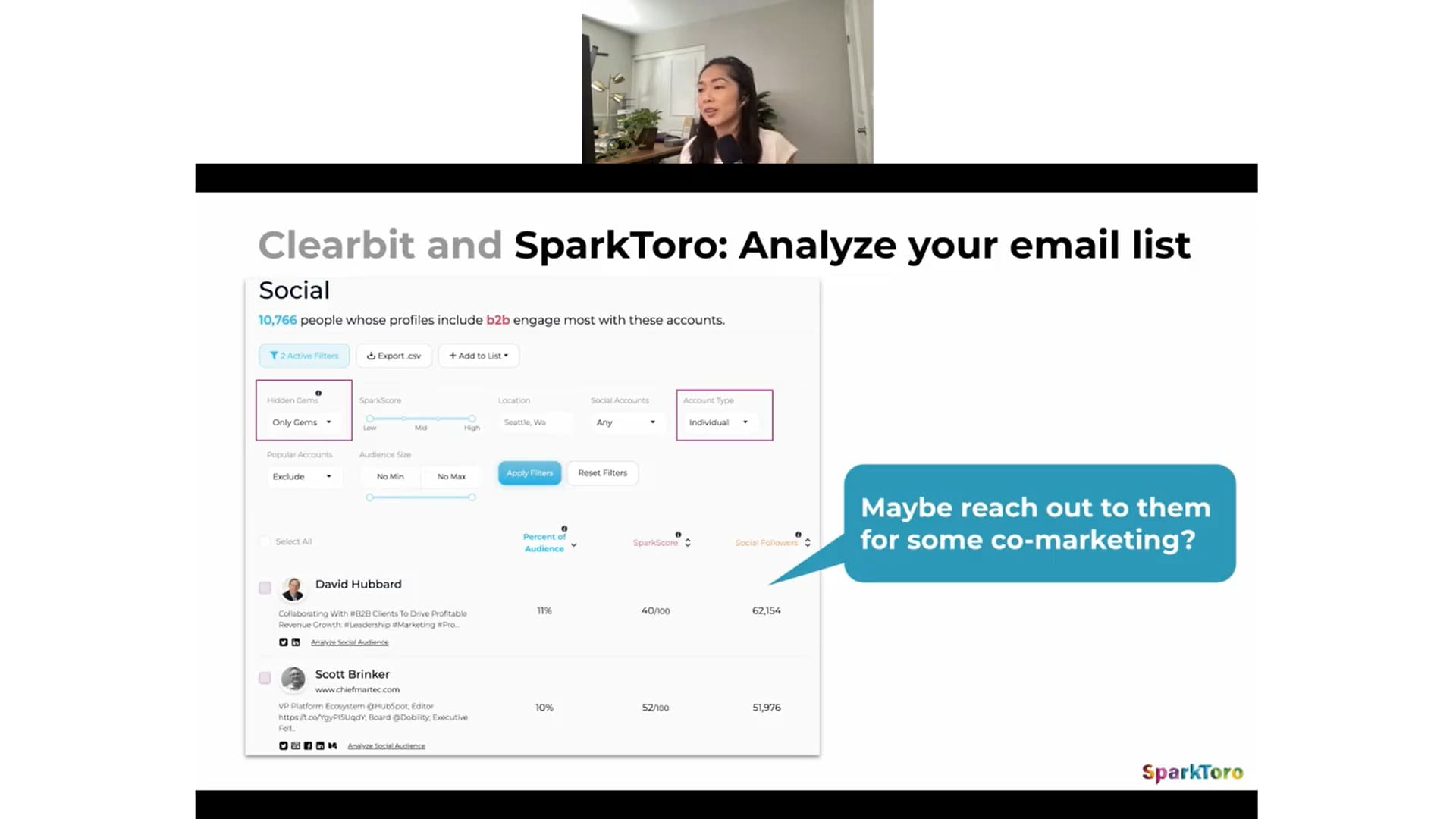 6. Segment Your Customers
After you understand what your audience is influenced by and what they care about, you can combine this information with actual customer data.
There are three overall customer segments you can think about, which can offer you a great framework no matter the company you work for:
Casual enthusiasts are people who want to get a straightforward job done.

People who have an overlapping shared interest. Meaning those with two jobs to be done, such as something functional and aspirational.

Hardcore fans are the people who embody your mission and core values.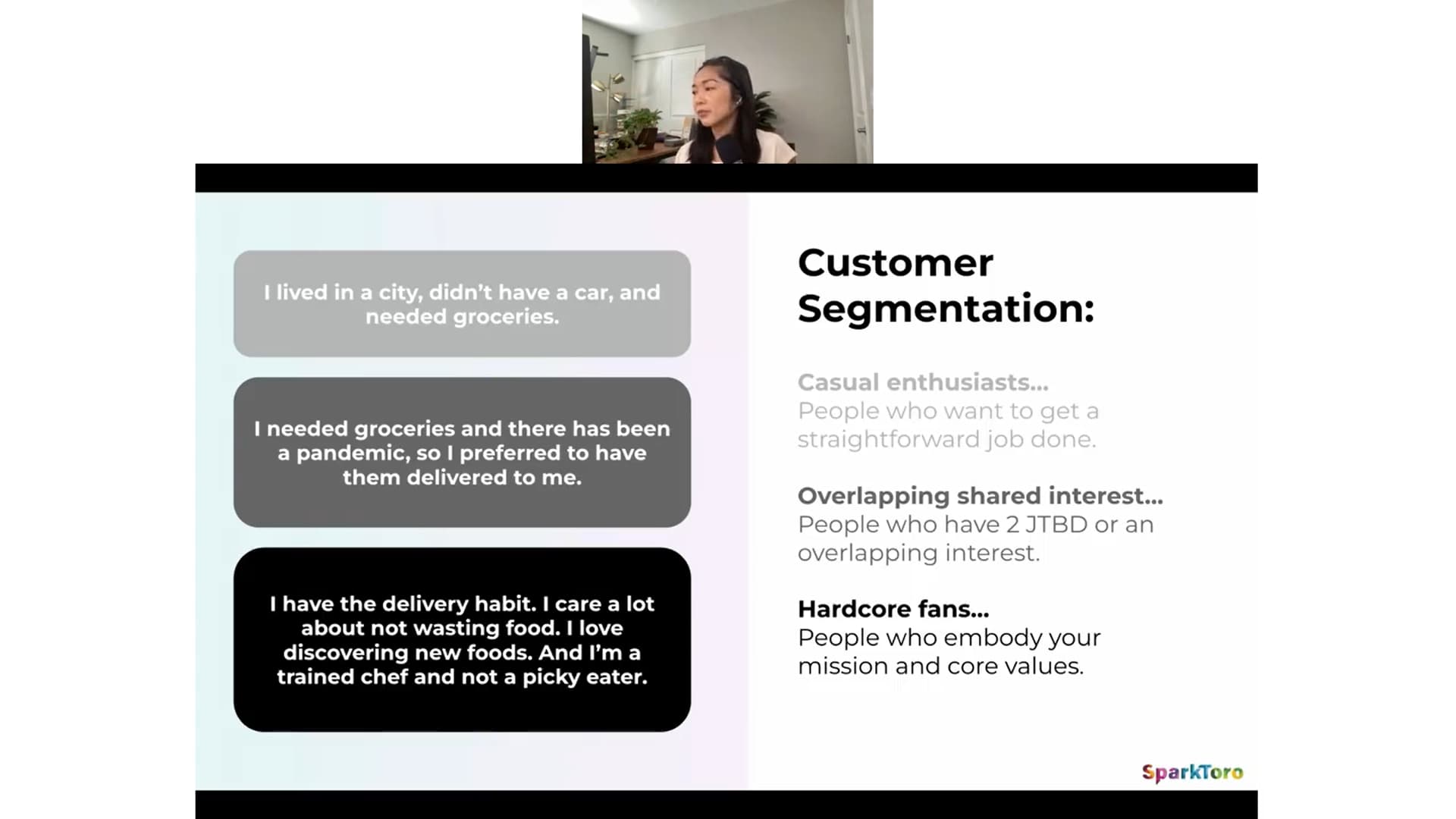 7. Tips for Optimizing Ads
You can use these tips no matter the method you choose for audience research through manual research or tools like Similar Web or SparkToro.
Target by demographics such as age and gender as it will help with the ad placements.

Look at text insights and see what your audience talks about online, what's top of mind for them, and what words they use.

Target your lookalike audiences. You can get a primary source from SparkToro to find out what accounts your audience follows and plug that into your lookalike audiences.

Find opportunities and creators to collaborate with (podcasts sponsorships, newsletter sponsorships, cold marketing opportunities).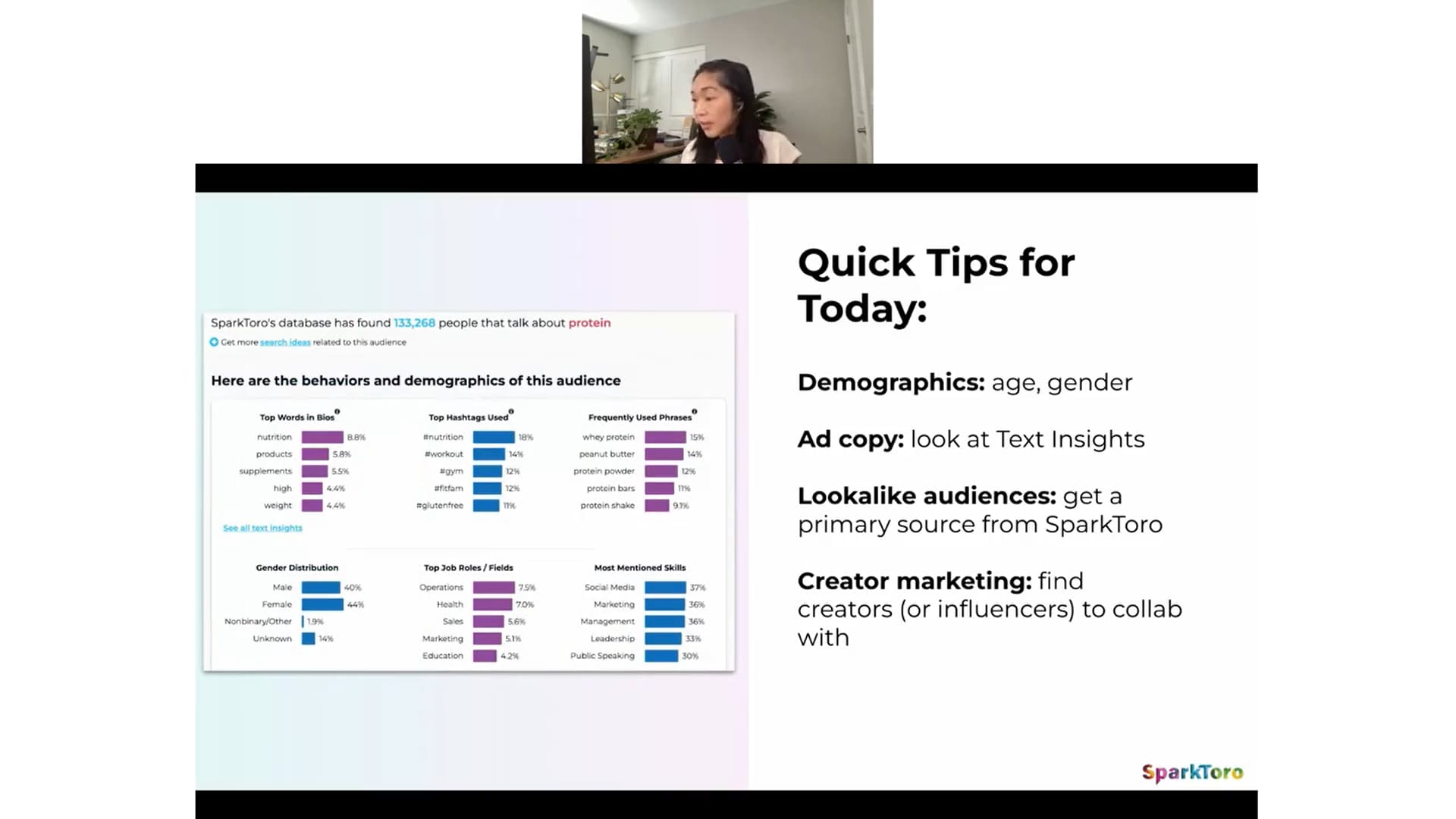 8. Story: Learning the Wrong Lesson from a Great Campaign
Amanda decided to end her presentation with a great story about a marketer she worked with whom did not fully understand the audience.
This marketer sells a food product, found some well-known food bloggers, and paid for several ad placements.
One of the placements was a Japanese food blog, and that one performed exceptionally well.
Their decision was simple, and they invested in more ad placements with other Japanese creators, but all these other placements failed.
Why?
They attributed success to the wrong niche. The marketer thought the success was due to the Japanese blog owner, but the success should have been attributed to the food experts.
This is an excellent example of why you should do audience research and understand the ecosystem from potential buyers to your potential amplifiers, creators, journalists, etc.
9. Q&A
Robert: How can you understand your audience's motivation?
Amanda: I think that if you look at your audience's personas and think about the motivation across your entire audience set, it's easier to find the motivations of creators. They want to grow their audience. Or journalists who want to break the news. That is easy, but it's a lot harder with our customers.
I think it's important to do some customer interviews to understand what job people are trying to accomplish by buying your product. People don't become SparkToro customers because they like audience research but because they want to find all the influential social accounts in their niche.
You can also do micro-level research to find what influences them, like magazines and podcasts, and then actually read the magazines and listen to those podcasts. Listening and understanding the intent of why anybody is listening to this.
When you consume the content your audience consumes, it becomes easier to think like them and understand their needs, desires, and motivations.
Tony: Do you think it's better to attract a certain niched audience who would engage better with your product or a more widely mainstream audience?
Amanda: It depends. I usually advocate for attracting a niche audience and then taking that bottom approach. I think that when you find a niche audience, you can start to build loyalists. Maybe those are people who you can tap into for job spin interviews, or maybe they are influential customers you could do co-marketing with.
This opens more possibilities for you that lead to long-term sustainable marketing campaigns, and then you can build your way up.
It may help you develop stronger buyer personas because it is grounded truly in what your customers are already doing.
If you have a wide-range consumer product, maybe it will work better for a wider mainstream audience.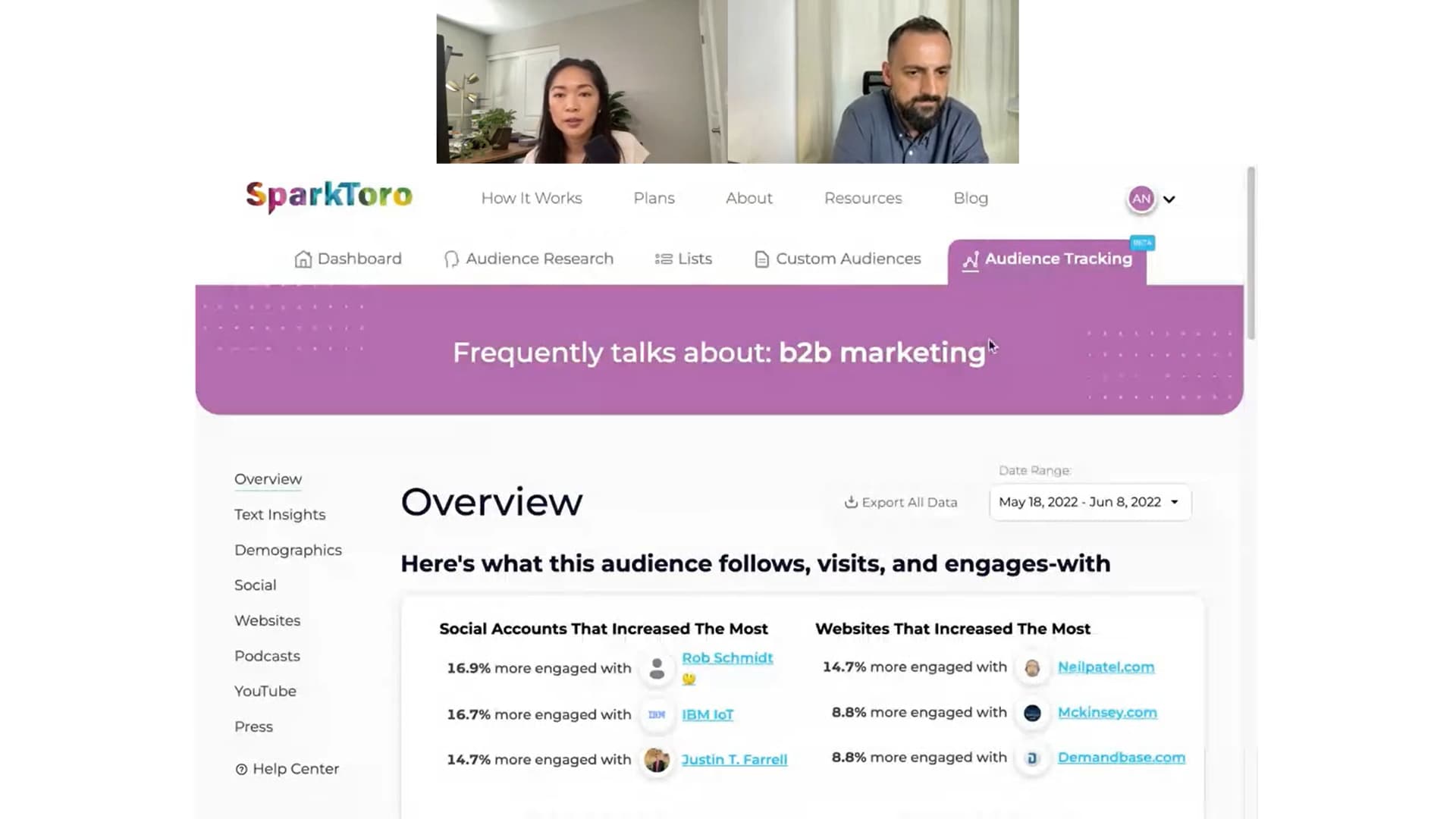 Final Thoughts
We hope this webinar offered you some great insights about audience marketing and how it can help you create better buyer personas, ads, and content for your business.
If you want to know what other examples and questions Amanda offered and answers in this webinar, watch this webinar on-demand.
See you next time on our webinar with Jacob Cass about How To Create Scroll Stopper Ads.