6
minutes read
Instagram is not the new kid on the block anymore.
With more than 1 billion monthly active users, the visual focused social network has surpassed Facebook when it comes to young audiences, and it doesn't seem to stop here.
Studies show that Instagram videos have the highest engagement right now and drive the best conversions, so they are one of the best choices for your advertising strategy.
In this article, you'll learn the best practices when doing Instagram video advertising. Also, I'll give you some tips to maximize conversions by using examples from the most successful brands out there.
In the end, I'll show you step by step how to make your own Instagram video ads within minutes without needing any design skills.
Stick with us till the end, and we'll make it worth your time by giving you actionable insights on how to get the best results when advertising on Instagram.
But first, let's see what the Instagram video ads specs are.
Instagram Video Ads Specs
Here's all you need to know about Instagram video ad size, format, resolution, ratio, and duration.
Instagram ad video size recommendations:

File Type: MP4, MOV, or GIF

Ratio: 4:5

Resolution: at least 1080 x 1080 pixels

Video captions: optional, but recommended

Video sound: optional, but recommended
Instagram video ads technical requirements:
Video duration: 1 second to 2 minutes

(but it's best to keep it short)

Maximum file size: 30MB

Minimum width: 500 pixels

Aspect ratio tolerance: 1%

Caption recommendation: 125 characters
Keep in mind these details when promoting a video on Instagram.
Best I
nstagram Video Ads Examples + Tips
If you want to get the best ROI with Instagram video advertising, you should always test to see what works best for you. Results can depend on your target audience's behavior as well as the products or services you advertise.
However, you can learn lots of things by studying the best Instagram video ads, what brands do, and how they advertise.
Here's a list of tips and tricks to help you get the best results with your video ads on Instagram.
1. Share your best information in the first few seconds
With Instagram video ads, as with any video format, it's essential to make users not scroll past your ad. That's why you have to get their attention from the first glance.
Add your most important information in the first seconds to make sure you get the word out there.
Here's a great example from Doodly, where the Instagram video ad is so suggestive that all the information you need to know is visible from the first seconds. The video also looks fun and engaging, making sure it gets the viewer's attention.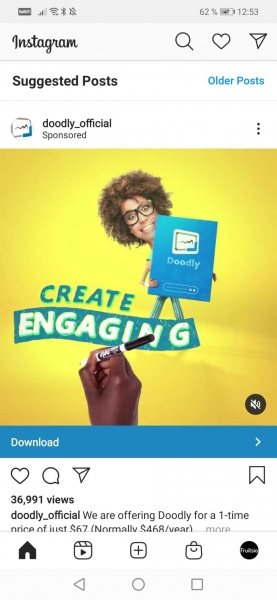 2. Pick your goals
In advertising, just like in life, you can't have it all (at least not at the same time).
You have to make your choices and choose wisely. You can't obtain engagement, awareness, sales, and newsletter subscribers from a single video ad. So you need to pick one goal and focus on it.
There are more ways you can achieve that goal. You could add a CTA to your video or in the caption. You could ask for visits and create a dedicated landing page or ask questions if you are looking for engagement. It all depends on what's the goal you set for your campaign.
Here's an example from an online video game that encourages users to try it for free. It comes with a clear call to action and a spectacular video, so it makes you want to try the game right away.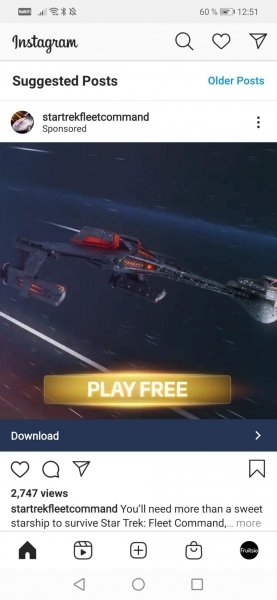 3. Don't make it look like an ad
On Instagram, people are used to consuming content that's beautiful, engaging, and tells a story.
If you end up using the same video ads you use for display advertising, you probably won't have any results, as users will keep scrolling and ignore your ad.
But if you find a way to tell a story about your brand or product that also looks beautiful and engaging, you hit the jackpot.
Here's an example from Airbnb that managed to create a whole story around their Experiences campaign. With this campaign, Airbnb offered curated experiences that begged to be saved, booked, and shared.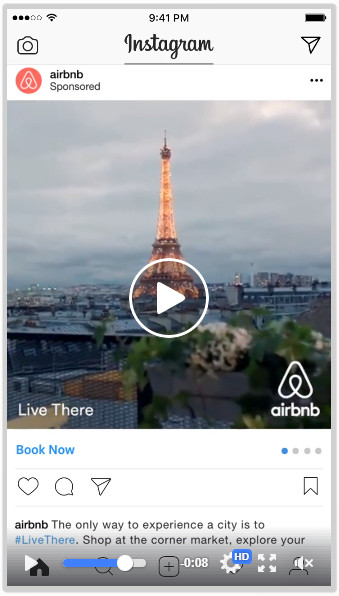 4. Optimize your Instagram video ad for mobile users
Instagram was always a mobile-first app, but it's easy to forget this when you're designing videos from a giant desktop screen. It's easy to get trapped into wanting to add more information and elements and, as a consequence, make them too small.
Even if smartphones keep getting bigger every year, you should still test to see how your video would look on smaller phone screens. Check if all the elements are visible and if the text can be easily read.
Here's an example of a simple Instagram video ad from ClickCease that made sure the text is visible and can be read on various smartphone sizes.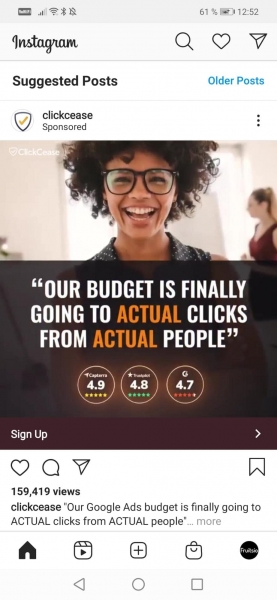 5. Keep it short and sweet
Time is the most valuable possession for us all, so try to keep your videos short and engaging. Even if the platform lets you create videos up to 12 seconds, short videos perform much better on Instagram.
Insights from Facebook show that the watch time drops as the length of the video goes up.
This short video ad from Pixart manages to add cute and engaging elements and get their message out there within just a few seconds.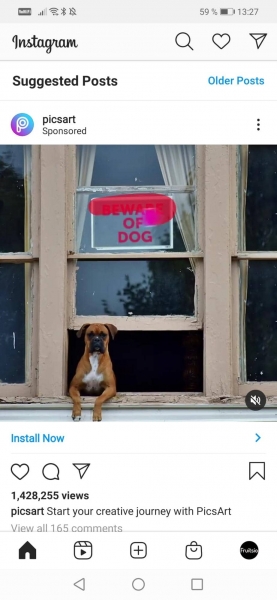 6. Create shoppable video ads
In Instagram ads, you can't add links to promote multiple products. So if you have an eCommerce store and want to promote multiple products, one solution would be to create a mobile-first landing page for your campaign. But an even better solution is to add shoppable products to your video ads.
All you have to do is add the Facebook pixel to your website and then set up your products to tag them in your Instagram video ads and posts.
Here's an example of how the ad looks like if the user clicks on the products. Then, the customer can proceed at checkout on your website.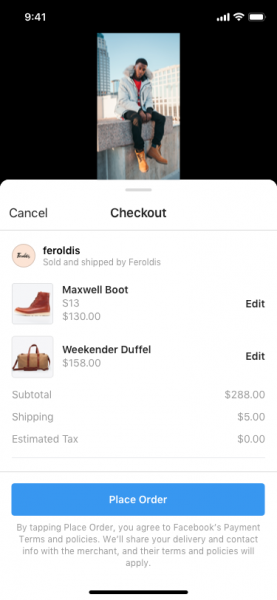 How to Create Video Ads for Instagram
It's never been easier to create video ads for Instagram that are beautiful, engaging, and efficient. With Creatopy's video maker, you don't need design skills to create stunning video ads.
On top of that, you'll save money and have more time to create several different ad sets to see what works best.
But let's cut to the chase and see the steps you need to follow:
1. Create a Creatopy account
If you haven't had the chance yet, now is the time to create a Creatopy account. You have access to tons of visual elements to make Instagram video ads faster.
2. Choose the Instagram video size
After you're logged into your account, go to Start creating, type in
"Instagram" and click on Instagram Video Post to get started and enter the editor.
3. Choose a template or start from scratch
If you're feeling creative, you can start with a blank canvas.
But if you need some ideas or a head start to get your creative juices flowing, you can go ahead and start from one of our Instagram video templates.
They are fun, colorful, and professionally designed to maximize your conversions. You can also modify the templates as you wish.
4. Add your own text, elements, illustrations, and videos
Make the video your own by adding your branded, personalized content. You can add your logo, modify the text, change an image, and upload videos from your computer to showcase your business using your own elements.
Don't forget to use your brand's colors, fonts, and visual elements to provide consistency.
With Creatopy, you also get access to an extensive library of stock photos, videos, GIFs, animations, and other elements you can use to create your video ads.
Use the Timeline to view, edit, and trim your video in just a few clicks. It's intuitive and easy to use, so editing your video will be a piece of cake.
5. Download the video ad
Once you are done and happy with your design, download it in the preferred video format. Then all you have to do is use it as an Instagram video ad.
For the best quality, we recommend going for MP4.
To Wrap It Up
Now, all you have to do is think about a concept for your video ad and start creating.
I hope I inspired you with the examples I included in the article and that you'll use my tips to create Instagram video ads. In case you have any questions, I'll be happy to answer them in the comments section below.