6
minutes read
In a world where most people are connected to their phones for more than five hours a day, it is no surprise that the advertising industry focuses its attention on mobile advertising.
There are many ad formats available for mobile advertising, but the most popular due to its impressions and click-through rates is the interstitial ad format.
Interstitial advertising tends to catch the users' attention and make them engage with the ad better than other ad formats. Still, if you want to display interstitial ads, you need to pay attention to Google's penalties and follow some rules to avoid intrusive advertising.
In this article, you will find the interstitial ads definition, their benefits, best practices when displaying interstitial ads, and a few examples.

A. What Are Interstitial Ads?
Interstitial ads are full-screen ads that are displayed before, during or after a user navigates to a specific page on a website or mobile app. They can be in the form of images, videos, or rich media and often have a close or skip button. The purpose of interstitial ads is to grab the user's attention and promote a specific product, service or message.
Even if they seem intrusive, they are not. The user either closes the ad and continues the original activity or taps on the ad, which takes them to the ad's landing page.
If you've ever installed a game app on your mobile, you saw an interstitial mobile ad appear when you pass from one level to another.
These ad formats usually appear at the natural transition points or breaks in the app's flow, such as activities or game levels.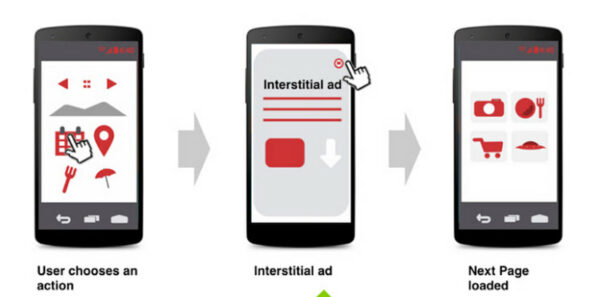 B. Types of Interstitial Ads
There are different types of interstitial ads such as text, image, rich media, and video. The most used ones are static images and video types.
The closing time of interstitial ads depends on their type. When the format is static, you can close the ad as soon as it appears. The interstitial video ads, on the other hand, may have up to a 5-second delay before the close button appears.
The video interstitial ads can work as playable ads meaning they may have the possibility to let users try a sample of your app before installing it.
You should take advantage of all ad types to increase the chances of higher fill rates and eCPMs.
In case you don't know what eCPM is, it is an estimate of the revenue you receive for every thousand ad impressions. eCPM is calculated as (Total Earnings / Impressions) x 1000.
C. Interstitial Ads Specs
In terms of specs, you need to keep in mind the interstitial ad sizes accepted by Google Ad Manager, which are:
1024×768 (landscape) or 768×1024 (portrait) for tablets

320×480 (portrait) or 480×320 (landscape) for mobile devices.
To see how you can get started with using interstitial ads in Ad Manager, you should take a look at Google's support.
D. Why Use Interstitial Ads
Interstitial ads are one of the most popular mobile ad formats that significantly increase revenue and app installs.
1. Minimize the banner blindness
Banner blindness occurs when users are so accustomed to banners that they no longer pay attention to them. The full-screen experience can help avoid banner blindness and capture all the user's attention, resulting in a high number of impressions.
2. Higher click-through rates
Interstitial ads are more expensive than other ad formats, but they generate an excellent click-through rate. One of the reasons is that they are more prominent, which results in increased user engagement.
3. Increased ad revenue
The higher number of impressions leads to a higher click-through rate (CTR), which can eventually lead to a higher conversion rate and overall ad revenue. As you already know, this is because they drive high engagement, and they generate user interest when they are placed correctly.
4. Increased downloads
Due to their high impression rates and conversion rates, interstitial ads provide a boost in downloads. Some of the companies that promote their app downloads with the help of interstitial ads are Pinterest and Airbnb, which gained 100% and 300% app installs.
5. Better engagement
Interstitial ads are one of the most popular ad formats in the programmatic advertising industry. Due to their size and interactiveness, they create an engaging ad experience for their customers.
When it comes to interstitial ads, you must keep in mind that if you don't display them according to the rules and best practices, all the benefits turn into setbacks, such as low retention rates, less traffic, and fewer conversions.

E. 3 Best Practices When It Comes to Using Interstitial Ads
Interstitial ads should not be disruptive and keep your users engaged during the app's waiting time, and you could do exactly that if you pay attention to a few best practices.
1. Create a natural app flow
When you are positioning your interstitial ad, you should pay attention to a couple of things. One is about the long list of penalties you can receive if you place them incorrectly. You can find more about them here.
The other one is regarding the user experience. You should place the ads at natural transition points to avoid disrupting the whole experience.
Your ads should appear before the break page rather than after to make sure you create a natural flow.
If an ad appears immediately after the user took action can cause accidental clicks on the ad and reduce your conversion rate.
For example, break pages usually require the user to tap the Next button to move to the next level in a game. If you place ads before Continue or Next buttons, you will reduce accidental clicks on the ad.
When the ad is showing, you should pause the application and the app's main audio to ensure the user will not experience a delay in the app's graphics or video.
2. Think about the frequency cap
One of the main reasons people uninstall mobile ads is intrusive advertising, so make sure you are not flooding users with interstitial ads. To maintain users' engagement, limit the number of caps per user to ensure the user experience will not be affected.
If you are using AdMob for your ads, you can put a limit on impressions per user for a certain period and specific campaign.
Furthermore, if you want to avoid accidental clicks, you should also pay attention to how frequently the app requires tapping from users, in which case you should insert a delay message on the screen, such as "please wait," before your interstitial ad is displayed.
3. Pay attention to the ad readiness
The user experience can be affected by the ad's loading time, which sometimes happens with interstitial ads. There are slight delays when triggering the interstitial ad, and they usually occur after the user selects an action.
If you use AdMob, you can preload your ads to make sure your ad will load entirely and be ready at the time of display, so you won't make the user wait for your ads to appear.
F. Interstitial Ads Examples
Let's see some interstitial ad examples and comment a bit on them.
Candy Crush interstitial ad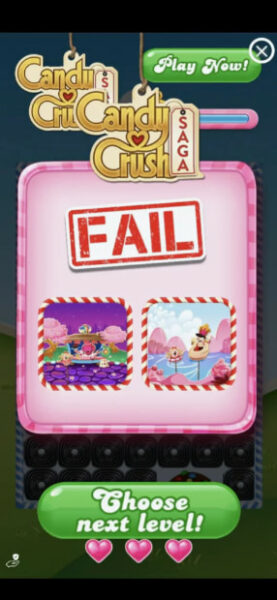 This colorful interstitial ad from Candy Crush gets your attention and makes you want to continue playing the game and become better and better at it.
This playful interstitial ad makes you interact with it. Before you click the close button or click on the ad, you can play this short game. In this way, the user interacts with the ad and will be more eager to click on the ad to find out more.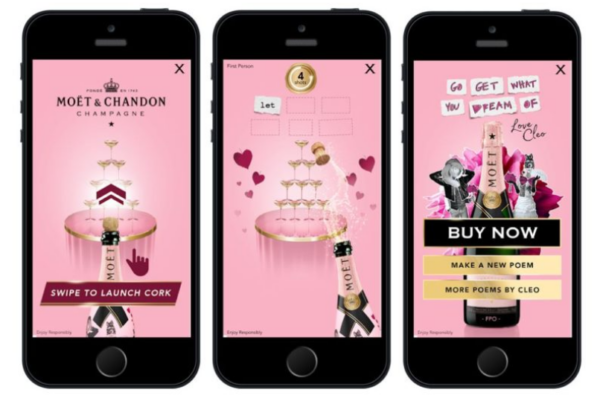 This type of interstitial ad comes in after you lose one game with an announcement before it begins "Watch this video ad and receive 3 more hearts." If you stay and watch the whole interstitial video ad and you won't close it, you will receive more lives to play the previous game. In this way, users will be more engaged with your ad because they gain something out of it.
Moreover, the ad gets all their attention and can lead to a conversion.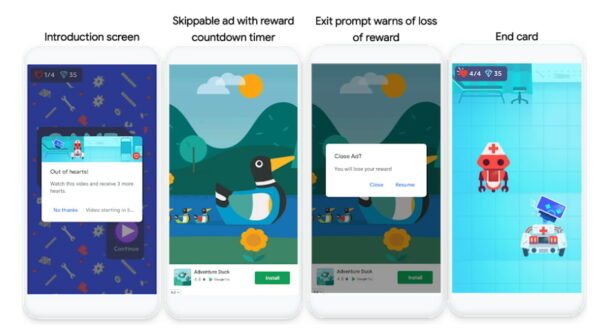 Wrapping Up
Now you know what interstitial ads are, their benefits, and also recommendations on how to use them.
If you follow the tips mentioned above, you can achieve all the interstitial ad potential. It is a good time to start considering them for your campaigns due to their high engagement, effectiveness, conversion rates, and revenue.