8
minutes read
Before we get into discussing the most optimal strategies for increasing your leads and the number of customers, it's imperative to point out one major thing—trust is vital.
Especially when we're talking about the financial industry, there's nothing people are more careful about than their personal finances.
And once you earn their trust, you'll also get their loyalty.
Studies show that seniors age 65 and older have stayed with their banks for 26 years on average because change is difficult for them. Once they find something that meets their needs, it's unlikely they'll go looking for something else.
The way you reach out to your potential clients through different financial marketing solutions makes all the difference.
And it's not an easy way to go about.
You need to work towards building that trust while at the same time, making sure that your clients' needs are being met.
To help you achieve this goal, we put together a list of the top six most important marketing strategies for financial services that are guaranteed to make your business thrive.
Let's go ahead and dive right in.
1. Make Your Website Easy to Navigate and Reliable
In the world of digital marketing for financial services, your website is your number one asset. From its design and user-friendliness to functionality, everything should be on par or better than what the competition has to offer.
Also, keeping in mind that most customers do business on the go, your website needs to be optimized for mobile use.
In the screenshot below, you can see how Avant, a large online lending platform, makes it easy for mobile users to understand the financial services they're offering.
They also have a form on the website that anyone can fill in to check their loan options.
As you can see from the second screenshot, that page is extremely clean, simple, and easy to navigate.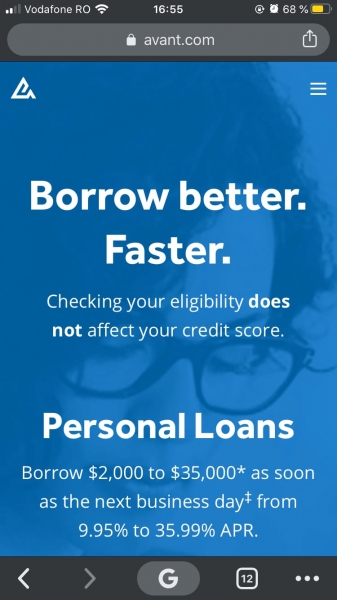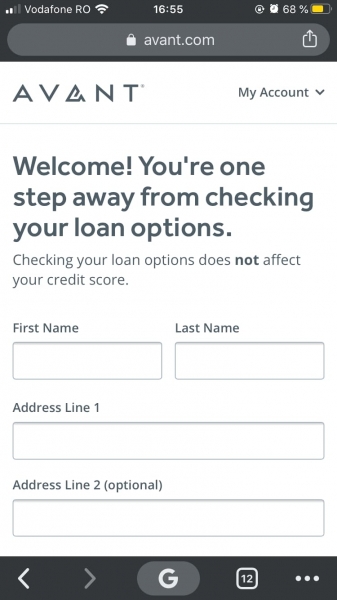 myFICO is also an incredibly popular financial service that lets you check your credit score.
From the moment you enter their website, the copy makes it very clear that they are to be trusted.
Then, if we look at the menu, we can see that it's straightforward and that it takes you only a few clicks to navigate the website and find what you're looking for.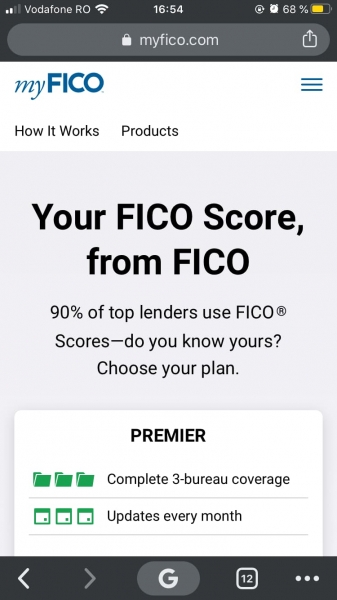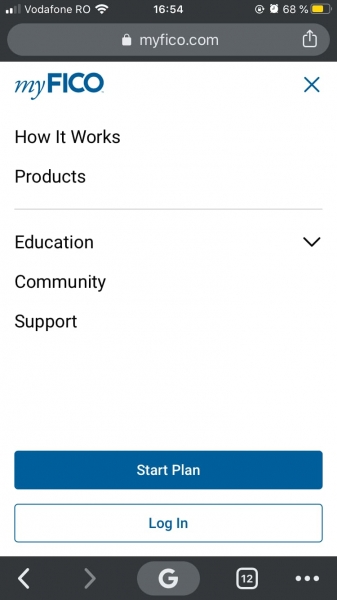 Young generations are used to having everything easily accessible online. Therefore, they expect to be able to also manage their finances on the go.
In fact, a recent study from PwC showed that 82% of smartphone users age 18 to 24 said that they use mobile banking. This percentage is bound to go up as the usage of mobile phones is on the rise.
Therefore, invest in making your website secure, mobile-friendly, and also fast.
2. Invest in Content Marketing
Don't shy away from having an engaging and informative online and offline presence. The marketing of financial services, primarily, should focus on supplying customers with as much information as possible through all the mediums available.
Put your content on blogs, news articles, newspapers, videos, email newsletters, and social media to ensure that people know about you, and they can find your services useful.
A blog, in particular, is one of the best ways to create meaningful content focused on what your clients should know about your business.
Use it to promote your views, show them you're reliable, add reviews from other clients, and prove that what you can offer is different and more valuable than what your competitors can.
Venmo, for example, has a very informative blog featuring only essential updates and available perks for their users.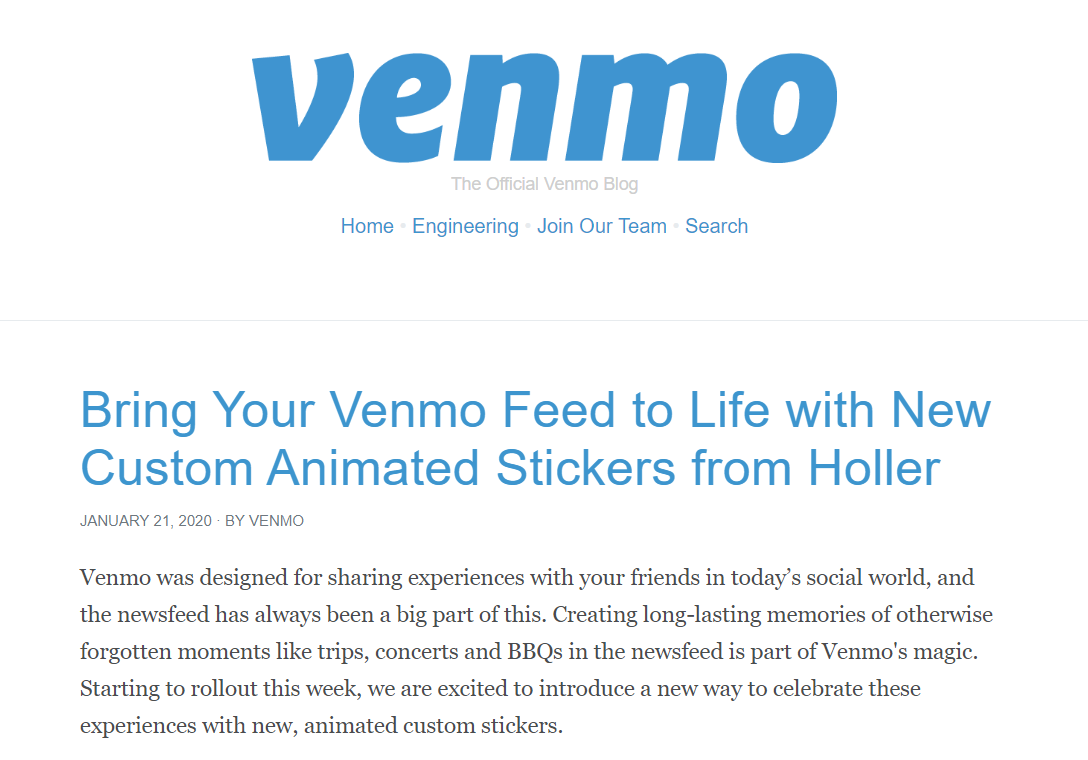 Bank of America's blog is more diverse in terms of content. Their articles are focused on everything from budgeting tips to saving strategies, travel, and entertainment.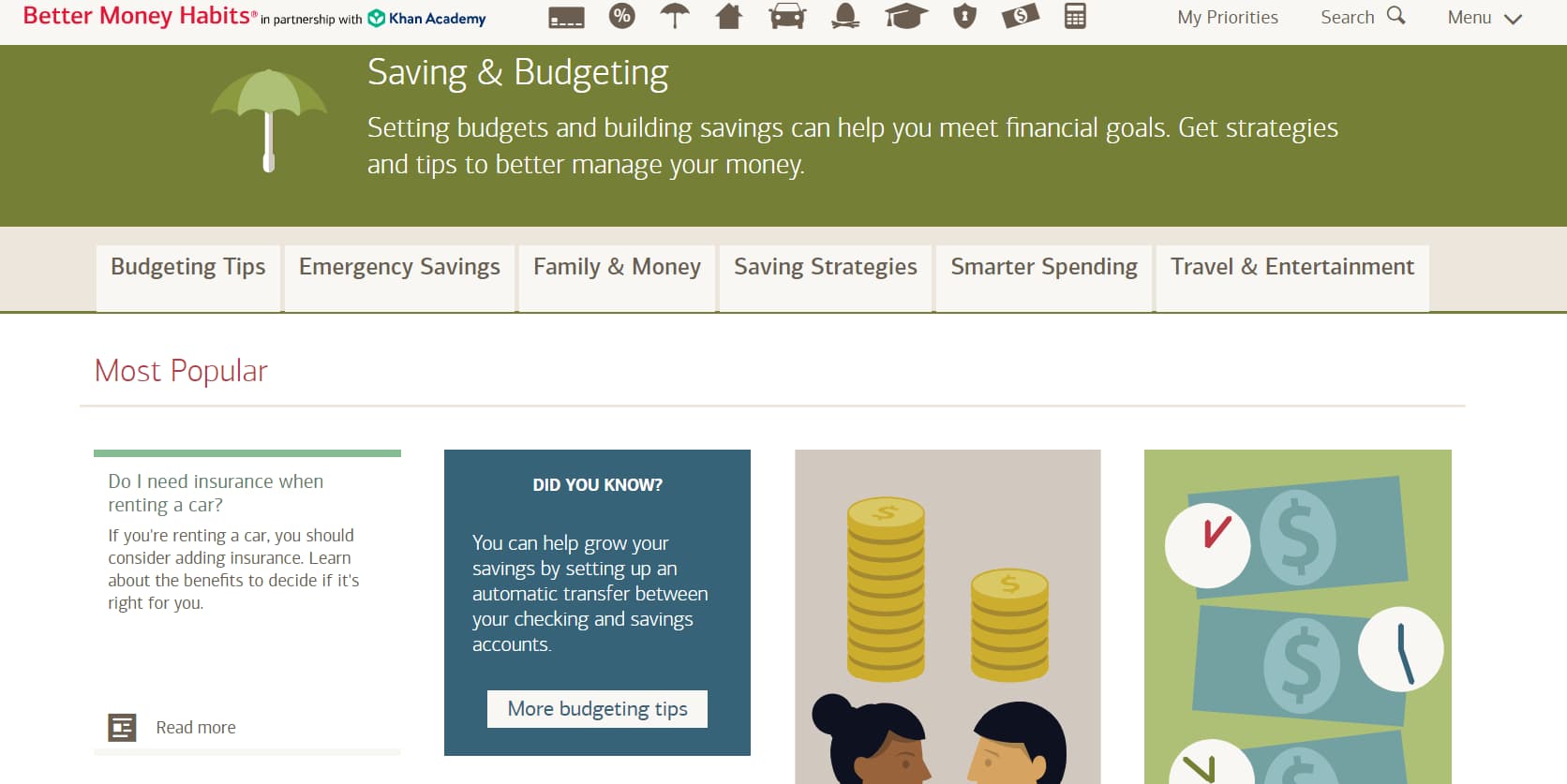 Use all the available resources to make sure your content stands out.
Keep your website and social media profiles up to date. Besides adding valuable content, invest in appeal as well, and there are plenty of tools online to help you with that.
For example, you can use Creatopy for all your online advertising campaigns.
Make your content relatable as well, speak your audience's language and try to understand their needs.
If your audience is mostly made up of Millennials or Gen Z, you'll need to cater to their specific needs. They are both highly technological generations, used to having everything online and at a hand's reach.
On the other hand, if your target audience also includes older generations, you'll need to reach them through different ways that don't necessarily include the online or the popular social media platforms.
It's crucial to think ahead by crafting a thorough content marketing plan and make the most of all resources.
3. Social Media Is Everything
There's a reason why social media gets a whole separate section, and that's because it's the easiest way to reach your target audience.
Be it through Facebook, Twitter, Instagram, or LinkedIn, more people are spending considerable amounts of time online. It's also where they get most of their information.
What's important when creating online content is consistency, regardless of your target audience. If you want people to notice and to remember you, you have to be present and therefore have a clear and consistent online presence.
Many financial institutions use these channels to create a connection with their clients, which will lead to building a relationship based on trust.
Speaking of consistency, when it comes to visuals for your social media platforms, you can use the Banner Generator feature from Creatopy that will help you create multiple ad sizes in just a few clicks.
This way, you will ensure that there's always consistency in your visuals, regardless of the different social media platforms you use.
When you're on the platform's dashboard, just scroll down and pick an available design set. Click on See all to explore all the categories.

Then customize it with your own text, logo, colors, or images.
Alternatively, after clicking on the See all option, you can create your own design set from scratch.

The type of platform you use is also vital in effectively reaching your audience. The content meant to attract attention to these platforms should be created with the target audience in mind.
Millennials and Gen Z, both groups known for having a significant online presence, are easier to reach through Instagram, Twitter, and Facebook.
In contrast, older generations like Baby Boomers or Gen X are mostly present just on Facebook.
4. Put More Time and Work into SEO
For your website to rank higher in search engines, it's imperative to invest in search engine optimization, aka SEO.
Research the most popular keywords and implement them in your content. This way, you can increase your organic traffic considerably, and your website will rank higher in searches.
As an essential financial marketing strategy, investing in SEO will bring you more customers, and you will gain the trust of customers as well.
Here are some tips for getting noticed by search engines:
Your website has to be secure (HTTPS

), mobile-friendly, and fast

Make sure that your URLs are SEO-friendly

Your content should be optimized with the right keywords

Don't overdo it—your content should not be excessively lengthy or difficult to understand

User experience is also necessary—make your website appealing, easy-to-use, and intuitive

Try to get more quality backlinks and if possible, avoid the ones from spammy and low authority websites
5. Don't Underestimate the Power of Email Marketing
Another critical digital marketing strategy for financial services is email marketing, which is the process of reaching your potential customers through informative emails.
This does not only help establish contact, but it can also be a valuable tool in building trustworthiness.
While your potential clients keep hearing from you, they know that your services are worth taking into consideration.
Creating engaging and compelling emails about financial services is no easy task, but try to put yourself into your clients' shoes.
What would you like to read about? How can you turn the burden of learning about finances into an exciting and pleasant experience?
Don't focus on overwhelming them with information—keep it simple. Combine informative copy with some humor and catchy images, and you've got yourself an interesting email campaign.
Also, needless to say, don't be spammy. Nobody wants to receive ten emails a day from the same sender, so limit the campaign to one email per week at most.
A good example that I found is the website Money Saving Expert. The founder is Martin Lewis, a well-known financial journalist.
Aside from the valuable financial advice that covers a wide variety of topics, from loans to savings, insurance, mortgages banking, and many others, the website also connects visitors with businesses that offer financial services.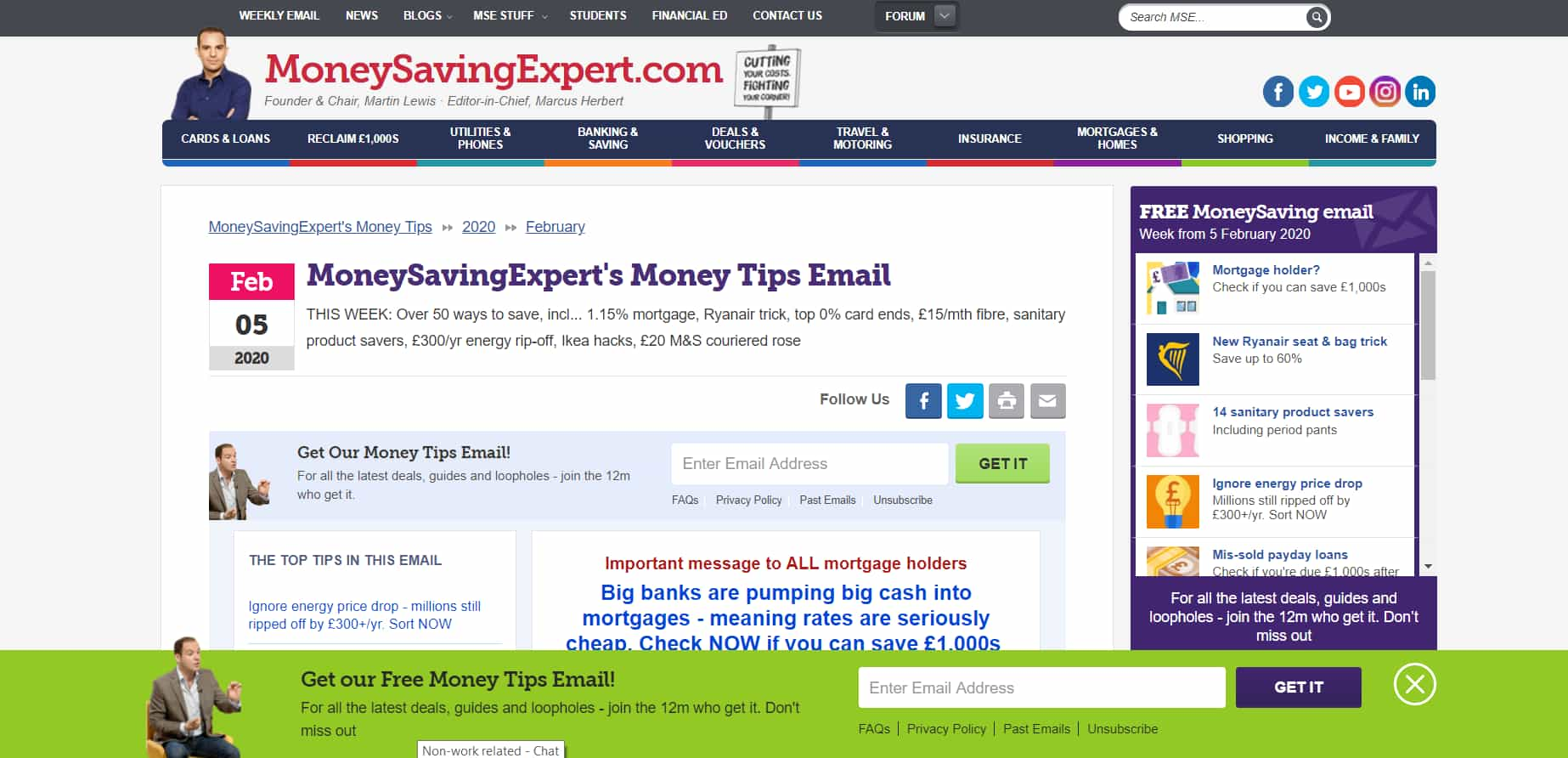 This is an excellent example of the right way to do email marketing if you're in this industry.
6. PPC Your Way to Popularity
We've already established that most people nowadays spend a lot of time online. A recent survey showed that 75% of the people interviewed claimed that paid search ads make it easier for them to find valuable information.
While many of them can easily recognize paid ads, they are confident that clicking on such an ad will make their search easier. PPC or Pay-Per-Click is and will be an effective way to reach your target audience.
It connects possible clients to your business and a smooth, fast, and reliable way.
Examples of online campaigns you can invest in:
Social media campaigns. T

he top four platforms for getting noticed are, of course, Facebook, Instagram, Twitter, and LinkedIn as they are the most frequently used.

Search ad campaigns. T

he first few results of a Google search are usually paid campaigns, and it's the easiest way to gain clients as most of them will not go past the first page of the results or really the top five search results.

Display ad campaigns. B

uy ads on other relevant websites that will bring potential clients to your site.

Video campaigns.

As long as you have a way to promote your services in a fun, short, and informative manner, video is one of the best mediums. We have a shorter attention span and might not always be in the mood to read a lengthy text, but as long as the information is in video format, we find it easier to process it.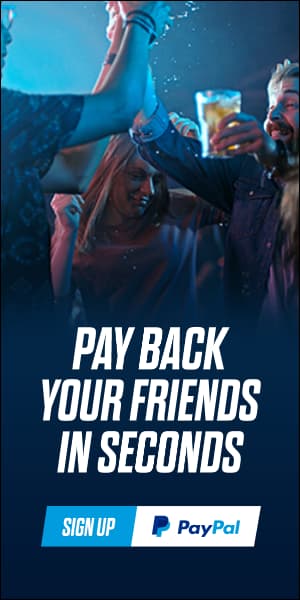 Conclusion
Creating a trustworthy, fun, relatable, and informative online persona of your financial services is by no means easy, but working towards this purpose strategically can make the journey easier.
Remember to invest in quality content, advertise your services effectively, and strive to build and maintain a valuable relationship with your customers.
Your financial business must be reliable, therefore project authority and trust and make sure you stay relevant.
Keep in mind that most customers expect total transparency and instant support, therefore try to meet these expectations. Always put their needs first and try to foresee their worries and reservations even before they do.
As long as you follow these steps, they will surely show interest in your financial services.
And remember, once you get the trust of your clients, they may stay with you for the long haul.