6
minutes read
Music artists face many challenges, but they benefit greatly from today's media advancements. For example, a few decades ago, singers didn't have the internet to advertise their records and tours. Today, music marketing uses a mix of offline and online channels to promote tours, sell tickets and albums. Music stars must work closely with their advertising agencies to build a unitary and outstanding strategy.

Singers need to sell records, tickets to concerts, tighten their communities by getting people on the websites or forums or groups. And what's the best channel to promote music? The internet, of course. That's why most top-artists turn to online advertising nowadays.
Let's see 10 of the world's best music artists and how they advertise themselves online. And maybe, we can all learn something from music marketing.
1. Gwen Stefani
Gwen Stefani has been on MTV's tops for the past 20 years. Her popularity has grown a lot since the days she sang with her band, No Doubt, and she's now one of America's style icons. Though she doesn't seem to age (at all), her style has changed over the years, but there's something that has always remained the same. That is the incredible and special aesthetics style. This eccentric and visually pleasing (at the same time) style is probably an extension of her personality. Luckily, her fashion preferences have inspired also her marketing team to create truly eye-catching and memorable visual ads.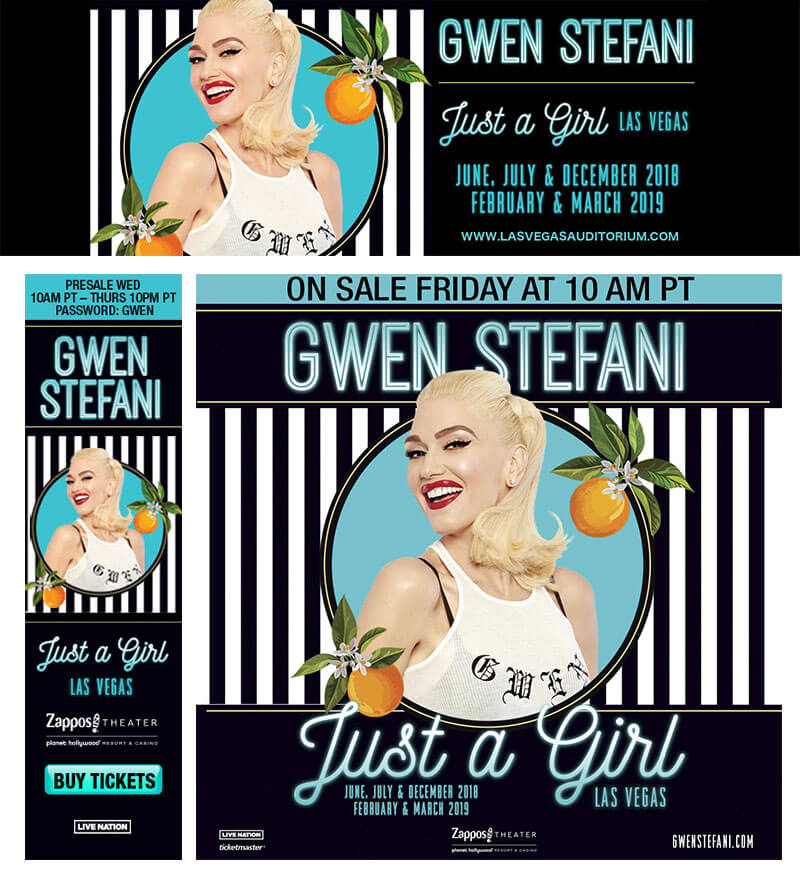 Actionable tip – Let your marketing campaigns be an extension of your personality.
2. Beyonce
As we all know, the banner ads you create must be the ambassadors of your brand. This means that they have to resemble your other branded content.
[easy-tweet tweet="Instant recognition is achieved by keeping a consistent trend in designing visuals according to your magic book."]
Beyonce's marketing team knows this really well, and as we can see from the banner ads they've created. Beyonce always had this simple, yet strikingly elegant approach to her advertising materials. Just take a look. Her banner ads, which promote her Lemonade album, all have the same pattern. The album promotes both feminism, and at the same, it's an ode to black culture, a fierce statement against police brutality.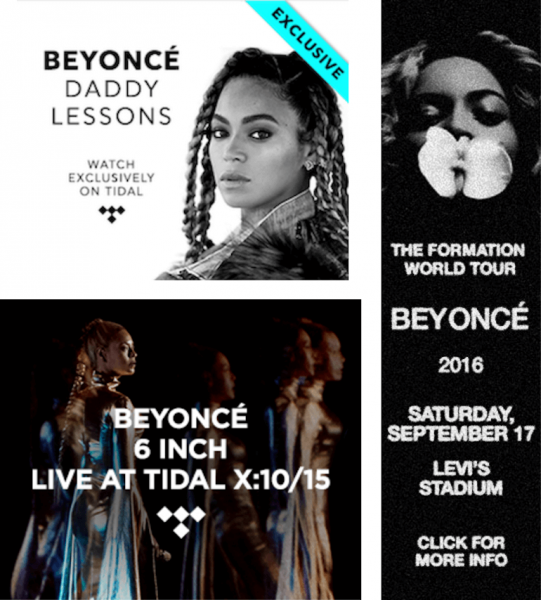 That's the reason why she's the secondary character in each of these. She takes the saying "Let the music speak for itself" literally and let her songs be in the center of attention. This is when she stops being a promoter of herself and her brand but of her music, which in this case has a really important message.
Actionable tip – Let your banner ads be the ambassadors of your brand.
3.Ed Sheeran
Ed Sheeran's music is good enough to make everything else unnecessary. Though his marketing team makes sure they create beautiful banner ads to promote his tours, they don't go for outstanding creative concepts. Ed Sheeran's picture is enough to convince anyone to click the ad. The moment you see him, the tune starts playing in your mind.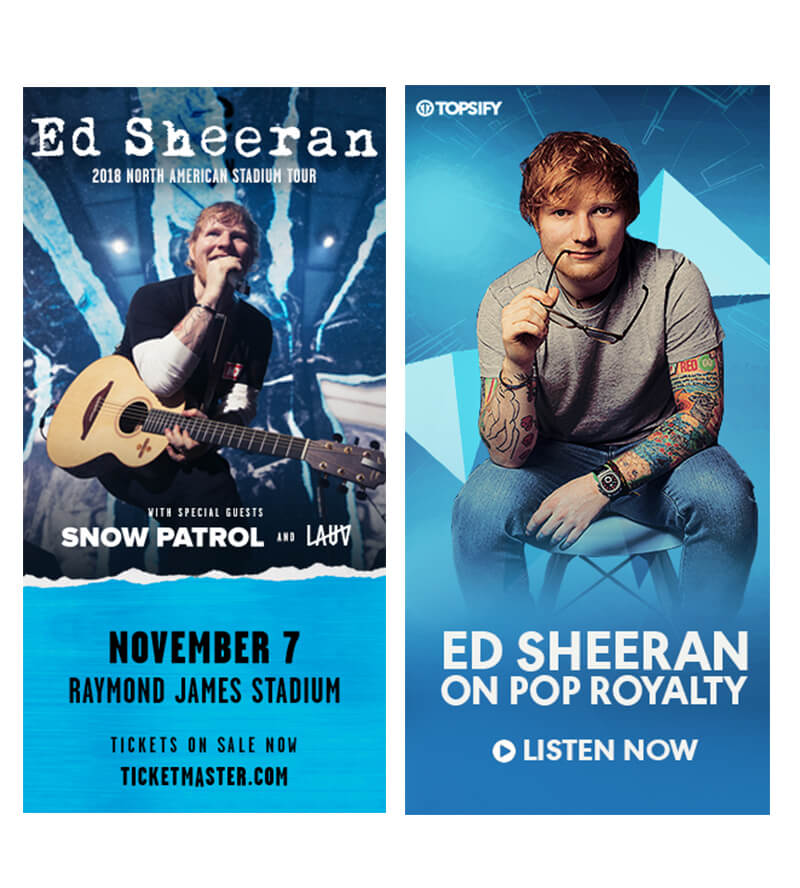 Actionable tip – cast your music star center-stage of your banner ads.
4.Mariah Carey
This lady has got'em all: the looks, the sex-appeal, and the voice. She's a full-options pack. So, when you pay for a ticket to her concert, you pay for the whole experience. Her team knows this and uses all of her assets to allure people into purchasing tickets to her concerts.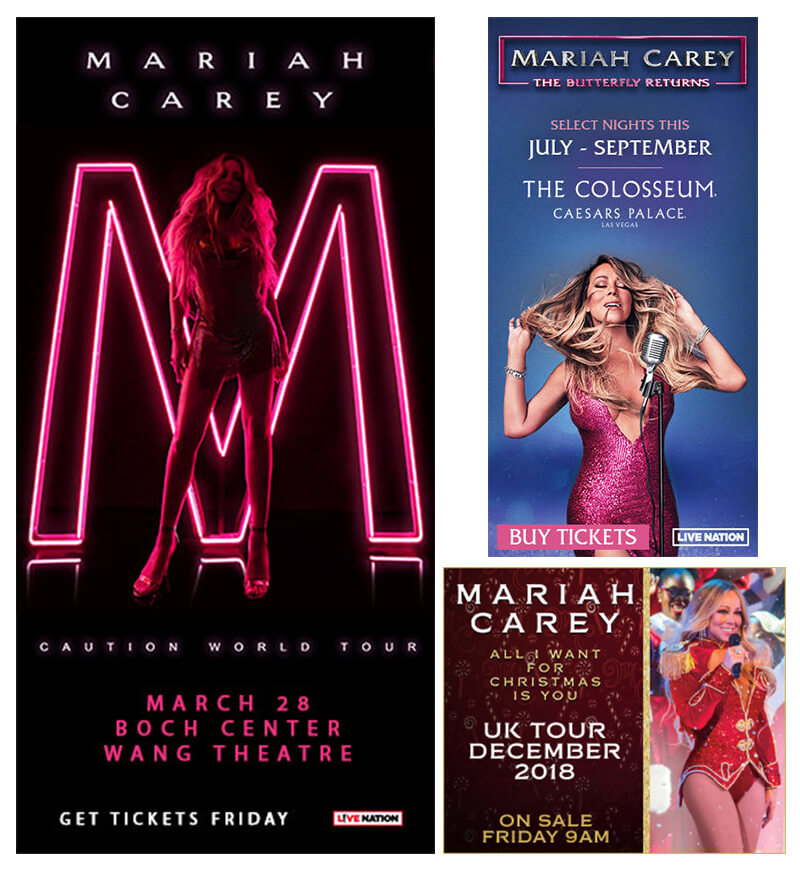 Actionable tip – Know your self-worth and let it all be seen.
5.Celine Dion
Celine Dion is one of the greatest singers of all times. As a result of her stardom and recognition, the advertising team chose to use only her first name for her banner ads, as she is the only singer named Celine. In one of the ads, she is not even front-faced. As the designer probably guessed, she can be easily recognized by her iconic singing posture.
Her display ads are in-line with the premium experience she offers. Notice the golden color of the text, the font, and the exquisite simplicity.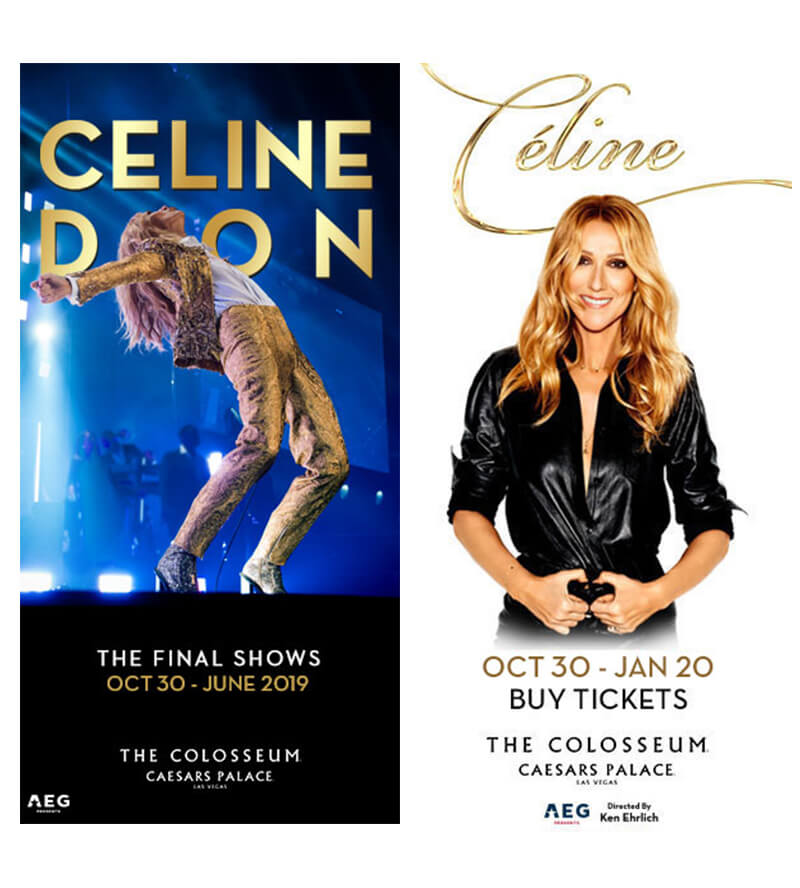 Actionable tip – When you've got a star, keep it simple.
6.Bruno Mars
Apparently, Bruno Mars' team loves everything 24 karats, too. The banners promoting his concerts are all about the electrifying experience he delivers, his coolness and grandeur. Of course, his musical style, a combination of funk, pop and modern R&B, is visually translated to convey his unique style.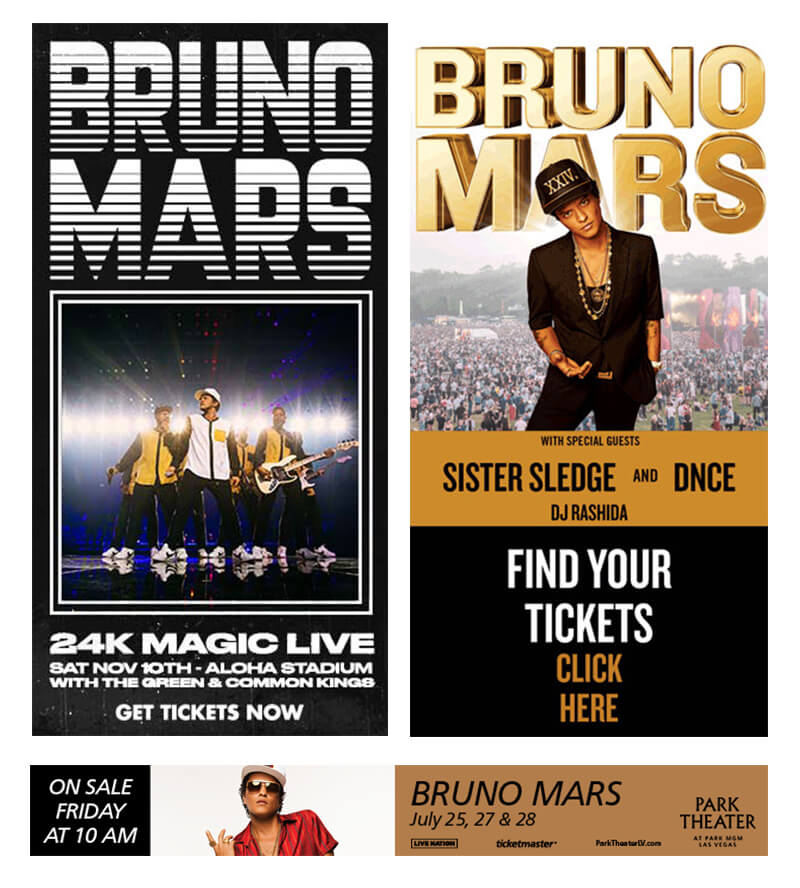 Actionable tip – translate your musical style into a visual.
7.Maroon 5
Maroon 5's music could be summed up as fun pop-rock. Following the same principle (Translate your musical style into a visual), their marketing team created these surprising and fun banner ads. They added some fun elements to make the group photo seem less serious. Notice Adam Levigne's bear cap. And then, notice the flowers and funny animal ears.
But what is truly interesting here is that they found some innovative ways to present the band, given the large number of group members.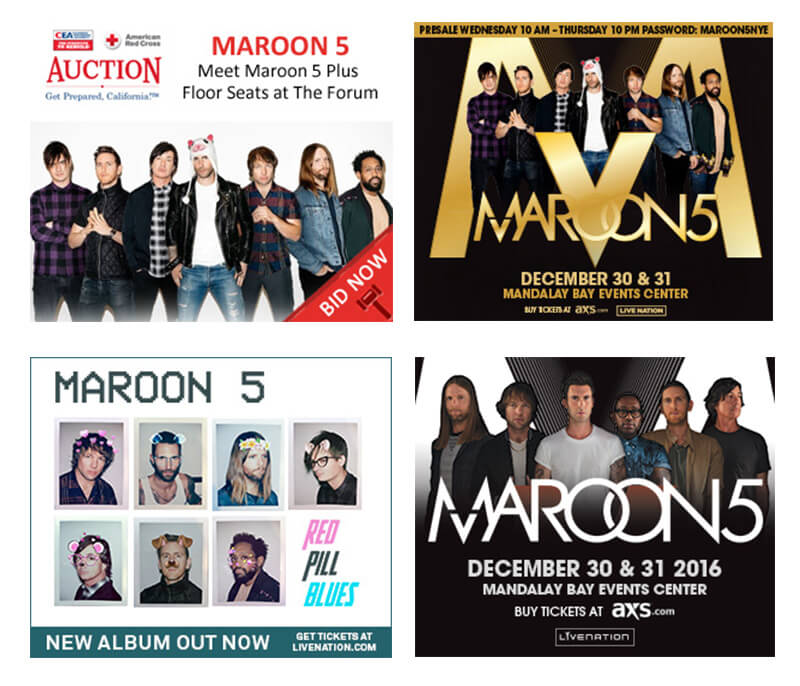 Actionable tip – when you've got a big band, find a creative way to present them.
8. Kanye West
Surprisingly, even though Kanye seems to be rather self-absorbed, his banner ads are nothing like that. Neither of them has even a picture of Kanye. This could probably be because he's sure that everybody knows him (which might actually be true).
Still, what's to take away from the way in which his marketing team manages his online advertising strategy is this: All his banner ads look just like his site.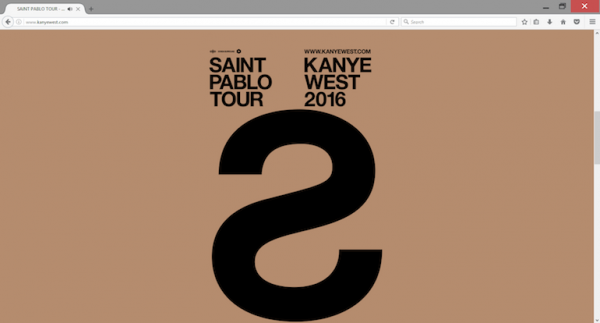 Simple, clean, same colors, same font. Take a look: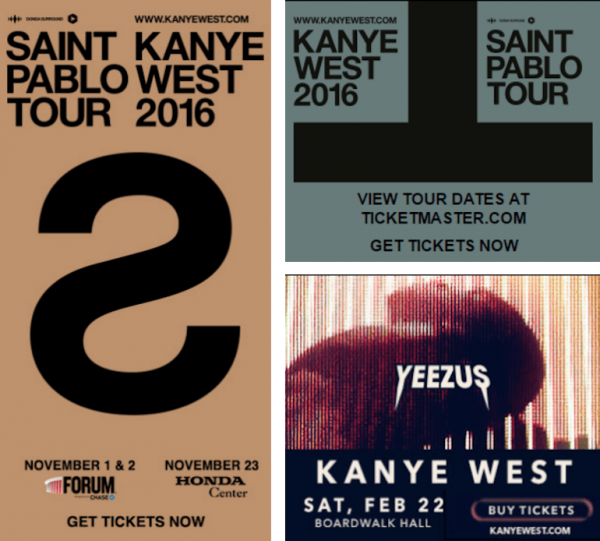 Colors are essential when it comes to banner ads. When you start designing a banner ad you must know the color palette of the brand. Why?
Because if you use the same color on your website, on your social media, on your clothes, on your banner ads – people will start associating it with your brand and will recognize it easier in the crowded online space.
That's what Kanye's marketing department did with its online advertising. Took the colors of the website and made the banners resemble it. If you need help in picking your colors or choosing what's right for your brand and banner ads, we have a list of banner colors that could help you.
Actionable tip: The color of your brand is a call to action itself.
9.Selena Gomez
Since her teen years, Selena Gomez's marketing team decided to promote her as a sex bomb. If you look at her music videos, sensuality is what strikes you most. As a consequence, all of her marketing materials follow the same strategy: use a sexy picture of Selena and prompt people to buy the tickets to her shows. These banners are no exception to this principle.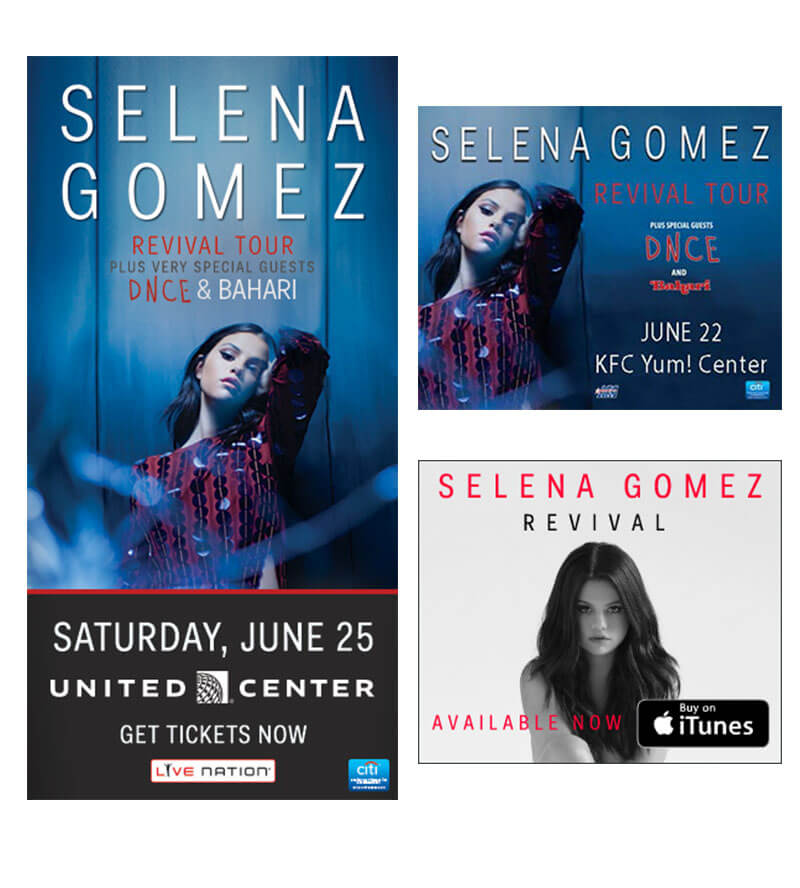 Actionable tip – If good looks is what you got, use your pictures to sell the tickets.
10. Adele
Adele knows how vital the saying "less is more" is. Neither of her banners has more text than necessary. Also, she knows precisely how to sell the product: be it an album or tickets for a concert.
All of her banners are centered on her and employ very few additional elements: a headline containing the date & place and a button.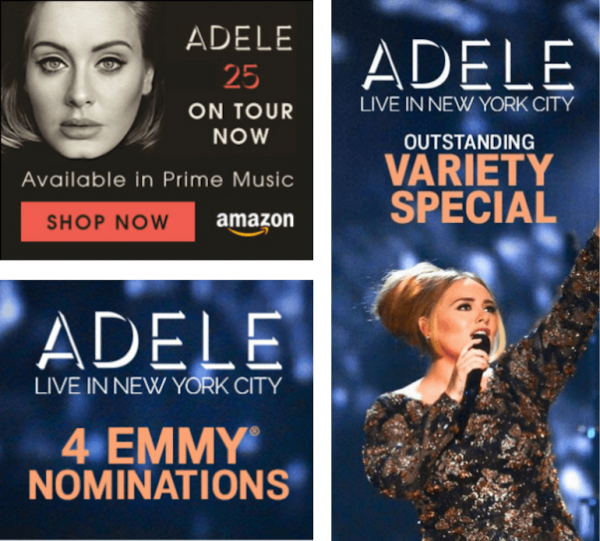 Actionable tip: Don't forget that "less is more" when it comes to banner ads.
Conclusion
No matter if you're a newbie singer or a well-established star, you still need to gather crowds of people for your concerts around the world, and to sell your records. So, you, together with your advertising team, must find a unitary creative strategy to sell yourself. It's just like with all the other products: start with a unique positioning, create a brand for yourself, find your style and voice. And then, let the power of marketing do its job.