10
minutes read
Native ads have disrupted modern marketing strategies by seamlessly integrating advertisements with editorial content across the web.
They're revolutionary for marketers, as they offer an effective means to create ads that truly resonate with their audiences and also a viable revenue stream for publishers that doesn't affect user experience in a negative way
Brands utilize native ads in various formats, including sponsored articles, social media posts, and video ads, with the goal of creating a more natural user experience and, in this way, tackling the problem of banner blindness – the immunity that audiences have developed for traditional banner ads.
Time has proven that these ads are not only exceptionally effective, but since they require an added dose of creativity to set up, they can be valuable to readers and sometimes even downright entertaining to consume.
Keeping up with the latest trends and strategies in digital advertising is essential for marketers, and studying successful native advertising examples provides valuable insights into what strategies work and what's best to avoid. Whether you're new to native advertising or seeking to optimize your existing campaigns, the native ad examples in this article offer ample inspiration and thought-provoking ideas.
Below we delve into some of the best examples of native ads from the web that have hit the mark.
Join us as we explore the world of native advertising and learn from some of the most effective campaigns to date, from creative sponsored articles to captivating video ads. We also examine the elements that make these native ad examples successful and look at how each campaign helped brands stand out – by blending in.
Spark Your Imagination with These Clever and Captivating Native Ads
These native advertising examples showcase a range of creative approaches and demonstrate the power of blending advertising seamlessly with editorial content. They offer valuable lessons and inspiration for marketers looking to create effective and engaging native ad campaigns. Stay with us until the end as we've also prepared an anti-model – a sort of how-not-to-do native advertising example.
1.
Forbes – Cognizant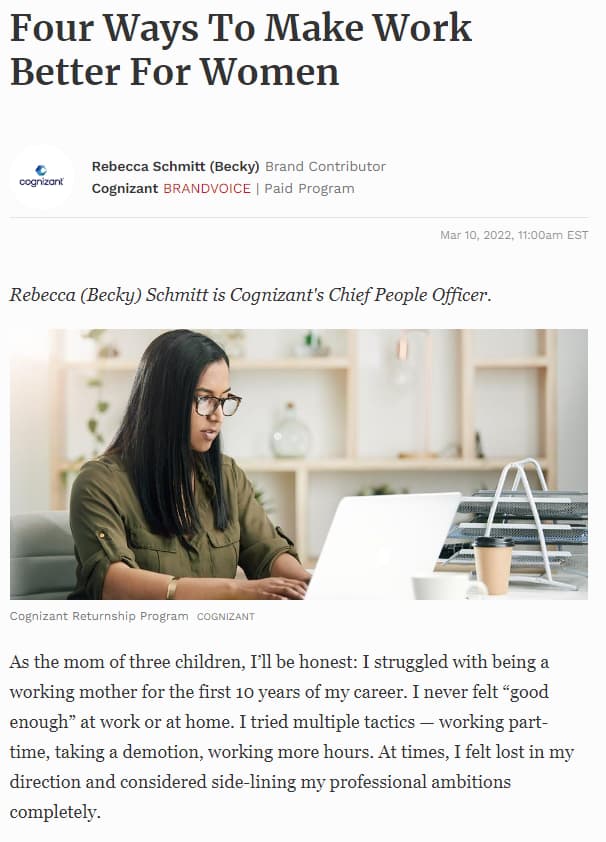 Cognizant used native advertising in a Forbes article to show how they're making work better for women. The article was written by Rebecca Schmitt, Cognizant's Chief People Officer, and was part of Forbes' paid BrandVoice program.
In the article, Schmitt talks about her own struggles as a working mom and the challenges many women face trying to balance work and family, making the article highly relatable and offering value to their exact target audience.
In this native ad example, Cognizant partnered with Forbes to promote their Returnship Program – a solution for people who've taken a break from their career for a few years to raise kids or take care of family, with the mission to help them get back into the workforce and keep growing professionally.
By sharing Schmitt's story in her own words in the form of a native ad, Cognizant builds trust and brand awareness by showing how they're supporting working women.
2. The New York Times – Boston Children's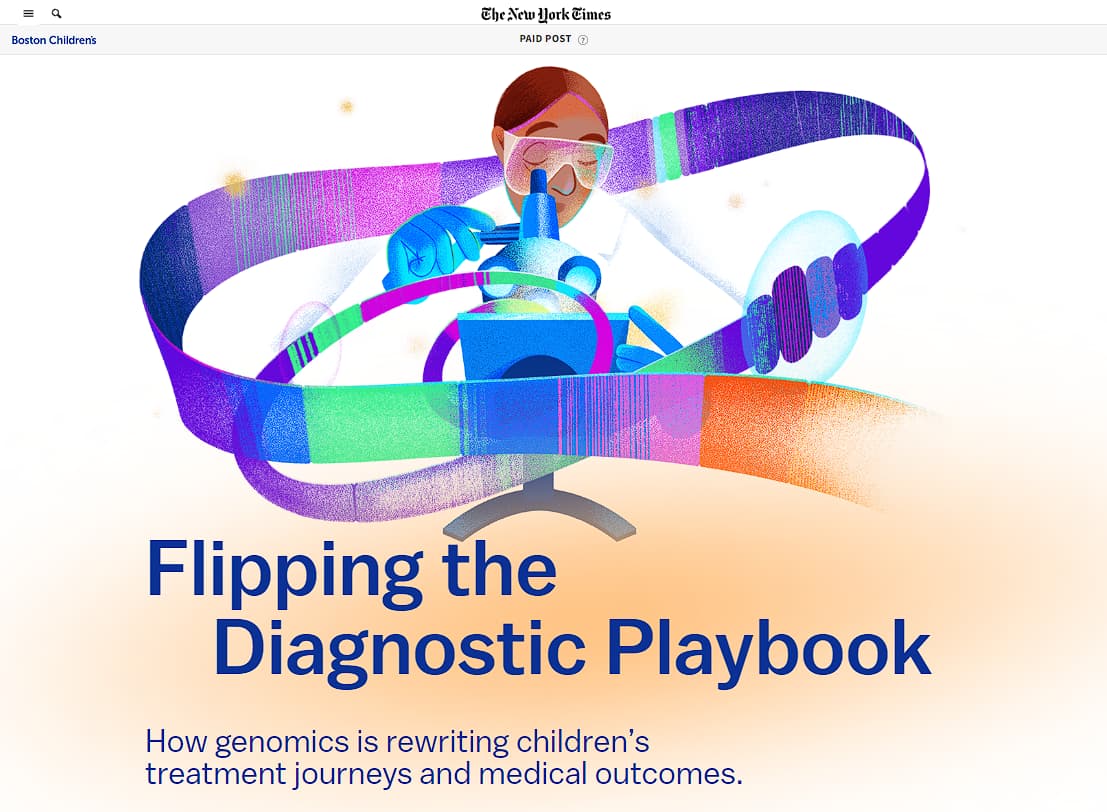 The spectacularly designed paid post by Boston Children's on The New York Times is a great example of how native advertising can be used to educate and inform readers while subtly promoting a brand.
The article "Flipping the Diagnostic Playbook" discusses how Boston Children's is using genomics to diagnose and treat pediatric patients. The post highlights the institution's innovative approach and the many benefits it has brought to patients, from quicker diagnoses to more personalized treatments.
The article uses a storytelling approach to draw readers in, discussing the challenges of pediatric diagnosis and the ways in which Boston Children's is breaking new ground in the field. The piece also integrates information about Boston Children's brand and services without feeling like a traditional advertisement.
This effective approach to native advertising helps Boston Children's connect with their target audience and establish itself as a leader in pediatric care.
3. Buzzfeed – Miracle-Gro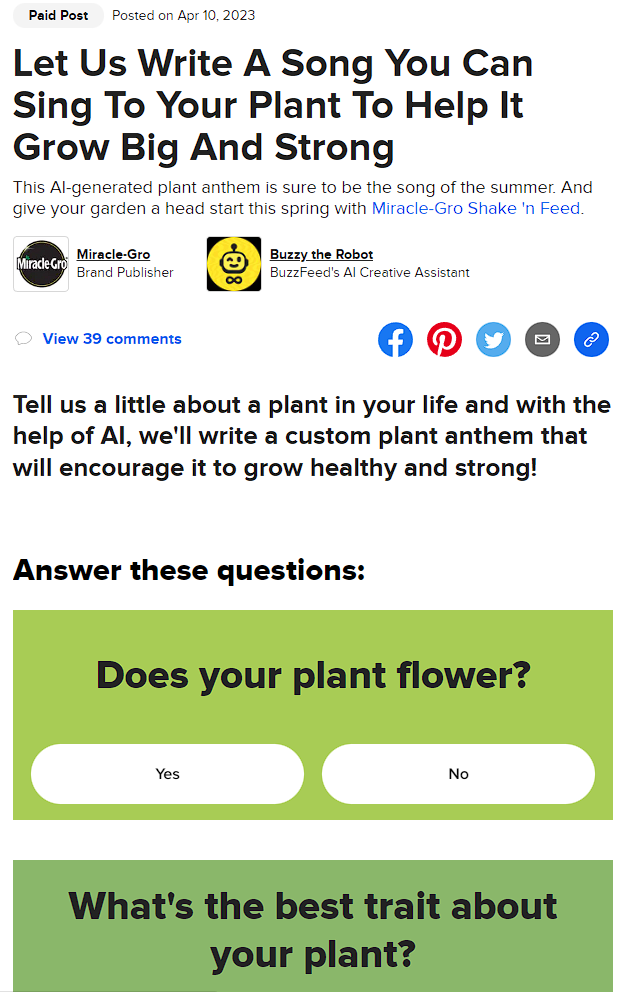 The Buzzfeed post that features an AI-powered song generator for plants is a brilliant native advertisement for Miracle-Gro, a well-known brand of fertilizers and other gardening and plant products.
The article invites readers to interact with the brand by telling a little about their plants, answering a series of questions, and generating a custom plant anthem with the help of AI. The call-to-action for using Miracle-Gro's Shake 'n Feed product to give plants a head start in spring is subtle yet effective. Asking for readers' own input is a fun and engaging way to build a positive association with the brand that not only provides some instant gratification but also creates a lasting impression.
The article is shareable and promotes social engagement by asking readers to post their best songs in the comments. Using AI tools to make cool stuff is a big part of this native ad campaign, and it's a great way to get younger, tech-savvy people interested. This native ad shows how a brand can use fun and creative content to get people excited about their product and make it stick in their minds.
4. Chicken Shop Date YouTube Series – Sam's Chicken
The Chicken Shop Date YouTube series is a fantastic native ad example promoting the British fast food chain Sam's Chicken.
The script is simple: the host and a guest have a relaxed (or, in this case, hilariously awkward) chat while enjoying chicken, and the B-rolls show snapshots from around the restaurant, featuring the best-selling products, the menu, and the overall atmosphere.
In this particular episode with Ed Sheeran, the conversation is lighthearted and humorous, making it relatable to a broad audience. The host, Amelia, shows interest in her celebrity guest and keeps the conversation flowing, making it natural and engaging.
Throughout the video, the Sam's Chicken logo is prominently displayed, and some of the products even make it into the conversation organically. The host and guest are also seen enjoying their food, making it visually appealing and creating a desire for the audience to try the product themselves.
The conversation is casual and relatable, which creates a strong connection between the audience and the brand.
5. Wall Street Journal – Netflix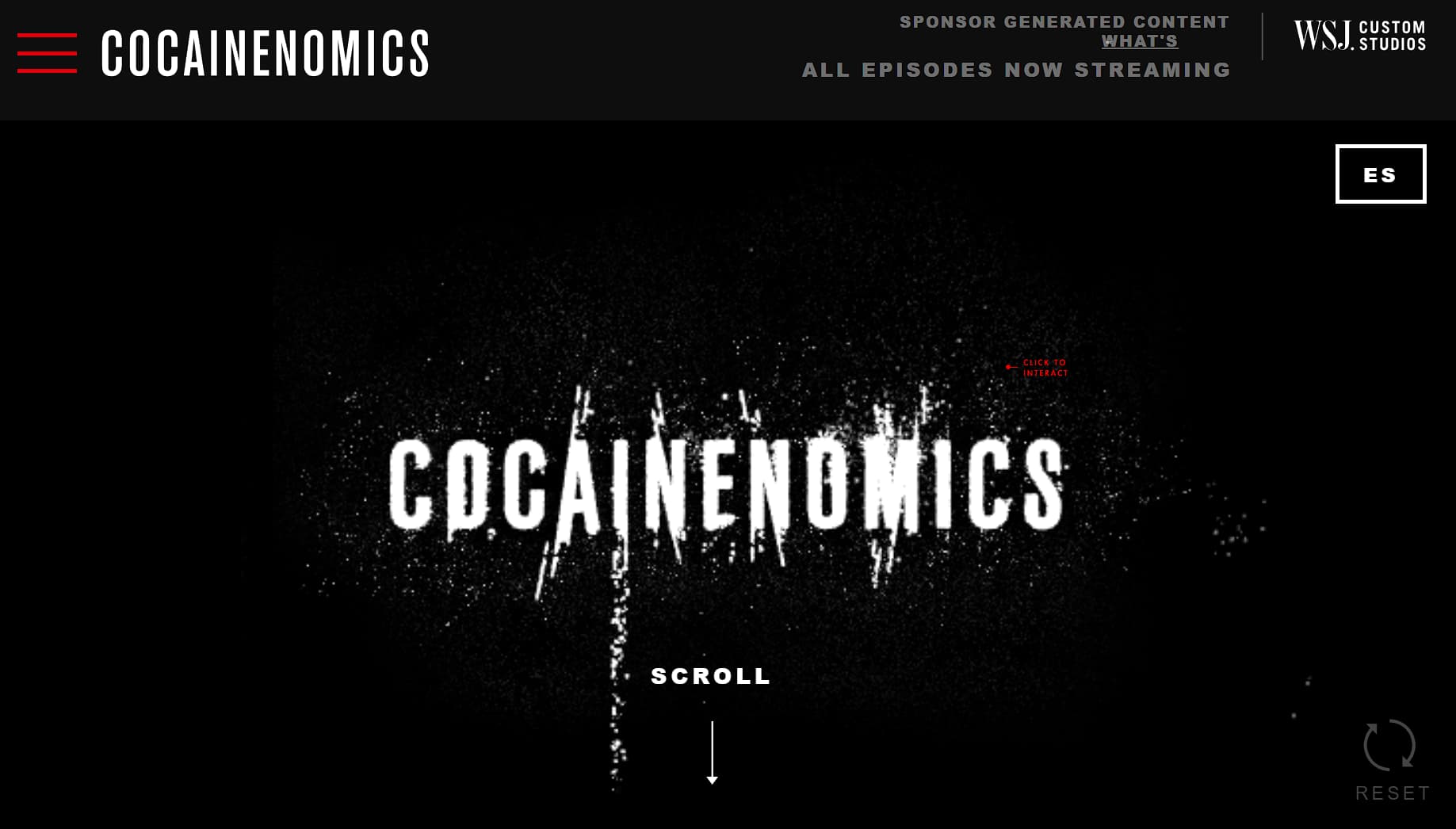 The Wall Street Journal's article "Cocaineconomics" serves as a native ad for Netflix's "Narcos" series, delving into the economics of cocaine production and the global impact of the Medellín cartel led by Pablo Escobar. While the article provides historical facts and expert opinions, it also engages readers with valuable and relevant information on its own.
The article is perfectly on brand, aligning with both the Netflix show's theme and Wall Street Journal's usual editorial content while hinting at the historical precision and meticulous attention to detail that went into creating the series.
Moreover, the piece piques readers' interest, leaving them yearning to watch the series to uncover more about the subject. All in all, the article is a remarkable illustration of how native advertising can educate and captivate audiences.
6. The Atlantic – IBM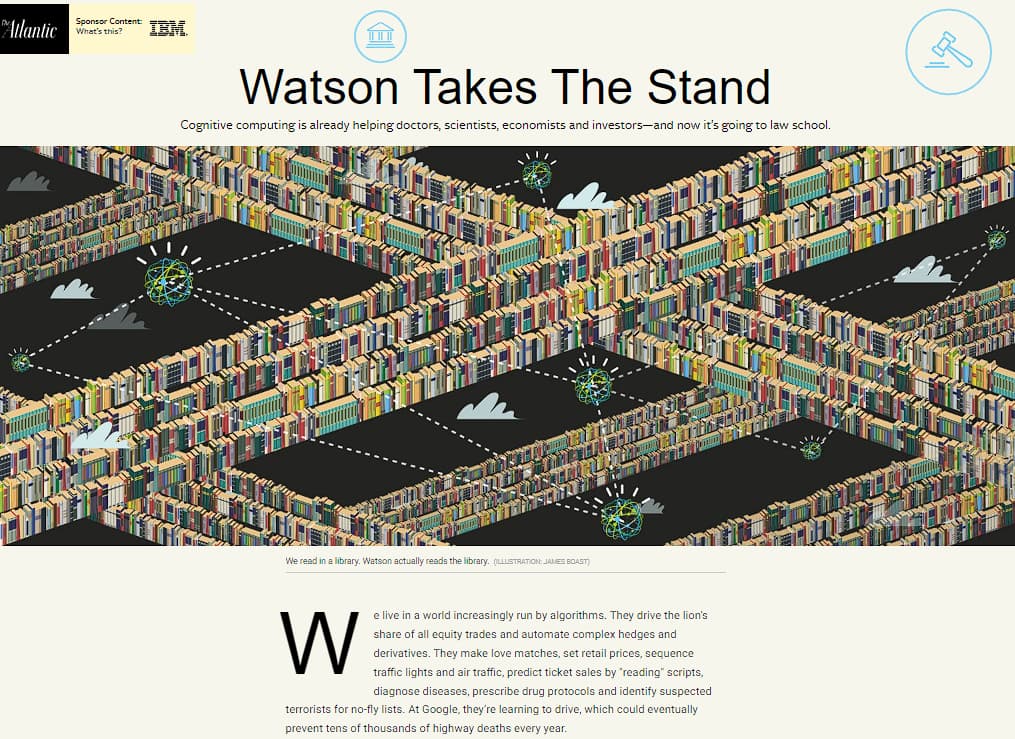 The article "Watson Takes The Stand" in The Atlantic is about IBM's Watson technology and its potential to revolutionize the legal industry by providing advanced data analysis and decision-making capabilities. The article explores how Watson's systems can be used to help lawyers prepare for cases, research relevant information, and even assist in the courtroom.
It also features interviews with legal professionals who have used Watson and highlights the technology's ability to analyze vast amounts of data quickly and accurately.
As a native ad for IBM, this article is brilliant because it integrates information about the company's products and services with valuable and informative content. The article showcases the actual applications of Watson in the legal sector, making a persuasive argument for incorporating IBM's technology into one's own company.
It presents IBM as a cutting-edge and visionary enterprise spearheading digital transformation. In essence, the piece serves as a masterclass in leveraging native marketing to captivate and enlighten the audience while simultaneously promoting a brand's offerings.
7. Fortune Magazine – Great Place To Work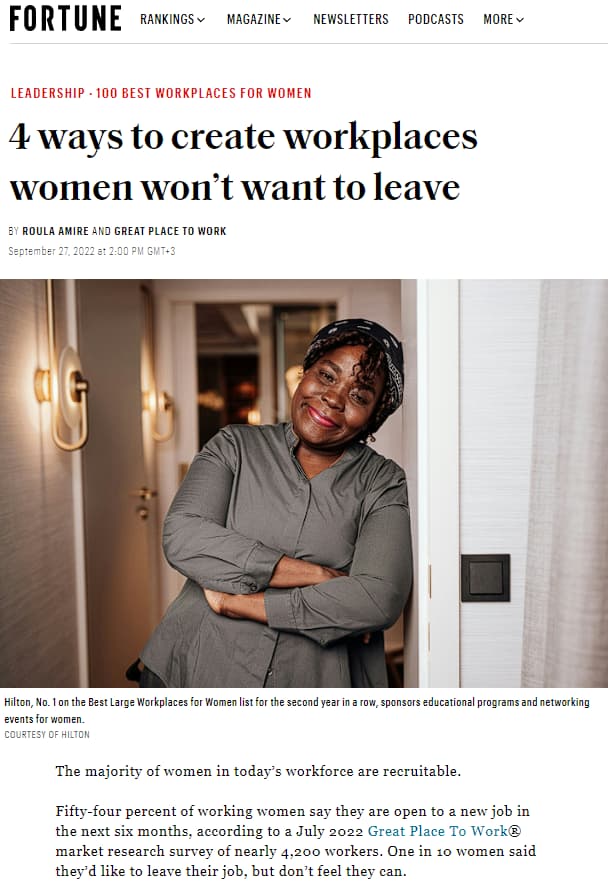 Great Place To Work, a global research and consulting firm with a mission to help organizations create and sustain high-trust, high-performance workplace cultures, published an article in Fortune Magazine recently, discussing the unique challenges women face in the workplace and offering tips to make any workplace more appealing for today's female workforce.
Of course, the article includes mentions and links to Great Place To Work's research and services, subtly promoting their brand and offerings, but the practical solutions for companies looking to attract and retain female talent take the spotlight.
What makes the article a particularly interesting example of native advertising is that it demonstrates the credibility and expertise of the company in the field of workplace culture, and it does so in a highly relatable manner, not just for working-age women but for companies looking to make a difference by fostering an inclusive workplace culture.
8. Adobe Marketing Cloud – The Onion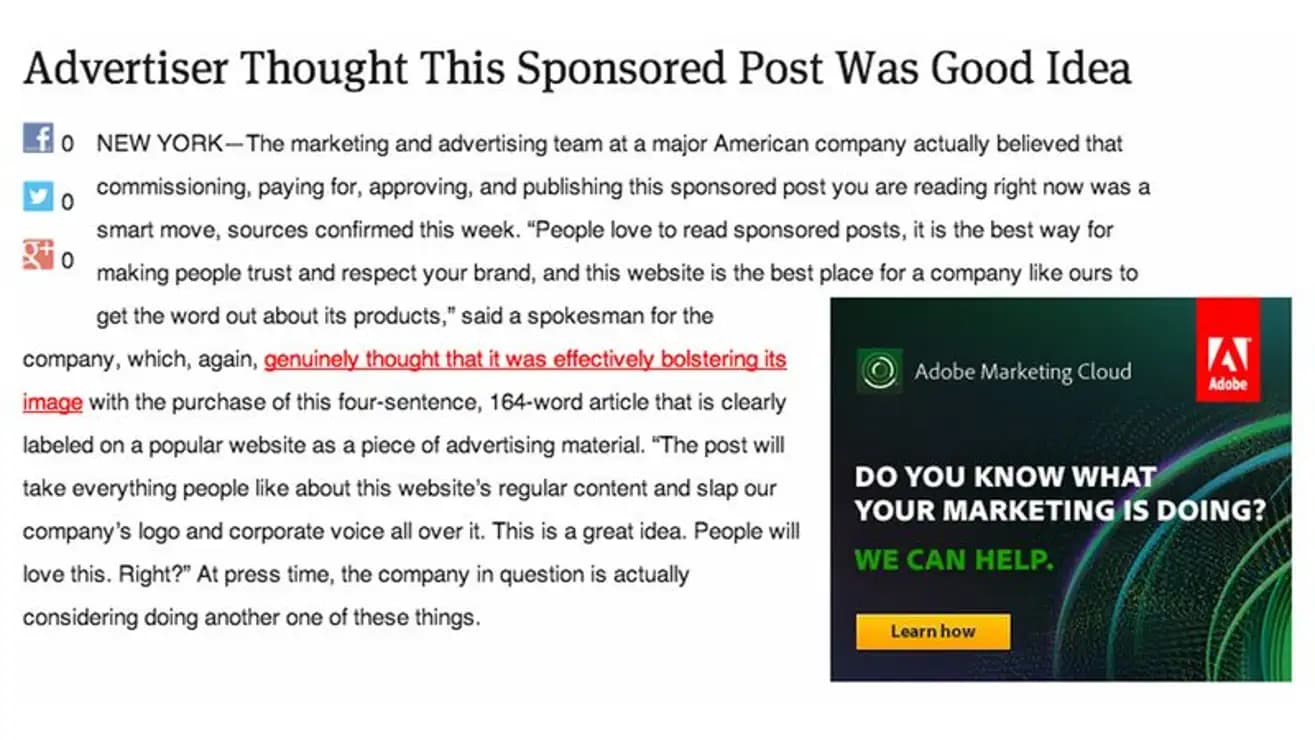 Adobe's native advertising strategy on The Onion is a great example of using humor to promote its products. The series of funny articles promoting Adobe Marketing Cloud, published on The Onion, are great examples of this strategy.
True to The Onion's unmistakable style, the articles are satirical and poke fun at the world of marketing and advertising while advertising a marketing tool.
For instance, in "Even Consumer's Subconscious Can Tell Banner Ad Campaign Ineffective," The Onion humorously suggests that banner ads have become so ineffective that even consumers' subconscious minds question their legitimacy. Granted, this messaging doesn't resonate with a wide audience, but marketers get the joke, and it's all Adobe needs. "Advertiser Thought This Sponsored Post Was Good Idea" also parodies the world of sponsored content and native ads, and shows how brands can often miss the point when it comes to native advertising.
By using humor to promote its products, Adobe successfully captures the attention of readers while still showcasing the benefits of Adobe Marketing Cloud. This approach is a great example of how native advertising can be engaging and entertaining while still promoting a product or service.
9. Lincoln – Saturday Night Live
Lincoln, the luxury car brand, has been utilizing native advertising in its marketing strategy for several years now, and one of its most successful examples is the series of sketches on Saturday Night Live featuring Jim Carrey. Lincoln enlisted Carrey to star in the ad parodies that aired during SNL, where he portrayed the introspective, contemplative persona of Lincoln's perceived customer base – poking fun at the same time at Matthew McConaughey's ads for the same company, which themselves echo McConaughey's character in True Detective.
This was a prime example of native advertising because the ads blended seamlessly with the comedic tone of the show, and the character that Carrey portrayed was relatable to the SNL audience.
The strategy of featuring an A-list star to double down on an already immensely successful commercial campaign (also featuring an Academy Award-winning Hollywood giant) guaranteed its widespread success, not to mention that it aired in the middle of one of America's most popular late-night shows.
While the budget of this kind of campaign is out of the reach of most companies, there's a lot that can be learned from Lincoln's strategy in terms of how this particular native ad example puts the product in the premier plan without sacrificing the entertainment value or disrupting the viewing experience.
10. NSPCC – The Guardian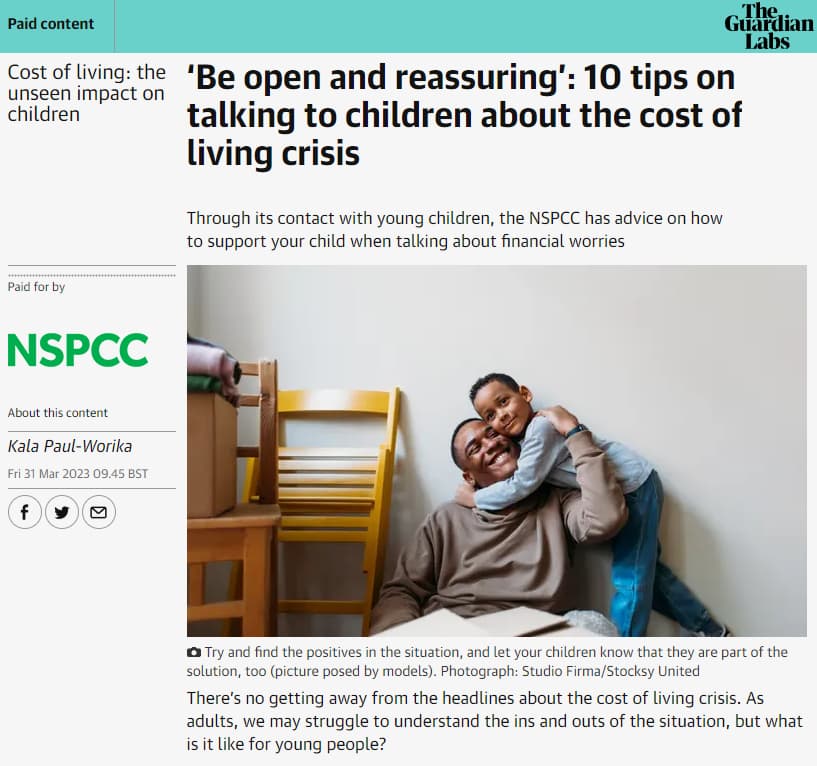 The NSPCC (National Society for the Prevention of Cruelty to Children), in partnership with The Guardian's Cost of Living series, aims to raise awareness about how poverty affects children. This sponsored post offers practical advice on discussing the cost of living crisis with children, stressing the importance of transparency and reassurance. The article is a prime example of native advertising, highlighting the NSPCC's campaign while encouraging readers to engage in discussions about the issue.
What sets this article apart is its practical tips, including using appropriate language for different age groups, providing context, and involving children in finding solutions. The piece also emphasizes the role of schools and community organizations in addressing the crisis and supporting families.
11. Thin Ice Warning: DEDs in NHL Broadcasts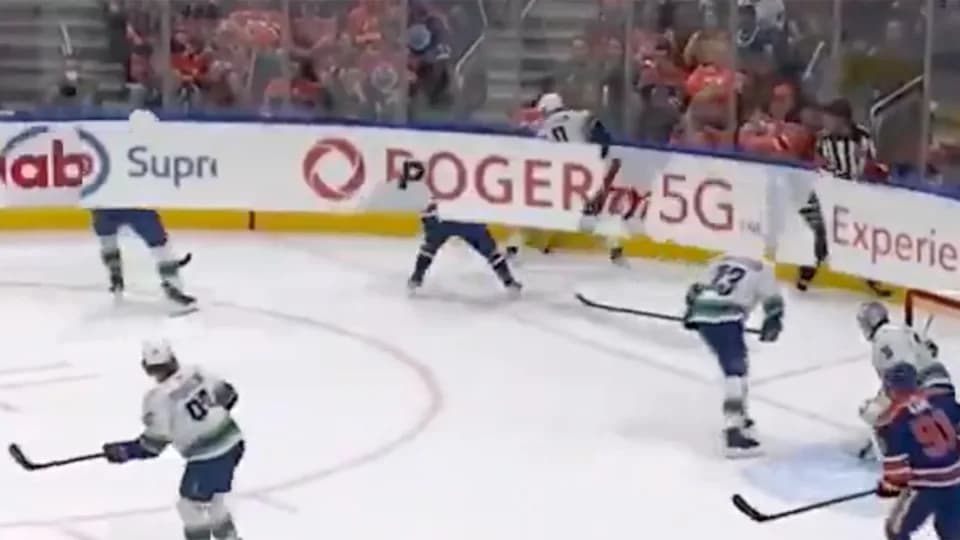 Flawless execution is critical for native advertising because it helps ensure that consumers have a positive experience with the brand, which in turn can boost brand loyalty and sales. One example of how things can go wrong was seen with the NHL's digitally enhanced dasher boards (DEDs). In the past, these dasher boards were static and delivered traditional signage. Recently, the NHL introduced digitally enhanced versions that replace the advertising on arena rink boards with virtual ads on broadcasts.
These virtual ads were designed to make the viewing experience more engaging and allow advertisers to display more relevantly targeted ads in the game broadcasts, and also enable the league to market their advertising surfaces more efficiently.
This all sounds great, but there was a problem: they didn't work. At least not well enough to meet one of the most important criteria in native advertising, namely, not disrupting the viewing experience. Although the NHL invested tens of millions of dollars over seven years to develop this technology, they encountered problems during the rollout. Annoyingly, the ads on the digital dasher boards sometimes displayed over the players, covering the puck that is hard enough to follow as it is, making it difficult for viewers to focus on the game. Therefore, the technology not only didn't deliver the expected results, but it also took away from the viewers' experience.
In native advertising, marketers' main concern must be flawless integration and disruption-free user experience. Otherwise, even a well-thought-out idea can backfire and harm your brand's reputation instead of building trust.
Final Thoughts
To sum up, native content is an essential component of modern advertising strategies, with its effectiveness demonstrated through countless successful campaigns.
The native ad examples discussed in this article showcase the ingenuity and inventiveness that brands and publishers use to create immersive ads that seamlessly blend with their surroundings. By understanding the fundamental elements that make the native advertising examples above so effective, you can enhance your own strategies and achieve better outcomes.
While there are examples of what not to do, as shown by the counter-example presented here, they're also good reminders that you're on a slippery slope when presenting ads as editorial content.
But most importantly, you must keep in mind that it's an ever-evolving field, so dedicating some time and taking inspiration from some of the best native ads out there can mean the difference between mediocre marketing strategies and launching truly outstanding campaigns.