12
minutes read
Every day, our minds are subject to different senses and perceptions that help us learn and understand the surrounding world. The visual perception is the most dominant one, with 89% of information coming to us better when paired with images.
Designers from every niche know this, and they're using colors to promote their work and themselves as artists.
Then, marketers observed and analyzed that a visually stimulating piece of content can improve their entire strategy, increasing user engagement.
This means that, if you want an irresistible strategy, you need to combine great design with marketing content and strengthen the message you want your audience to receive.

The best place to do this? Social media.
Social media marketing design is one of the most powerful tools of communication and promotion these days. Every platform has its specificity, but one thing is certain: visuals are the most intriguing and shareable forms of communication.
Let's see how you can create excellent social media design and get all the attention.
5 Elements for Creating Remarkable Social Media Design
For businesses, social media is where connections are being made, which helps increase brand awareness.
But the digital landscape is highly competitive, and businesses have to come up with ways to stay afloat.
Users don't really go to specific pages to search for new content. They discover new posts mostly through scrolling or ads. This means you have a few seconds to catch their attention.
Here are the essential elements that will help you create an engaging social media post design.
1. Color
It's no secret that colors impact people's perception and evoke emotions based on general psychology principles or cultural backgrounds. A quick look into color theory, and you'll see just how important colors are.
When choosing colors for social media post design, keep in mind the message you want to communicate because the colors you use will amplify it.
Also, you have to pay attention to integrating colors to fit your overall branding materials and identity.
You can get inspired by these great social media color combinations. As you can see, there are various options, such as keeping your brand's colors and inserting new colors in your social media posts or replacing some of them without deviating from your brand's personality.
Here is one example of a great social media marketing design from the previously mentioned article.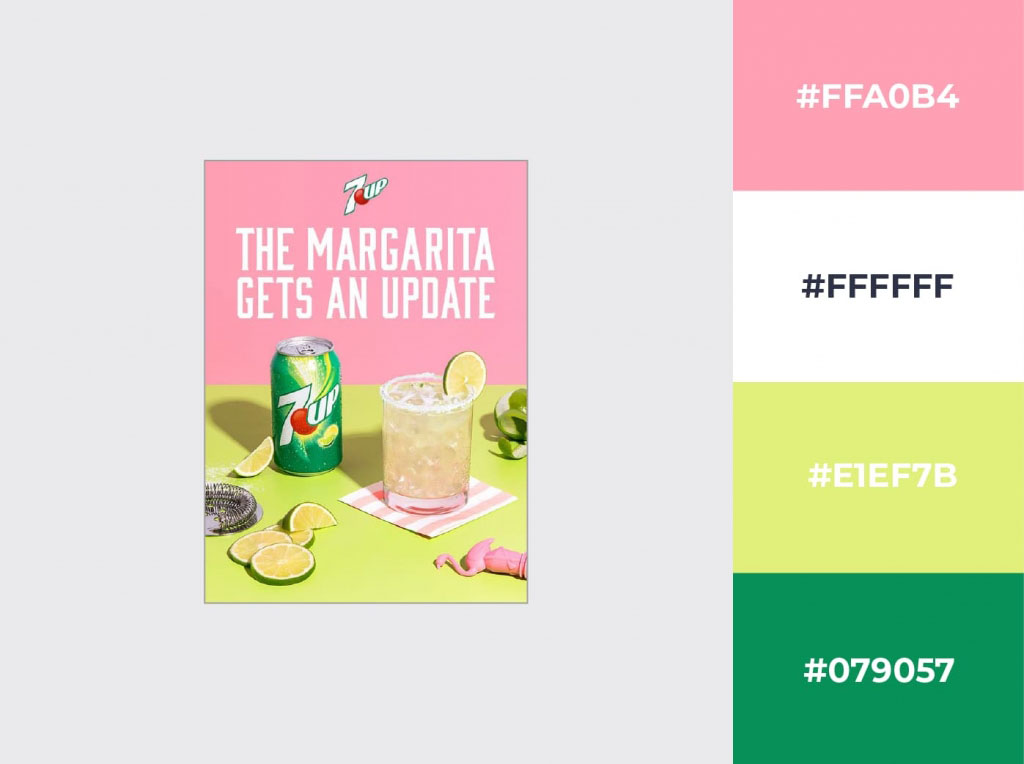 The pastel colors divide the image and put the focus on the soda. And if you think about it, nothing in the photo is added by chance. They work together to create an image that makes you think about summer.
The pink color is associated with playfulness and sweetness (of the soda), and yellow means energy and happiness. If you put these two colors together with the green harmony, you get a perfect balance.
The white text also breaks the pattern a bit but creates a lovely contrast and makes the copy readable.
2. Contrast
Probably nothing draws people's attention more than posts that use contrast in their social media marketing design.
When choosing your colors, it's best not to use too many to avoid overwhelming your audience. This doesn't mean you can't create striking contrasts. On the contrary, contrast can be achieved through color, size, typography, etc.
Here's an example from our Instagram page.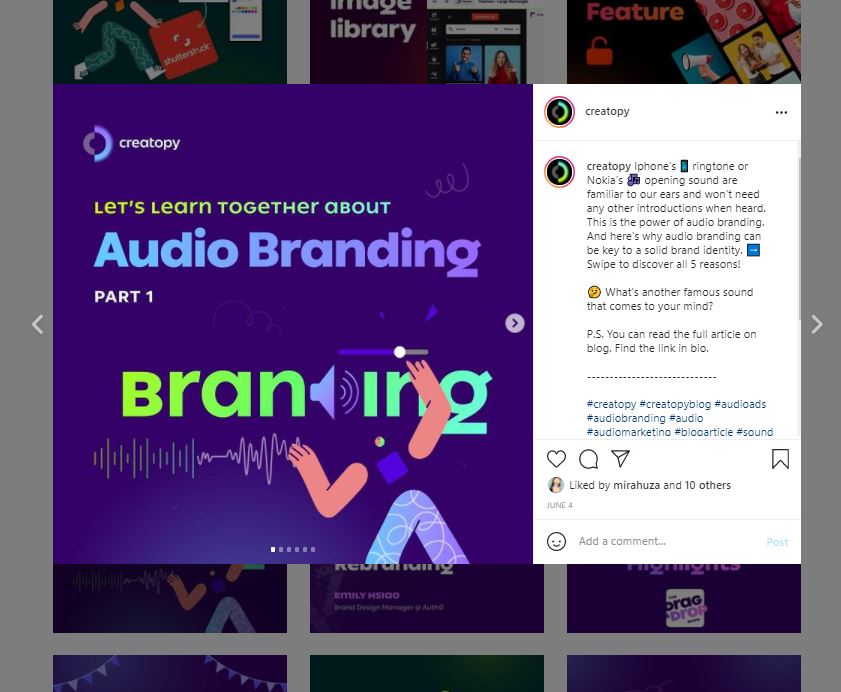 3. Typography
Once you get your audience's attention with contrast and colors, they will most probably read the text too. This means you have to pick a legible font, even in a smaller size.
With 3.76 billion people using their smartphones for social media, it's vital to pick readable text on mobile devices. Don't focus on long paragraphs. Instead, use short text combined with other icons or visuals.
If you want your design to be absolutely perfect, kerning typography is vital to pay attention to.
A social media design can be structured in such a way so that users follow a specific path.
If your social media design has text on it, try to arrange your elements so that the text will appear in an F pattern. People are more comfortable reading text that seems like that. This also helps your post get more attention because the text can be scanned really fast.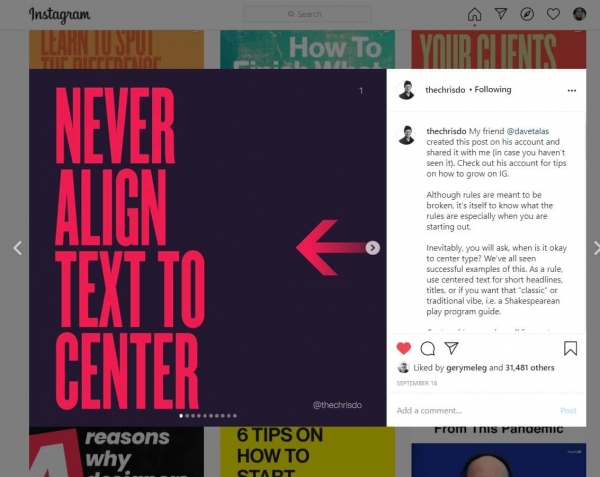 4. Hierarchy
By using visual hierarchy, you're guiding your audience through the visual information from your post.
Usually, this hierarchy is based on the Gestalt principles—humans perceive a visual as a whole, and only after they see the elements as individual parts.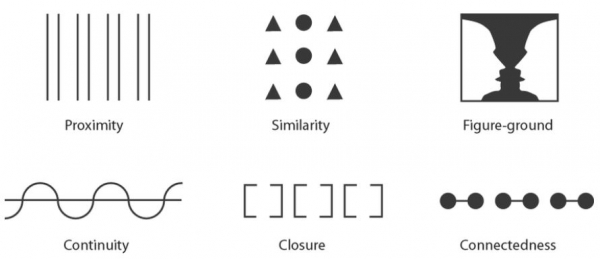 And here is the law of similarity in action.
In this Facebook carousel, there are displayed multiple different products from the same designer. The law of similarity is applied by using the same background to all the products, connecting them.
5. Style
Style is a combination of all the elements that create a visual: typography, colors, brand logo, etc. You can let your brand's visual identity dictate your social media feed style.
Once you're creating all the social media graphic designs in the same style, you'll have consistency and an aesthetically pleasing social media page.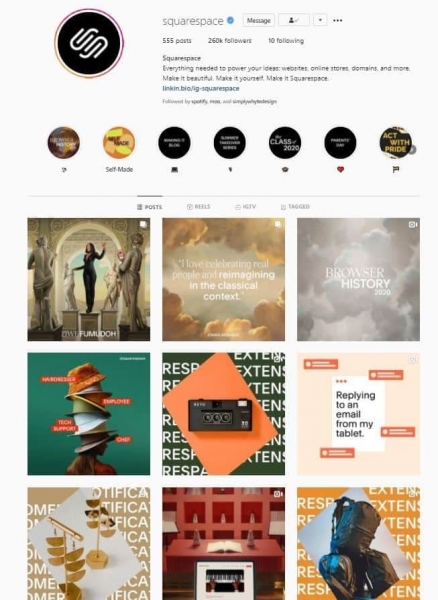 Now that you know the general guidelines for creating graphics for social media, let's go through ten essential principles.

10 Principles for Outstanding Social Media Design
1. Diversify your social media graphic content
To make a name for your brand, you have to be present on different social media platforms, ideally, where your audience hangs out.
According to the Edelman trust barometer, if consumers are exposed to the same brand in three different places—social media is one of those places—it will make your brand appear trustworthy.
This also means that being present on more than one social media platform will help you get the message across different mediums.
It's essential to make sure that the social media designs adhere to each platform's size and resolution requirements so that your posts look just right.
Lego is one example of a brand doing it right on more than one social media platform.
On Facebook, Lego posts mostly pictures and concise, engaging videos.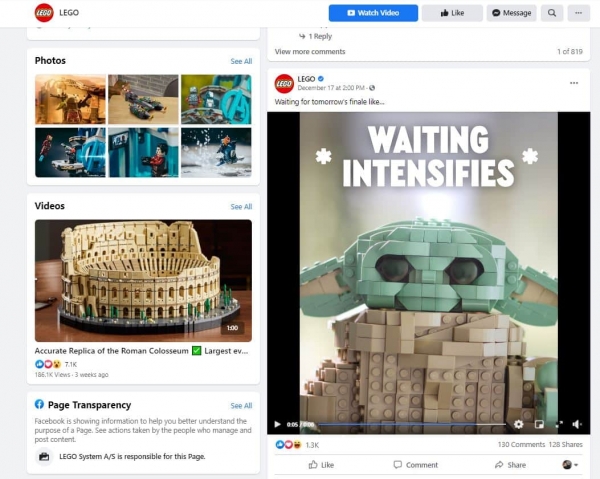 You'll find different video categories and even full Star Wars episodes created with Lego figures on their YouTube channel.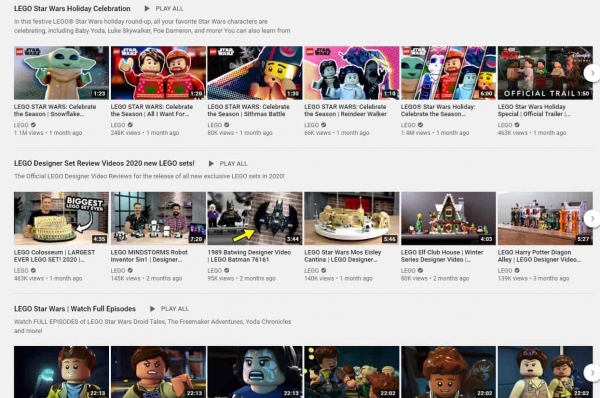 On LinkedIn, they mainly share news about their company.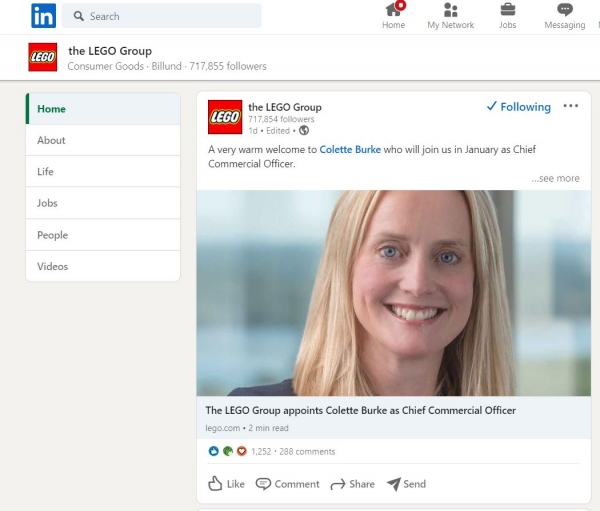 2. Use templates
As I mentioned before, each platform has its own size requirements. To make your job easier, you can create templates for each of them with different content types, and when you have to make a new post, you can change only a few details.
Because you won't have to worry about the size requirements every time you're creating graphics for social media, you'll save more time and use it to focus on other important tasks.
Moreover, a template that follows the official size requirements will ensure that the platform won't cut or stretch your design to fit. Using a template, you won't risk losing any important information displayed on the image, and it will also guarantee your design's quality with the best possible resolution.
Creatopy's social media design maker has fully customizable templates for various social media platforms, such as Facebook, Instagram, YouTube, LinkedIn, or Pinterest.
The preset sizes help you be more efficient and productive while creating professional visuals. You can get started with the preset size, design your template from scratch, or use a template and customize it to fit your brand's identity.
The templates will help when you need to create a fast campaign with a few social media ads design.
Here are a few templates for you to use.
For a Facebook post:
For an Instagram post:
For a YouTube channel banner:
For a Pinterest post:
For a LinkedIn profile background:
3. Use your brand logo in the profile picture
Your profile picture is your online identity. It works as a trademark to your social media posts.
When seen in the feed, whether on YouTube, LinkedIn, or Facebook, the profile picture appears very small, so it's best to keep it simple.
You can emphasize your logo with a bold pattern or a vivid background color to make it stand out.
What's more is that you can use your profile picture to support a particular cause, celebrate an event, or a holiday, like History of Cinema, did on their Instagram profile picture to mark the Christmas holidays.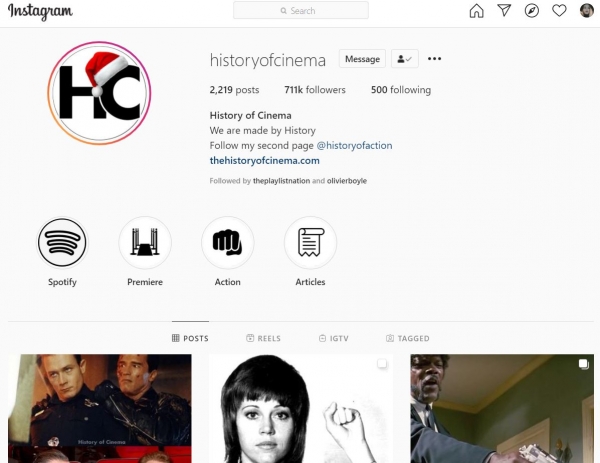 Also, don't forget that most platforms use circular avatars. Pay attention when designing and centering your profile picture, so the image's focal point is in the middle.

4. Take full advantage of your cover photo
Not every social media platform gives you the possibility to upload a cover photo, but Facebook, Twitter, LinkedIn, and YouTube have this option, and you should take advantage of it.
When you can't showcase in a profile picture of your brand's identity, expand the visual from the profile picture into the cover photo.
You can mix and match the two or use your cover photo to display useful information, new features, events, etc., as it will be one of the first things your audience will see upon visiting your profile.
Either way, your cover photo and profile picture should complement each other. You can do this through color, imagery, mood, or text.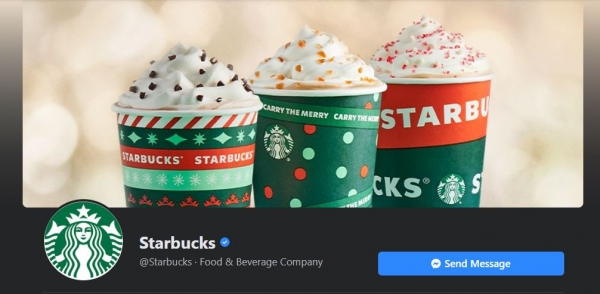 On this YouTube channel, the profile picture is just an abstract representation, but the cover photo does so much more. The abstract profile picture was divided into two, it holds the channel's name, and you can also see your host there. The cover photo, in this case, comes like a perfect continuation of the profile picture.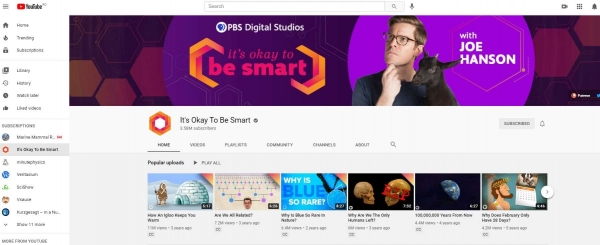 You can also use your cover photo on LinkedIn to feature an upcoming event, as Brand Minds did on their profile. As you can see, the colors are the same as in the profile picture, with just a little bit of purple contrast.


5. Be consistent
Consistency is the sign of a trustworthy brand that knows its values. Consistent branding means using the same colors, fonts, and style in your social media designs.
Always add your logo or your brand's name to your social media designs to help people associate the social media post with your brand. If you're consistent in creating your posts like this, users will make this association faster.
When designing your social media post design, think about how you can help strengthen your brand's consistency and what is useful for your followers and customers.
You can quickly achieve this by creating a few templates you can use every time you post something on social media (as I mentioned previously).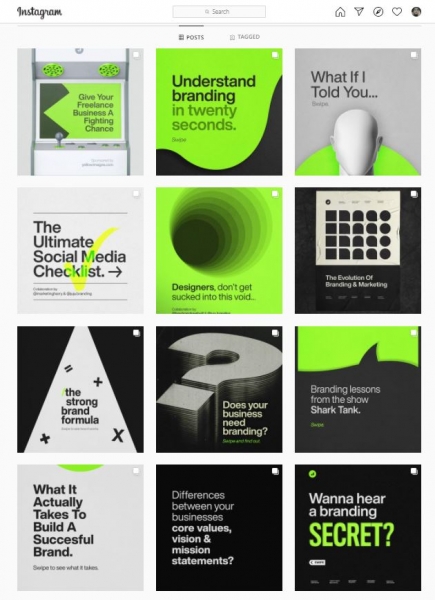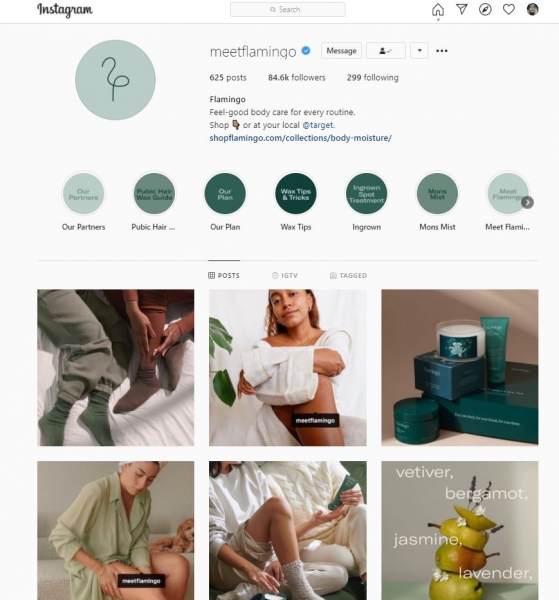 6. Create valuable content
Valuable content means shareable and compelling content, and this is what you're aiming for.
You can use social media designs to showcase useful information, industry tips, events, company achievements, new features, infographics, contests, giveaways, etc.
Valuable content gets a broader reach across your social media platforms, which means more potential traffic to your website.
On Master Class's YouTube channel, they have a category, Discover MasterClass, where you can find handy tips from experts in various fields. You just have to pick the category you're interested in. Each category has a series of short videos that engage you in the subject and invites you to further study their official website.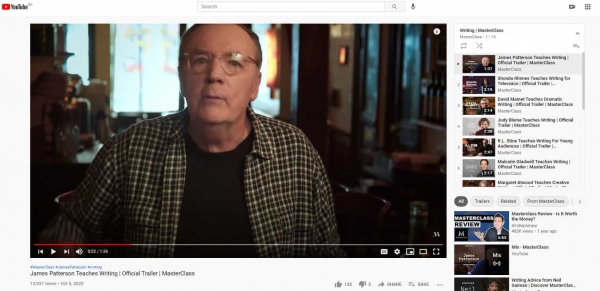 To see what kind of content your audience appreciates, check out the analytics, and see your social media graphic design performance. This way, you'll be able to create a content plan for the future, using the type of content that performed well.
7. Always include a call to action
A great social media post design will get the attention you want people to get, but even the best designs will get ignored if you don't tell people what to do after reading your caption.
Use a short, compelling call to action, which says the next step for the expected result.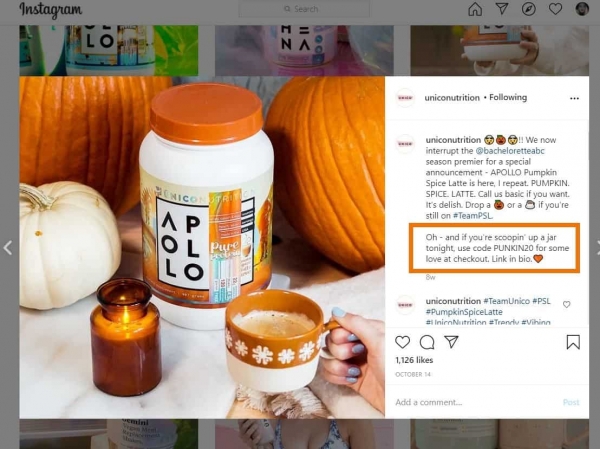 8. Create a social media layout design
Your profile page's layout will have the general look of the social media platform you're posting on, but this doesn't mean you can't create posts in such a way that they will form an aesthetically pleasing layout.
The best example here is Instagram, where you can use a certain theme for your feed. There are plenty of creative Instagram feed ideas that you can use, so you need to find one that applies to your business (in case you want to use one).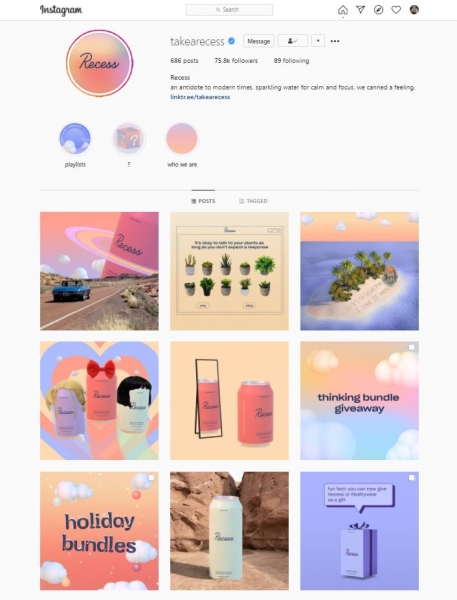 Another example is YouTube, which allows you to pin a trailer to the top of your channel, giving the audience a view of what they'll find on your channel. Then, the videos will follow in a natural chronological order.
Even if YouTube doesn't have filters or other features that give your channel the themed look Instagram offers, you can still customize them with the same YouTube thumbnail fonts and provide an overall consistency to all the videos.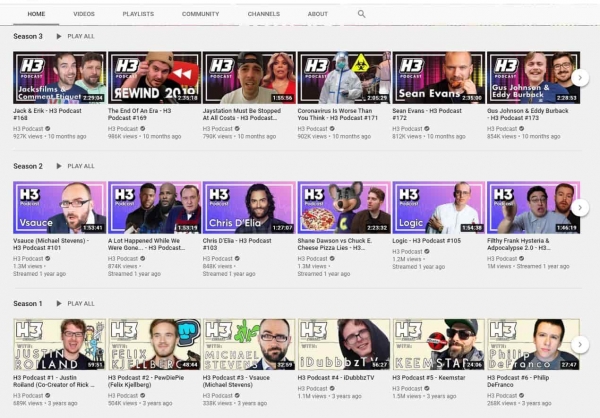 On Pinterest, you can organize your content on boards: the ones you've created and the ones you liked and pinned, giving your followers an idea of what you do and also what you like.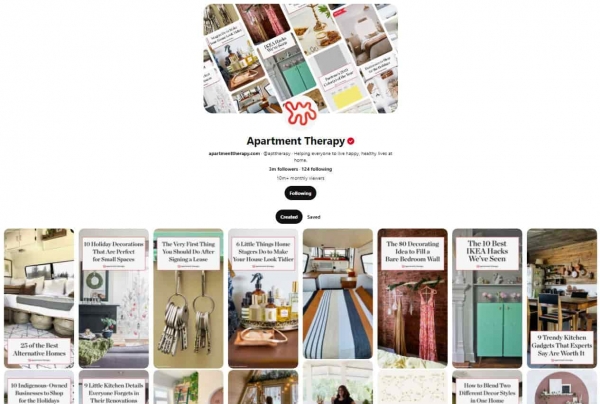 Take full advantage of everything each platform has to offer. They're unique and will help you reach different audiences.
9. Link social media designs to your website
You should connect every visual you're posting to the content from your website or landing pages.
Make sure you're mentioning in your social media post where people will find further information. After all, what you're creating also has the purpose of bringing more traffic to your website.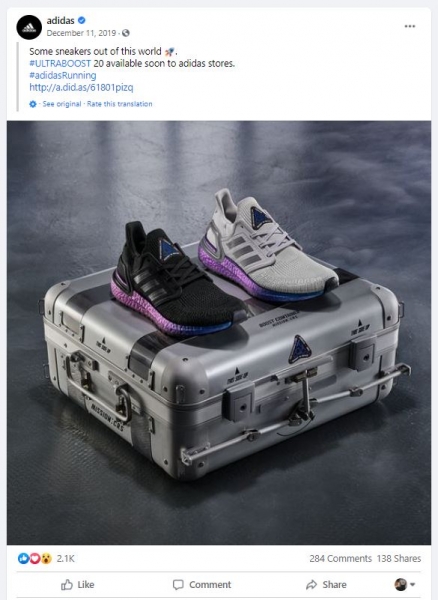 10. Never underestimate the power of white space
White space is a must in any kind of design. The same rule applies to social media post design.
It's an important feature that helps the user focus on specific assets of the layout while increasing legibility and readability.
White space will ensure that the headline, body copy, logo, and slogan will be visible and pleasing to one's eye.
Here are some general guidelines to make sure your layout is not too cluttered.
Use a short but compelling copy

Use a typeface that is easily readable on digital platforms (usually sans serif)

Don't make the font size too small, but make sure it doesn't overlap with other elements

Limit the number of elements you're adding to your social media post design
An excellent example of a social media graphic design using white space in an ad is this one from Samsung. They used only the essential elements: the name of this Samsung model, a short slogan, and a metaphorical representation of the 5G's speed.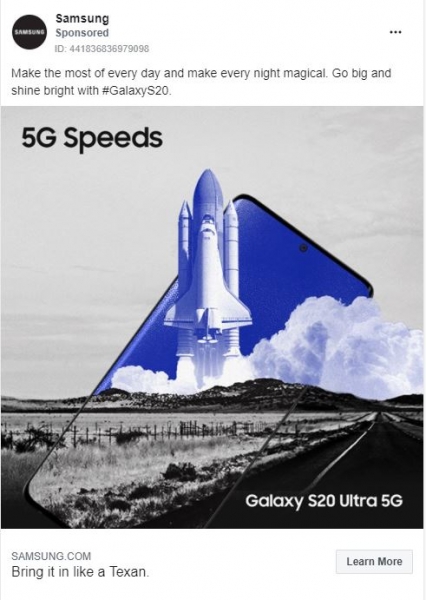 Before Creating Graphics for Social Media:
Pick the platforms where your audience is
Social media is a great place to be if you want to increase brand awareness. But it is also essential to understand which platforms are suitable for your business.
While Pinterest is the one place to find inspiration that leads to purchase, LinkedIn is a more business-oriented platform. On Twitter, your posts can consist only of texts, and it may be enough, while Instagram is expecting a little bit more creativity and planning.
You get the idea.
Pick those platforms that will shed the best light on your product or services with the help of social media graphic design.
Efficient social media graphic design strengthens your message and helps connect your audience with your brand. In order to get the best outcome out of your design strategy, perform an industry analysis, and see what your existing or potential audience likes and buys.
It's essential to understand and create your buyer persona to know how to present your brand in the best way possible through social media ads design.
Once you know your audience's preferences, create a content strategy, and post regularly. They will get used to seeing your new content.
On social media, it's better to post 1-2 times per week to have enough time for creating quality content and still keep your audience engaged. To do so, you need to plan your content ahead of time.
Get everything ready, and use those social media graphic design templates we talked about.
Conclusion
To get the best results out of social media, you need to create good content, backed up by exceptional social media graphic designs.
Only with something genuinely eye-catching, your branding content will stand out from the crowd.
Social media will help you attract new leads, bring more traffic to your website, and increase brand awareness. Moreover, you can do this also by socializing with your potential customers.
There's a reason why it's called social media.