10
minutes read
Pinterest was launched back in March 2010, and it now has 433 million monthly active users worldwide.
The never-ending inspiration that users can find on this social site has turned Pinterest into a high user engagement platform. That's because it's different from the other popular social media networks.
Here's why.
Pinterest is designed so that users can easily discover and save ideas that inspire them. It's not about engaging with other people or generating discussions. It's all about the people who already decided to take action for their inspiration.
This gives brands an excellent way to be discovered by creating Pinterest ads for ecommerce.
Which brings me to the next point.
Why You Should Advertise on Pinterest
People come to Pinterest not only to discover new stuff and get inspired but to plan and take action as well. So your chances to sell on Pinterest are high.
The future-focused mindset of Pinterest users makes this platform ideal for advertising, especially for ecommerce businesses, because people are actively looking for new ideas.
This means that users are open to discovering new brands, just like yours.
On Pinterest, you can target people through advertising at different stages of their journey—when they're just searching, comparing options, or when they're ready to buy.
Here are a few must-know statistics about Pinners' behavior that you'll want to keep in mind:
97% of the top searches on Pinterest are non-branded

85% of weekly Pinners have made a purchase after being inspired by Pins from brands

Pinterest needs only half of the impressions compared to other platforms to convert its users

A Pinterest user spends nearly 80% more in retail than a non-Pinterest user

Almost 9 in 10 weekly Pinners use Pinterest for inspiration, followed by a purchase

2 in 3 Pinners use Pinterest to find a trustworthy idea, product, or service

More than 25% of the time spent on Pinterest is for shopping. This percentage is higher than on any other social media platform

Half of weekly Pinterest users check the discovery platform during in-store shopping

9 in 10 weekly users search for inspiration on Pinterest for a recent purchase

3 in 4 weekly users have discovered a new brand or product on Pinterest
Without further ado, let's see how you can run Pinterest ads for ecommerce.
Pinterest Ads for Ecommerce: 5 Ad Formats to Consider for Your Campaigns
The good news about Pinterest is that the ads on the platform don't interrupt people's experience because they are actively looking for products like yours.
Depending on your goal, you have several options when doing Pinterest ecommerce advertising. Let's look at all of them.
1. Standard Pin
You can use this format to run your ad using a vertical or square image. It will look like a regular pin, and with the label Promoted by under it, which will disappear once it gets repined.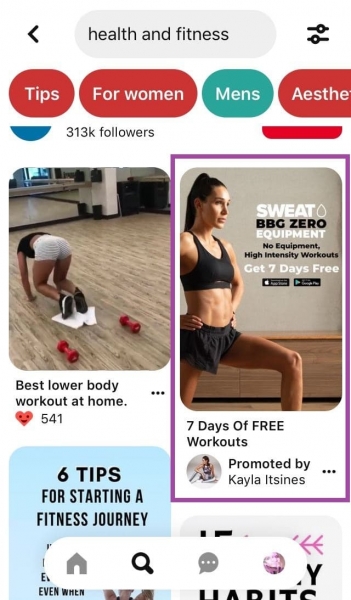 2. Carousel
Carousels are similar to the feature available on Instagram. The only difference is that you can add only up to five cards on Pinterest. Pinners will see carousels in their feed and will be able to swipe through the images or save them.
Each image can have its own description and landing page. See it in action in the video below.
3. Video
Video ads start playing when they come into view in a Pinner's feed.
If you're planning on using video ads, you should know that users are not always watching them with sound on.
So, make your video engaging without sound because the stats say that Pinterest users are almost 55% more likely to purchase something after seeing a video on Pinterest than videos from other social networks.
Pinterest has some incredibly useful resources that help users every step of the way. Check out this guide on how to create a breakthrough video that inspires people.
4. Collection
Collections ads can be created only on desktop and will be shown to those who are using the Pinterest mobile app.
This is an ad format combined by a main asset and three secondary assets. After a Pinner taps on a collection ad, the main creative will expand, and they will also see up to 24 secondary assets.
5. Shopping
After you've set up the product groups in Catalogs, you can start promoting them through Shopping Ads.
You won't need to do any additional targeting for this ad format because the platform uses the product data you provided to show relevant products to Pinners.
You can also run a dynamic retargeting campaign to reach those who already visited your site or have products in their cart.
With shopping ads, users will be able to discover and purchase products easily, so you can sell on Pinterest with minimal effort.
Now, let's go through the main steps of creating a Pinterest advertising campaign.
Getting Started with Pinterest Ads for Ecommerce
1. Set up your Pinterest Business account
Before running Pinterest ads, you'll first need a business account. If you don't have one already, you need to set it up and then install the Pinterest tag.
After this, go to your business account dashboard and click on the Ads section, then on Create ad.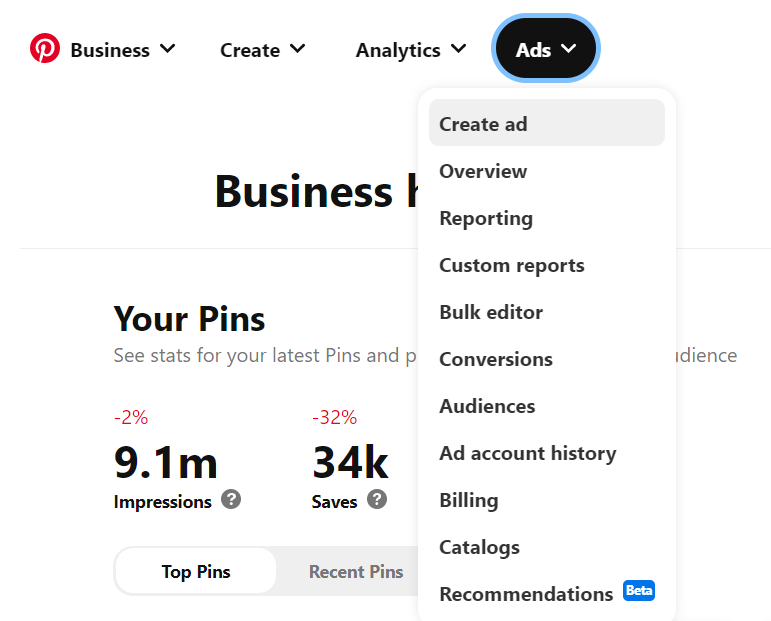 2. Choose your campaign objective
Next, you need to choose your campaign objective. There are six available campaign objectives:
Brand awareness

helps advertisers reach new audiences, so more people learn about the company and its products.

Video views

that are effective at the brand discovery.

Traffic

is essential if your goal is to drive potential shoppers to your online store.

App install

comes in handy when you promote your mobile app and want more downloads and installs.

Conversions

are an important objective when you want to drive action.

Catalog sales

are meant to help you get more conversions through shopping ads.

3. Define your target audience
This step includes creating your ad groups and adding the targeting requirements. You'll need to set up your ad group audience, interests, keywords, demographics, and placements.
On the left side of your screen, click on New ad group.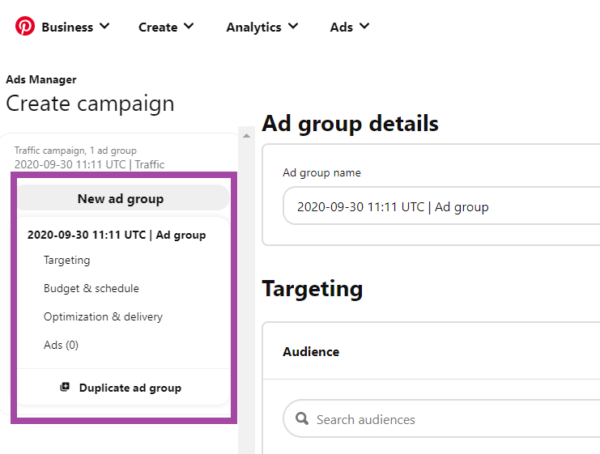 This is what you'll be able to set up related to your target audience:
Audiences. Y

ou'll be able to create a custom audience based on your existing customer list and those who previously interacted with your content or website.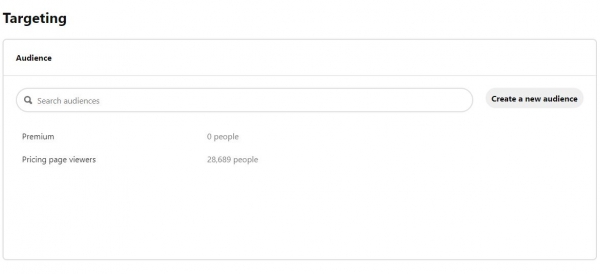 Interests.

Here, you can add interests that your audience might have, which can be related to your industry, so keep this in mind. Interests should be relevant to your promoted pins.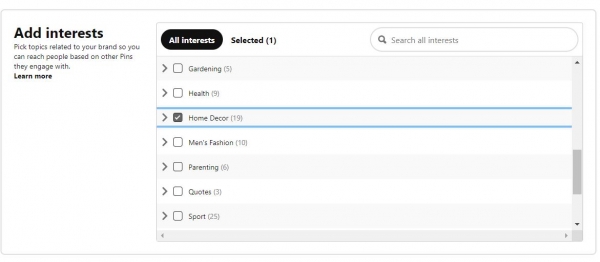 Keywords.

From broad phrases to exact match options, you can choose plenty of keywords to maximize the chances of your ads appearing in search results.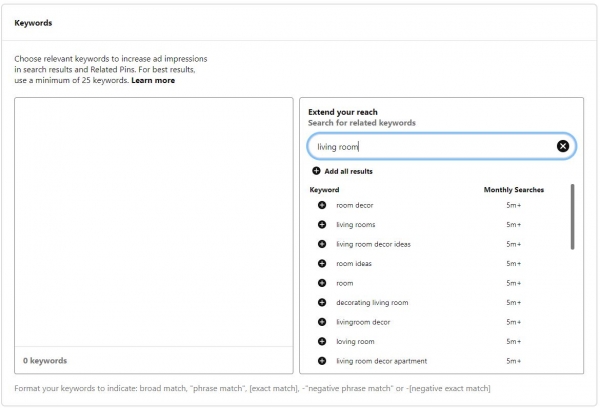 Demographics.

Based on the products you sell, you can choose to target a specific audience by adding details such as gender, age, location, language, and device preferences.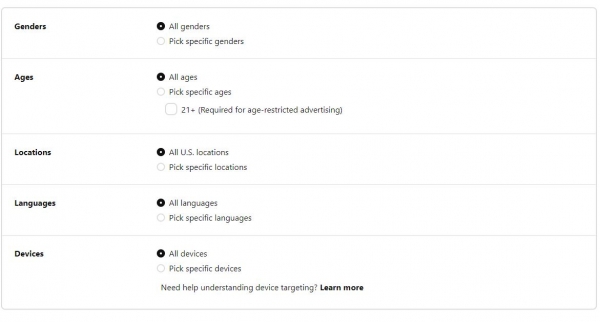 Advanced options.

Here, you can select your ads' placement and insert tracking URLs. The ads can show up in search, home feed, or both.

4. Set up your budget and campaign agenda
Next, it's time to set your daily or lifetime budget, as well as the duration of your campaign.

5. Select bidding and delivery preferences
Set up your bidding options and choose between automatic or custom bids. The custom one will allow you to set the exact price to bid at auction.
Here you will also set the delivery's pacing, which can be standard or accelerated. The latter one will bring you high impact, fast results, and you'll be able to target your specific audience with a set budget.
The accelerated option may be your best choice if you're new to Pinterest advertising or if you want to see in a short amount of time what results you can get, without investing too much money.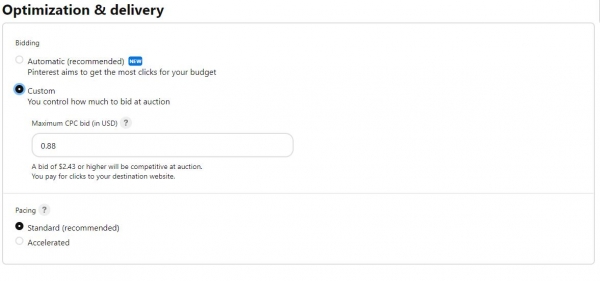 6. Run your Pinterest ad
Finally, it's time to choose the pin you want to promote or create a new one for your ad campaign.
If you already have pins you wish to promote, check Pinterest analytics to see which ones are performing well.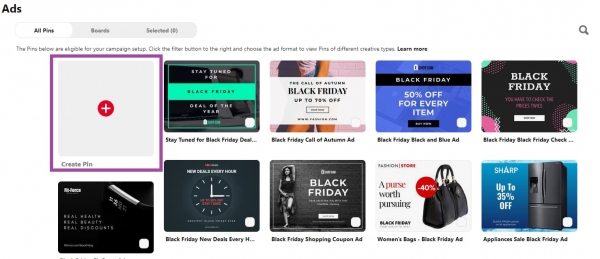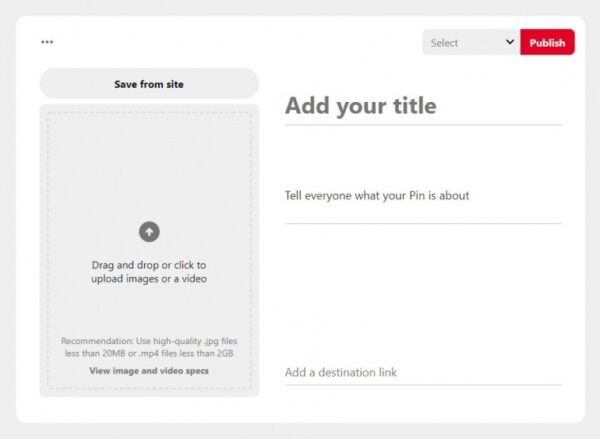 If you're planning to create new pins for your ads, here are a few guidelines to consider.
5 Tips for Creating Eye-Catching Pinterest Ads for eCommerce
1. Choose the right Pin format
The first thing you need to do for your Pinterest ecommerce strategy is to decide what ad format fits your campaign objective. Depending on the product you're advertising, think of the format that will help you promote it to the fullest.
You can choose between standard pins, video pins, carousels, collections, and shopping pins.
2. Add movement with transitions
Nothing draws attention more than a video. Create transitions that can become so addictive your audience wants to engage with your ads.
In the video ad below created for a Tom Ford perfume, the dark colors blend seamlessly with the video frames' rapid movements, making the perfect setup for the moments when the brand's name and product appear on the screen.
3. Use compelling copy
On Pinterest, you have to think vertically, so you need to come up with copy that's short yet catchy, but that also expresses precisely what you want to promote. If you have to use longer text, break it into smaller parts, and use a format such as a carousel or a video.
In the following ad from L'Oreal, there are only nine words, but all of them are used to make the Pin stand out.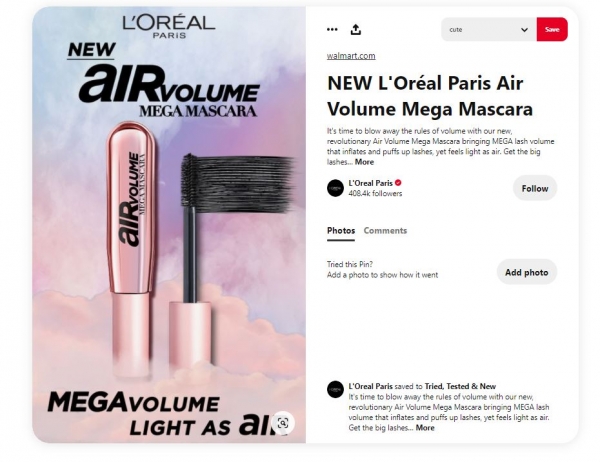 4. Show the product in action
One effective way to promote your product is to show your audience how it works and how they will benefit from it.
Through your ad, you can create a quick demo, like Urban Decay did with the Stoned Vibes Eyeshadow Palette.
5. Connect your Pin to a landing page
We're talking about ads that promote your products. This is why every Pin has to be connected to a product landing page.
Your landing page will provide any further information the customer needs to make a purchase.
5 Examples of Inspiring Pinterest Feeds
Your Pins and pin ads can get discovered in the following tab if a user follows your page, or other ones similar to yours, or in their home feed (For You section), where a user will get related Pins based on their likes, previous searches, and saves.
If you're looking for some inspiration to create ads for your Pinterest ecommerce strategy, take a look at the examples below.
BirchBox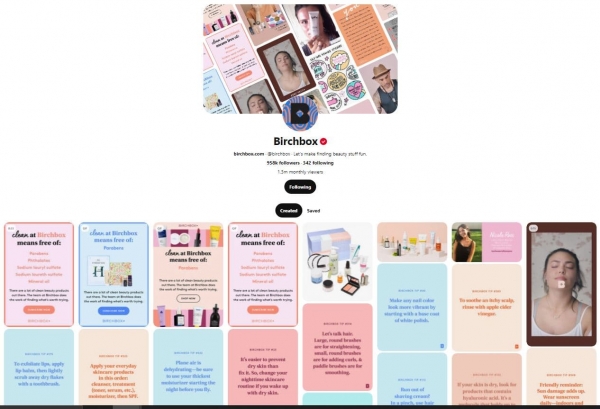 BirchBox is a beauty subscription service, and on their Pinterest, you'll see they pin and repin beauty-related content. Besides just showing the products, they actually give excellent tips and tricks on beauty products.
Like this one: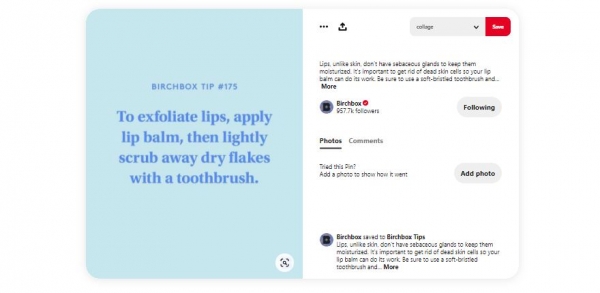 Etsy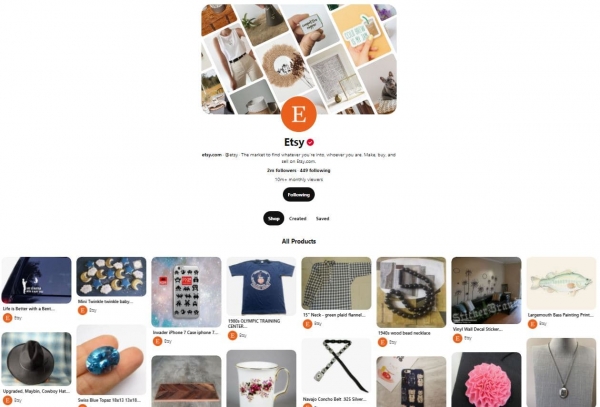 They present themselves as The market to find whatever you're into, whoever you are. Make, buy, and sell on Etsy.com.
And it is indeed like that. You can shop here, but you can also just search for inspiration on various topics, as their Pinterest has quite a few noteworthy Pins created and saved on different boards: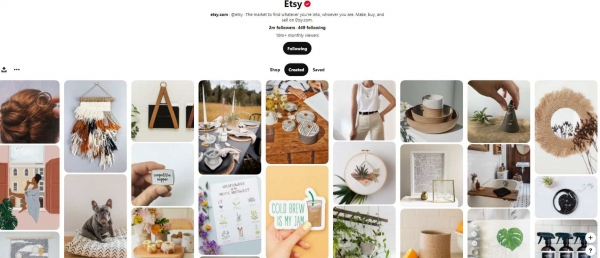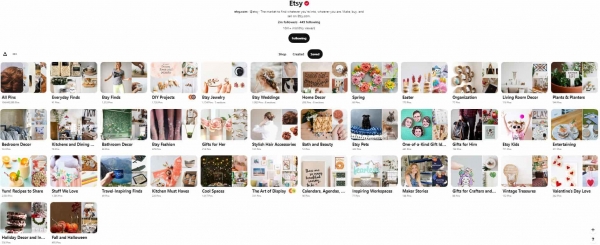 West Elm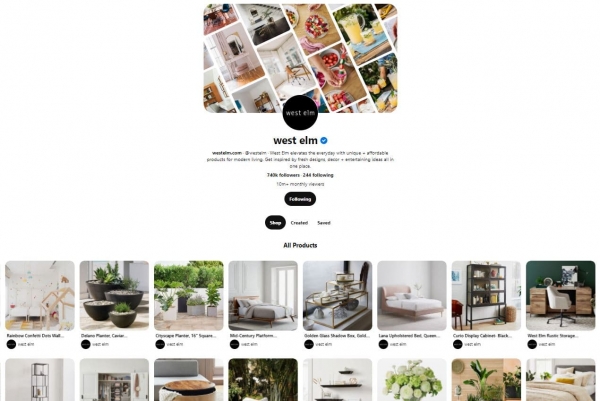 The furniture company, West Elm, uses Pinterest cleverly. They showcase the products while offering highly actionable decorating tips.
Kate Spade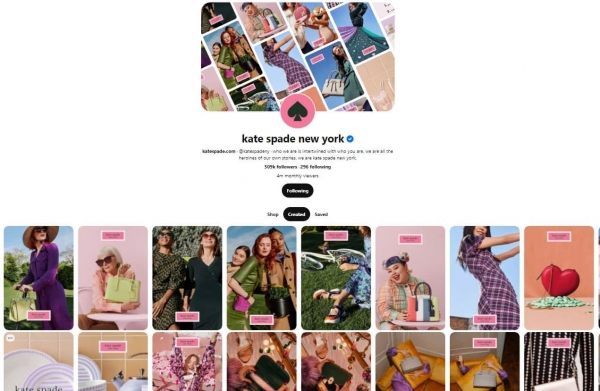 If you go to Kate Spade's Pinterest profile in the created Pins section, you'll find inspiration on every level: colors, outfits, accessories, and self-care tips.
Moreover, you'll see the brand's personality all over the feed and will surely convince you to go to the Shopping section for more.
Fenty Beauty by Rihanna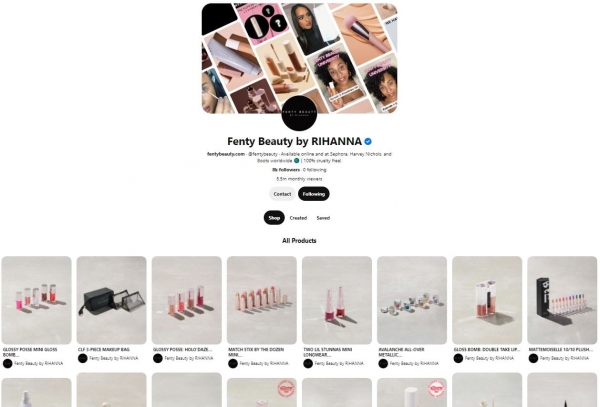 This Pinterest profile surely is the queen of video content. You'll find everything related to Rihanna's line of products, including the shopping section.
In this final section, I'll show you how to use Creatopy to create a pin.
How to Create a Standard Pin with Creatopy
1. Go to Creatopy
Log into your Creatopy account, or sign up for free.
2. Choose the format
Once you're on the platform's dashboard, type Pinterest in the search bar and pick the pre-made size created to comply with Pinterest size recommendations.
3. Choose a template or start from scratch
Then, it's time to start designing.
But first, you need to decide whether you want to choose an existing template from our gallery or start with a blank canvas.
If you decide to start from scratch, you can choose a stock image or video from the Elements section.
Or upload your own visual onto the canvas.
You can do this by simply drag & drop your files into your workspace.
4. Add elements and personalize your Pin
After you've decided on the visual you want to use, it's time to start editing.
You can add text, change its color, add shapes, or blur the elements. Just play with everything the platform offers you until you're satisfied with the result.
5. Download your design
The final step is to download your work in PNG or JPG format, and then go to Pinterest and upload it as a standard Pin and transform it into an ad.
Conclusion
Pinterest users are people of action. They visit Pinterest to get ideas that they'll later put into practice. This should be the main reason why you should consider advertising on this fantastic discovery platform.
I hope that these tips will inspire you to give Pinterest a go. And if you do, let me know in the comments how it went for you.