12
minutes read
"In this post iOS 14.5 era, it is more important than ever to diversify your ad spend cross-channel." 
You may have heard these words way too many times in the last months. No matter how repetitive they are, what's sure is that they are true.
If you want to win in paid advertising in 2022, you can no longer rely on one or two channels. What worked in the past may not work so well in the future, so it's important to look for new opportunities at every corner.
OK, so you may wonder which channel you should add to your list. Could Pinterest be a good idea? 
At the beginning of this year, we decided to conduct an experiment on Pinterest to answer this question and test the performance of static ads versus video ads. We also wanted to see if this platform can bring desirable results for our SaaS regardless of the ad type we used.

Before starting the experiment, we agreed on two main hypotheses: 
1. Video ads bring more reach than static ads
2. Static ads bring more qualitative traffic
Why Pinterest? 
This platform is not as much in the spotlight as other advertising platforms and yet it has 431 million active monthly users. So we believe it may be a platform with untapped potential for advertisers. 
Were our assumptions true? 
Let's dive into the findings, but not before telling you a little bit about the campaigns' setup and showing you the two Pinterest ads used in the experiment.
---
---

1. Campaigns Setup
We allocated $2,000 for the experiment, which ran for 30 days, from January 10 to February 8, 2022. 
We had two separate campaigns for each ad type—one for the static image and one for the video. For each campaign, we had two identical ad groups for each audience we targeted. Also, each ad group had two identical ad copy variations.
Our main goal (that guided the way we optimized our campaigns) was to get conversions, specifically more trials. The budget was set at campaign level and we went for automatic bidding, the recommended option by Pinterest, which "aims to get the most conversions for your budget." 
With this targeting strategy, we aimed to find new customers and optimized for keywords, without expanding our targeting to similar users.
Both campaigns targeted:
The same

nine locations

: US, UK, Canada, Australia, New Zealand, Denmark, Sweden, Norway, and Netherlands, the main countries where our target audience is located; 

The same

age group

: 25-54 years; 

The same

language

: English; 

The same

devices

: Android Mobile, Android Tablet, Web, Mobile Web (we opted out of iOS); 

The same

placement

: Both browse and search; 

The same

landing page

. 
The only difference between the two campaigns was in the ad type.
Regarding the iOS opt-out, we wanted to be prepared for the post iOS 14.5 era, in which data about iOS users is lost (conversions included), making targeting, and especially retargeting efforts more difficult, not to say totally ineffective. With targeting and retargeting becoming less effective, we wanted to avoid wasting our spending.
2. The Results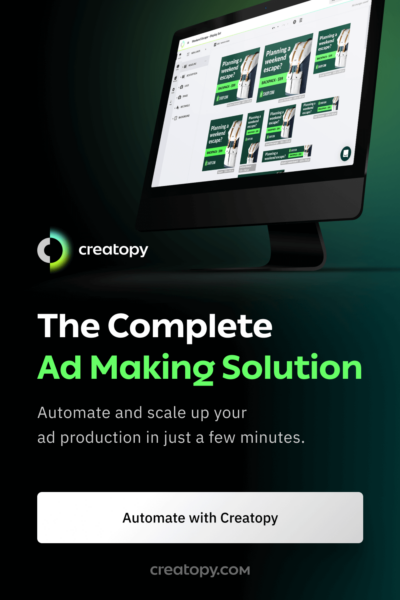 Variables
Static ad
Video ad 

Outbound clicks*

498

179

Users who landed on the landing page**

340

101

Impressions

444,694

345,121

Conversions (trials)***

3

2

Conversion rate****

0.88%

1.98%

CTR

0.18%

0.20%

CPC

$1.21

$1.46

CPM

$2.26

$2.91

Bounce rate

82.49%

83.78%

Avg session duration*****

00:03:06

00:01:16

Ad copy winner******

Want to scale your ad production? Get more done in less time with Creatopy!

Want to scale your ad production? Get more done in less time with Creatopy!

Saves

143 

39

Ad

spend

$999.90 

$999.90

Video views

–

253,300

Avg time

–

0:09
* "The total number of clicks to the destination URL associated with your ad", according to Pinterest
** According to Analytics data
*** According to the data provided by Pinterest
**** Obtained by dividing the number of conversions by the number of users in Google Analytics
***** According to Analytics data
****** In terms of conversions, the winner is the shorter version. The other version of ad copy was: "Want to scale your ad production? Meet Creatopy, the ad design solution for marketers and designers, that helps you get more done in less time!"
As you can see, static ads performed better than video ads, at least for us. The number of outbound clicks, users who reached the landing page, impressions, conversions, time spent on site, and even the number of saves, are all higher for the static ads.
However, we cannot ignore the good-looking conversion rate on the video ads side.

2.1. Location 
From the nine countries targeted, the most traffic came from the United Kingdom (19.5%), followed by Canada (15.9%), the United States (15.4%), and the Netherlands (14.6%). The least traffic came from New Zealand (3.3%).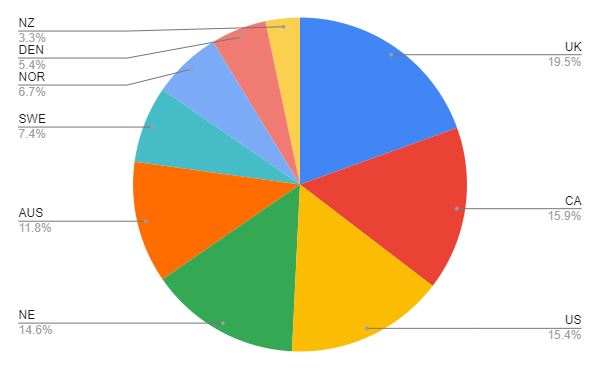 When it comes to the countries where users spent the most time on the website, the top looks different. 
Traffic from the Netherlands seems to be of the highest quality for us, as users from this country spent an average of six minutes and 29 seconds on our website. In the second place, we have the United Kingdom, with users spending four minutes and 30 seconds on the website. In the third place, are the United States, with an average of three minutes and 16 seconds spent on site.
On the opposite side of the spectrum, Sweden appears to have brought us the poorest quality of traffic, with an average of only one second spent on the website. Below you can see time spent on the website for each country we targeted, according to Google Analytics data.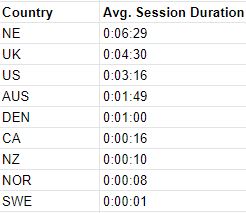 And in the next table, you can see a top with the bounce rate by country, where Sweden is the worst performing yet again, while Denmark has the best bounce rate from the nine countries we targeted.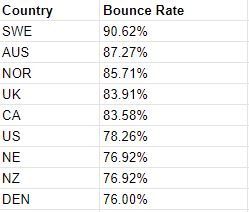 Taking all these three metrics into account, traffic from the United Kingdom, Netherlands, and United States seems to be of the highest quality for us, while on the opposite side we have Sweden and Norway, with the lowest quality.
Curious about the same metrics but broken down by device? Here they are.
2.2. Devices 
As you can see in the diagram below, most of the traffic came from mobile devices (55.6%), followed by desktop (34.9%), while the least traffic came from tablets (9.5%).
Even if the most traffic came from mobile devices, mobile doesn't hold the same place in our top regarding the quality of the traffic brought. Users that saw our Pinterest ads on desktop are the most qualitative, both in terms of time spent on the website (five minutes and 47 seconds), as well as bounce rate (78.02%). 
While traffic that came from desktops is of higher quality, the lowest quality traffic came from tablets, with only an average of 12 seconds spent on-site and a bounce rate of 87.50%. In terms of quality, mobile holds the second place, even if it brought the most users to our website. Time spent on the website by these users is one minute and 19 seconds, with a bounce rate of 84.13%. 
Regarding the winning device, we must mention that our platform is much easier to use on desktop than on mobile, so these results make sense, as we are used to generally seeing better performance for this device.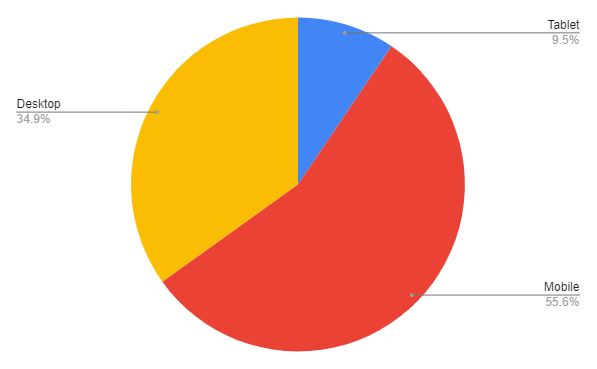 2.3. Gender
According to Pinterest, 60% of the global audience is represented by women. 
Our Pinterest ads reached more females indeed (53.1%) compared to the number of males reached (39%), while the rest of 7.9% is unspecified/unknown.
When it comes to conversions, the split between genders is more equal. Out of the five conversions registered during the experiment, two came from males, and three were from females. 
Genders are more equally spread by conversions/ad type as well. For the static ads, we registered two conversions from females and one from a male, while for the video ads, one conversion came from a male and one from a female.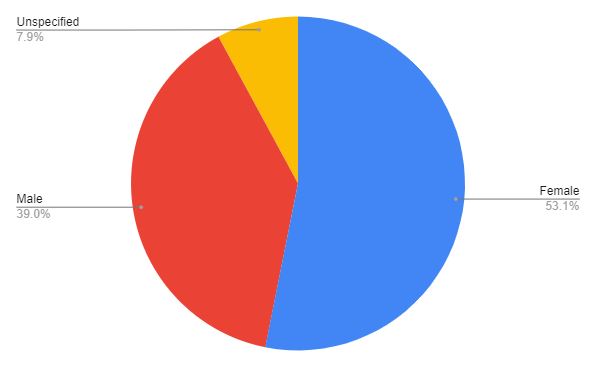 2.4. Age group
When it comes to the age buckets, the predominant age group we reached with our ads was 25-34 with a vast majority of 58.7%, followed by 35-44 with 24.8%, 50-54 with 8.7%, and, lastly, 45-49 with 7.8%. 
We can see that there is a good percentage of people over 50 using Pinterest, too. According to Statista, in the US, 38% of adults use Pinterest and fall into the 50-64 age group. 
So if your product is used by this age group preponderantly, you can definitely consider doing advertising on this platform.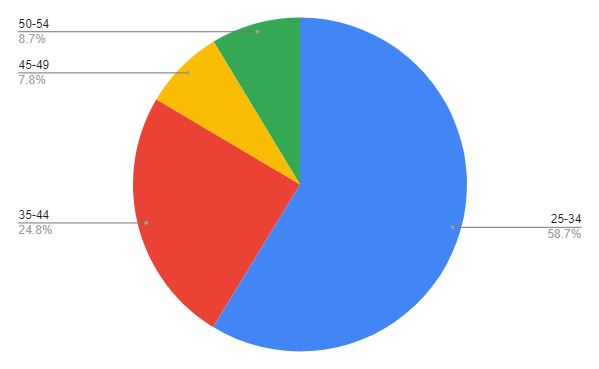 2.5. Ad spend
Regarding ad spend, we noticed that the daily spend was treated sacredly, as there weren't cases of over or under spending in any given day out of those 30 days of the experiment, not even with a single cent.
Taking into account that the Pinterest ads were set on automatic bidding, and from our experience with other bigger ad platforms, where we ran ads with automatic rules set at the campaign level, fluctuations in daily spend are something we were already accustomed to, so this was quite surprising. 
Also, interestingly enough is that the short version of the ad copy is a winner for both ad types. Below you can see screenshots of the two ad texts.
3. Key Takeaways
3.1. Short messages perform better
Both Pinterest ads start in the same way, with a question addressed directly to the user that describes one of the pain points that our platform can solve for them. Descriptions are quite similar, too.
The only difference is that the first one is shorter and gets straight to the point. It can be read in the blink of an eye, while the second one is longer, and requires more attention and effort to be finished. 
Taking into account that the first ad copy generated all conversions in this experiment, it may be a clear hint for every advertiser out there to write short and simple ad copy on this platform, as users seem to engage better with these types of messages.
3.2. Don't make it about you
The second ad copy version puts the name of the brand right at the beginning, making it sound more about the brand rather than about the user. It still talks about the benefit, but it does so in a way that does not appeal to the users as much.
Give users a solution to their pain points and do it in a direct manner. Make the ad less about how great you are and more about your target audience. Your audience should be the focus of your message, not your brand.
3.3. Use static ads for top of the funnel
When it comes to the visual side of the ads, both the static and the video ad make use of the brand colors. The static ad is mainly black and green, while in the video ad we have more purple shades, while black and green are also present. 
Regarding the message, they both present our tool as an ad making solution for advertisers, with focus on automation. While the static ad has a very clear and straightforward message, the user may need more time to connect the information presented in every slide of the video to reach the same conclusion as to when seeing the static ad. 
As a comparison, the video ad states that Creatopy is an "ad design platform" starting with the 11th second of the video. If we were to look at the data above where we presented that the average watch time for the videos ads was of nine seconds, it is clear that the majority of the users didn't even reach that part and may not have uncovered how Creatopy can help them.
If we were to make a connection with what we stated previously, that users on Pinterest prefer simpler, more direct messages, we can conclude this here, too. The static ad requires less attention and focus from the viewer, as the benefits are clear from the first seconds they see it compared to when they watch the video ad. 
Perhaps video ads would be a better fit if we would talk about the middle or bottom of the funnel when the user is already familiar with our brand. Thus, they may have more patience to see and learn about the product in detail as compared with the acquisition phase, when they are meeting the brand for the first time and the interest is lower compared to when they've already entered the funnel. 
In this stage, we're just starting to make them take an interest in us, so it's important to present a solution to the pain points from the first seconds of the video. This can be a good hypothesis to test in another experiment.
3.4. The static ad performed right from the start
Another thing we noticed is that the static images seemed to perform better from the start. The first conversion for the static ads was recorded on the 9th day of the experiment (Wednesday), followed closely by the next one on the 10th of the experiment (Thursday). Then, the last conversion came on the 16th day of the experiment, again on a Wednesday. 
When it comes to the video ads, they converted at a slower pace. When we already had three conversions recorded on the static images and were almost ready to call a winner in this regard, the video ads started to convert. Both conversions on video ads were recorded close to the end of the experiment, on the 21st day (Monday).
Also, from the very beginning and until the end of the experiment, static ads had a wider reach than video ads and more outbound clicks. Despite this, the average cost per click was on some days lower on video ads than on static ads. Only during one day, the number of outbound clicks was equal on the two types of ads. 
The day that the two conversions were recorded on the video ads wasn't any different. Both reach and outbound clicks were lower than those compared to the static ads. So we cannot attribute the lower number of conversions necessarily to the lower reach (when compared with static ads). 
One reason could be that, as we stated above, users didn't have the patience to watch the entire video ad. Moreover, on average, users exited the video even before learning what it is about. So the lower number of conversions could be attributed in part to this. If the information from our video would have been comprised in a shorter form, an average watch time of nine seconds wouldn't be that bad and maybe the results would have looked differently.
Taking into account these results, we are already preparing our next case study, as a follow-up to this one.
What we want to test next is if video ads have a better performance on Pinterest when we add variables such as duration or aspect ratio. Would mentioning the brand name in the first seconds change performance for the top of the funnel? Stay tuned, it will be a nice and, hopefully, an interesting one.
4. Best Practices
According to Pinterest, "For best results use a minimum of 25 keywords. You can use up to 20,000 keywords per ad group."
For our experiment, we made sure we have at least 25 keywords and added 26 for each ad group.
On Pinterest, you can target specific keyword match types: broad (the default one), phrase, and exact. Moreover, you can even add negative keywords on exact or phrase matches. For our experiment, we went for broad targeting and no negatives. 
Besides keywords targeting, you can also target users by interests. There are 24 generic interests on Pinterest, and these are the largest ones: Food and drinks (28), Sport (25), Home Decor (19), Wedding (17), and Women's Fashion (12). So if your business operates in one of these categories, it may be a good idea to start testing this platform and see how it works for you.
You can recycle images from other platforms, but this method is not very indicated as this may negatively impact the performance of your ads, according to Pinterest. The platform recommends using a 2:3 aspect ratio (e.g.: 1000 x 1500 pixels).
Each platform should be treated uniquely, and you should have a personalized strategy, creatives included. This may require an extra effort, but with extra efforts come extra rewards, right? We made sure to comply with this requirement, as well, in our experiment.
5. Conclusion
As we can see from the results, one of our hypotheses was validated, while the other one wasn't. Static ads did bring more qualitative traffic compared to video ads, while video ads, surprisingly or not, did not bring more reach than static ads for us. Moreover, during only one day of the experiment, video ads managed to surpass static ads in terms of reach and only with 436 impressions.
We can conclude that Pinterest may be a great opportunity for bringing high-quality traffic to your website, while also performing well in terms of conversions, even if you don't have an ecommerce brand.
Also, it can be the right platform to promote your products or services, targeting women and men, as well. And age is not an issue either, as you can find users from each age category on Pinterest. We, at least, are happy with the results and think it is a good thing to keep Pinterest in our PPC portfolio and continue testing on this platform.
Pinterest is a very visual-oriented platform. It may work wonders for a company that is selling visually-appealing products. This may be another hypothesis to test for Pinterest ads if you work in the ecommerce field.
Also, it is important to keep your message as concise as possible, as users engage better with simpler ad copy that directly addresses their pain points, while the solution for their problems should be clear from the very start.
What is definitely sure is that every account is different and various products could lead to various results of the same experiment when testing.
All that being said, are you willing to give Pinterest advertising a/another shot? How do these findings sound to you? Are you surprised or did you have similar experiences with the platform?
If there is interest, we can conduct a new experiment in the following period, besides the follow-up: Pinterest versus another lesser discussed platform, in terms of performance.
Or maybe you are interested in a whole different topic from the paid advertising area? Feel free to leave your suggestions and any feedback regarding our findings in the comments section below. 
Happy testing, everyone!