9
minutes read
With so many big real estate players with million-dollar funds and dedicated marketing resources, you can find yourself wondering what are your actual chances of selling that house. As a local realtor, you have several advantages to these industry giants, and all of them are linked to your real estate marketing strategy and personal brand.
We put together an extensive list of actionable real estate marketing tips to help you take your business to the next level:
1. Have a Top-Notch Website
Your website is the first step towards having a solid real estate marketing strategy. Research conducted by NAR showed that 93% of home buyers gather their information from online websites, and yours should be among them too.
The recipe for a great website is no longer a secret. With great design and straightforward navigation, your site can establish a strong brand identity and draw new clients.
Focus on dividing your website into several sections, each serving clear purposes. For example, the "About me" page should meet the goal of telling readers all about your company and services. Make sure to also have separate pages for each property type, and consider offering detailed neighborhood information for most of the areas that you cover.
Below you can find some excellent real estate website examples: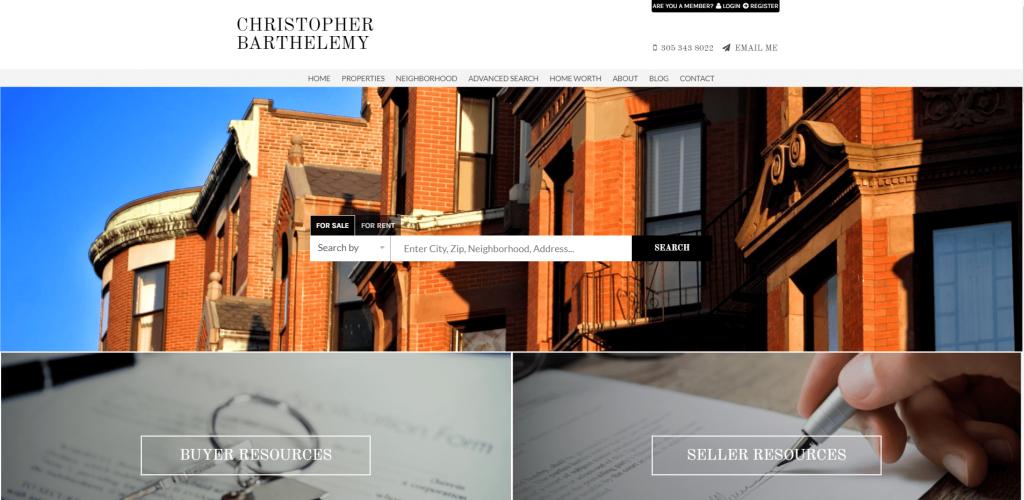 We're living in a mobile-first world. 52.2% of all the website traffic was generated by mobile phones in 2018, so if you want a piece of the traffic pie, you have to optimize your website for mobile use.
2. Start a Local Real Estate Blog
As a real estate apprentice, you may not be swimming in cash, but this is where blogging comes in handy. Starting a blog is the best way to attract free real estate leads, plus lining up a steady blog strategy has multiple advantages—from developing new relationships with future clients to helping your website rank higher in searches.
Being a top agent requires spending a great amount of time researching the local market, so why not make the most of the process by creating educational content for your target audience? Just think of how many useful tips & tricks articles you'd write by fielding your customers' questions. You can also try crafting lifestyle articles on city hotspots, local businesses, or upcoming events.
At times, finding hot real estate topics can be a challenge, but this is where free tools like Ubbersuggest and AnswerThePublic come in handy.
Here's how to use Ubbersuggest to get content ideas: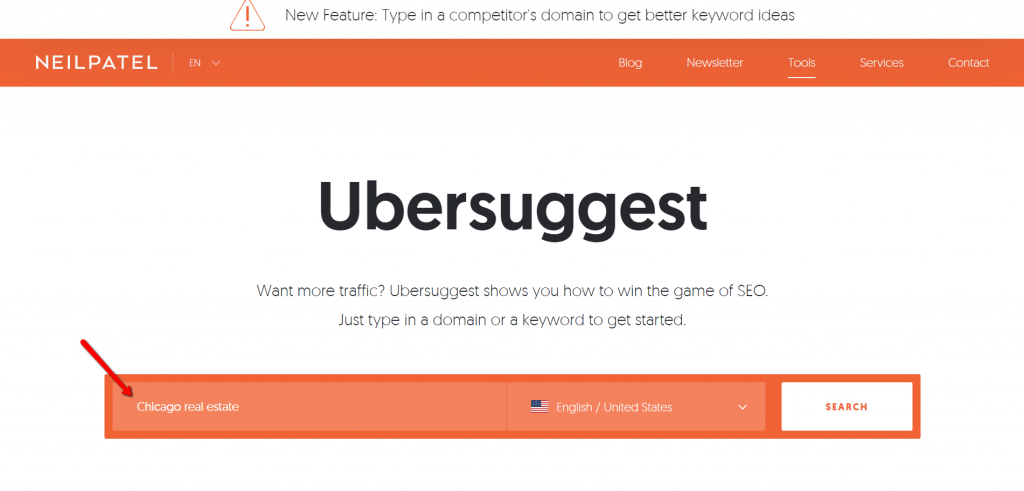 source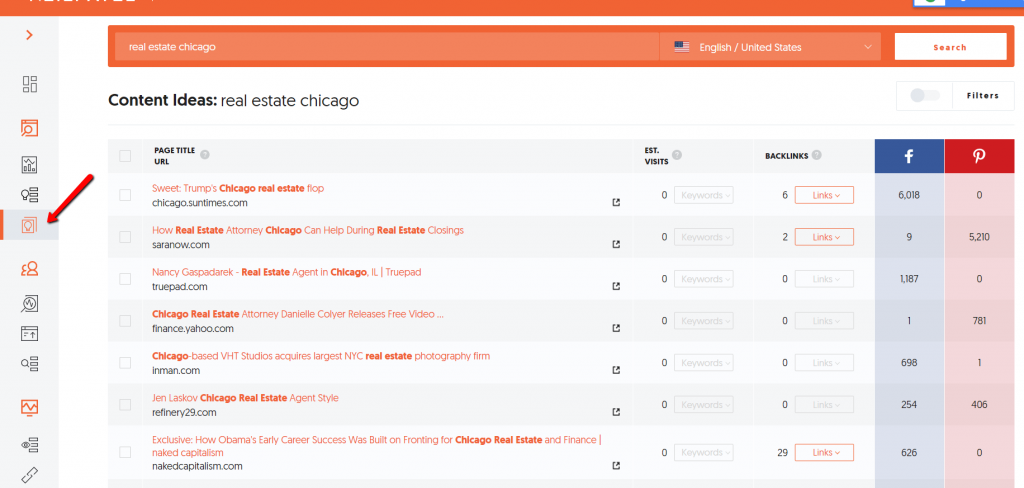 3. Make Sure That Your Content Is SEO Friendly
There are many reasons why SEO (Search Engine Optimization) is essential to your website's success. A well-optimized site has a higher chance of ranking organically for relevant search terms or keywords. Plus, paying more attention to SEO than your local competition leads to increased website engagement and traffic.
Optimizing your blog content is something you also need to pay attention to. By doing so, you'll put to good use all the time you've spent researching and writing and stand better chances of being discovered via searches while covering more related keywords.
There are many tools designed to help you with SEO. For example, SemRush or Yoast are both great for most (SEO) needs. You can skim through Backlinko's extensive list of free SEO tools to see what else you can use.
4. Send out Engaging Real Estate Newsletters
Email marketing is one of the most cost-effective strategies for raising brand awareness and building new relationships. According to McKinsey, email marketing is about 40 times more efficient in helping businesses gain new customers than Facebook and Twitter combined.
If you're not sure where to start, try setting up a consistent mailing list by gathering all the emails you receive through your website. Your sphere and former clients are also a great starting point. To gain even more subscribers, add a pop-up ad promoting your newsletter on multiple pages.
Next, your primary goal should be catering to your audience at every opportunity. Send out relevant data on the latest sales made in their area or ZIP code, alongside a general, quick real estate roundup. By doing so, you assist potential customers in estimating their property's value and help them understand how much time it would take to sell or buy in different areas.
5. Invest in High-Quality Visuals and Photos
They say a picture is worth a thousand words, but in real estate, a picture can be worth your next commission. In one of their most recent trends report, NAR stated that photos are the most important part of a real estate advert – therefore taking bad photos is a mistake you can't afford to make.
Unless you're genuinely passionate about home photography and have all the right resources to make your listings stand out, it's better to leave this in the hands of professionals. Based on where you live, a skilled real estate photographer can be just a call away. In the end, it will only save you time and money, so you'll be able to work even harder on developing the skills that make you a great agent.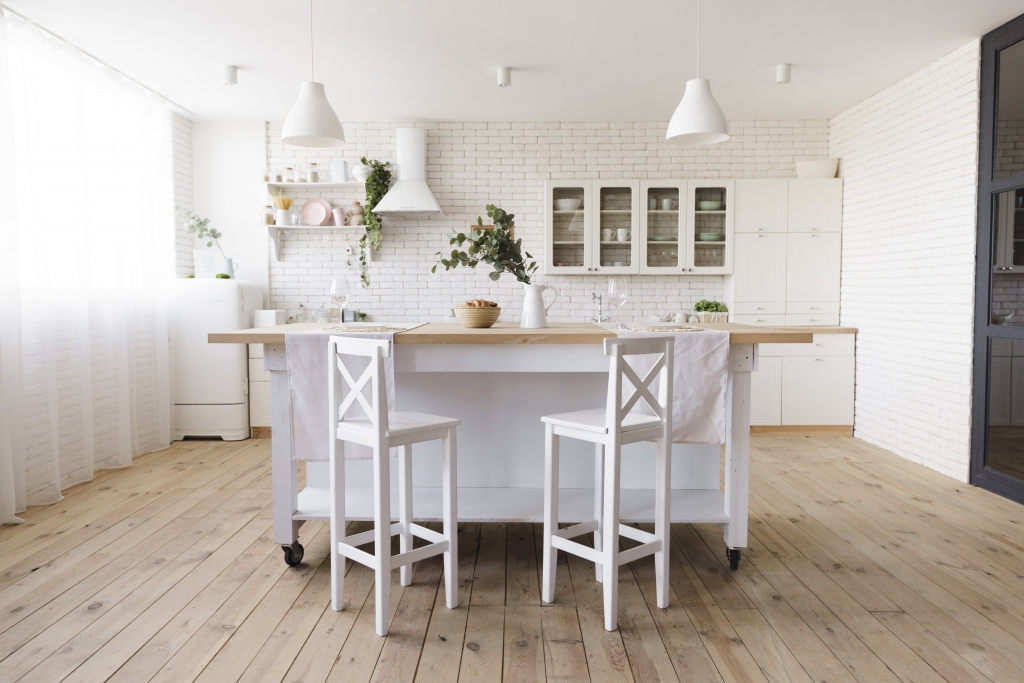 6. Create Real Estate Videos
Videos are a great way of endorsing your brand. According to HubSpot, you can increase conversion rates up to 80% by adding videos to your landing pages. Stats by Sprout Social also show that 74% of consumers share videos from brands via social media. These are all good enough reasons for you to start producing some stunning videos.
Below are just a few real estate video content ideas worth trying:
live property walkthroughs

Infographic videos on the local market

testimonial videos
Just sold videos

Real estate tips & tricks
7. Make Virtual Property Tours
Virtual tours are an excellent way of catching the eye of your future clients. When basic visuals fail to convince them to take some time off their busy schedules, virtual tours could artlessly get the job done.
The benefits of creating real estate virtual tours are many, from saving time and money to getting more website traffic and social media engagement. If you're on a tight budget, there are many tools to assist you in the design phase, such as TourMake and My360rea.com.
Here's a nice real estate VR tour to help you get inspired.
8. Try Guest Posting for Reputable Real Estate Blogs
Many real estate blogs are currently accepting content from guest contributors because it's free, local, and diverse. Plus, sharing some of your realtor wisdom is a must for establishing yourself as a local market expert. The SEO benefits from placing links to your website on high authority websites through guest posting are also potentially huge. Remember that your space on that website is limited, therefore make sure to write a compelling realtor bio so that potential clients get the chance to know you and your work better.
Finding guest posting targets can be a little challenging, but there are a lot of effective tactics you can try such as The Splintering Technique or The Grapevine Protocol. To learn more about this topic, check out these advanced guest posting techniques.
9. Get More Testimonials and Reviews
Happy clients are the core of your real estate validation and industry recognition, so don't let them go without leaving you a review first. Plus, not all of them will end up sealing the deal with you, so make the most of your collaboration by asking for a thorough review.
Your recommendations section on Facebook is a great spot to start conversations with clients, and more importantly, showcase outstanding customer care service.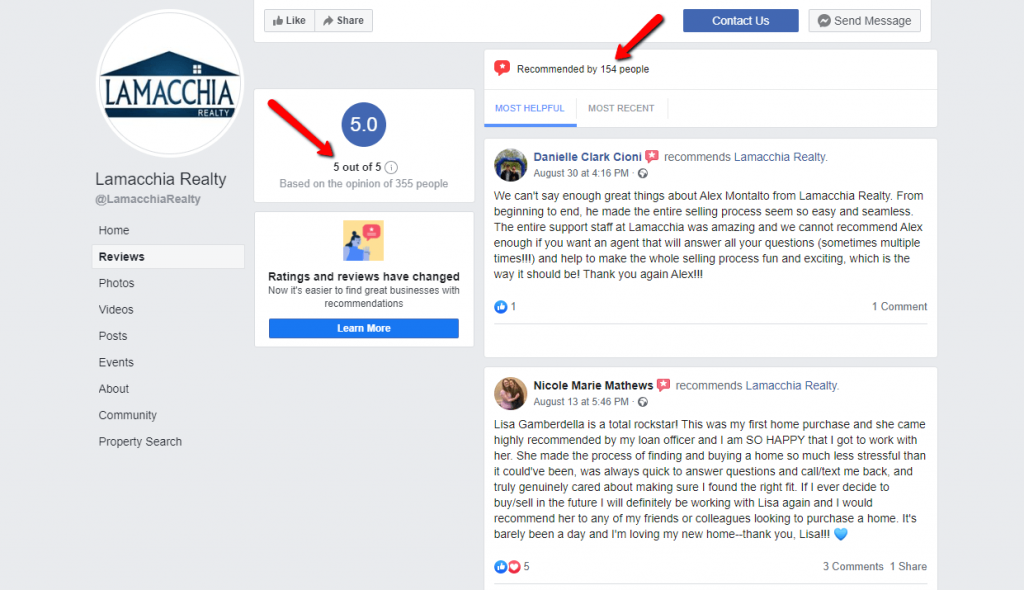 10. Google My Business Page
Google My Business (GMB) is one of the most powerful tools for local businesses, plus it's also free. Optimizing your GMB has many benefits, such as generating more website traffic and increasing search visibility.
An excellent tip for sending new visitors to your website through GMB is to upload photos and videos on your page and add relevant links in the description box. More on optimizing Google My Business here.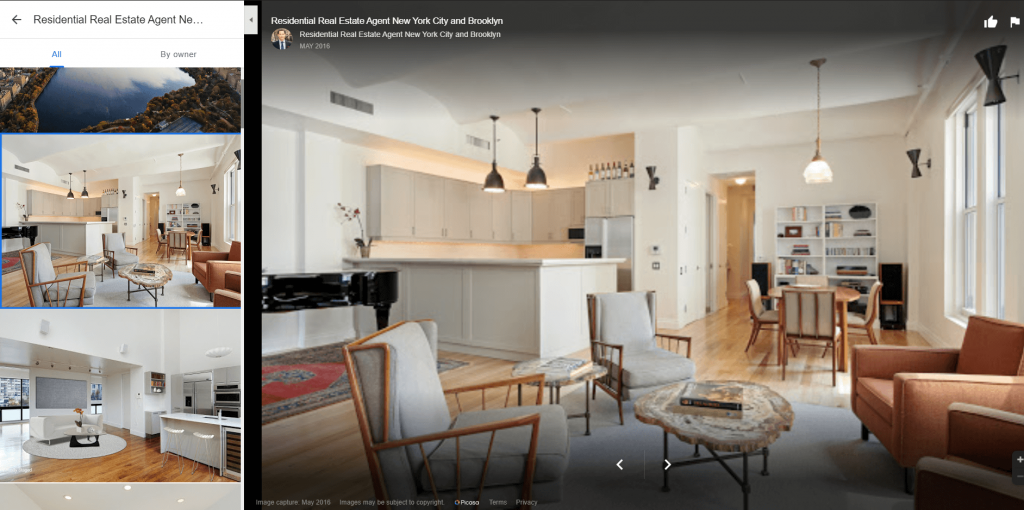 11. Create Micro-Content
If you spend time generating content for your blog, finding ways of getting the most out of it should be a priority. If you're not familiar with the concept, micro-content is defined as quick, light content that can be consumed in 30 seconds or less.
The rise of micro-content is strongly tied to social media and viral content. Here are some micro-content ideas worth experimenting with:
short texts

GIFs and memes

photos

short videos

or a combination of all the above.
Check out Ryan Serhant to learn new ways of successfully repurposing content across various platforms.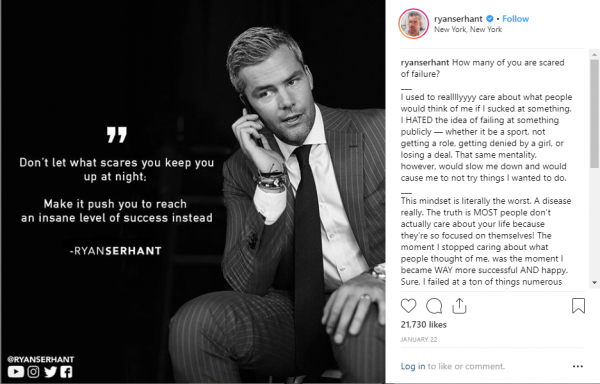 source: Instagram
12. Post on Social Media Daily
With so many social media channels to wrap your head around, posting can be a time-consuming task. However, with the right content strategy and distribution model, it can all be worth your time.
One good rule of thumb would be to pick two social platforms and post daily. Most studies show that posting on Facebook and Instagram once or twice a day is optimal.
Twitter, on the other hand, has no cap when it comes to posting, therefore feel free to retweet all the relevant information you come across in your feed.
Hootsuite stated that Pinterest drives 33 percent more traffic than Facebook, so putting together eye candy boards can be a great real estate marketing idea. Make sure that each photo has a link pointing back to your website along with its associated information.
13. A/B Test Social Media Ad Campaigns
Organic reach on social media is in decline, so, now's the right time to consider setting a budget for social ads. Although Facebook ads have many advantages, such as advanced targeting options and lookalike audiences, you should also see what the other social networks have to offer.
Real Estate mobile app Homesnap has reported a 6x return on Instagram ad spend, while also lowering the cost per lead up to seven times. Snapchat and Pinterest are other options worth considering for promoting visually-oriented content.
After deciding upon the social platforms you'd like to invest in, you can go straight to the ad design phase. If you're looking for a genuine solution to create social media ads, feel free to experiment with our real estate advertising templates.
14. Sponsor the Right Local Events
Being a digital real estate guru has its perks, but a significant percentage of your future clients still prefer the good old real-life interaction. 72% of consumers have a positive attitude towards the brands that make quality events happen by sponsoring them. Plus, local events can introduce your brand to potential clients. If you pick the right circumstances, your business can also enjoy the advantages of positive brand association.
Apps like Facebook Local, Eventbrite, and All Events in City are excellent for staying informed on current events and local happenings.
15. Use Real Estate Print Design
Print is not dead. Since the average user is bombarded with digital ads, returning to traditional print advertising is actually a great idea. Print ads bring many marketing advantages, from cost-effectiveness and real-life engagement to high ad recall and retention rates.
These are just a few real estate print design ideas:
Business cards

Flyers and brochures

Holiday cards

"Just Sold" postcards
You can check out our real estate print advertising templates here:
16. Check on Your Competition at Least Once a Month
Competitive research is an essential marketing strategy for staying ahead of your local competitors. Keep an eye on what other realtors in your area are doing and write down all the actionable improvement ideas that you'd like to implement.
We suggest starting a competitive analysis by centering on the following aspects:
find your competitors and their market share

analyze their past and current marketing and sales strategies

evaluate and compare the content produced by your competitors (website, blog, social media, press releases)

watch their strengths and weaknesses
To monitor your competitors' media mentions, simply search for them on Google. After the results show, click on the "News" section and filter the results by date.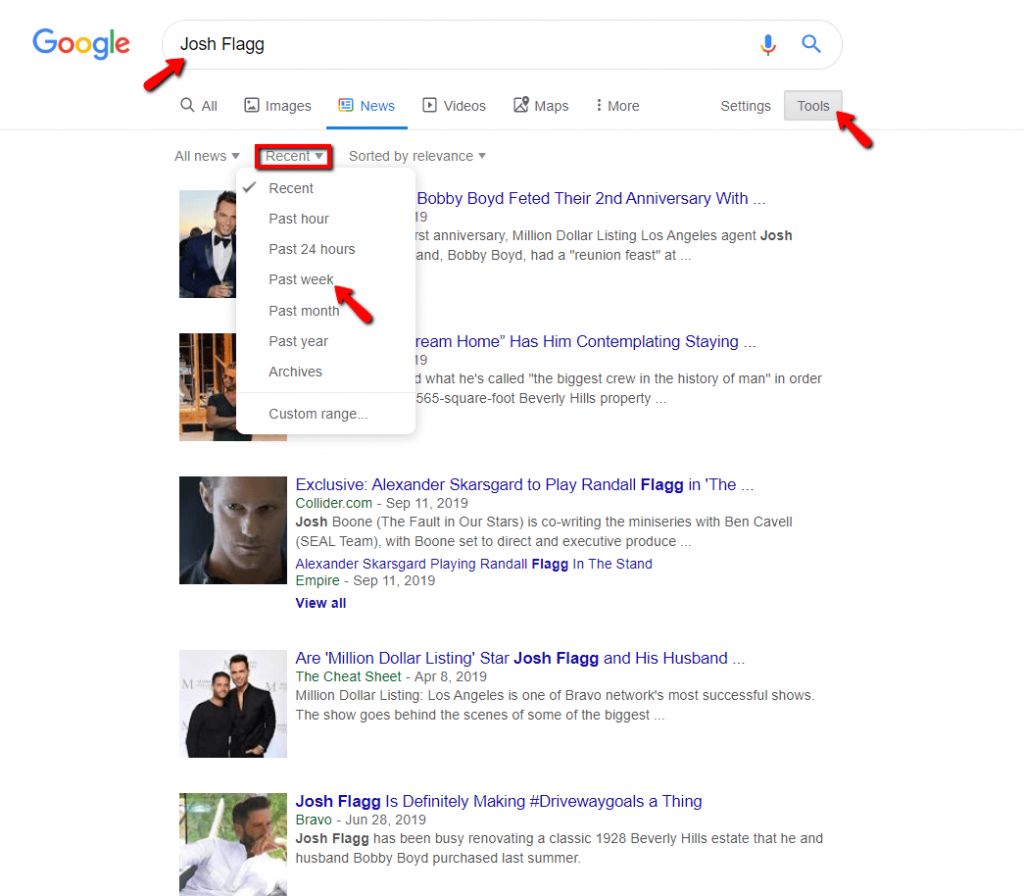 Conclusion
Marketing should be a mandatory box to check for every real estate practitioner, as it plays a vital part in acquiring new clients. Following the above-listed real estate marketing tips, you should be able to notice the difference after just a few months.
Keep in mind that developing an effective real estate marketing strategy takes time and effort, so be patient and stay passionate about your work–building a brand is easier if you're good at what you do.