12
minutes read
*Disclaimer: This experiment was conducted back when Creatopy was named Bannersnack.
In a world where digital advertising has become more prominent than print and television (according to eMarketer), it can be an intimidating industry to navigate in.
Nowadays, there are more platforms than ever that marketers and advertisers can use to boost brand awareness and promote their products/services.
From what we've noticed, Reddit and Quora are two mediums that have great potential for online advertising but are not talked about enough.
This is why we decided to do something about it.
We ran an experiment to see what results we would get when running paid ads on Reddit and Quora.
To make it easier for you to find the information you're looking for, here are the main chapters of this case study:
---
---
Key Takeaways
Reddit and Quora are great for targeting niche communities.
The competition and costs are lower on both platforms so they should definitely be tested out.
In terms of conversion rate, the best results came from desktop and not mobile.
According to Google Analytics, for Quora, the majority of impressions and clicks came from mobile.
Reddit brought us the highest amount of sales.
Separate the ad sets and campaigns for better analysis of the performance.
---
Infographic

What Is Reddit?
Reddit is one of those scary platforms that marketers are not really taking advantage of when it comes to online advertising.
Reddit is an online platform with more than 130k sub-forums called subreddits, which are individual threads that pertain to a specific topic.
The platform attracted over 1.5 billion visitors in April 2019 alone, from both desktop and mobile devices, which makes it one of the most popular sites in the world at the moment.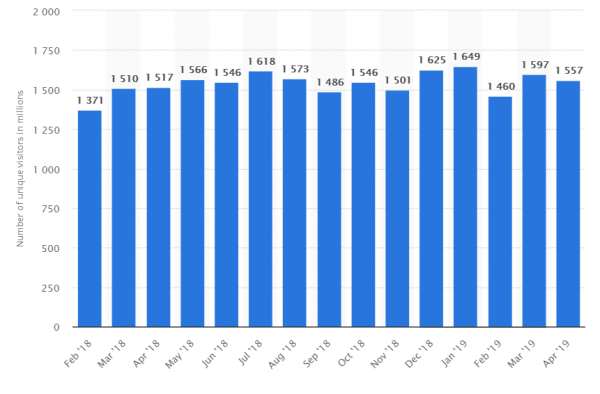 According to Alexa, Reddit ranks #5 in the US when it comes to global internet traffic and engagement over the past 90 days.
Due to the fact that most marketers ignore the power of Reddit, it has turned into one of the best platforms you can advertise on because of the low competition and costs and tremendous opportunity to stand out.
In an effort to become a more appealing advertising platform for marketers, Reddit underwent its first visual redesign in over a decade in 2018.
Why Advertise On Reddit
Lower costs.

Because this online forum is not as competitive as other social media sites, the cost of online advertising is not as high.

Audience targeting

. Reddit allows advertisers the unique opportunity to target niche communities of people who share particular interests. In these subreddits, you'll often find engaged and influential members.

Community engagement

. Since it's a platform where people share and discuss ideas, when you run an ad campaign, users will be able to upvote, downvote, or comment on your ad. This can be extremely valuable in terms of receiving feedback and knowing whether your ad is of interest or not.
Methodology Used For The Reddit Ads
In February 2019, Reddit announced the debut of cost-per-click (CPC) ads on the platform, which means that brands have now more options when advertising here.
Previously, advertisers and marketers were able to use only cost-per-impression (CPM) and cost-per-view (CPV) ads. CPC is the first performance-driven ad type available on Reddit, and it comes with four campaign objectives:
Reach
Video views
Traffic
Conversions
Our campaign objective for both platforms was conversions.
We had two main ad groups:
Banner Generator

Animated Banners
There were two targeting options here: based on interests (targeting users who recently interacted with content around particular interests) and subreddits.
We went for subreddits, meaning users that have recently interacted with or are subscribed to a subreddit. Subreddits that do not appear on the list from the screenshot below are too small to target.
Then, we could also allow Reddit to expand the targeting to maximize the results, but we didn't choose this option.
During our research, we identified two main subreddits that we wanted to target:
When making the ad, we had two options. To create a:
Link post, which will direct users to a URL of our choice when someone clicks on it;

Video post in an MP4 or MOV format that has a length of maximum 15 minutes.
In both cases, you can allow people to comment on the Reddit post, and choose a call-to-action.
Here's how the two ads looked like on the platform.


What Is Quora?
Quora is one of the most prominent Q&A platforms on the internet, where people can upvote or comment on other people's questions and answers.
According to their site, they now have more than 300 million monthly unique visitors, and it has become in many ways, a more mature version of Yahoo Answers.
Quora's self-serve ad platform recently had its second anniversary, so it's a relatively new addition and possibly untapped advertising channel for many marketers. Right now, the platform has thousands of advertisers, and we're happy to be one of them.
As it turns out from what I researched online, people don't explicitly go to Quora to search for answers to their questions. Instead, they go to Google and see links to the platform in the organic search results and go from there. That's because a lot of the platform's pages rank on the first page of Google.
This means that plenty of people get exposed to Quora even if they don't actively use the platform.
Quora is the ideal platform to advertise on if you want to reach people during their research phase, meaning when they're evaluating your company or products/services similar to yours. It's also an excellent opportunity for you to influence people during the consideration phase of the buying process.
Why Advertise On Quora
Better targeting

. On Quora, you can target people not just based on demographics (like you can on Facebook) but also those who are looking for a specific answer. For maximum effectiveness, you can combine these two strategies when doing an ad campaign.

Quality organic traffic

. Quora has a DA of 93, which means that in the eyes of Google, it's a big, established brand. Due to the enormous amount of content available on the platform, a lot of pages rank on the first page of Google for many terms. That being said, a good tip would be to advertise on pages that rank well for specific target keywords, so I recommend doing some research in advance on this.

Lower competition

. Similar to Reddit, Quora is still an untapped online advertising channel, which means that it can be easier for you to stand out and boost your brand awareness.
Methodology Used For Quora Ads
When creating the ad group, we had several options:
Topic targeting

. The ads will appear next to content associated with specific topics across Quora or in placements without content specific context such as in Quora's feed.

Question targeting

. The ads will appear near questions that we choose. We can target the ad to show up on specific question pages on Quora, tailoring our message to that content.

Audience targeting

. This allows us to target users who have previously visited our website. The ads will target members of an audience that we previously specified.

Interest targeting

. Thanks to this option, we can target users on Quora who recently engaged (read questions/answers, upvoted, etc.) with specific topics.

Keyword targeting

. The ads will appear across Quora next to questions with broad or phrase matches to the keywords we provide.

Broad targeting

. The ads will target the broadest possible audience of Quora users.

Email targeting

. Email targeting is a setting available in case of all targeting types (topic, question, audience, interest, keyword, broad). In case you want your ads to appear in Quora's digest email sent to registered users, when you create an ad set, you just have to select the checkbox regarding the digest emails.
We targeted people based on topics, questions, keywords, and audience.
There's also something really useful that Quora offers and that is the option to Exclude Questions. This means that we were able to choose one or more questions that we would like to exclude from targeting with the ad set.
The other option was to Exclude Audiences, which means choosing a saved audience we would like to exclude from targeting with the ad set.
Setting the bid
Here we had a few options as well:
Optimize for clicks

. This allowed us to optimize the ad delivery for traffic to the website or a landing page.

Optimize for impressions

. This helps the ad delivery so that the ad is shown to as many people as possible.

Optimize for "Purchase" conversions

. This is useful when you want to maximize user conversions.
Ad creation
There are three main ad formats to choose from:
Image ad

– an ad that contains text, an image, and the company logo.

Text ad

– an ad that contains text and no images.

Promote an Answer

– an ad that promotes an existing answer so that it appears more prominently for users on Quora.
Here's how the two ads looked like on Quora.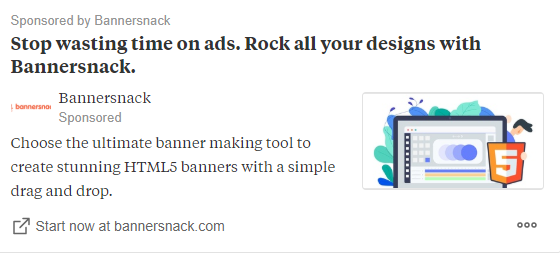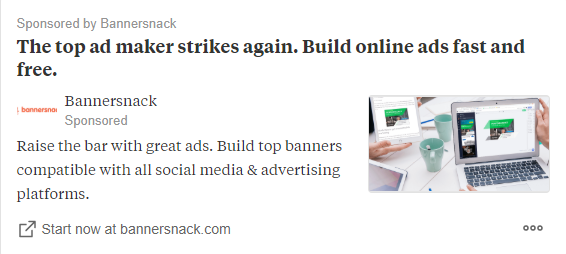 Reddit Ads vs. Quora Ads – The Results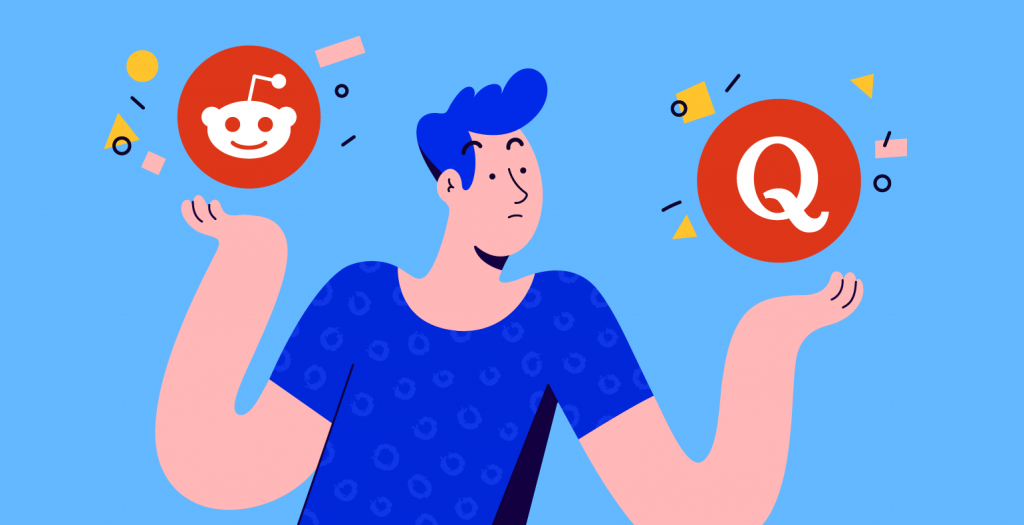 In terms of impressions, Reddit is the clear winner. For example, the Banner Generator had 7x more impressions than the ad that ran on Quora.
However, in terms of clicks, Quora wins.
When it comes to devices, on Reddit, all the impressions and clicks came from Desktop. This is because since May 2018, we haven't been targeting mobile devices in Reddit, and yet almost every month we have transactions. So this change has not been affecting us negatively.
In the case of Quora, the majority of impressions and clicks came from mobile (based on data from Google Analytics).
Even if the CTR in the case of Reddit is very low in comparison to Quora, in terms of sales, Reddit is the winner platform.
Results by Location
TOP 10 COUNTRIES – REDDIT

COUNTRY
REGISTRATIONS
Canada
5
Australia
4
United States
3
South Africa
3
Germany
2
United Kingdom
2
Slovenia
2
Italy
2
Denmark
2
Greece
2
TOP 10 COUNTRIES – QUORA

COUNTRY
REGISTRATIONS
South Africa
28
Turkey
14
United States
14
United Kingdom
9
Spain
6
Lithuania
5
Italy
5
Serbia
5
Cameroon
5
Greece
4
For both platforms, United States, United Kingdom, South Africa, Italy, and Greece are in the Top 10 Countries from where we had the most registrations.
In the case of Reddit, we had one transaction from Greece and two transactions from Australia.
An interesting fact is that even if South Africa and Turkey are the countries with the most sign-ups, users from there didn't convert, meaning they didn't make any purchase (for Quora Advertising).
In Quora, we are going to separate our existing Ad Sets for better analysis of performance (mobile/desktop split).
At this point, it appears that we have seen better results from desktop (see conversion rate) for both Quora and Reddit.
This can be mainly attributed to the fact that, right now, we don't have a mobile app for Creatopy, so our online design tool can be used only from desktop.
Top-Performing Ads For Reddit
The ad created for the digital marketers' community outperformed the one created for the PPC community.
It had a CTR of 0.358%, while the other ad had a CTR of 0.204%.
In terms of CPC, the differences weren't that major. The digital marketers' ad had a CPC of $0.30 and the PPC one $0.36.
For the Reddit campaign, we had a total of three transactions. Two of them came from the top-performing ad.
Top-Performing Ads For Quora
In the case of Quora Ads, there were some significant differences between the two top-performing ads.
For the first ad, we went for the Keyword Targeting option, using keywords about HTML5 banner ad creating. We had a CTR of 0.91%, CPC $0.26, and two purchases.
In the case of the second ad, we chose the Topic Targeting option, and the selected topics were: Online Advertising, Display Advertising, Banner Advertising, etc. The CTR was 0.96%, the CPC was $0.34, and we had one purchase.
Reddit And Quora Ad Specifications
In case you are considering doing paid advertising on Quora and Reddit, you will find this chart quite useful.
We put together the most important specs that you need to keep in mind when creating your ad, whether it's visual or just text-based, like in the case of Reddit.
| | | | |
| --- | --- | --- | --- |
| | Reddit Link Post | Reddit Video Post | Quora Image Ad |
| Business Name | not available | not available | max 40 characters |
| Headline | max 300 characters | max 300 characters | max 65 characters |
| Body Text | not available | not available | max 105 characters |
| Landing Page URL | Must be HTTPS, no character limit | Must be HTTPS, no character limit | max 1024 characters |
| Display URL | no character limit | no character limit | max 30 characters |
| Call to Action | select from CTA button selection | select from CTA button selection | select from CTA button selection |
| Company logo | not available | not available | 500 x 500 px |
| Text on image | no text on images | – | No more than 20% of text on an image |
| Image file format accepted | PNG, JPG | – | PNG, JPG |
| Video file format accepted | – | .MOV [ProRes NOT accepted] or .MP4 | – |
| Video max file size | – | 1GB | – |
| Video suggested Aspect Ratio | – | 1.91:1 | – |
| Reddit Card Image Specifications | 1200×628 pixels (JPG, PNG; 1MB Max File Size, Aspect Ratio of 1.91:1) | – | – |
| Reddit Thumbnail Image Specifications | 400×300 pixels (JPG, PNG; 500KB Max File Size, Aspect Ratio of 4:3) | – | – |
| Quora Desktop imag Specifications | – | – | 1080 x 576 pixels (minimum: 540 x 288), Aspect Ratio: 1.91:1 |
| Quora Mobile image Specifications | – | – | 900 x 628 pixels, Aspect Ratio 1:1 |
Objectives

Reddit
Quora
Used by Creatopy

Conversions

Conversions

X

Traffic

Traffic

Brand Awareness

Brand Awareness

App Installs

App Installs

Video Views

–
Bidding (optimize for)

Reddit
Used by Creatopy
Quora
Used by Creatopy

Click

X

Click

–

Impressions

–

Purchase

X
Targeting Options

Reddit
Used by Creatopy
Quora
X

Interests

Interest Targeting

Subreddits

X

–

–

Topic Targeting

X

–

Question Targeting

X

–

Audience Targeting

X

–

Keywords Targeting

X

–

Broad Targeting
Ideas For Optimizing Reddit Advertising Campaigns
After running this experiment, we came up with a few conclusions or best practices when it comes to optimizing the ads for these two platforms.
Let's start with Reddit:
Try to create headlines that have less than 120 characters;

Use one (or more) of these popular headline phrases:

how do you, what are the, what are some, are the best, social media marketing, what are your, I have a, to get a, of the best, to make your

;

Do not run advertising campaigns with your personal Reddit account. We recommend using a new username because it allows you to keep the business and personal profiles separate. Reddit users can click on your username to see what you've been viewing and upvoting while logged in, plus you'll be using that username to respond to any comments that people leave on your ad;
Change the creative images every 3-4 weeks;

Use

Reddit acronyms

;

Avoid copy/pasting the headlines and using them on other platforms. It's essential to create copy that is specific to Reddit and the users you're targeting.
Ideas for Optimizing Quora Advertising Campaigns
Separate campaigns for better analysis of the performance (e.g., targeting types, conversion events, separating budgets);

Separate ad sets for better analysis of the performance (e.g., mobile/desktop split, location split);

Try phrasing the headlines in the form of a question instead of a statement;
When it comes to the landing page optimization, do not use more than one or two CTAs. It's essential to have as few steps as possible between the landing page and conversion to reduce friction. It's best to use just a few elements so that the page is rather short than long;

One thing we figured was that increasing the bids and improving our creative may have helped us be more competitive in the auction and win more of the auctions we entered.
Major Differences Between Reddit and Quora
| | | |
| --- | --- | --- |
| Major Differences | Reddit | Quora |
| Monthly Active Users (millions) | 330 | 300 |
| More bidding strategies to choose from | No | Yes |
| Video Ads | Yes | No |
| Possibility to create Audience Campaigns | No | Yes |
| Auction Insights | No | Yes |
| GTM Default Tag Type | No | Yes |
| Possibility to exclude audiences | No | Yes |
For Audience Campaigns, you have three options:
Website Traffic. Create an audience based on the traffic that you have on your website;

Lookalike. Create an audience based on an existing audience;

List Match. Create an audience based on an existing list of contacts. You can upload a CSV that contains the list with email addresses.
For Auction Insights, you have data regarding:
Impression share %. The percentage of auctions that the ad set entered and was one of the winners;

Absolute impression share %. The percentage of auctions which the ad set entered and won the top available slot;

Auction lost to competition %. The percentage of auctions which the ad set entered and was the best ad set in the account for the auction but did not win an available slot.
If you are satisfied with the ROI of your ad set and want to optimize for more delivery, there are a few things you can do:
Increasing the bid;

Improving the creative;

Expanding the targeting.
If we are looking at reporting, both platforms have disadvantages compared to Facebook's Reporting.
There are some data about the delivery on Facebook that you can't find in Reddit, nor Quora, such as Age, Gender, Country, Region, Placement, Device.
Final Thoughts
One of the first internet banner ads was showcased on Wired Magazine's website, back in 1994, when the publication was actually known as HotWired.
The banner was created by At&T, and it was quite brilliant. You can see it down below.

A lot has changed in the online advertising industry since and the competition is more fierce than ever.
Despite Reddit's controversial reputation and not so pretty interface, it turned out to be the channel that worked best for us.
Moreover, Reddit plans to release a lot more tools that focus on performance and help advertisers and marketers optimize ad placement.
Quora is also the place to be if you want to find an engaged community that's already in the process of consideration and searching for answers.
Hopefully, our case study will inspire and motivate you to try out these two advertising channels.
Let us know in the comments if you have any further questions or, in case you already tested out the platforms, tell us how it went for you.