7
minutes read
We love our community and we try to engage you through as many channels as we can. This is why we are proudly launching, our very own podcast called, "Snack"!
There are a few things that set a professional designer/advertiser apart from a beginner. Knowing the history behind it all, is one thing that'll definitely put you ahead. There are a few remarkable life stories of famous designers/advertisers like Paul Rand, David Ogilvy or Jonathan Ive, which are definitely worth sharing.
Of course, history can easily become boring to some of us. We get that. That's why all of our podcasts are short, sweet, and to the point. But that doesn't mean we'll be neglecting you of any information! On the contrary, we'll be giving you a ton of useful information in just five minutes. We know your time is valuable, so we're making this easy for everyone.
Podcasts – Why busy people still want your brand?
You may ask, "What's the benefit of knowing the history behind graphic design and advertising if I already know how to do it?". Well, I'll gladly answer that for you. The greatest benefit of being rich in knowledge of the history of design and advertising is that, we can watch people make mistakes and not make them ourselves.
If we learn and know what is an absolute no-go for designing and advertising, we'll be saving ourselves from a lot of pain, stress, and extra work. Most of the time, people have already made mistakes and we can learn from theirs, instead of making our own. The pioneers of advertising and graphic design have made a beginning path for us, and all we need to do is improve it. Not repeat history!
Of course, they achieved a lot of memorable things too, and we'll try to focus more on those. We hope that all these life stories will inspire you to become a better designer/advertiser.
Our podcast will be split up into two parts: Design and Advertising.
Here at Creatopy, we believe that the two different industries go hand in hand. That's why we will be combining the two into one podcast. In all of this, we will try our best to cover all of the important people who completely changed our view on design and advertising and how they made it such a big part of our world today.
We humbly started with two episodes. In these two episodes we'll be talking about Milton Glaser and David Carson.
Hopefully, you're just as excited to listen to these podcasts as we are to deliver them to you! If you have any suggestions people you want us to talk about, feel free to use the comment section below. Don't forget to subscribe to our iTunes channel and stay tuned for more episodes.

Enjoy.
[smart_podcast_player social="true" social_twitter="true" social_facebook="true" social_gplus="true" social_email="true" ]
Audio Transcript
Milton Glaser
There are four super familiar and cliché phrases that we hear or read every day: Made in China, I love you, Make the logo bigger and I love NY. We won't talk about the first three, but I do want to talk a bit about the last one and its creator. If you are a designer or if you are just a well informed history enthusiast, you probably already know that I'm talking about Milton Glaser. There are a few names every graphic designer should know. And Milton Glaser is one of them.
We won't talk about the first three, but I do want to talk a bit about the last one and its creator. If you are a designer or if you are just a
He was born and raised in New York City and graduated from the Cooper Union in 1951 with a Fulbright scholarship. In 1954, he co-founded the revolutionary Pushpin Studios alongside Reynold Ruffins, Seymour Chwast and Edward Sorel.
Pushpin Studios was revolutionary.
It was a design studio that replaced the dull modernism with funny and fresh ads. The studio was also a powerful influence in the graphic design world. Pushpin Studios was the first American studio ever to be featured at the Louvres Museum of Decorative Arts in Paris.
Throughout his career, Glaser created some of the most famous posters and prints. His work has been and is still featured in museums and exhibitions worldwide.
Later on, with Clary Felker by his side, Glaser founded the famous publication The New York Magazine. After nine years of being the creative director for The New York Magazine, Milton felt the need to make his company.
This is how Milton Glaser Inc. was born.
He decided to use a different strategy and focused more on corporate identities, interior design and product design. He created logos, web design, brochures and anything that is design related.
In 1974, he teamed up with Walter Bernard to create the publication design firm WBMG. This company has been responsible for the complete redesign of three major newspapers: The Washington Post in the U.S., La Vanguardia in Barcelona, and O Globo in Rio de Janeiro.
One of Milton Glaser's earlier works is the Bob Dylan poster, a real masterpiece currently exhibited in the Smithsonian Museum. Art Nouveau and Marcel Duchamp's work inspired Glaser to create one of the most famous posters.
Depicting Dylan with kaleidoscopic hair, the Glaser poster has been described as "psychedelic" and is often associated with rock posters produced in San Francisco at the same time. Milton's only regret concerning this poster was that he didn't put enough work into how he drew Dylan's hair. And I quote:
"I would have redone the hair, it's a little clumsy."
The Brooklyn Beer was an intriguing project. Glaser didn't just create their visual identity, he recreated their identity as a whole. The owners of the Brooklyn Beer had different visions for their company's identity. Since he was a newspaperman, Steve wanted to name his new venture The Brooklyn Eagle Brewery. Milton, however, saw that no one had claimed the name "Brooklyn Brewery". It was a vast open space and Milton seized the opportunity. Brooklyn Brewery became a landmark in New York, and they successfully created a beer that tasted like the beers of nineteenth-century New York City.
I saved the best for last. The I love New York logo is probably Glaser's most famous work.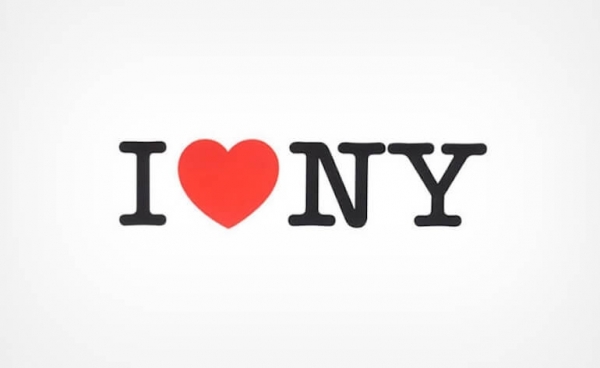 When the Wells Rich Agency received the task of developing a marketing campaign for the New York State, they found Milton Glaser most fit for the job. So they hired him.
He designed the logo pro bono, expecting the campaign to last only a few months. He didn't expect the massive impact the logo will have worldwide.
After the 9/11 events, the logo became even more famous. Everywhere in New York people were wearing "I love New York" T-shirts and, in the light of the sad events, Glaser decided to modify the logo to commemorate the attack.
After that, the logo read "I love New York More Than Ever" and there was a little black spot on the heart.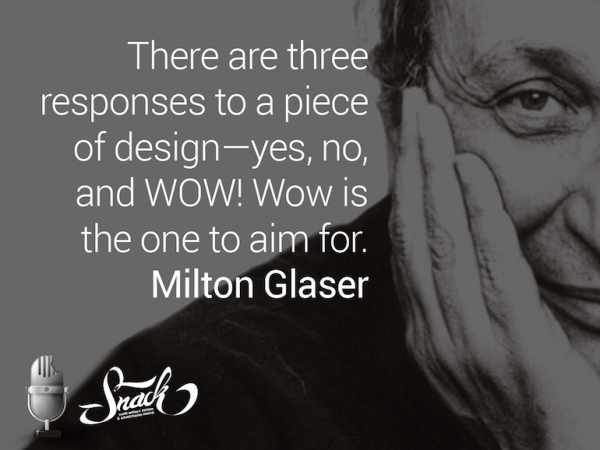 David Carson:
There are a few graphic designers that revolutionised design through their style. Paul Rand, Milton Glaser or even Jony Ive are some of the names that shaped the design world with elements never used or heard of before. However, there is something about David Cason's and his chaotic combination of textures, words and images that changed visual communication forever. Before we dive into details, let's see where everything started.
It all began on a surfboard. All his life, Carson wanted to be a professional surfer, and he succeeded. In fact, he ranked eighth in the world, and he still surfs now at his propriety in Cane Garden Bay. Quick fact: he is the only surfer in the history to own his waterfront property. Yes, being original can pay off.
His passion for surf played a great role in Carson's design career as he developed a lot of surf, skateboard and any sports related magazines, ads or websites.
His first encounter with graphic design was in 1980 when he took a two weeks graphic design course at the University of Arizona. Still, it was only later on, in 1983 that he started to develop an interest for design and decided to attend the Oregon College of Commercial Art. But that didn't last long as a few months after school started, he accepted an unpaid internship at a former skateboarding magazine called "Action Now".
After that, his creative approach to design and his skills landed him a job as art director for Transworld Skateboarding magazine in 1985. He spent there four years, and the opportunity enabled him to experiment and create his style. Of course, not everybody loved his work and ambiguous style. Some believed that the fragmented text, images and shapes didn't properly convey the message.
But as he said, and I quote:
"Just because somethings legible doesn't means it communicates. More importantly, it doesn't mean it communicates the right thing. So, what is the message sent before somebody gets into the material? And I think that's sometimes an overlooked area."
Still, there were a lot of people that appreciated his work. In fact, Albert Watson, famous Scottish photographer stated, "He uses type the way a painter uses paint, to create emotion, to express ideas".
Among the people that loved his work was Marvin Scott Jarrett, who published the alternative music magazine Ray Gun and who hired Carson as Art Director in 1992.
Ray Gun was the place where Carson began to attract real admirers. Here he had the opportunity to share his nonconformist design style with a broad audience who loved his so-called "dirty" type.
After he had started working there, Ray Gun's circulation tripled. Carson's style appealed to the youth and also, huge corporations like Nike or Levi's Strauss that chose him to design their print ads.
After the huge success of Ray Gun, he decided to start his own business in 1995. The studio he based in New York began to attract a lot of big companies and brands like Ray Ban, Microsoft, Kodak, Pepsi Cola, Giorgio Armani, etc., contracted him for their ads. After five years, though, he closed his studio and focused more on his family, relocating with his three kids in South Carolina.
Carson hasn't stopped designing, though.
He became a freelance designer in 2004 and since then he has worked with a lot of brands, publications and he even directed TV commercials.
He also received a lot of awards: the designer of the year in 1998 and 1999, Master of Typography from Graphic magazine and he even won an AIGA medal.
If you are a designer, marketer or advertiser, Carson can be a huge inspiration for you. I wholeheartedly recommend that you check out some of his books, especially "The End of Print" which is a best seller in the design world.
Bottom line, keep designing and try to find your style. Not everybody will love it but some will and for some, you will be a hero.
As Carson said
[Tweet "Graphic design will save the world. Right after rock and roll does."]