10
minutes read
With 2022 fast approaching, we wanted to offer businesses a glimpse into what consumers expect in the year to come. So we went directly to the source.
Between November 12 and November 15, we ran a survey in which we asked 1,139 U.S. consumer shoppers about their purchasing habits. Based on their responses, we identified ten trends worth keeping an eye on in the next year:
Read on to learn more about each trend, and see what our survey respondents had to say about these topics.

1. Online Shopping Is Here to Stay
It's no secret that the pandemic has drastically accelerated the shift to e-commerce. As lockdowns were instituted across the country and many brick-and-mortar stores had to close or scale down their operations, online sales skyrocketed.
In 2020, e-commerce sales grew by 31.7% year-over-year, reaching $759.47 billion, according to the U.S. Department of Commerce. 
And, this growth continued in 2021, albeit at a slower rate. In Q2, online sales grew by 9.1% year-over-year. Impressive, considering that in Q2 2020, sales had already increased by 43.7% compared to the same quarter in 2019.
The results of our survey mirror this growing interest in online shopping. When asked how they did their shopping in the past month, 30% of our respondents reported shopping mostly online, and nearly 8% said they've shopped online only. Another 36% made purchases equally online and in-store.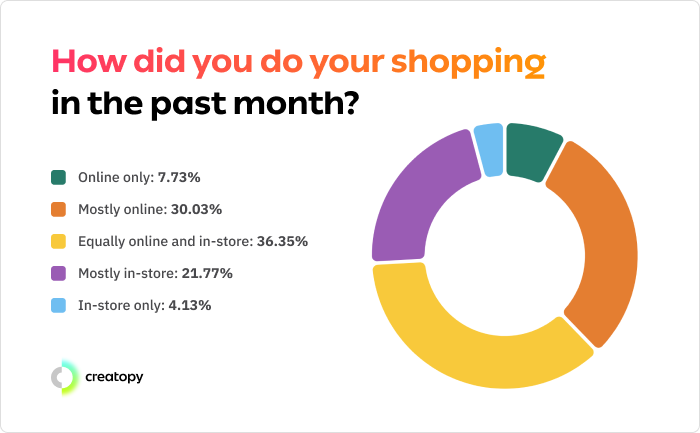 Based on these numbers, it looks like e-commerce will continue to be a big focus for retailers in 2022. So, in order to maintain visibility in the highly competitive online space, companies will need to invest in e-commerce advertising.
What do people want when shopping online?
First and foremost, to run a successful e-commerce business, you have to keep a close eye on what consumers look for when shopping online. With this in mind, we asked our survey participants to pick the three things that are most important to them.
How fast the products arrive and how much this would cost them are top concerns. Roughly 55% of our respondents had fast and reliable delivery among their top three choices. Another 43.5% picked free shipping.
In-stock availability of products (chosen by 45.5% of our respondents) and a broad selection, more variety than in-store (34%) are among the main reasons why people turn to online shopping.
In addition, user experience should not be overlooked. An easy-to-navigate, fast website, and an easy-to-use mobile app or mobile website, were voted among the most important aspects of shopping online by 23% and 19% of our respondents, respectively.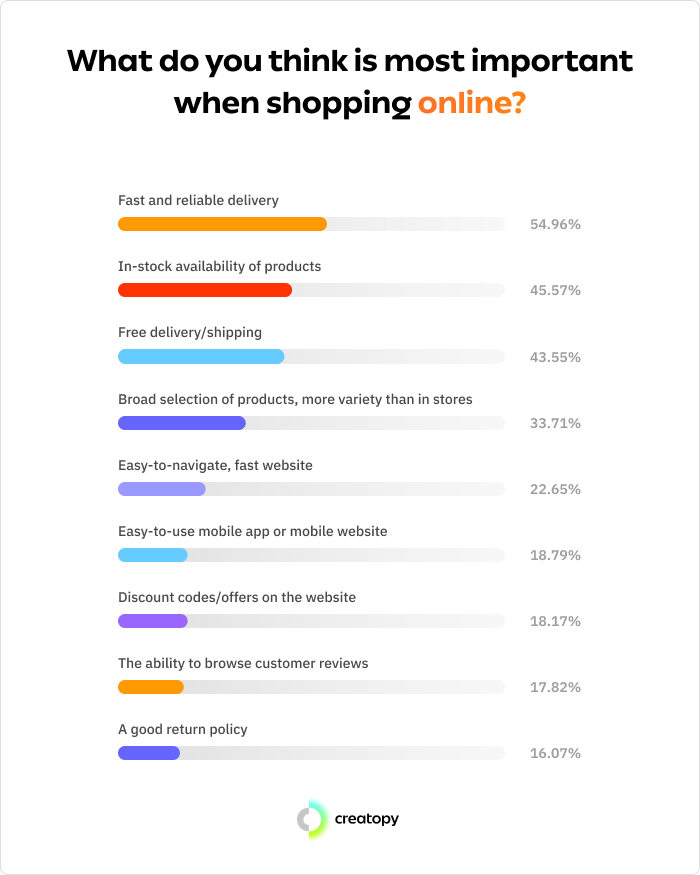 2. In-Store Experiences Still Matter
Despite taking a big hit since the pandemic, in-person retail is not dead. As the vaccine became available and the economy started to reopen, in-store shopping has been picking up steam.
According to foot-traffic analytics firm Placer.ai, in October, visits to indoor malls went up 3.2% compared to the same month in 2019. While this uptick can be attributed to the coming holiday season, it is a reason for optimism when it comes to in-person shopping.
Moreover, as you've probably noticed from the first chart, 22% of our survey participants said they did their shopping mostly in-store and another 4% reported shopping in-store only in the past month.
What do people want when shopping in-store?
The main reason why consumers decide to shop in-store, picked by 64% of our respondents, is the ability to see, touch and try the products. This is followed by the sense of instant gratification, with 51%, and availability of local products, with 43%.
In addition, the in-store experience itself is still something that customers view as important. The ability to quickly navigate the aisles (41%), helpful sales personnel (21%) and the product displays, the way the products are showcased (16%) were also among people's top three choices.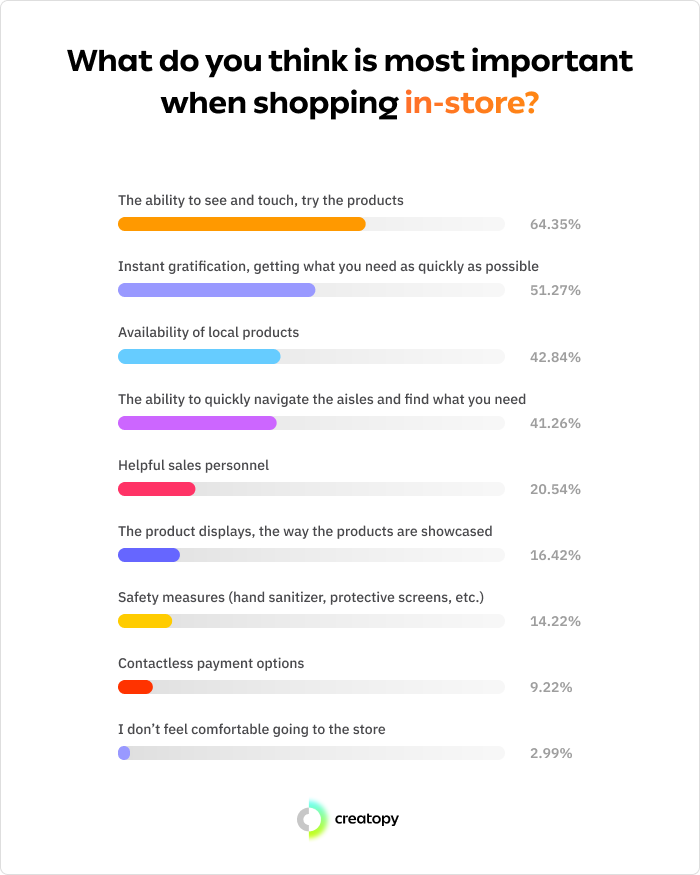 3. Today's Consumer Is Mobile-First
Nowadays, many of us use our mobile phones to stay connected with friends and family, get updates on the latest news, do our shopping, and enjoy some well-deserved entertainment, be it from social media, video streaming, podcasts, or other channels.
According to Business Insider, mobile will account for nearly a third of the time spent with any form of media in 2021, with people spending an average of 3:10 a day on their smartphones. 2020 saw the fastest growth in smartphone time spent since 2014, and this time is expected to keep increasing, reaching 3:25 in 2023. 
That being said, it's not surprising that when asked which device they use the most to browse products online, mobile was the number one choice among our respondents, with a whopping 65%. PC came in second with 23%, followed by tablet with 8%.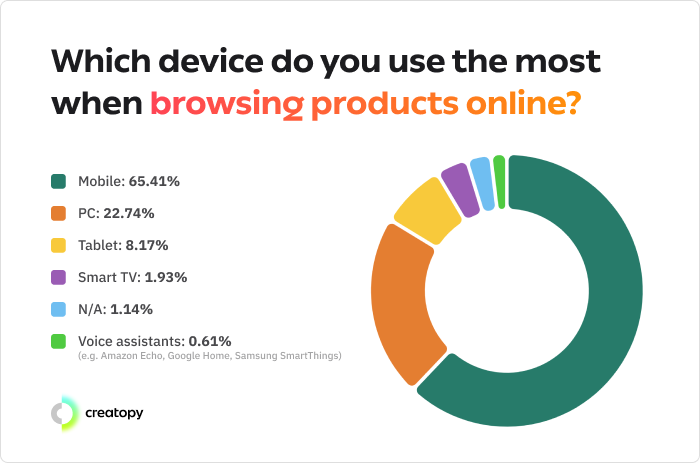 In today's always-on digital world, companies can no longer afford to ignore customers' mobile experience. Mobile advertising is on the rise, with mobile sizes being among the most-used display ad sizes this year.

4. First-Party Data Will Be the Key to Personalization
Ever since Apple's Safari, Mozilla's Firefox, and Google announced that they would no longer support third-party cookies, advertisers have been discussing alternatives that can help them continue to deliver personalized messages to their target audience.
Consumers are concerned about data privacy, yet they still expect personalization. Therefore, it is more important than ever for brands to build direct relationships with their customers and collect first-party data instead of relying on intermediaries. 
As ways to collect relevant data, experts suggest solutions like asking customers to participate in surveys or interviews, subscribe to the company's email newsletter, or answer a few questions about their preferences in a pop-up on the website. 
In our survey, we asked the participants whether they would be comfortable with giving their personal data directly to companies as an alternative to allowing third-party cookie tracking. While this question divided them almost equally, it still showed that there is a considerable share (48%) who would be willing to do so.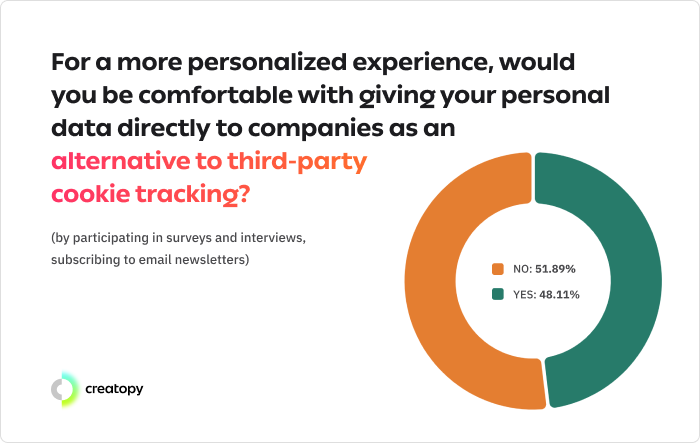 5. Social Media Drives Consumer Interest
More and more consumers are discovering products on social media nowadays. As media consumption has increased drastically in recent years, consumers are more likely to engage in "passive shopping" as they scroll through their social media feeds. As a result, 2021 saw a 36% increase in social media shopping compared to last year. 
Our survey confirms that people do make purchases based on what they see on social media. When asked about it, half of our respondents reported that they have done so in the past three months.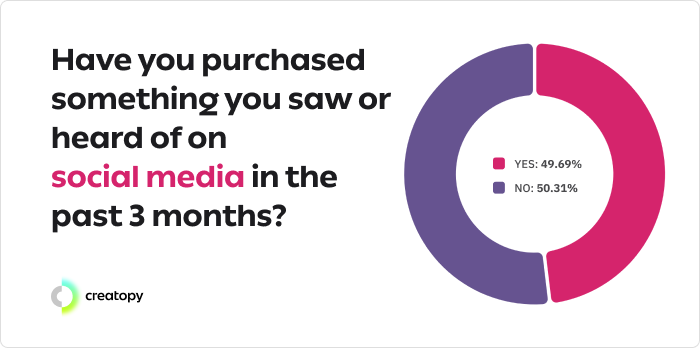 With platforms such as Facebook, Instagram and TikTok having billions of monthly active users, brands should not overlook the huge exposure opportunity that is social media. 
Each platform comes with its own advantages. For example, Instagram and Pinterest give you the chance to showcase products in visually attractive ways, while TikTok is great for reaching younger audiences. Make sure you find the right ones for your business and focus on those.
Keep in mind that advertising on social media still works. In fact, 28% of our respondents who purchased something they saw on social media in the past three months did so after seeing an ad (sponsored post).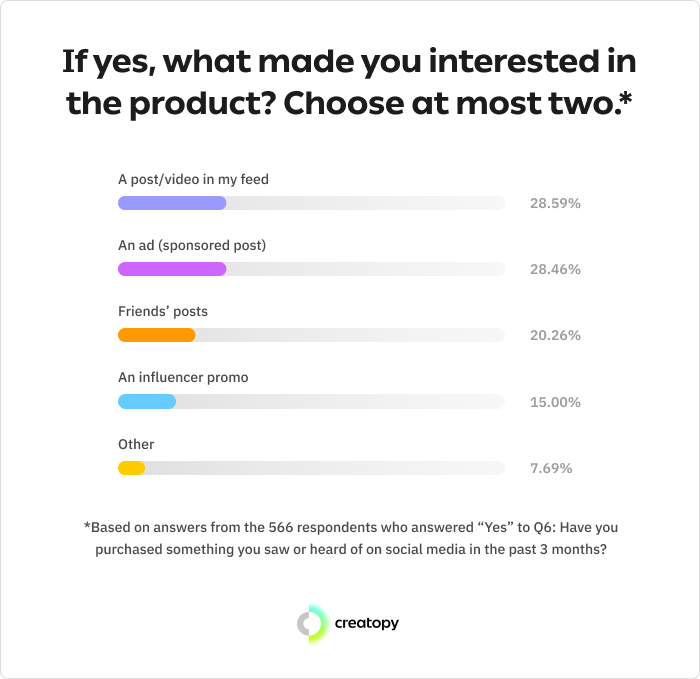 6. Switching From Influencer to Creator Marketing
Besides ads, creators are the other big force that drives interest in products on social media. Most of our respondents who made purchases based on what they saw on social media, nearly 29%, became interested in products after seeing them in posts or videos in their feed.
A great example of how creator marketing works is the case of Nathan Apodaca, also known as 420doggface208 on TikTok. A video of himself skateboarding, lip-syncing to Fleetwood Mac's "Dreams," and drinking Ocean Spray cranberry juice went viral in 2020. 
This unexpectedly led to a boost for the Ocean Spray brand. Product sales surged, as other TikTokers were looking to recreate the viral video, and brand visibility exploded due to the media coverage the video received. As a thank you, the brand sent Apodaca a cranberry red-colored Nissan pickup truck stocked with juice.
Something to take away from Apodaca's case is that authentic, engaging content gives brands a chance to reach audiences in a world that sometimes seems supersaturated in terms of traditional advertising. 
Members of the younger generation especially, are fed up with feeling like they're being sold to. That's probably why influencer posts, which blatantly promote products, don't work as well—only 15% of those who purchased something they saw on social media did so after seeing the product in an influencer post.
Creators, on the other hand, produce content that adds value to the communities they're part of. This is what audiences are drawn to. 

7. Sustainability Matters Now More Than Ever
In the uncertainty brought on by the Covid crisis, people started worrying more about the future, especially in terms of health and safety. Considering this, as well as the environmental disasters the U.S. has witnessed in the last few years—such as the California wildfires and hurricanes like Ida—it's no wonder that consumers take environmental actions more seriously and expect companies to do the same.
When asked what matters most to them in terms of brand when considering making a purchase, most of our respondents (38%) picked sustainability even ahead of brand popularity (30%). 
Many big brands are aware of this. Companies like Unilever, P&G, and Nestlé have already committed to reducing their environmental footprints. For small businesses, this move may seem costly in the beginning, but it will definitely pay off in the long run.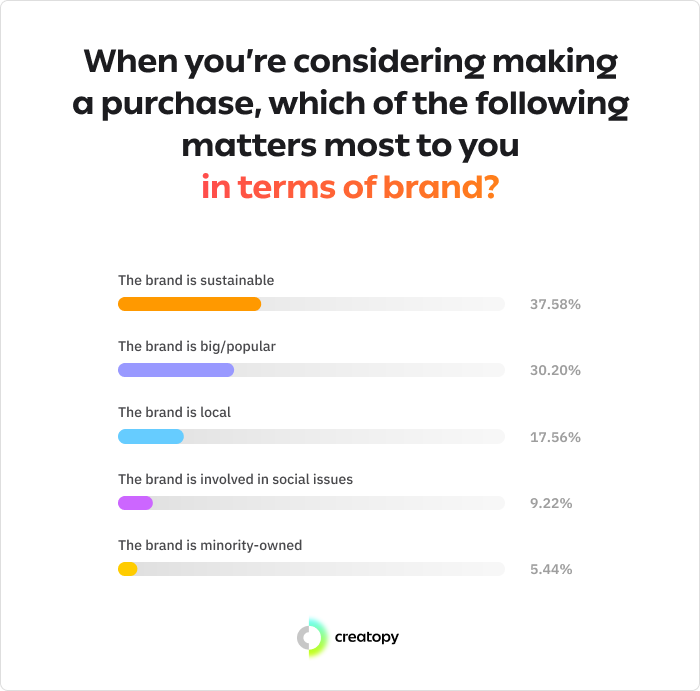 8. People Are More Involved in Local Communities
After a long period of social distancing, people were reminded of the value of human connection, which made them more likely to want to invest in local communities. Buying products that are locally-sourced, from small businesses with local ownership is a way of giving back to these communities that proved to be an essential part of our lives.
Early in our survey, we found out that the availability of local products is the second most important reason why consumers choose to shop in-store. 
In addition to this, as can be observed in the chart above, the brand being local is seen as a key factor when making a purchase by 17.5% of our respondents. This makes it the third most important brand aspect after sustainability and popularity.
Along the same lines, the brand's involvement in social issues, with 9% of the votes, and the brand being minority-owned, with 5.5%, were also considered important by some of our survey participants. While not focused on geography, these choices reveal consumers' expectations that brands have a point of view on what's going on in society today. For the younger generations especially, failing to address these issues is no longer acceptable.
What does this all mean for brands? Small businesses will benefit from this growing interest in local, community-sourced products, helping them offset at least some of the loss of revenue they've suffered during the pandemic. For big companies, this can be seen as a wake-up call to make their brands more human and become more involved in the communities they serve.

9. The Self-Care Industry Is Booming
After so much unrest, people are seeking comfort, turning to self-care products for a much-needed boost in terms of wellbeing. Investing in self-care and self-improvement has come to be seen as a way to build resilience and manage the stress of everyday life. 
In 2021, personal care retail e-commerce revenue in the U.S. is expected to reach $35 billion, continuing its growth after a 27% surge in 2020. And, according to Google Trends, the interest in the term "self-care" was at a five-year high in November 2021.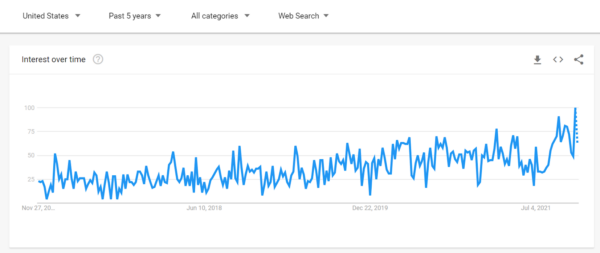 The responses we gathered from our survey also point towards a heightened interest in the self-care industry. Most of the participants reported they are either likely (36%) or very likely (25%) to buy self-care and self-improvement products in the near future.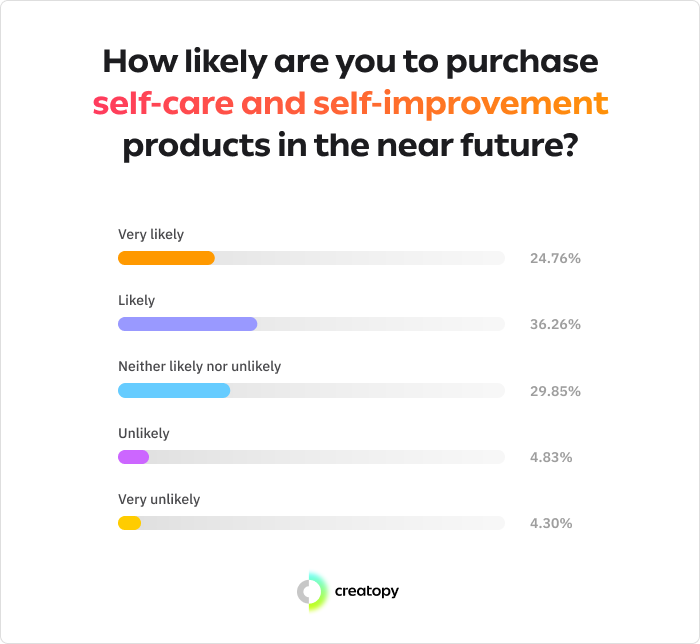 10. People Are Turning Their Homes Into Multipurpose Living Spaces
Since working from home became the norm and many hangout places such as restaurants, gyms and cinemas had to shut down, people found themselves spending more time at home than ever before. As a result, they started making investments in home improvements and at-home activities, in an attempt to make the space where they spend most of their time as comfortable as possible.
Lowe's, the second-largest home improvements store in the world, reported that its sales have continued to increase this year, reaching $27.6 billion in Q2 2021. Similarly, demand exploded for office furniture, fitness equipment, cooking appliances, and anything else that could help people stick to their habits from the safety of their own homes.
When asked whether or not they've invested in any home improvements in the past year, a clear majority of our survey participants (65.5%) responded with "Yes." 
And, considering that renovations are no easy tasks, coupled with the fact that more Americans have invested in new properties recently, it seems like these projects are likely to continue in 2022.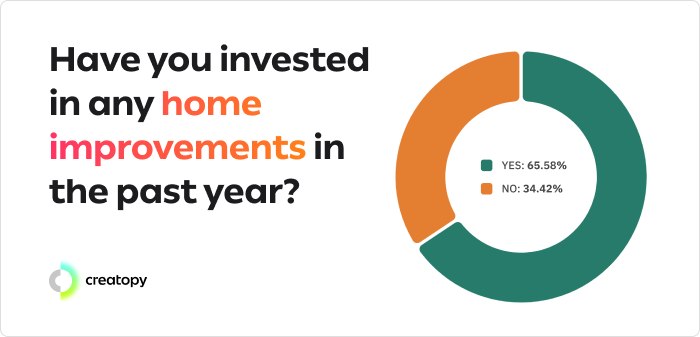 Methodology
This survey ran on Survey Monkey between November 12 and November 15, 2021. It has a total of 1,139 respondents, a confidence level of 95%, and a margin of error of 3%.
When it comes to distribution, we used Survey Monkey Audience, targeting U.S. consumer shoppers between the ages of 18 and 66. This audience has the attribute of "Primary Decision Maker in Household."
In terms of household income, we had respondents with an average annual income anywhere between $0 and $200,000+, most of them as follows:
$10,000 – $24,999 (11%)

$25,000 – $49,999 (20%)

$50,000 – $74,999 (20%)

$75,000 – $99,999 (15%)

$100,000 – $124,999 (10%)
If you have any questions for us about this survey, don't hesitate to leave a comment below.