8
minutes read
Designers and their art are always spicy topics that creative people love to research, gaze upon and talk about endlessly.
Dribbble is the social network that gives us the fun opportunity to mingle around with the most inspired minds of graphic designs, see all of their mind blowing projects, get to know them better and find out the story behind their pixels.
For those of you still wondering what Dribbble is all about, you should know that it is a quite fascinating community of all sort of designers: graphic designers, illustrators, icon artists, typographers, logo designers, and many more, that are generous enough to share a bit of their creative thoughts with all of us, through small screenshots which show their work, processes and current projects.
It gives sneak peeks that can color up our own ideas and art frenzy.
So, all you design lovers out there, here is our own Top 24 Dribbble designers worth following! We've been looking high and low for them, so enjoy, share and follow!
This will surely be enough as a very cozy reading to get you through these long winter evenings:

With 53,740 followers, 176 shots, and 3,423 likes, Eddie Lobanovskiy is quite the hip, talented designer that Dribbble calls its top favorite and popular one. He is a skillful creative artist that mixed and matched web design, branding, illustration, identity, graphic design typography, UX and UI.
The founder and Creative director of Unfold, a design and development company in Florida, Eddie seems to have a sunny perspective on art. Just look through his boards of graphic ideas made for well known clients, modern font explorations or his personal favorite cars illustrations.

"I'm a creative geek from Prague. I enjoy creating eye candy solutions for web and mobile applications. I'd love to work on yours, too :)" is how Mike, from Creative Mints in Prague introduces himself. Dribbble seems to be a perfect creative retreat for him, as he shows great talent in animations, cartoon design pursuit and mobile application development.
No wonder he has already gathered 70,291 followers!

For an edgy creative portfolio, head on to Dan Cederholm, from Salem, Massachusetts. He is quite the expert on bringing playful images into the spotlight by refining and simplifying icon designs and illustrations. The CSS, HTML and icon design expert is also the co-founder of Dribbble and the designer, author and speaker at creative studio SimpleBits.
"It's about time, effort, and acuity for the clients. The stuff we build on the web is virtual. What can we take out of it that is actually meaningful and lasts? I think, for Dribbble it's the connections, the actual connections people make. It's about people getting noticed, people starting businesses together, whether it's on Dribbble, or in your dream job. Long after the pixels are gone… "

For those of you that love their freshly brewed Starbucks latte in the morning, you might have admired Jessica's work in some of the company's ads. She is a San Francisco based designer, specialized in lettering and typography, as well as illustrating.
When visiting her Dribbble profile, you will find hundreds of great ads, letter tryouts (some of them even branch out into blossoming mandarins and leaves), and animated portraits with a scent of classic and modern, all at the same time.
With almost 43,849 Dribbble followers and thousands of views for one single shot, Bill Kenney is an example of sleek, clean, and modern designs, that surface a series of different domains.
He is the Co-Founder, Partner & art director of Focus Lab and believes no project is complete without a nice little surprise thank-you-gift for the client, so he always sends his creations alongside a little personalized surprise.

The product designer at Operator is a San Francisco based creative artist that specializes in ui design, ios, mobile design, web design, art direction, user interface design, branding, typography, photography and android.
235 shots and 42,452 followers later, Kerem still shares great ideas of icons, useful mobile applications and typography.

Ryan is an example of stylized design conception, perfectly implemented on modern businesses and different field brands. The co-creator of design agency Rype Arts likes to mix creativity with success and fun, for great, exciting projects that drag attention.
You can bring Ryan along with you through your iPhone, iPad or desktop, thanks to his available wallpaper downloads.
A rightful king of robotic illustrations, Disneyland fantasia and childhood-like typography… that's what Rogie is. He plays around with digital watercolors and he is a very appreciated designer, front-end developer, illustrator, NeonMob co-founder… and simply a Montana based dreamer.

When in search of great packaging ideas, think about Ryan Bosse. He is an expert in creating the most unique, surprising and ingenious wrapping techniques for powerful identities and great brands.
Ryan is also into designing, branding and illustrating, and is the creative mind behind Stout, in San Francisco.

The world's a playground for Justin, a young illustrator and designer in Florida, who is fascinated by outer space. His illustrations and design ideas usually show off his passion for the Universe, natural beauties, technology, pop art which he brings to life through bright, strong colors.

You holiday cards could be a proof of ingenuity and good taste if you call Michael Spitz. The custom typography designer is a magician when it comes to scripts and letter exploration. He does great work on branding, identity, lettering and iconography and has thousand of monogram and logo ideas in his portfolio.

Just like Michael, Sean McCabe is also a hand lettering artist, but a rather classic partisan. His hand lettering workshop has seen brands like Hustle, Jing, and Maxwell, while his creations have been used for branding, print design and even laser engraving.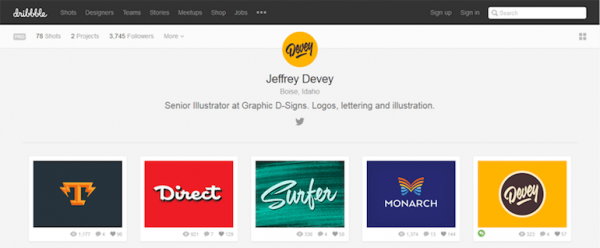 Jeffrey Davey has his classic groove on, as the majority of his work inclines towards the vintage American '60s style. Jeffrey already has a 20 year experience in professional design and illustration, and is the senior illustrator at Graphic D-Signs.
He loves logos, lettering, and cartooning.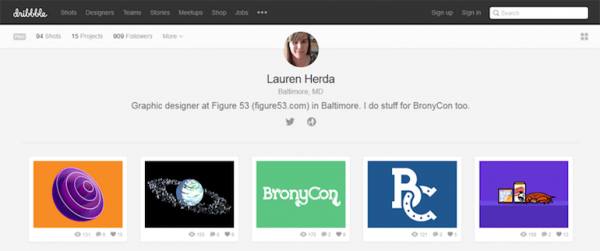 Lauren ties and unties letters, cartoons and logos. The inspired designer is the graphic creative at Bolster Labs, Maryland and Figure 53, and sees brand identities in terms of colors, fun shapes and cartoon-like ideas.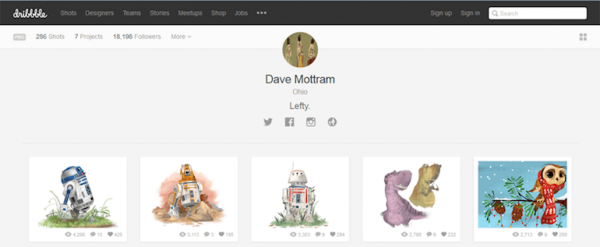 I have to admit, Dave is a personal favorite. He does cartoon design like no other, as he matches Disney characters with fun hand lettering, and surrealist ideas.
Did I mention that he also names all of his characters? From Gus, to Somewhat the Shy Monster and The Scarfed Owl, Dave loves his entire work and shares it all with us on his Dribbble account and his personal blog, Monkeyworks.

This New York based Asian designer is a colorful breath of fresh air! Dana manages to strike through her unique, karma-like designs, as she specializes in handlettering, and custom typography for editorial, lifestyle, food, and fashion brands.
From glittering backgrounds, to sinuous fonts, Dana shows off her great technique in chalk lettering and often designs for brands such as Google, Adiddas, West Elm, Rugby Ralph Lauren, Garden&Gun Magazine, Lululemon Athletica, and Every Day with Rachel Ray.

Meet Scott. He is a popular designer, Owner and Art Director of Studio Mast. He always "lightens up" the public's spirits and imagination with relevant, catchy messages and fascinating designs, and one of his well known projects is the Mule, the matches company visual identity.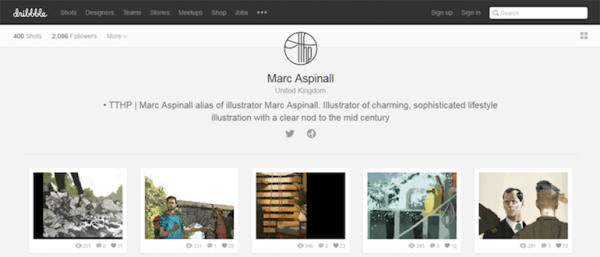 Charming smiles, curious eyes, and fancy attitudes… Marc's illustrations come to life with the blink of an eye, as he is a very talented and trendy illustrator and designer specialized in lifestyle concepts, and illustrations.
He combines classic animations with contemporary and cosmopolitan touches.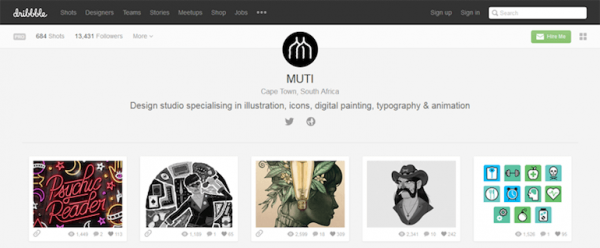 Studio MUTI is the short version for designers' Clinton Campbell and Min Jonker creativity, as they bring together impressive illustrations, icons, digital paintings, typography and animation.
With a youthful, playful yet very detailed design, all of their projects exude visual joy. Cape Town is lucky to have them!
20. Robert Richter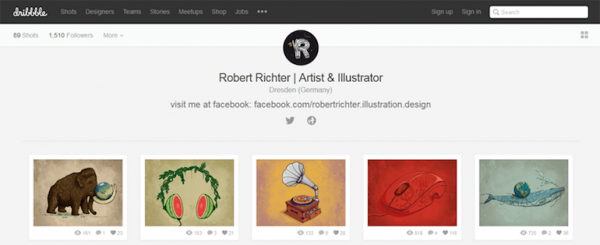 For an explosive Christmas time experience, dribbble-up Robert Richter. He's art is intense, surrealistic, eye catching and intense. You can see a bit of his German origin in his franc designs and illustrations, as well as strong political messages that pop-up from time to time.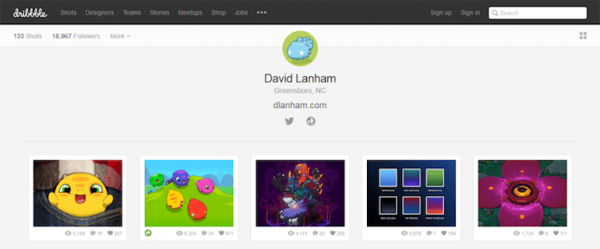 A very skillful artist, specialized in icon design, interface design, vector art, and character design, David's illustrations are nothing but fun and creative-cute. He creates icon ideas for different software project at the Iconfactory and in private projects of him own. You can also download his big-eyed Japanese cartoon for your iPhone and iPad.

Coming from Italy, Gaia created art that brings joy to the eye. She modestly names illustration as her only skill, but she does wonderful work on character design, as well.
Her creations are beyond adorable and most of them seem cut out from the most dreamy fairy tales, from golden locked princesses and knights in shining armor, to cute forest creatures and colorful tea parties.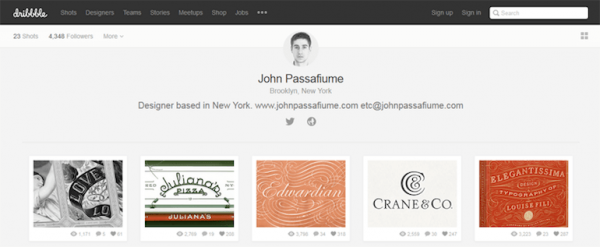 For the same story-telling effect, give John Passafiume a search. He is an expert in hand lettering and formal aesthetics.
The New York based designer has a keen eye for vintage illustrations, he is the senior designer at Louise Fili Ltd agency and has recently been acknowledged by the Art Director's Club of New York, which recently named him a Young Gun.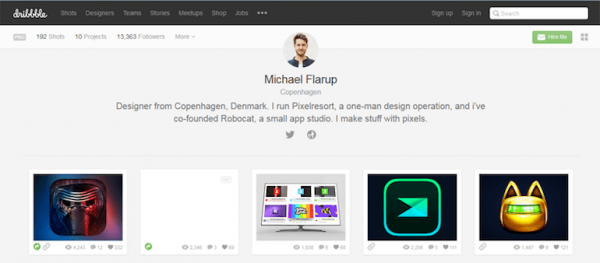 Born and raised in Copenhagen, Denmark, Michael loves to run operations. You can easily tell by his robotic-themed designs and by the one-man design operation, Pixelresort, that he developed and administrates. He is also the co-founder of Robocat, a small app studio.
So, all you Star Wars fans out there, give Michael a look while waiting for the next interstellar series to launch.
Have we lightened up your creative enthusiasm? Stick around, get some popcorn and be ready to enjoy the next 25 worth-following Dribbble designers!